Quickbooks vs. Freshbooks: Choosing the Right Invoicing Solution
Written by Marya Sutimi on November 17, 2023
Finding the right invoicing solution can be tricky when starting your own business. On one hand, you need a tool to streamline your invoicing process to ensure you get paid on time for your products and services. At the same time, there are various tools in the market that you don't want to overwhelm yourself to ensure that you pick the best tool for your business operations.
Quickbooks and Freshbooks are two accounting software that offer various solutions for small and medium business enterprises.
Try our online invoicing software for free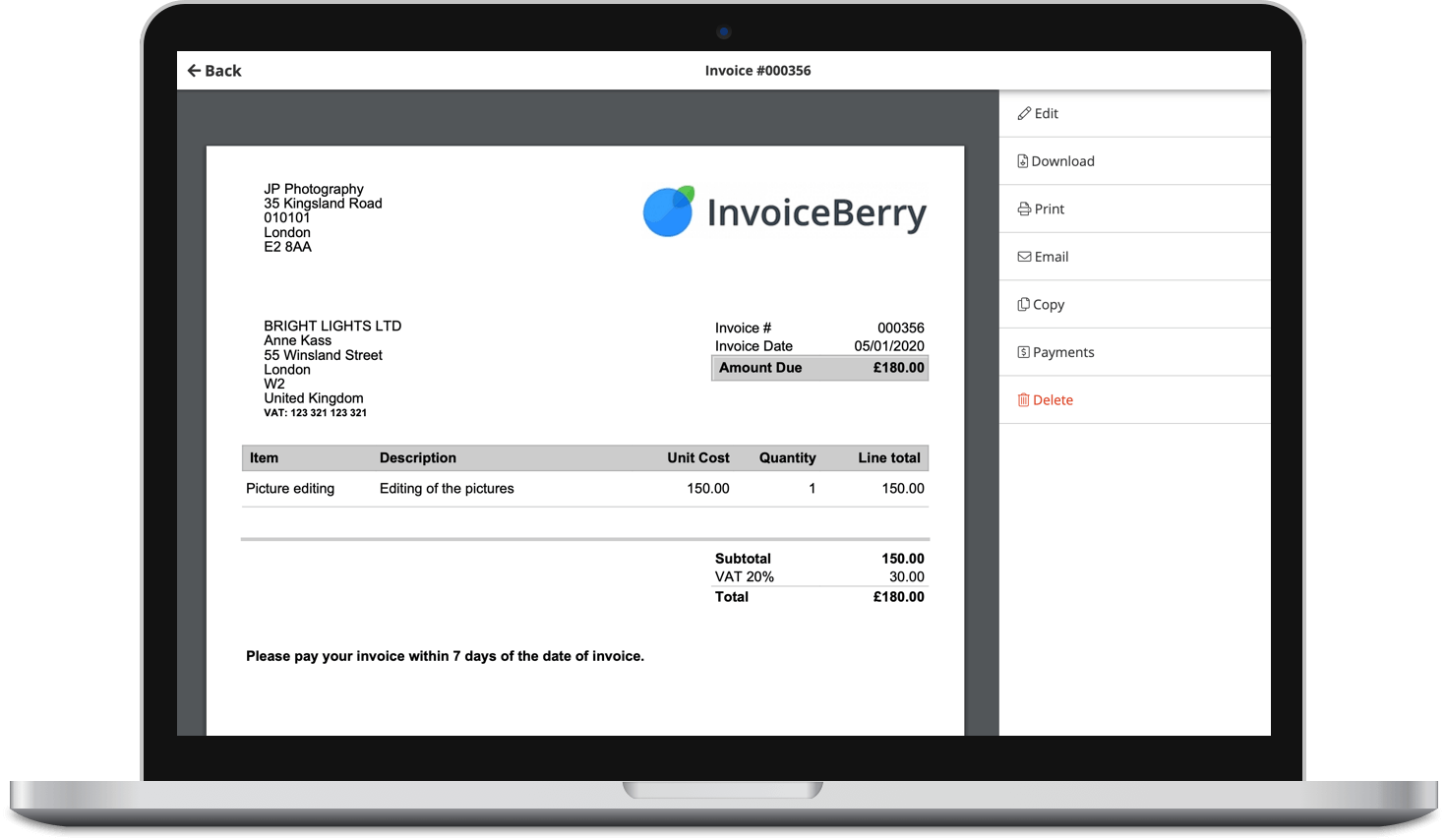 Send professional-looking invoices
Accept online payments with ease
Keep track of who's paid you
Start sending invoices
From invoicing and expense tracking to bill management and payroll, both Quickbooks and Freshbooks offer a lucrative solution for your business's accounting.
In this post, we'll dive deep into both platforms' functionalities to see how each platform can be a great alternative to use if you're looking for an accounting solution for your business.
So, which one is the right accounting tool for your business: Quickbooks vs. Freshbooks? Let's find out!
What are Quickbooks and Freshbooks?
At first glance, Quickbooks and Freshbooks seem quite similar in terms of what they offer as well as the functionalities in each platform.
However, each software seems to have advantages to cater to specific types of business. So, finding out the differences and how each feature can benefit your business is important before deciding which invoicing tool is best for you if you must choose between Quickbooks and Freshbooks.
Quickbooks is a comprehensive accounting software designed for businesses of all sizes, and it offers a wide range of features in addition to invoicing. The platform has various products, including Quickbooks Desktop and Quickbooks Online, also available on their mobile app.
As one of the most complete accounting software in the market, Quickbooks comes with rich functionalities, including expense tracking and tax deductions. Even their starting plan also comes with mileage tracking, which can be extra beneficial if your company uses credit cards that enable you to transfer miles or points for your travel expenses.
Meanwhile, Freshbooks is primarily designed for service-based businesses as their clientele mainly comes from freelancers and small businesses. Unlike Quickbooks that seem to specifically target professional accountants with its rich bookkeeping features, Freshbooks offers a more user-friendly interface that focuses more on invoicing, payment tracking, and expense management.
Depending on which type of business you have, Quickbooks and Freshbooks can be a great invoicing solution. So, what do you need to consider to decide which platform is the best for your business?
Are Quickbooks and Freshbooks the Right Solution for Invoicing?
Streamlining your business operation is necessary to create a suitable workflow to maintain your product or service delivery. Nowadays, there are various tools you can use as a small business, with an invoicing platform being one of them.
Creating an agile but thorough business plan can tremendously help you with purchasing decisions if your business requires different tools to streamline your workflow. By understanding your goals and how you can work out your business, you will get clarity on what kind of tools you need in your operations.
Both Quickbooks and Freshbooks can be good solutions if you're looking for the right invoicing tool for your business, but you also need to ensure what kind of functionalities you need in the invoicing tool to ensure you pick the one that suits you best.
Quickbooks can be the best solution for you if you're looking for a comprehensive accounting tool that can help you track your business's cash flow regardless of your business type.
However, if your business offers services to clients, Freshbooks can be a great platform as it allows you to send quotations and proposals for every lead that comes for your business.
The Right Invoicing Solution for You: Quickbooks vs Freshbooks?
In this section, we will focus more on the differences between Quickbooks and Freshbooks to highlight the main features that you may need more than the other.
In general, Quickbooks is best known as the right accounting tool used by big corporations with its comprehensive accounting features. Meanwhile, Freshbooks seems to be favored by service-based small and medium enterprises with its simple yet complete functionalities for bookkeeping.
We will highlight the differences between both platforms into two main categories: pricing and features.
Both Quickbooks and Freshbooks offer a free trial for 30 days without credit cards, so you can always try both platforms separately to test the water before deciding which one is the perfect invoicing solution for your business.
So, which one is the right invoicing tool for your business: Quickbooks or Freshbooks? Let's find out!
Quickbooks
Quickbooks has a wide range of products that you can choose based on your business needs.
If you're a small business just getting started with your business operations, Quickbooks Online is a good choice as the platform is accessible through both browser and mobile apps.
In addition, it's also worth considering the upgrade to utilize Quickbooks Desktop or Quickbooks Enterprise for medium to large enterprises.
Quickbooks Pricing
For Quickbooks Online, the basic plan starts from $30 per month, which covers all necessary features for small businesses.
Apart from the basic invoicing and expense tracking, you can also manage contractors or export documents for tax deductions. In addition, you can also integrate your Simple Start Plan on Quickbooks Online with your sales channel to track your cash flow easily!
Quickbooks Features
Quickbooks offers customized invoice templates you can design according to your branding. In addition, you can also set email templates for invoicing and payment reminders, which can help you track your invoice status to ensure timely payment from your client.
You can integrate various payment methods with Quickbooks, from bank transfers to online payment gateways like PayPal, Wise, or Square. Quickbooks also allows you to connect your account with more than 20,000 banks worldwide, so you can also integrate your Quickbooks account with your local bank for faster payment.
The expense tracking functionality in Quickbooks is excellent, as you can import your expenses automatically from your bank or credit cards once you get them connected to your Quickbooks account.
In addition, they also categorize your expenses so you can track your spending when it comes to suppliers or contractors. Quickbooks Online is also available on mobile apps, so you can upload receipts directly on the app without any hassle!
Even with the Simple Start Plan, Quickbooks offers various beneficial features to maintain customer relations for your business. However, with its rich functionalities, Quickbooks has a steep learning curve if you're not super savvy in using online invoicing platforms.
Unless you subscribe to their Advanced Plan which enables you to get 24/7 support from Quickbooks online, you also need to consider their customer support since you may have to rely solely on their community support page if anything goes wrong.
However, some users also find the community support page on Quickbooks lacks resources when problems arise. While you can use their chat box on their platform for support, it is mostly operated by a chatbot, which can be frustrating if you deal with urgent matters.
Freshbooks
Freshbooks prides itself on its easy-to-use bookkeeping features, and it shows from the various plans it offers for different types of businesses.
While their Lite Plan seems most suitable for freelancers with its limitations, Freshbooks also offers customized plans with extra functionalities like a client onboarding system and specific financial and accounting reports generator.
Freshbook Pricing
Freshbook Plan starts from $17 per month. While it sounds more affordable compared to Quickbooks, the Lite Plan seems very limiting as you can only add five clients with this plan.
Unlike Quickbooks that offer more features suitable for small-sized businesses with suppliers and contractors even on their basic plan, Freshbook Lite Plan seems more suitable for freelancers with limited time to work with different clients.
The Lite Plan functionalities seem pretty basic compared to Quickbooks, as Freshbooks only offers invoicing and expense tracking with online payment integrations for this plan.
Freshbook Features
Despite the downside in terms of pricing and features for the basic plan, Freshbooks seems to have a more user-friendly interface compared to Quickbooks. The dashboard on Freshbooks is super intuitive, which makes it suitable even for less tech-savvy users.
One noticeable feature that Freshbooks has, but Quickbooks doesn't in the basic plan, is the time tracking functionality. The fine difference makes it obvious that Freshbooks's Lite Plan is designed specifically for freelancers, as this feature can be useful if you're a freelancer charging an hourly rate for your service.
In addition to the time tracking feature, you can send proposals and quotations with Freshbooks. The platform also comes with built-in project management tools which can come in handy if you start growing your freelancing team.
With Freshbooks Lite Plan, you can also send professional-looking invoices, although you can't customize them with your brand colors like on Quickbooks. However, you can upload your business logo to personalize your invoice.
Like Quickbooks, Freshbooks also enables you to send recurring invoices with customized email templates for payment reminders or automatic payment confirmations. You can also integrate your Freshbooks account with various online payment methods, including with your banks, PayPal, or Stripe account.
Freshbooks also partners with thousands of banking networks in North America, Europe, and Australia, so you can seamlessly integrate your invoicing system with your bank account through the platform if you live within one of the regions. If you're a freelancer based outside these regions, Freshbooks may not be your first choice because of this limitation.
Despite the very limiting features of its Lite Plan, Freshbook stands out for its interface as it offers a simpler learning process than Quickbooks with more intuitive design and directions.
Overall Comparison: Quickbooks vs. Freshbooks
While Quickbooks and Freshbooks seem to have their own market in terms of their services and features, here are some summaries we take from comparing Quickbooks and Freshbooks as invoicing solutions for your business!
Quickbooks
The monthly subscription for Quickbooks is pretty expensive compared to other online accounting platforms.
Quickbooks requires a longer learning curve with its different features and functionalities.
You can connect your Quickbooks accounts with more than 20,000 banks worldwide, making it more accessible for more customers anywhere.
They divide the Expense section into two categories: Expenses and Suppliers. This feature is especially needed if your business is product-based as you can track your spending accordingly.
The variety of products on Quickbooks makes it easier for you to upgrade the plan to add more functionalities as your business grows, which includes anything from inventory to payroll.
Freshbooks
Freshbooks's monthly rate is pretty steep despite the limiting functionalities compared to Quickbooks Starting Plan.
The user-friendly interface makes it easy to grasp the platform functionalities, even for beginners.
While you can connect your Freshbooks account with over 14,000 banks around the world, most of their bank partners are exclusively from North America, Australia, the UK, and the EU zone.
You can use their time-tracking and proposal generator on Freshbooks, making it perfect for freelancers who work with various clients.
For more functionalities, you'll most likely need to customize your plan with Freshbooks, in which the pricing isn't disclosed transparently on their website.
Is there any better invoicing solution other than Quickbooks and Freshbooks?
While both Quickbooks and Freshbooks can be the right accounting solution for your business, you may not need all of their additional features at the current state of your business.
Quickbooks and Freshbooks can be a good solution if you're ready to scale your business, but it's also worth considering another platform if you need one to simplify your invoicing process.
InvoiceBerry can be a great alternative with more lenient invoicing features than Quickbooks and Freshbooks. With a lower monthly plan and more user-friendly interface, InvoiceBerry allows you to create a customized invoicing template using your branding color even for its Solo Plan.
You can also automate payment reminders using the ready-to-use email templates to track your invoicing status and ensure you'll get paid on time. On top of that, you can add up to 35 clients for the InvoiceBerry Solo Plan at $15 per month and upgrade to the Pro Plan for unlimited clients!
While Quickbooks and Freshbooks only allow a single user for their basic plan, InvoiceBerry allows you to add an extra user to your account even with the Solo Plan. It's a great solution if you already have a bookkeeper or accountant to monitor your business cash flow!
Unlike most platforms that rely solely on AI-driven chatboxes for customer support, InvoiceBerry also stands out by offering a more personal touch.
Instead of automated responses, the InvoiceBerry chatbox on its website connects you directly to a real person through an email system.
This human-centered support can be a game-changer when choosing the best invoicing platform for your business. It ensures that you receive dedicated assistance tailored to your needs, making problem-solving and guidance more efficient and effective!
Although simplicity is one of the main advantages of choosing InvoiceBerry as the invoicing solution for your business, you can automate InvoiceBerry with more than 6,000 apps using Zapier integration.
With Zapier integration, you can add any missing functionality of InvoiceBerry and integrate it with other platforms. Here are some additional functionalities that you can add to your InvoiceBerry functionality using Zapier!
You can integrate your InvoiceBerry account with time-tracking tools like Toggl or Clockify.
You can add calendar integration with Zapier using platforms like Calendly or Appointlet.
If you're looking to create a seamless invoicing system that connects with your email marketing strategy, you can also connect your InvoiceBerry account with tools like Mailerlite or Mailchimp through Zapier.
In addition, you can integrate various online payment methods with your InvoiceBerry account. From Paypal or Stripe to connect with your bank account, to CoinPayments or Coinbase if you accept cryptocurrency for your business transactions.
InvoiceBerry also has a better interface that makes it user-friendly, even if you're a novice to online bookkeeping platforms. You can also generate your income and expense reports as an Excel file, which can come in handy during tax season!
Conclusion
Invoicing is an integral part of your business, and finding the best invoicing tool can help you streamline your overall business operations.
When looking for the right invoicing solution for your business, it's also important to know your business needs and other factors that may come with it before investing in paid invoicing software.
If you're a business owner with a medium to large business enterprise, Quickbooks and Freshbooks can be the right accounting tools for you with their all-in-one features that enable you to integrate your holistic accounting system. From invoicing and bill management to payroll, both Quickbooks and Freshbooks can be the right solution to streamline your cash flow management.
However, not all businesses requires all-in-one accounting solutions like Quickbooks or Freshbooks. Sometimes, simplicity is the key, and that's where InvoiceBerry shines.
For those who find themselves drowning in unnecessary features or complex interfaces, a straightforward yet highly effective invoicing tool like InvoiceBerry can be the better choice. Better yet, InvoiceBerry also offers a more personal touch through its customer support that can make your invoicing system easier to handle.
As a business owner, you'll know better which invoicing solution is right for you based on the pros and cons of each platform. While they look very similar at a glance, you may also want to consider the ease of use to ensure that your invoicing system can be seamless without taking too much time on the learning curves.
InvoiceBerry also offers a 14-day free trial, so you can give it a try and see whether the platform is suitable for your business needs. Sign up here for the free trial, and get ready to leverage the invoicing system for your business!
Small Business Finance 101
Download our free guide to learn the fundamentals of finance that will help make your small business more efficient and successful.