How to Choose the Right Invoicing Software for Your Business
Written by Marya Sutimi on March 20, 2023
Invoicing is essential for businesses across industries, as it helps you keep track of your business finance while streamlining your cash flow management. Using invoicing software for your business can provide numerous benefits, from payment tracking to calculating your projectional income.
According to some statistics by Amalto, around 39% of invoices are paid late in the USA, with 61% getting paid late due to incorrect invoicing procedures. All these mishaps can be minimized through automation by using the right invoicing software for your business.
Try our online invoicing software for free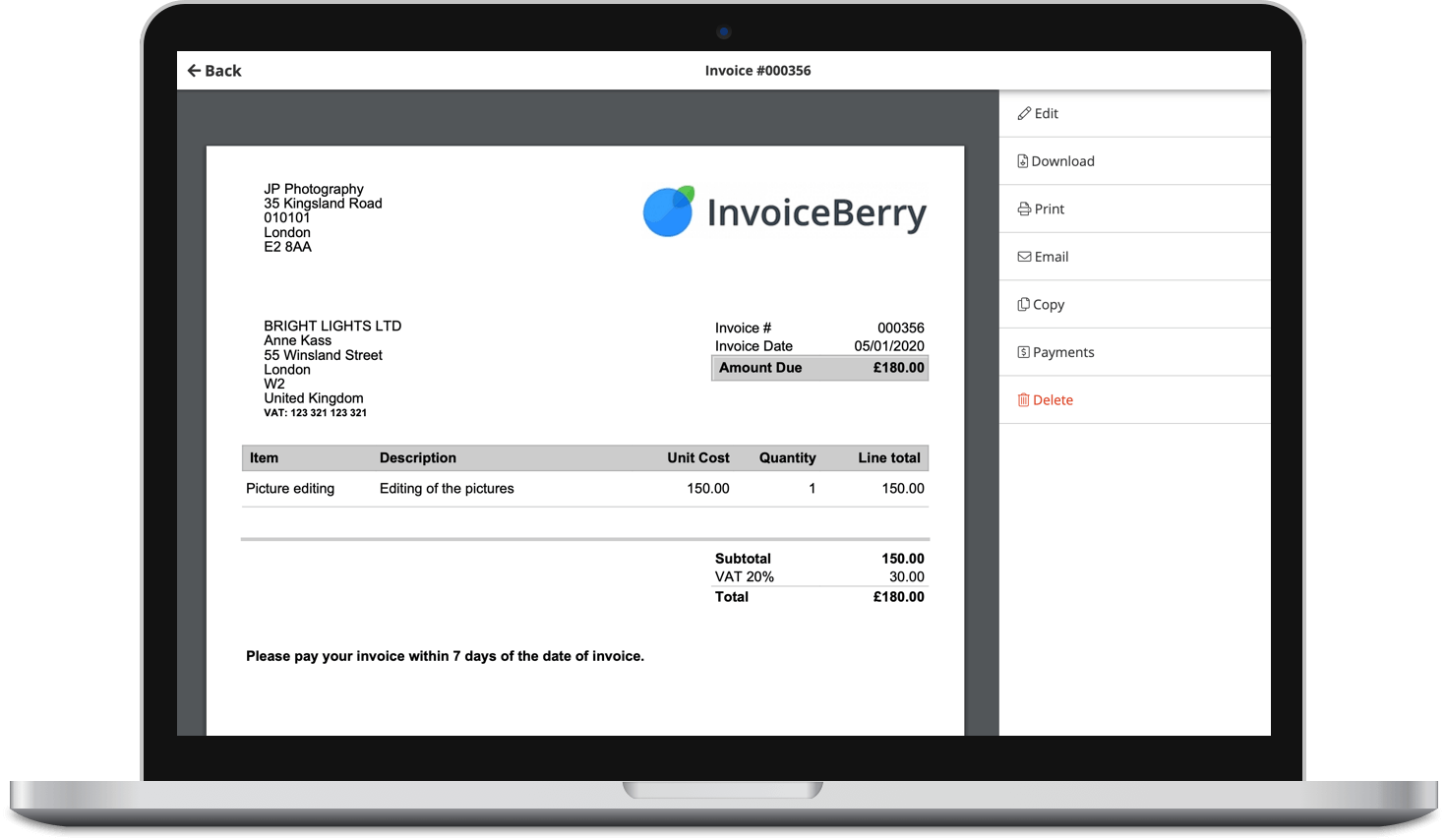 Send professional-looking invoices
Accept online payments with ease
Keep track of who's paid you
Start sending invoices
In this post, we will share some insights on why you need invoicing software for your business and how to choose the right one based on your business needs. So, what do you need to consider before investing in the best invoicing software for your business?
Why You Need Invoicing Software for Your Business
Whether your business sells products or services, invoicing is a crucial aspect of your business as it helps to ensure accurate bookkeeping and timely payments while simultaneously providing the correct data for your financial reporting and analysis.
Using the right invoicing software for your business can help you streamline your invoicing process. Whether you want to reduce the time and effort required to generate and send invoices manually or you want to easily track payments and send an automatic email reminder on any late payment, invoicing software can save you time to focus on your business deliverables.
Invoicing software can help your business tremendously, especially when it comes to tracking your company's cash flow and organizing your finances. Here are some reasons why it's time to invest in invoicing software for your business!
Utilizing the best software for invoicing can be more efficient, as you can automate the process for generating invoices and focus more on the essential things for your entire business.
Invoicing software can reduce human errors and inaccuracies with its automated calculations and data entry.
You can keep your finance organized with invoicing software like InvoiceBerry. From invoice automation, and the ease of use to integrate it with various online payment platforms like Square or Paypal, invoice software can help you track payments and automatically generate financial reports for your business operations.
Most invoicing software comes with templates, making it easier to adjust your invoice based on your company's branding. This can help to establish a professional image and boost your brand awareness.
You can easily integrate your invoicing software with the other apps you use for your business. For instance, InvoiceBerry enables you to integrate your invoice directly into various online payment methods. On top of that, you can now integrate InvoiceBerry with various apps through Zapier, making it easier to connect your invoicing software to your CRM or email marketing platforms!
Investing in the best invoicing software for your business can be worth it, especially if you're a first-time entrepreneur trying to manage your business finance. Now that you know how helpful adding it into your business operations, how do we choose the best software for invoicing for your business?
Top 6 Things to Consider When Choosing the Best Invoicing Software for Your Business
There are many invoicing software options in the market, but choosing the best one for your business can depend on several factors. This section will list some of the essential things to consider when choosing the most suitable invoicing software for your business.
Before deciding to invest in the invoicing platform, it's also important to identify your business needs so you don't have to spend more than you need for invoicing software. Consider the size of your business, including the number of clients and how complex your invoicing process would be. Once you understand them, it's easier to identify the type of invoicing platform for your business and what features you need to streamline your invoicing process.
So, here are some things to consider when choosing the right invoicing software for your business!
Features
When used correctly, an invoice can be a way to market your brand and business. A lot of invoicing software offers top-notch features that enable you to create customizable invoice templates, making it easier for you to design an invoice according to your branding colors and styles.
An important feature you need in invoicing software for your business is also the ability to accept multiple online payment methods. Having this feature on your invoicing software will benefit you as a business owner and your customer, who can easily proceed with the payment in one go.
If you run an established business that needs more complex features for your invoicing, some CRM systems like Dubsado or Zoho usually come with invoicing features on top of other features like calendars or client portals. However, if you just started your business and only need a platform to streamline your invoicing and payments for your products and services, InvoiceBerry can be a great alternative as it offers the basic features in their invoicing software for your business.
User-friendliness
Not all bookkeepers are tech-savvy, which is why it's important to choose a platform that is easy to use for your business. Choosing user-friendly invoicing software will also save time in training your staff to familiarize themselves with the platform.
InvoiceBerry is designed to help small businesses in their invoicing process. Equipped with an intuitive interface that is easy to navigate, the platform offers an easy setup with clear instructions that guides you through the process, so you don't have to spend too much time creating and sending invoices for clients.
Pricing
Budgeting is essential when you try to build a system for your business, so pricing can be a make-or-break consideration when choosing the best invoicing software for your business. You can find many invoicing platforms in various price ranges, with some invoicing software also offering optional plans whether you want to pay their plan monthly or annually.
Consider your budget and cash flow to determine the best plan for your business, and check whether their premium plan is scalable as your business grows. InvoiceBerry offers a free trial that allows you to take advantage of their premium plans for 14 days.
Trying out the free trial can help you determine whether it's the right invoicing software for your business or which premium plan is the most suitable so you can avoid paying for the features you don't need once the trial ends.
Customizable invoicing templates
Using invoicing software for your business brings many advantages, such as creating professional-looking invoices that represent your brand and company.
Choosing a platform for invoicing that offers customizable templates can give you a cohesive look that can boost your brand awareness effectively through your invoices. Here are some easy steps to use your invoice as a marketing tool for your business!
Add your company logo and brand color: Adding your branding kit to your invoice will help create a strong visual impression on your clients, which can effectively reinforce your brand identity through your audiences.
Personalize your invoice outline: with a message or a note that shows appreciation to your clients for their business. Adding a personal touch to your invoice can create a positive impression for your business while helping you build customer loyalty through sales and retention.
Provide additional information about your business in your invoices: Whether it's a link to your website and social media pages or a call-to-action to book a call with you, it will help your brand stay on top of mind and increase the chance of repeat business for your products and services.
InvoiceBerry offers invoicing templates for various professions, whether you are a virtual assistant looking for a suitable invoicing template for your business or a plumber trying to streamline your business needs. It's a great invoicing platform that offers numerous free customizable templates for your business.
Workflow automation
Streamlining your workflow is crucial if you want to push and improve your overall productivity and achieve the highest result in your business. Automating your business system can be a game changer for this, so the ability to easily integrate with other software can be a great feature to consider when choosing invoicing software for your business.
Since invoicing is crucial to ensure you get paid on time, integrating various online payment platforms can be a plus point when choosing software for invoicing. After all, you want to be sure that your clients can pay your invoice easily to minimize the possibility of late payment for technical reasons.
InvoiceBerry allows users to integrate their accounts with some online payment platforms like Square, Paypal, or Stripe. On top of that, it has features to automate payment reminders and confirmations via email that you can set up through the platform. Go to the Settings section on your InvoiceBerry dashboard, and click Email Templates to set up automatic email for each sequence from new invoice to payment confirmation. 
You can also use Zapier to integrate InvoiceBerry across thousands of SaaS platforms like Google Suite, Slack, Mailchimp, or Mailerlite to simplify your business workflows, especially one that requires online payment.
Customer support
Another important aspect when considering the best invoicing platform for your business is the customer support they provide for their customers. Just like any software, the downside of using an online invoicing platform is that there's always a chance to encounter technical problems at a crucial time.
Customer support is often overlooked when the software works smoothly, but what happens when their server is down? Do they have enough resources in their help center to answer all your questions about the software? Will their team be responsive and resolve the problems immediately?
The best way to dig for more information about this is by comparing reviews from real users for each platform you want to consider. Platforms like Software Advice provide insights from real users of various software so you can find out whether the software is easy to use or worth the money you spend for your business.
Conclusion
Choosing the right invoicing software for your business can be tricky. However, it doesn't have to be difficult as there are plenty of online invoicing platforms in the market that are suitable for various business sizes and needs. The important thing is to understand what your business needs and how you can implement the software to streamline your business invoicing process.
Features and pricing are usually the two main things businesses need to consider when choosing a suitable invoicing software for them, so understanding your business need and budgeting are essential to ensure that you get what you need without spending too much on an invoicing platform.
InvoiceBerry offers various plans for businesses of different sizes, and you can take advantage of the free trial to see if it's the right invoicing software for you and your business. Sign up here for a 14-day free trial, and let's see how you can simplify the invoicing process for your business!
Small Business Finance 101
Download our free guide to learn the fundamentals of finance that will help make your small business more efficient and successful.