How To Send Invoices For Your Meetings Through Calendly
Written by Marya Sutimi on November 22, 2021
Time is money, and that's why you might as well start charging your clients for a meeting or even just for a discovery call. If that's the case, having a streamlined calendar that is integrated into your invoicing system like InvoiceBerry is essential for your business.
In this post, we will get deep into step-by-step guides to send invoices for your meetings through the Calendly platform. Calendly is an online appointment scheduling software that enables your clients to access your calendar and book a session with you directly through the platform.
Try our online invoicing software for free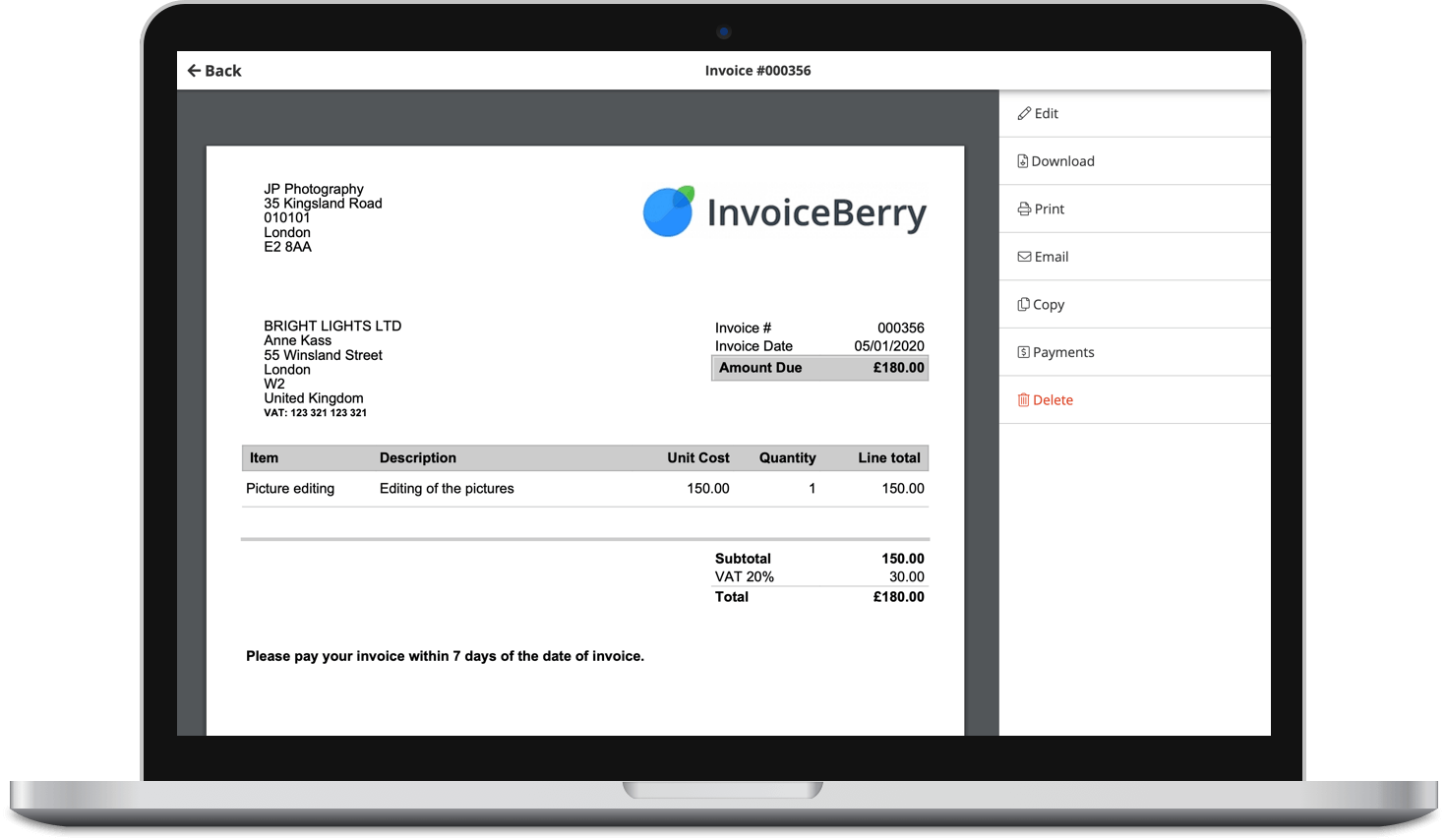 Send professional-looking invoices
Accept online payments with ease
Keep track of who's paid you
Start sending invoices
Whether you run a consulting or coaching business, you may add Calendly as one of your must-have tools for your business. Just a few steps to integrate the platform with some other tools, then you can start charging people for your online consultation and more!
3 Reasons Why You Should Have An Online Calendar For Your Business
An online calendar is super helpful for time blocking, especially if you're an entrepreneur with multiple businesses and struggling with time management.
On top of that, there are at least three reasons why you should start utilizing an online calendar to maintain your daily schedule for your business. So, why should you have an online calendar like Calendly for your business?
#1 You can easily access your calendar through multiple devices
Whether you're online through your phone, desktop, or even your AppleWatch, online calendar platforms will be accessible through all those devices. Calendar software such as Calendly can easily connect to your Google calendar and beyond, so you can get notified anytime something comes up!
#2 Blocking time is just one tap away
If you're an entrepreneur wearing too many hats, time management can be something that you struggle with along the way. Time blocking can be beneficial for you to make sure that you won't have any clashed schedules in the process.
Online calendars like Google Calendar will make it easier for you to block the time. When it's integrated with a tool like Calendly, you won't have to experience the nightmare of telling your potential client that you have to reschedule the call because you forget about another urgent thing to do in your agenda.
Time blocking through your online calendar may increase your productivity, as you set aside specific blocks of time to complete one task and another. In addition to that, it will also maintain your attention span to help you stay focused on what you need to do.
#3 An easy way to schedule a meeting or an appointment
Don't you hate the idea of having to send emails back and forth just to confirm a meeting or an appointment? Even worse when after all these emails, you can't seem to find a matched schedule with your counterpart?
If you can relate to it, then you need an online calendar. From arranging an internal meeting to even conduct a paid session for your clients, you can do it all!
All you need is to set up a Calendly account and integrate it with various platforms, from Google Calendar to video meeting platforms like Google Meet or Zoom.
While you can also connect your Calendly with payment platforms to charge for a paid session through Paypal and Stripe, you can also go far and beyond using Zapier to connect Calendly with other platforms, including InvoiceBerry!
How To Integrate Calendly and InvoiceBerry Using Zapier
Zapier is an online platform that enables you to create workflows by connecting apps and services you use without having to build the integration on your own. No coding, no complicated things, all you need is to just create a workflow through the platform and choose what apps that you need to integrate!
Calendly and InvoiceBerry, among many, are two services that you can 'zap' through Zapier. Zapier is free for up to 100 tasks and 5 zaps, so unless you need to create many workflows that require you to upgrade, you can use the platform at no cost!
So, what are the steps to integrate Calendly and InvoiceBerry through Zapier?
#1 Create a Zap
On the dashboard, you will see a "Create a Zap" option and you can click it to get started. Name your zap, and set the trigger. For this trigger, you can opt for the first app to create this workflow.
As we aim to connect Calendly and InvoiceBerry, we will first add Calendly to the App Event option on Zapier. Next, we go through the next page when we start creating the workflow based on your needs.
For Calendly, you have an option to set the trigger as the invitee canceled your scheduled event or when the invitee created one. The first option works well if you apply a cancellation fee for any booking for the service, while you can set the second one if you arrange a paid session with you for clients.
#2 Set the trigger
For this tutorial, I set the trigger for when the invitee booked a new event. Click 'Continue" button, and Zapier will take you to the next session to let you sign into your Calendly account.
A pop-up will come out, and you will be required to add the API Key to sign in Calendly. To get your API Key, you can go to your Calendly and click the 'Integration' section, where you can easily copy it when necessary.
Click 'Copy Key' on Calendly, and paste your API Key on the Zapier pop-up. Once it's all set, the blue button on your Zapier page will change into 'Continue,' and you can click it one more time, and you'll be directed to test the trigger to see if it works.
#3 Make sure that you connect to the correct Calendly account
If you click 'test trigger' option, Zapier will come out with the record of the same activity in your Calendly account. For example, if you picked the trigger for when the client creates a new event, it will show the data of the last booking you got in your account. The same goes if you chose the trigger when an invitee canceled a scheduled event.
Once you're sure that it connects to the right Calendly account, click 'Continue.' Zapier will lead you to the second action, where you'll be able to choose the next app to connect with the workflow.
#4 Add InvoiceBerry for the next Action
Since I want to create a workflow that enables me to send an invoice for any booking made in the future through Calendly, I choose InvoiceBerry for the second app.
There are several actions to opt from InvoiceBerry; create client, add expense, create item, or create invoice. I click the latter to make sure all the invitees who canceled the event will be charged a cancelation fee through InvoiceBerry.
When you click 'Continue,' another pop-up will come out and it will require the API Key and API Password. Head over to your InvoiceBerry dashboard, go to the Settings, and click 'Integrations' to request your API Key and Password for Zapier.
Copy each one of them, and click 'Continue.'
#5 Set up the Action for InvoiceBerry
Next, you can start setting up the data you want to compile in the invoice, including the Client ID, Client Name, and also the currency you use to charge them for the fee. Once it's all set, select 'Continue.'
Afterward, you can either choose 'Test and Review' or 'Test and Continue.' If it's tested and you don't want to add any other workflow after InvoiceBerry, there's an option to 'Turn on Zap' after the test.
Click it, and voila!
#6 Your Zap is on!
And just like that, now your Calendly account is integrated with InvoiceBerry through Zapier in a split second!
From now on, you can send invoices for your meetings through using the three platforms. And you can add a few more zaps to integrate the workflow for more apps if you need to streamline your other business systems!
Conclusion
Zapier's automation tools help you streamline your workflow easier and faster than you can imagine. Anyone can do that, even if you're just a beginner. They also make it accessible for everyone since the platform is free for up to five zaps and 100 tasks per month.
Even if you have to upgrade, their rate is relatively affordable, starting from $19.99 to $299 per month. Imagine one way to connect more than 3000 apps and services on the internet, and that's what Zapier does for you and your online business!