How and Why Should You Use an Excel Invoicing Template
Written by Ana Mladenovc on July 04, 2022
If you're like most small business owners, you probably handle your billing and invoicing yourself. And if you're like most small business owners, you hate it. It's time-consuming, tedious, and tiring.
But what if there was a way to make invoicing easier?
Try our online invoicing software for free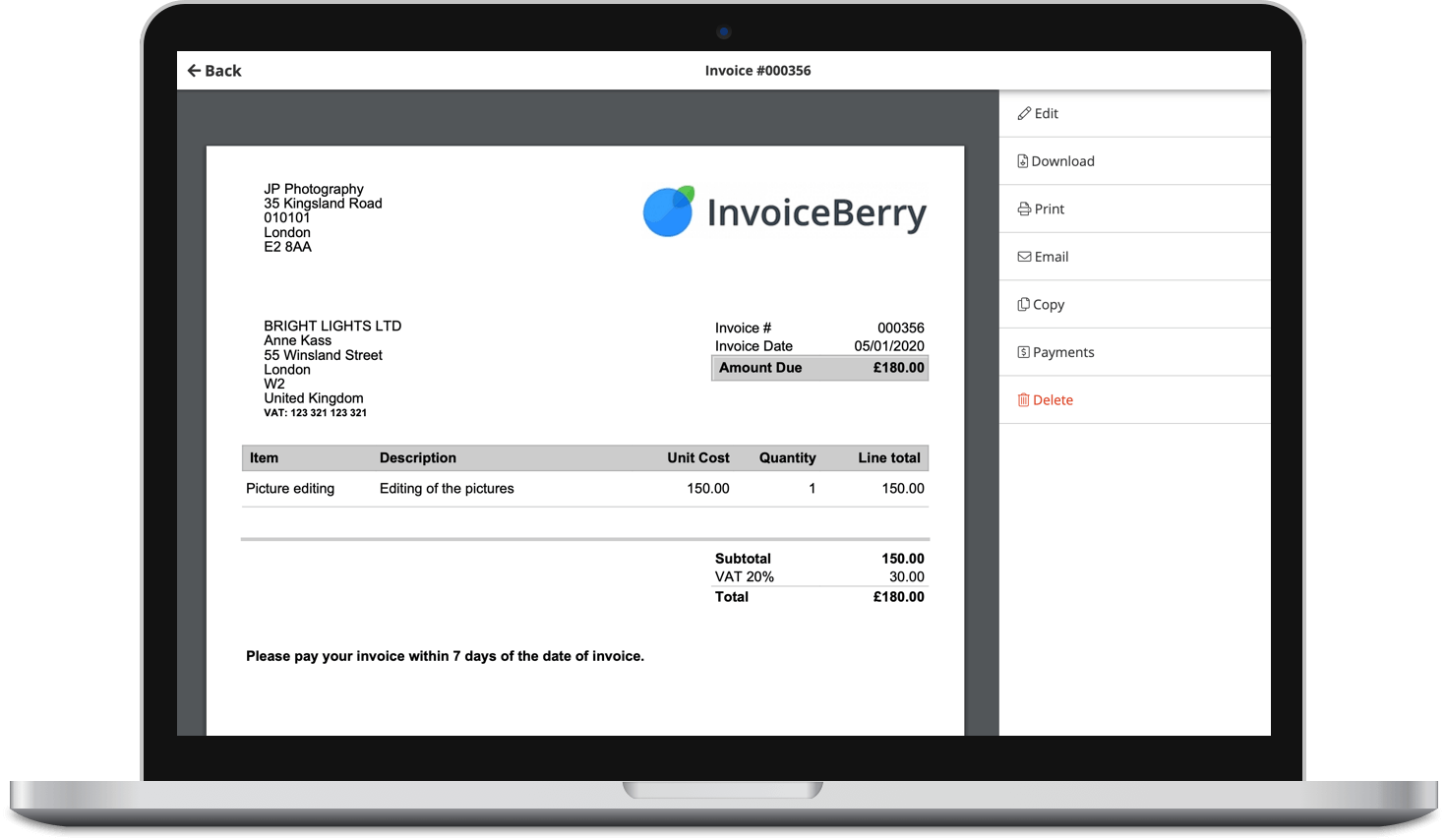 Send professional-looking invoices
Accept online payments with ease
Keep track of who's paid you
Start sending invoices
What if there was a way to automate the process? Believe it or not, there is – with an Excel invoicing template! In this post, we'll show you how to use an Excel invoice template, as well as why you should. So keep reading for all the details!
Why Should You Have An Invoice In The First Place?
Invoicing is important for every business as it provides a record of sales and enables them to get paid by their clients. Besides that, creating invoices has other important purposes such as providing documentation of businesses' financial history, important for bookkeeping, keeping tax records clean and transparent, and providing businesses legal protection. Furthermore, invoices can help businesses determine when their services are most popular and develop smarter marketing strategies, and track inventory.
How To Create And Invoice?
Creating an invoice is a fairly easy process. All you need to do is to write down your company's information, list the services you provided to a client, their quantity and price, add client's information and payment option.
You can either create an invoice each time you need to bill the client, use a template and change information as needed, or make this process even faster by using an invoicing software. That said, we're going to see what are the pros and cons of using an invoice template vs an invoicing software, to help you decide what option is the best for you.
Pros and Cons of using a template vs an invoicing software
Templates are a great way to get started with invoicing. They provide a basic structure and can help you to avoid common mistakes. However, they can also be limiting and may not always meet your specific needs. Let's see some of the biggest pros and cons of using an invoice template compared to invoicing software.
They Give A Consistency To A Business
The biggest benefit of using an invoice template hides in consistency, meaning that businesses will be able to send out the same-patterned invoices to multiple clients and prove they're reliable and steady over time. Furthermore, by sending the same type of invoice every time, businesses make things easy for customers, as they'll quickly learn how to navigate it quickly and pay them faster.
Saves Time For Businesses
Having an invoice template saves time for businesses as they don't have to create it from scratch each time they send it out. That said, they just need to fill in the required fields and send it out in seconds, which leaves room for doing more essential functions.
Not using templates means relying on the staff to remember to add all crucial details on an invoice. This can confuse and lead to late payments every business wants to avoid. By using an invoice template, you'll ensure all your information is correct and up-to-date, as well streamline processes and leave room for more essential tasks.
Reduce staff training time
Having easy-to-use invoice templates decreases the staff training time since team members don't have to learn each time how to make an invoice: they just need to follow the template. This is extremely beneficial, especially during the times when people are on annual leave and somebody needs to take over their tasks.
Doesn't Have Extra Features
While invoicing templates are handy, they usually lack handy features most invoicing software offers such as payment reminders, checking payment statuses, transaction reports, invoice management through the app, and such. That said, businesses who use invoicing templates will have to do all these things separately which is time-consuming and, in the end, costly.
Storing Invoices Might Not Be Convenient
Keeping invoices in a safe place is crucial for accounting and tax compliance. Businesses that use invoicing software need to manually store their invoices in a safe place such as a USB, or laptop, or cloud storage such as a Google Drive instance. If they lose them, there's no way to retrieve them. On the other hand, most invoicing software automatically stores sent invoices and the whole process is retrievable, so the danger of losing or misplacing them is minimal.
However, it is crucial to find a solution to how to store sensitive information safely and keep the company's documents in trusted software or storage so you could avoid data breaches or cyber-attacks.
It can't be used on the go
The biggest downside to using invoicing templates is the lack of accessibility. Most invoicing software allows business owners and accountants to access invoices from any location, which is impossible with invoicing templates.
It's Hard To Customize
Most invoicing software offers the ability to customize invoices to impress the clients. However, businesses who use the invoicing template are usually stuck with the same generic invoice that doesn't show their brand's voice and doesn't stand out.
How To Use InvoiceBerry's Free Invoice Template?
If you want to streamline your invoicing process, but you're unsure whether you need invoicing software just yet, you can opt for using an invoicing template. What's best: you can download it for free!
The first thing you need to do is to go on the InvoiceBerry website, fill out your name, last name, and email and wait for the download link to come to your inbox.
Once you get the link, the next step would be to download it and store it on your computer or drive.
Once you open the template all you have to do is to fill in your company's information such as your company address, postcode, country, and company name, and save the changes. The template is now ready to use!
On the left side of the invoicing template, you can add your customer's details such as their name, company, address, postal code, and country.
The next thing you want to add is the Invoice and PO number as well as the reference, as well as tax date, and terms, and mark the date when the payment is due.
Once you did this, you can move on to writing down what services you provided, their quantity, and pricing.
On the first, left column, named "Description" write down a summary of services your clients and customers have used. Next, you should type in the quantity and the pricing.
Let's say you're a Content marketing and SEO agency. You wrote six one-thousand-word articles for your client. Let's say your rate for one thousand-word article is 200£. In a Description field, you'd write 1000 Words of Blog Post Articles, in the "Rate" field you'd write 200£, and in "Quantity" you'd type in the number 6.
Besides that, let's say you offered link building services for a month and that your rate for the month is 1000£. You'd type in "Link building" in a "Description" field, 1000£ in the "Rate" field, and type in 1 in the "Quantity Field".
Lastly, you offered copywriting services to the client. Let's say you wrote 50 Ads for Google and that your rate is 20£ per ad. You'd write "Copywriting for Google Ads" in a "Description" field, 20£ in a "Rate" field, and "50" in "Quantity".
Once you fill in all the blanks, the sum your client needs to pay will be automatically calculated.
Your job now is to save an invoice on your computer, rename the file and send it to a client! You can repeat the process for every invoice you make, you'll just need to change the client's name and information, as well as information about the services you offer.
InvoiceBerry: A Faster And Better Solution To Keep Your Invoicing Efficient
Using an Excel invoice template is convenient, but what if we told you there's a way you can automate the invoicing process completely, avoid late payments, keep your financial records clean and safe, and maintain your company's image at the same time?
InvoiceBerry is an online invoicing software that can help you do just that!
Regardless of the size of your business, InvoiceBerry will help you stay organized by helping you:
Track expenses regardless of how big or small they are! InvoiceBerry is here to help you see where you spend the most of your money, save it where it's possible, and create reports to help you bring better financial decisions!
Send invoices much faster! With the help of InvoiceBerry, you'll be able to automate your invoicing process and even schedule automatic invoices for recurring clients!
Send automatic reminders! Getting paid on time is one of the biggest struggles every business owner has to deal with. InvoiceBerry helps you stay on top of the game by sending automatic reminders to clients, ensuring you'll be paid on time. You can even set discounts for early payments and set payment methods, to meet your client's needs and requests!
This is just a short list of useful features you'll get by using InvoiceBerry, and we're sure there are many more you'll find handy. All you need to do to jumpstart your journey is to sign up for a free trial period and try out InvoiceBerry software yourself!
Small Business Finance 101
Download our free guide to learn the fundamentals of finance that will help make your small business more efficient and successful.