12 Must-Have Business Tools For Small Business Owners In 2021
Written by Ana Mladenovc on August 09, 2021
Today's society fetishizes entrepreneurship. And while it's admirable to be an entrepreneur, there's one side of it only a few people get to see.
The truth is that managing a small business is a demanding job that requires a lot of sacrifices.
Try our online invoicing software for free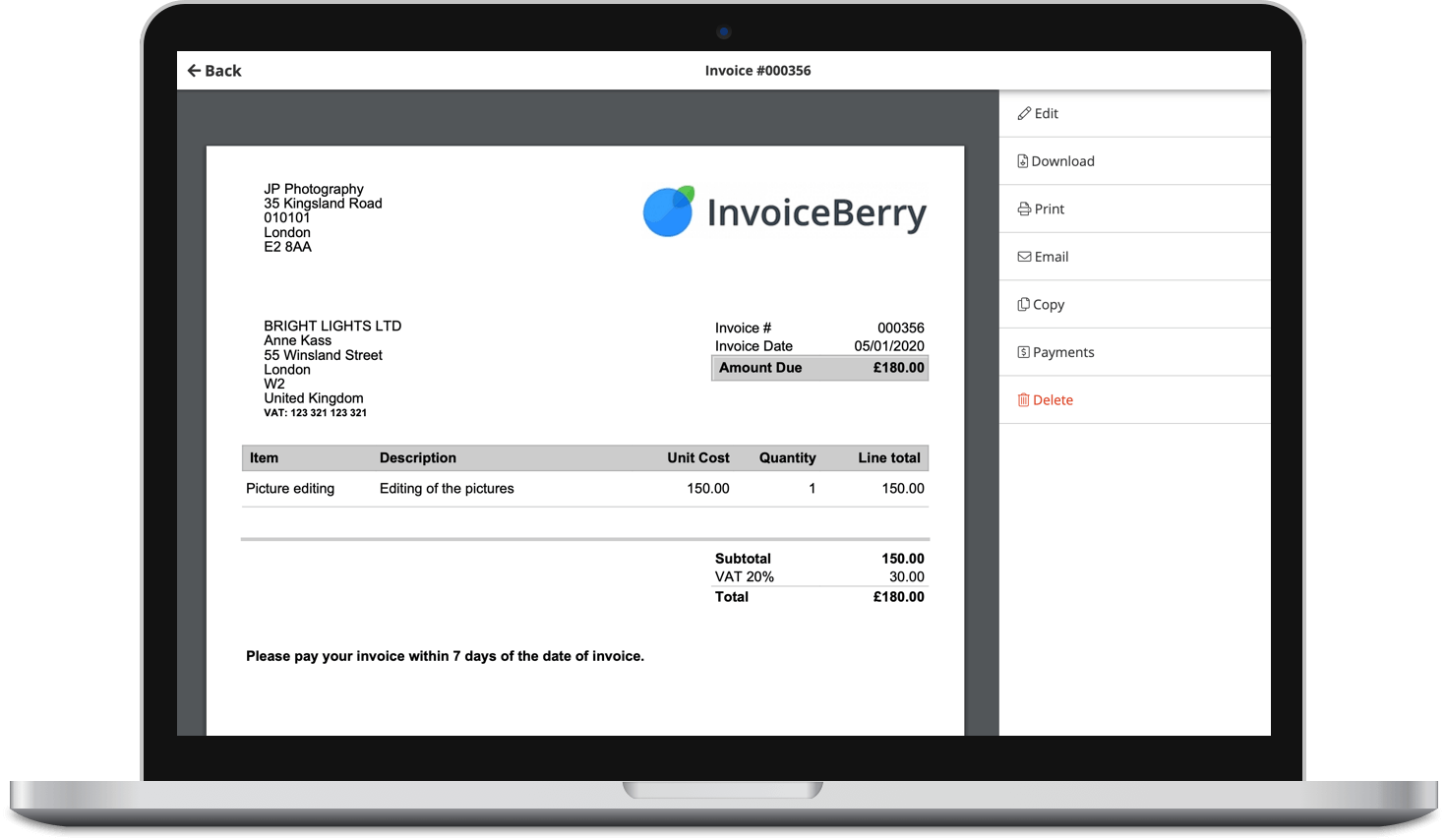 Send professional-looking invoices
Accept online payments with ease
Keep track of who's paid you
Start sending invoices
Entrepreneurs and small business owners often lose sleep, lack time with their family and friends, and they're often anxious about future-proofing their business. They rarely go on vacations and carry the burden of being the ones who're accountable for everything.
Luckily, today we have a wide array of small business tools to help them along the way, streamline processes, and help them preserve time and energy so they can focus on things that matter the most.
Why Do You Need Small Business Tools?
As I said before, having the right tools for your small business is extremely important as it helps you streamline processes, save time, and precious energy. Furthermore, small business tools usually minimize mistakes and decrease time spent on correcting them.
Small businesses tools can also help your company scale faster, since they help in streamlining communication, ignite thoughtful dialogue, promote employee engagement, productivity, collaboration spirit, among many other things.
That said, I decided to help you out on your journey and share 12 must-have small business tools, business owners should consider using this year.
Finance
InvoiceBerry is an online invoicing and expense management software suitable for both small businesses and freelancers. This app allows users to create, send, and track their payments and expenses. Furthermore, users can also create reports and track the company's performance.
What I love about it (especially as a freelancer who has to maintain her reputation), and what makes it one of my favourite small business tools, is the fact users can customize their invoices and add personality to them, which allows them to look more professional.
Another thing worth mentioning is the fact users can automate their recurring invoices, in case they have long-term clients, which saves time and allows them to focus on more important things.
Small business owners, on the other hand, will appreciate the fact that this software allows them to see which invoices are paid and which are not, and keep their cash flow in check. They can even automate the whole invoicing process by setting up reminders to non-paying clients.
InvoiceBerry helps in creating quotes that can be turned into invoices once a customer accepts the service, but also sends thank-you messages to clients once they've paid which is nice touch clients appreciate.
Lastly, this software is extremely affordable, which makes it perfect for freelancers and small business owners that are budget-conscious, with the cheapest plan starting from 15$ per month.
Image Editing
Canva is a graphic design platform, and one of the most useful small business tools you can find in the market. It comes both in a free and paid version, that helps individuals and working professionals to create visual content in an easy and seamless way.
Canva has a wide variety of templates (both professionally designed, free or ready for purchase) that can help companies build their posters, invitations, social media posts, and more. Users can even upload their photos and templates and work on them in Canva using its drag and drop menu.
The biggest benefit of Canva, in my opinion, is the fact it doesn't require extensive knowledge of photo editing to be used. Even novices can find their way around it, and easily crop, straighten, blur, create, and improve existing designs.
PicMonkey is a software that allows businesses and professionals to design and edit photos using pre-made templates for logos, social posts, ads, and so on. Besides using templates, users can craft their own designs from scratch using the tools built in the app.
This app works both via browser and as an iOS and Android app on your phone so you can use it on the go, and when you need something ASAP.
Communication
Appointment scheduling plays a huge role in growing your business.
Whether you're a service provider, consultant, or agency, a steady stream of clients is essential to the success of your business.
That's why you should consider an appointment scheduling tool like Appointlet.
Appointlet is a meeting scheduling tool that was designed to help businesses to streamline their appointment scheduling. The scheduler allows users to create, share, and manage meeting schedules all from a single dashboard. And if you use multiple calendars, you can connect them all to Appointlet. Doing so eliminates any double booking — both for professional and personal appointments. And once you've set your appointments, you can easily set up reminders for yourself and your meeting attendees.
One of the most frustrating aspects of scheduling an appointment is the back and forth communication that takes place just to settle on a date that favors all parties involved. Again, this is where Appointlet shines. It helps you eliminate the email ping pong by making it easy for people to access your scheduling page and picking a time slot that suits both parties.
Whether you want to host an internal or external virtual meeting, Appointlet allows you to schedule them easily. This is all thanks to integrations with web conferencing tools. With a single link and one email, you can schedule your meeting without any hassles.
Another feature you'll appreciate as a small business is that Appointlet allows you to maintain and showcase your brand identity in all your communications. You can feature your company's logo, name, and even brand colors on the scheduler. How cool is that? This means you can remove all Appointlet branding on your scheduler and emails and replace them with your own. By white labeling the platform, you have another opportunity to boost your brand awareness.
Slack is one of the most popular small business tools, teams across the globe use and love. Some refer to it as a "chat app on steroids".
What made this app so popular in recent years is the fact that it allows streamlined communication between team members, but also the number of integrations that it has that help businesses streamline their daily operations.
By creating an account on Slack, your organization gets a common chat space. Chats can be divided into different channels with separate group members. That way, businesses can organize their daily interactions by the projects they're working on, but also have common space for both work-related and non-work-related conversations.
In chats, users can send messages, images, links, videos, files, and more, making communication and collaboration between team members much easier.
Slack also decreased the need for the use of email, which can be complicated and demanding, especially when there are several people involved in the conversation.
As I mentioned before, many workplaces love Slack due to the large number of integrations that come with it. For instance, businesses can track employees' leave via Slack, by using the leave tracking integration Vacation Tracker. Or, they can turn messages into tasks by installing Asana's integration for Slack.
Overall, this – at first glance – teams' communication tool, offers a wide array of options for teams to streamline communication and workflow, and make tedious, time-consuming, yet important business operations much easier.
Lastly, the price is very attractive when it comes to Slack. Slack comes with a freemium version, which is extremely important for businesses that operate on a tight budget. The only shortfall of using the freemium version is the fact messages are deleted after a certain period, its limitation to 5GB of file storage and 10 apps.
After the COVID-19 pandemic, there's no need to introduce Zoom. We've been using it both for our personal get-togethers and business meetings.
Zoom is a cloud-based video conferencing tool that allows its users to host video calls, webinars, live chats, and more. The biggest benefit of Zoom hides in the fact that users don't have to have an account to attend a Zoom meeting. Another of Zoom's great perks is its compatibility with various operating systems including Mac, Windows, Linux, iOS, and Android.
Many people love Zoom because it's simple, and you don't need to waste precious time learning your way around it.
As far as the pricing goes, Zoom comes with a free version, which, even though offers limited capabilities, it's still enough to satisfy most basic needs. In case you need more advanced features, you can always switch to one of the paid plans, depending on the size of your organization.
Lastly, what I find most useful in this app is the fact users can record meetings. For instance, in case someone cannot attend the meeting, they can always watch it later. A recorded meeting can be used as a reminder of what has been discussed in a meeting, for instance.
Another great perk is a screen sharing option that eases up the collaboration process, and its breakout rooms that allow team members to split a single call into individual groups, which is pretty useful for managing more robust projects.
Collaboration
Microsoft Teams is a robust collaboration and sharing tool that allows both in-office and remote teams to work together as a highly functional unit.
The biggest benefit of this app hides in its stability, high levels of privacy, security, and ease of use. Furthermore, its ability to integrate with other Microsoft products such as Outlook, SharePoint, and OneNote, to name a few, is just a cherry on top.
Organizations can use Microsoft Teams to schedule and organize meetings, hold video conferences, collaborate, share, edit, and find content on cloud-based storage.
For Microsoft Teams, the list of amazing features doesn't end there. Microsoft Teams has a chat app that streamlines team communication, and its intuitive design means you won't have to wander a lot before you master working in Teams.
The app is available through desktop and mobile apps, as well as through the internet browser. This feature comes in handy if you need to check something during your morning commute and from different locations.
Lastly, Microsoft Teams offers a wide variety of integration that will allow you and your team a seamless workflow, ensuring you always stay on top of all tasks.
Productivity
When it comes to productivity, Asana is one of my favorite task-management apps available in the market. It offers a wide array of project templates, from marketing to product design, that help teams track their tasks and plan and track their projects from their creation to completion in an easier fashion.
What I love about Asana is the fact it offers the possibility of breaking bigger, more demanding tasks into smaller, manageable chunks, allowing managers to have a better overview of their progress. Furthermore, managers can easily assign tasks to different team members and track their progress, ensuring that everyone from the team has an equal amount of workload. This app also helps in preventing deadline breakages, since managers can track the progress and determine easily if team members are struggling with certain tasks.
For the organizations that have a mix of freelance workers and in-house employees, Asana is a perfect choice, as they can have a clear overview of the assigned tasks, they can prioritize them more easily and complete them effortlessly. However, one downfall of Asana is the lack of a built-in chat option that would allow team members to discuss project-related topics within the app. Another thing that Asana doesn't have, but it would be a nice addition is a time tracking option which is essential for accurate pay calculations for hourly workers, for instance.
Smaller teams will be pleased to hear that Asana comes with a free version for themes of up to 15 people.
ActiveCollab is yet another project management software that allows users to split projects into smaller, more manageable, tasks and subtasks. The good thing about it is that it's extremely easy to use, as it provides a nice overview of tasks – either by date, assigned users, or custom labels.
Furthermore, its automatic rescheduling feature that enables the child task to automatically follow the change to the parent task is extremely handy, as you don't have to manually set each of them.
Its ability to show tasks as a timeline (with dependencies), kanban board, calendar or a list ensures their timely completion. Furthermore, via ActiveCollab, users can track time and budget spend on a task ensuring there are no budget breakages.
Lastly, this app offers a robust platform where all communication, projects and tasks are centralized at one spot, allowing teams to streamline their work processes in no time.
Marketing
Mailchimp is an email marketing software that helps both companies and individuals craft highly personalized email marketing campaigns, newsletters, outreach campaigns, and more.
This app allows its user to segment their audience, customize their content, create various campaigns according to the purpose, but also see the campaign's results and improve their performance over time.
Since I started doing marketing, I favored MailChimp compared to other email marketing software due to its ease of use, but as well the fact you don't have to spend a dime to work in it for pretty long.
Are you looking to speed up your work and grow your creative toolkit? If so, Envato Elements is for you. With over 10 million items, it's the place to find high-quality creative assets to build your next project.
You can say goodbye to boring marketing campaigns as this tool offers professionally-made presentation templates, stock photos, fonts, video templates, and much more for maximum impact. It also brings peace of mind because a lifetime commercial license covers all Envato Elements assets.
The most significant benefit of this subscription-based service is that you get unlimited downloads for only $16.50 p/m, or try their 7-day free trial.
If you're a small business owner, then you know that you don't exist if you aren't online. Social media plays a huge role in a business's success, and if they want to attract and retain customers, businesses have to stay present and visible on social media platforms.
However, small business owners usually don't have a lot of time to manage their online presence. Even though it's vital, it takes precious time and energy they can put into doing what they know the best.
That said, Hootsuite comes as a perfect solution, as it is a social media management app that allows users to create and maintain a company's social media profiles effortlessly.
Users can schedule posts on LinkedIn, Facebook, Instagram and Twitter ahead of time – even months in advance and forget about this time-consuming and tedious part of the job. Furthermore, Hootsuite will track and monitor your brand on social media, and notify you when you get a mention. Hootsuite can track several metrics for you, including your click-through rate that will help you gauge which content works the best.
BeFunky
BeFunky is a versatile photo editing app that offers a wide range of features for users to enhance their photos.
The app provides a variety of filters and effects to give your photos a unique and creative look.
For those who want to combine multiple images in one, BeFunky also has a collage maker feature that allows you to create collages with different layout options.
You can be easily assured a great photo editor that would improve your photos with tools such as cropping, resizing, and rotating. It also has basic editing tools to fine-tune your image. 
Additionally, BeFunky has a text editor that enables you to add captions or text to your photos, making it perfect for social media posts or creating personalized cards.
With its user-friendly interface and powerful tools, you can easily edit and enhance your photos in no time, giving you the creative freedom to make your photos truly unique.
Invoicing doesn't have to be scary
GET 50% OFF SOLO & PRO PLANS
UNTIL MIDNIGHT, OCTOBER 31