How to Ensure the Digital Security of Your Small Business Finances Online
Written by InvoiceBerry Team on November 15, 2021
Many financial transactions take place online these days, which has dramatically improved convenience for all.
However, this leaves us vulnerable to cyberattacks, making cybersecurity an essential consideration for many businesses, especially for smaller businesses.
Try our online invoicing software for free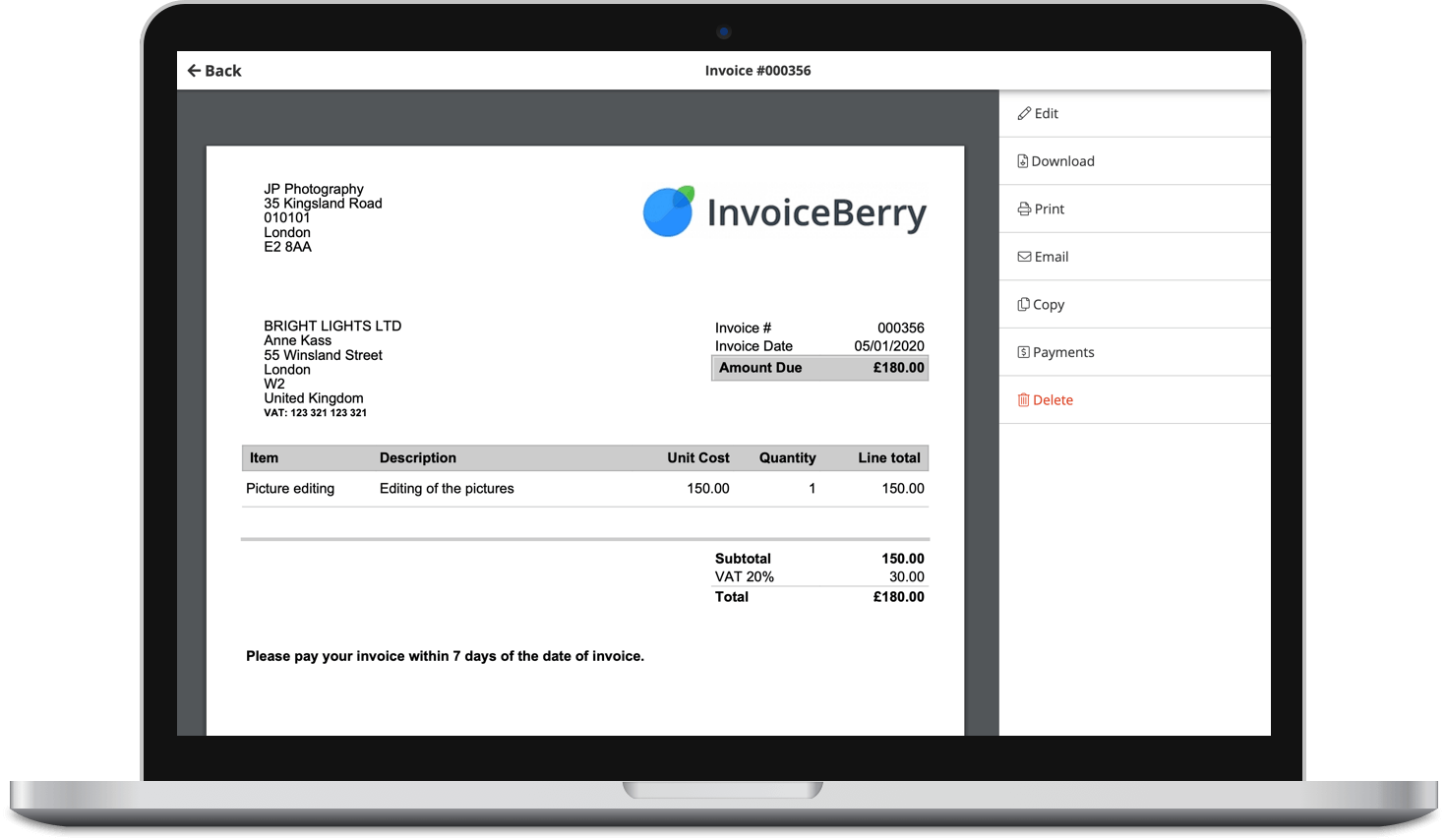 Send professional-looking invoices
Accept online payments with ease
Keep track of who's paid you
Start sending invoices
Prevention is the best cure because poor cybersecurity could put confidential items at risk of theft, such as:
Client lists
Your business' banking details
Customer credit card information
Other sensitive information, including product specifications, designs, and manufacturing plans
Not just that, the damages arising from a cyberattack can include:
A damaged reputation with your customers in failing to keep their data safe
Financial losses from the theft of sensitive information and disruption of business
Significant costs to restrengthen your network
Below are ten ways to ensure digital security of the finances of your small online business.
1. Familiarize Your Employees with Security Principles
Instilling basic security practices and policies for employees, such as requiring strong passwords and establishing guidelines that include penalties for violating company cybersecurity policies, ensures that these security principles are adhered to.  It is also important to communicate the importance of using personal search engines to minimize potential security risks and protect sensitive company information.
Communicate the importance of these principles by describing how to handle them and how this affects the security of customer information and other vital data.
2. Update Your Passwords
This is one thing many of us are guilty of. Passwords rarely, if never, get updated once they've been created.
To keep security tight, ensure your employees update and encrypt their passwords every three months.
3. Use Two-Factor Authentication
Consider implementing two-factor authentication and biometric access measures for added security. Two-factor authentication is a security method that adds an additional layer of security–a factor–to the authentication process, first via a password, then a biometric factor.
This means that attackers will have to successfully crack the first factor and the second factor to access your data.
Thus, always check with your vendors that handle sensitive data if they offer two-factor authentication for all your business accounts. It is good practice to familiarize yourself with auth protocols such as SAML or OAuth, which are often used in these permissions.
4. Limit Employee Access and Authority to Install Software
Only give access to systems, programs, and applications to those employees who need access to get their job done.
Additionally, limit access and permissions to install software to trusted staff members who need to use specific programs to complete their tasks and projects.
5. Protect Your Devices by Keeping Its Software Updated
Iron out security vulnerabilities by installing the latest operating system, web browser, and security software to defend your business against malware, viruses, and other online threats. Remember to install the latest software updates once available.
6. Keep Your Mobile Devices Secure
Mobile devices can be a challenge to keep secure, mainly because they are portable and are prone to be lost.
Keep all confidential data on your mobile devices secure by requiring employees to encrypt their data, install the latest security apps, and password-protect their devices.
There must also be a set of standard procedures to report lost or stolen devices.
7. Secure Your Internet Connection–Enable Your Firewall
A firewall is a network security system that uses predetermined security rules to monitor incoming and outgoing traffic, preventing outsiders from accessing a private network.
Firewalls can be enabled from a devices' operating system or by installing a firewall system. For employees working remotely, be sure that their home systems are equipped with a firewall.
8. Employ Secure Practices for Payments
Collaborate with banks or payment providers to use the most trusted validated tool and anti-fraud services, along with security obligations according to the agreements with your bank or payments providers.
Isolation is key. Isolate payment systems from other less secure programs and never use the same device to surf the internet and process payments.
9. Backup Important Data and Information
Keep your data protected from unforeseen incidents such as a power failure by regularly backing up your data on your servers and computers.
Critical data includes word documents, financial and human resources files, databases, and accounts payable/receivable files. Backup data automatically at least once a week and store copies either onsite or in the cloud.
10. Keep Your Wi-Fi Networks Secure
Protect your Wi-Fi networks from unauthorized access by encrypting and keeping them hidden. Passwords protect your router and hide your network name or Service Set Identifier (SSID).
And one way to keep your Wi-Fi network highly secure is to use a Virtual Private Network (VPN).
What is a VPN, And Why Should You Use One?
A Virtual Private Network is a secure network through a public internet connection. It hides a user's IP address and physical location via encryption protocols that funnel all internet traffic through an encrypted tunnel, a VPN–between a computer and a VPN.
A user's data and information are hidden from their Internet Service Provider (ISP), unauthorized users, advertisers, and even the government, ensuring maximum security and privacy when browsing online.
But more than that, there are five more advantages to using a Virtual Private Network.
1. Evade Tracking
Your internet service provider can track all your online activity; the online services and websites you use, down to the detail–how long you use them when you use them, plus everything you click, read, watch, and view.
Unbeknownst to many, not only can an ISP store a user's entire online history up to a year like in the UK, but some countries also, such as the US, on top of storing your online history, can even sell your browsing history without consent to the highest bidder.
Advertising networks, subscription services or data brokers can bid for a user's browsing history and target their unsuspecting victim.
A VPN protects users from this invasion of privacy by encrypting their internet connection, shielding them from the watchful eye of their ISP.
2. Online Banking Security
24% of the European population are using VPNs to protect sensitive data. For those not yet on the bandwagon, their online banking activities may be compromised by hackers on unsecured networks.
While there are many VPN providers to choose from, nothing is safer than using the VPN server of your choice.
3. Browse Securely on Any Public Wi-Fi Network
Sometimes we may need to connect to a Wi-Fi network urgently. Still, the only networks available are unsecured public Wi-Fi networks from Starbucks and McDonalds, which may not be the safest option, especially if you are dealing with sensitive data.
A VPN can easily make it a much safer experience by encrypting the data sent across the network.
So whether it's your home network or free Wi-Fi from Starbucks, you can rest easy that your data is protected even if the Wi-Fi network is unsecured.
4. Use the Internet with A Peace of Mind
In 2019, a study was carried out to determine whether internet users have grown more concerned about their online privacy.
Worryingly, an average of 53% of the global population has shown that they are much more concerned compared to a year before.
The Latin American region was top of the list with 65% of its population being more concerned, followed by the Middle East and BRIC regions with 63% respectively, APAC with 54%, and ending with the G8 countries and Europe with 44% and 39% respectively.
There is no doubt that many online users are worried about their privacy, especially when cyberattacks can be carried out on a whim.
With a VPN however, you can browse the internet freely without the fear of being tracked and being exposed to potential cyberattacks.
But why stop at a secure network connection? Enhance your overall security by keeping your confidential data secure with cloud storage.
Why Cloud Storage Is the Way to Go
Cloud storage is increasingly in use, with many enterprises spending an average of $1.2 million on cloud services such as Azure and Google Cloud.
Find out why cloud storage is becoming increasingly prevalent and why using cloud storage can be a significant advantage for your small business.
1. Convenience
Cloud storage allows its users to save all their files on the cloud easily. As long as there is an internet connection, users can easily access their files anywhere, anytime.
2. Synchronization
Cloud storage not only allows you to access your data from any location, but it also synchronizes any files uploaded from access points such as a computer or mobile device wherever you are via an internet connection, removing the stress of physically transferring data from one point to another.
It also allows you to update files instantly, and any updates will be reflected across all devices that have access to said data.
3. Security
Cloud storage distributes server data across redundant servers and is safeguarded against any form of hardware failure. It also provides regular automated backups to keep your data safe.
4. Lower Costs
Some may say cloud storage prices are high, but they are ultimately cheaper and more flexible than physical storage.
As no additional resources are required to store data, businesses can reduce their annual operating costs and take advantage of the affordability cloud storage offers.
5. Collaboration
A cloud environment can improve productivity by allowing multiple users to access and edit a document in real-time regardless of time and location.
6. Recover Your Data Easily
Since physical storage is prone to hardware failure, recovering data from physical storage can be a costly and time-consuming experience. Even with its high success rate, it's still not guaranteed.
When you store data via cloud storage, files are kept on an online server, meaning you can easily retrieve a copy of your file from any device as long as you have an active internet connection.
Now that you're up to date with the best practices to keep your data and network secure, relish in the peace of mind you now have so that you can entirely focus on running your business while keeping it safe and sound.
Daniel Bishop started off my career in digital marketing by working for a few local companies. After a year or two of learning different aspects of the job, I moved on and worked for DesignRush as a content advisor. Right now I'm working for ReallySimpleSystems as an assistant editor and marketing consultant. Other than that I enjoy good coffee and Otis Redding.
Small Business Finance 101
Download our free guide to learn the fundamentals of finance that will help make your small business more efficient and successful.