How to Create a Customer Loyalty Program that Increases Sales and Retention
Written by InvoiceBerry Team on November 16, 2020
Let's be real, as a business owner, there is nothing quite like winning over new customers.
However, as exciting as it is and as much as it's always going to be a part of running a successful business, I'd argue retaining existing customers is more important.
Try our online invoicing software for free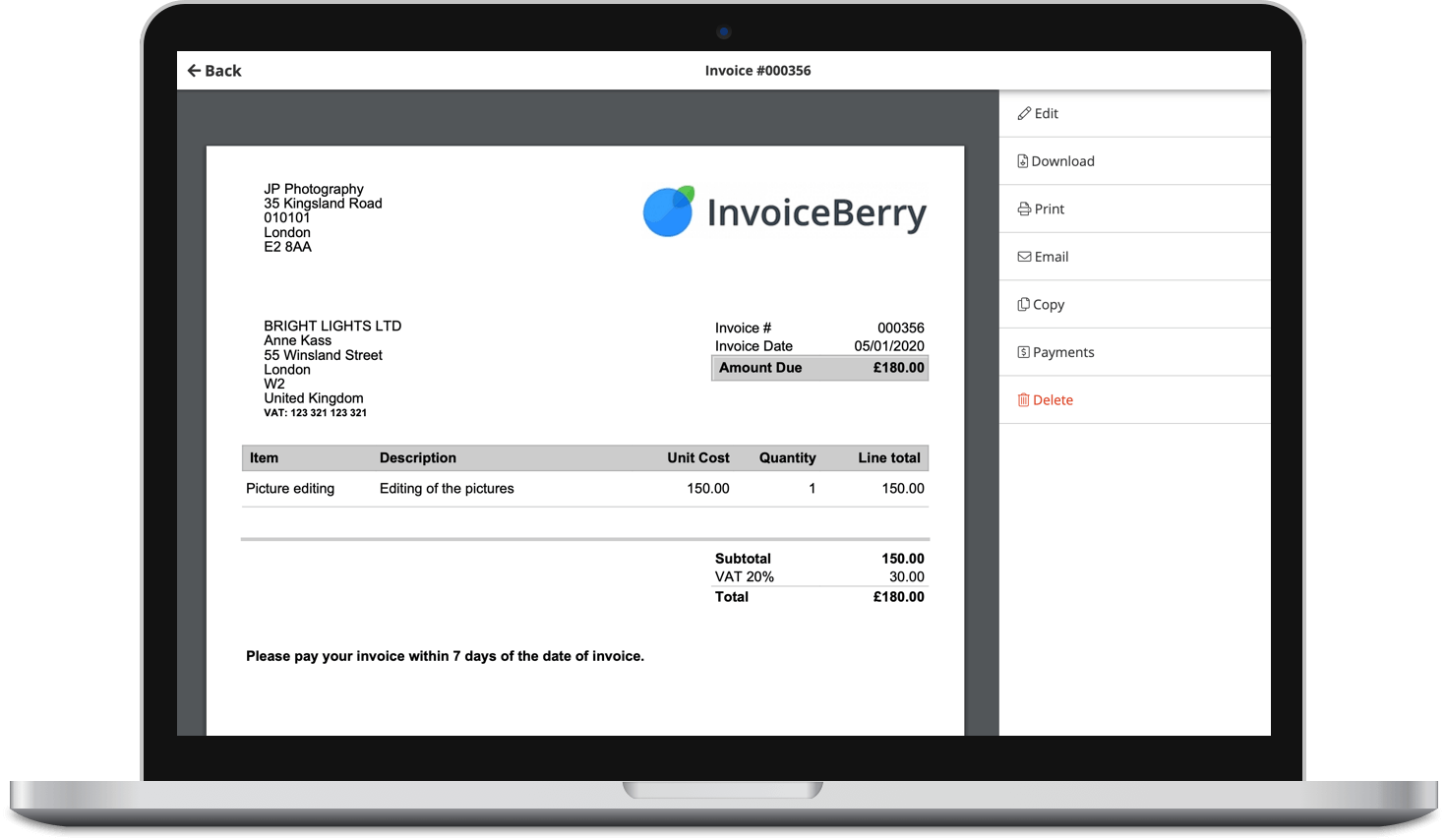 Send professional-looking invoices
Accept online payments with ease
Keep track of who's paid you
Start sending invoices
Far too many businesses, big or small, are spending far too much of their marketing allowance on securing new customers. They do this instead of nurturing the relationships they already have with their valued return customers.
And it's worth your while to foster these relationships as it encourages previous customers to stay loyal to your business. It has been shown that up to 80% of marketing budgets are spent on acquisition, forcing customer retention to take a back seat.
With this in mind, imagine if you could make more money while cutting marketing costs.
This is the power of customer loyalty.
In this post, I will define what customer loyalty is, explain why it's so important to your business, show you how to successfully kickstart a customer loyalty program, or optimize an existing one, as well as throw in a heap of other handy tips to help you along the customer loyalty journey.
Let's dive in.
Customer Loyalty and the Customer Lifecycle
One of the core concepts behind customer loyalty is that customers trust and love your brand enough that they will continue to come back to your shop over and over again.
So understanding what brings them to your shop in the first place is an important part of setting up your loyalty rewards program. This can best be explained by the customer lifecycle, which maps out the path a potential customer takes leading up to and following a purchase.
The customer life cycle works in five stages:
Awareness/discovery: The buyer realizes they have a problem and begins their journey to solve it.
Engagement/education: In their search, the customer stumbles across your business.
Evaluation: The buyer then begins the process of evaluating whether or not your products or services will fix their problem.
Purchase: The buyer makes a decision, your brand possesses a means to fix their problem and they proceed to purchase it.
Advocacy: If the customer was satisfied with your solution they are likely to recommend your business to their friends and family.
By understanding the process and decision path your customers go through in the customer lifecycle, you can better anticipate their needs and provide the perfect incentive for them to return to your store.
Perhaps there are places in your marketing approach you could improve, maybe a strategy you are using isn't worth the investment, or possibly there is a tactic you are employing that simply isn't working.
Whatever the case may be, if you tighten up the customer experience along their buying process, then they are more likely to shop with you again.
What Are The AdvantagesOf Running A Customer Loyalty Program?
Customer loyalty programs provide many benefits for your brand, these include:
5 Ways To Keep Customers Coming Back
1. Use Other strategies Alongside your Regular Discount Offers
Discounts are, no doubt, a tried and trusted marketing strategy, however, there are lots of alternatives that are just as, if not more, effective.
Try using these strategies alongside your regular discount sales:
Create scarcity through limited-time products
There's nothing quite like triggering a scarcity mindset to stimulate a purchase. For example, if you shop on Amazon, you've probably noticed the "only X left in stock" warning.
This, plus the shipping urgency play ("want it tomorrow?"), is an excellent way to create scarcity to get the user to take action and not lose out on the product.
Limited time products are great at making certain items appear exclusive, people enjoy feeling like they have something that nobody else does.
Offer freebies or extras
Everybody likes feeling like they got something for nothing. Offering freebies or extras don't have to break your business bank, just a little something extra when a customer has just dropped a whole heap of cash can help to make them feel like they are valued by your brand.
Practice good "after sales service". Many customers will stay loyal to a brand if they feel they are being looked after post-sale.
This doesn't have to be as intensive as it sounds, something as simple as a follow-up email to evaluate how they feel about their purchase, a well-developed FAQ survey, or instructional videos on your business's website can mean the difference between a happy customer and an unhappy customer.
2. Work on the Rewards System of the Brain
Gamifying your sales process is a great way to ensure your customers will come back for more. This process involves applying gaming mechanics in a non-gaming context, like buying products from your e-store.
Basically, it offers users, your customers, an exciting and engaging way to interact with your brand. It works on the reward system of the brain, users complete challenges and in return receive some sort of reward as well as a release of dopamine – the feel-good chemical that motivates us to continue carrying out a rewarding activity.
In this case, purchasing products or services from your business.
Take Gwynnie Bee, for example, the women's subscription rental service. The brand stimulates the mystery and fun of a scratch-off lottery ticket. This is a common gamification strategy that infuses real world games to reward email recipients and grow their brand.
3. Build an Emotional Connection with Customers
In a world of faceless business, opening up to your customers in a calculated and strategic way can really help nurture a strong emotional connection with your customers.
This is what Always, the feminine products brand understood with their #Likeagirl campaign.
The campaign detailed all the amazing things that women and girls are doing globally in sports and generally. The campaign generated a lot of buzz, won hearts and obviously customers.
Establishing this connection can help to open up trust and belief in your brand, which will further bolster brand loyalty.
4. Keep yourDigital Loyalty Program Simple
Keeping your customer loyalty program super simple is integral to its success. A complicated and hard to use platform or system will only frustrate and confuse your customers, discouraging them from engaging with your loyalty program.
For example, the Amazon Prime Loyalty program offers clear rewards like exclusive access to Kindle books, TV shows, movies, faster shipping time frames and a better Amazon experience generally in exchange for customers loyalty.
The benefits are clear and the customer isn't confused about what they recieve as rewards or what they need to do to access the program's benefits. This resulted in 100 million Prime subscribers worldwide in 2018.
This is where a digital loyalty program really shines. It's convenient, highly effective, easy to set up, allows direct contact with your customer base, and very flexible, meaning if there are any issues with your program a simple tweak will solve all your problems.
5. Partner With Other Businesses
Partnering up with another business is a great way to interject ease and convenience into your program for your customers. A great example of this is the Marriott Bonvoy loyalty program.
The loyalty program is a partnership of 3 different rewards programs:
The Ritz-Carlton rewards
Old Marriott rewards
Starwood Preferred Guest rewards
This broadened the benefits of the program to over 7000 properties customers can redeem points on, which makes the benefits of the program more appealing.
One of the key benefits of a coalition program is it enables your loyalty members the flexibility to earn and redeem their reward points in more ways than one.
How to know your Rewards Program is Successful
Measure Your Customer Retention Rate
A key way to measure the success of your customer rewards program is to estimate your customer retention rate, this can be achieved by using fairly simple measurements.
Customer retention measurements will enable you to uncover how well your business is retaining customers. This is done by using certain customer retention metrics like:
customer churn,
revenue churn,
repeat purchase ratio,
existing customer growth rate,
net promoter score,
product return rate,
loyalty customer rate,
and customer lifetime value.
These metrics help generate key information that can be used to fine-tune your customer's journey and tailor better experiences for them when they are engaging with your brand.
Customer Churn Rate Analysis
Customer churn rate is possibly the most straightforward and effective customer retention metrics. Your business's churn rate refers to the rate at which customers decide to stop doing business with your brand.
Basically, a churned customer is one, for whatever reason, that your business failed to retain.
Although losing customers is a natural part of doing business there is a threshold that you should keep an eye on. If your customer churn rate exceeds 5-7%, there may be a problem and it's probably time to evaluate your customer's satisfaction and happiness levels, and try to reduce customer churn.
Typically, a high churn rate may indicate that your products or services are missing their mark and your customer's expectations aren't being met.
Get Customer Satisfaction Feedback
Another fairly easy and straightforward way to measure the success of your program is to use a satisfaction survey. Satisfaction surveys may seem a little outdated, but don't be fooled, they still remain one of the most effective ways to gain insight about how your customers view your brand.
There are two main insights a customer satisfaction survey provides, what your customers like, and, perhaps more importantly, what your customers don't like. There is also an abundance of tools you can use to conduct it. If you don't want to use traditional methods, consider chatbots.
Here's how you can collect NPS data from your customers using this technology:
By understanding your customer's likes and dislikes, you can adjust and refine your business approach, helping to meet your customer's expectations more frequently.
Closing
Developing a successful customer loyalty program doesn't have to be complicated. It should be easily set up, easily managed, and, most importantly, help your business's bottom line.
So what are you waiting for?
Get started today. Determine which customer loyalty tactics you are going to integrate into your business's framework using the comprehensive guide we have outlined for you above.
Happy marketing!
Raul Galera is the Partner Manager at ReferralCandy and Candybar, two tools helping small and medium businesses run customer referral and loyalty programs. He's been working in the tech sector for the past seven years and regularly writes about marketing, ecommerce and tech.
Small Business Finance 101
Download our free guide to learn the fundamentals of finance that will help make your small business more efficient and successful.