A Guide to Budgeting For High Growth Companies
Written by InvoiceBerry Team on April 27, 2020
For the longest time, budgeting was a guessing game, especially so for the companies that grow significantly faster than the market. In many cases, you just didn't know what new technologies would help your growth or what bottlenecks would stop it.
All you had on your hands is a sophisticated guess that attempted to please investors with some semblance of stability.
Try our online invoicing software for free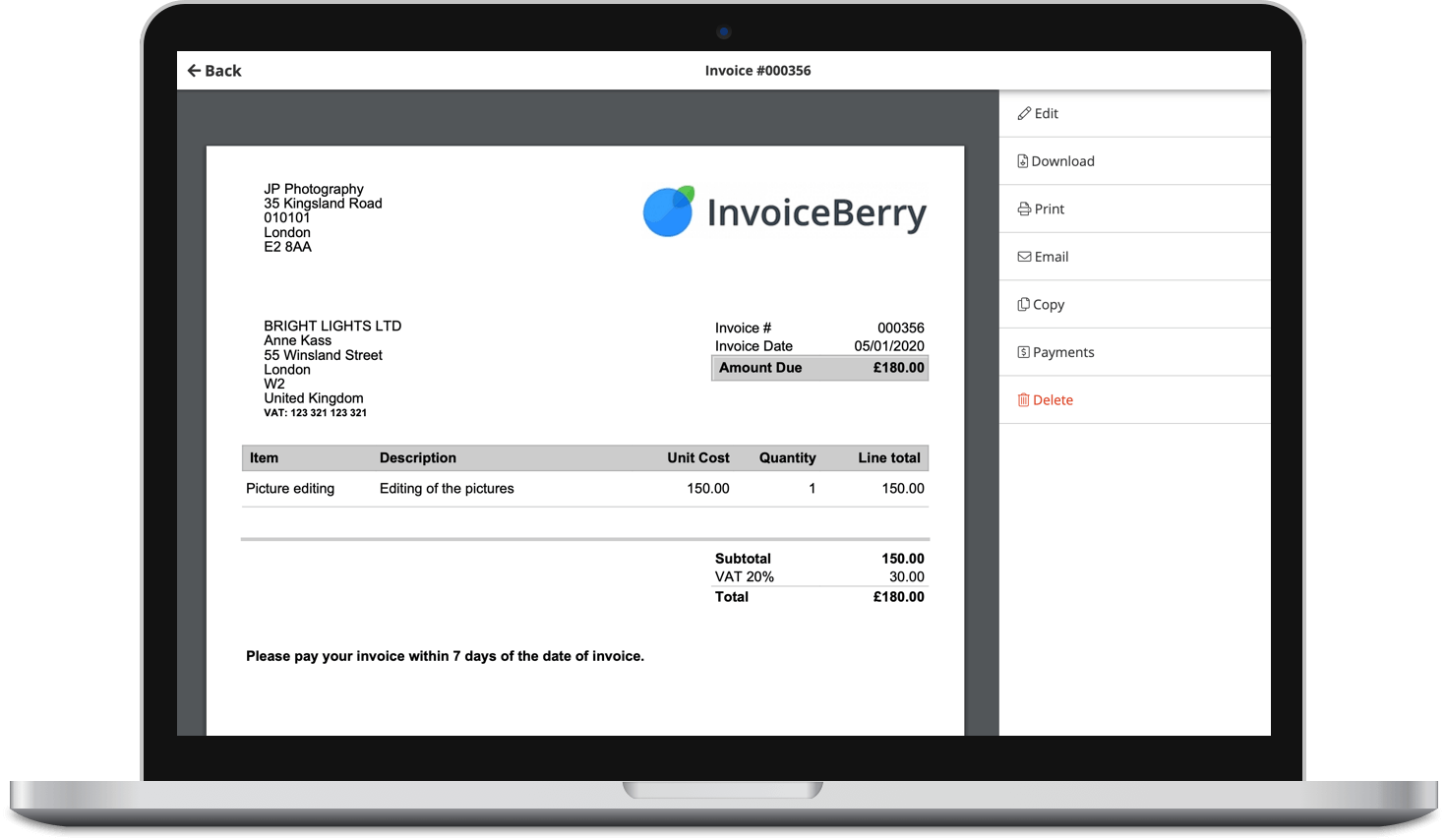 Send professional-looking invoices
Accept online payments with ease
Keep track of who's paid you
Start sending invoices
Today, we're one step closer to budgeting that reflects reality, not just expectations. Here's what you should take into account when you're planning a budget for a high growth company.
Best and worst-case scenario
When you're creating a budget, you base it on a set of assumptions. You're not working with facts since it's impossible to know facts about the future. One of the biggest assumptions is that your level of growth is going to be steady during the next couple of years. If this turns out to be false, you'll end up with a budget that doesn't fit the situation you're in.
Change the assumptions that are the basis for your budget, and develop several scenarios. The least you can do is produce the base, the best, and the worst-case scenarios. This will give you a set of budgeting and planning options to use in case your current budget fails.
How do you plan for the best and worst-case scenarios? The easiest way you can do this without obtaining an MBA is to change the inputs. Change the number of clients you're planning to acquire in a certain time period, the average check, the lifetime value of a client, customer churn, etc.
Set these values to the maximum and to the minimum, and see what estimates you end up with. But don't set all the values in the worst-case scenario to zero and all the values in the best-case scenario to 100%. Instead, go for values that are significantly lower or higher from what you expect to see.
As another precaution, assume that the first two to six months of running a business may represent the worst-case scenario. Starting out is always extremely tough, and it takes some time to fine-tune marketing.
If you don't want to suffer shortages in cash flow, plan for this period and be sure to have a buffer in the budget.
Scaling the resources correctly
With the growth in customers, comes growth in resources you need to use to produce your products. You have to be realistic about the tempo of the latter. If you start buying more resources and hiring more people before they can add to the value, you're wasting money. If you do that too late, you risk losing clients.
To lay down a perfect budget for scaling resources, you need to have a crystal clear understanding of how many resources you need. This is significantly easier to do than figuring out how many clients you're going to have in each month of running the business, though.
Think about your company in terms of workflows. Figure out how many workflows can your team manage now, and how much the workflows are going to increase when the business starts attracting more clients.
For a typical SaaS company, the biggest change would be from allocation resources to marketing and development to switching to support. As a SaaS product starts getting more clients, marketing and development workflows may stay relatively stable for some time, but the number of people talking to support is going to grow exponentially. This warrants a staff increase.
Another major shift in resource budget is when your team gets so big you need to upscale the office space. That may need more time and money than you previously thought, and you need to put that into your budget. Also, don't forget about overhead expenses like the utility bill that will fluctuate throughout the year, and office expenses that will grow as you hire more people.
Your business may have different needs as it scales, and you have to think them through. For example, a data management tool for coursework and other writing assignments would eventually need to upscale the server hardware to deal with the upstream of clients. A Whitelabel company would have to deal with a severe shortage of personnel as there are increasingly more clients.
Find the milestones that mark significant increases in the resources you need and plan the budget accordingly.
Scaling taxation
In the perfect world, you'd be enjoying a low, flat tax that you don't need to spend hours calculating. Unfortunately, the reality is not as pretty as economists' dreams. You have to take taxes into account when budgeting.
As your revenue grows, you need to pay increasingly more taxes. The bigger the area you cover, the more sales tax licenses you need to get and pay them to different states. Then, some states don't charge a sales tax on your goods. Others charge a sales tax on delivery, so you need to take that into account.
Use free tools like SmartAsset, hire an in-house tax expert, or use a tax attorney to estimate how your tax spending is going to grow in the future.
Expect your marketing budget to grow
Marketing budgets are on the rise, especially for SaaS companies. If you're a SaaS startup, you can safely expect your marketing budget to grow faster as you progress to take a bigger share of the market.
If you run a small B2B company that only needs a couple of good clients per quarter to keep growing and you're content with that, you may not need to think about marketing that much. However, if you're a B2C company that needs thousands of people to grow, marketing costs are going to grow exponentially.
But you're not paying money for nothing. Salesforce, one of the leading CRM platforms, spends 46% of their revenue on marketing. This is the price they pay to get a 25% increase in the revenue in one year. The important thing here is that while the marketing budget grows, the cost of acquiring a lead may fall due to the brand being more and more recognizable.
When you're budgeting for marketing costs, calculate what do you need to do in terms of marketing to hit goals for each quarter and include the cost into the budget. Don't forget to budget for the best and worst-case scenarios.
Cut costs with procurement automation
If you run a company that sells physical products, it's going to be another strain on the budget. You can't predict the costs of purchasing the key resources if it's done manually. Suppliers and contractors change, so does the price. These fluctuations can sometimes be deadly for your bottom line.
Organize the procurement process to make it uniform, less costly, and predictable. This will help you include more reliable numbers into the budget.
Plan for bottlenecks
No company is going to grow exponentially. Even in the early stages, you're guaranteed to meet some bottlenecks that stunt your growth. The most common ones are the need to scale the processes that were previously tied to specific people, lack of people resources, and building a consistent online presence.
Don't let the common problems catch you off-guard. Plan ahead for them and adjust both your budget and your business strategy to deal with them.
The easiest way you can do that is to switch to the worst-case scenario for 2 or more weeks for each period of time you expect to see a bottleneck.
Use machine learning for forecasting
Human thinking can be too wishful to be realistic about the future. Every startup owner who leans to the creative, not orderly side of things knows that. You often get this amazing idea, but when it comes to selling it, there's much less demand than you expected.
Partnering up with a person who can control your creative side is a great idea, but If you want to make a really accurate forecast to plan your budget, you need to invest in machine learning.
It's even more profitable now that you can use Amazon AWS for better, cheaper forecasts. You get access to machine learning for as little as $200 for a thousand of forecasts, which opens the doors for next-generation planning. Use the forecasts to predict market trends, demand for certain products, and business goals you set.
To budget for this, however, you'll not consult with an expert who can give you a better estimate of what it would cost.
Adapt
Good companies plan, the best companies monitor their performance and change the plan on the go if it doesn't fit the real situation. All companies that IBM deems performance accelerators do that, so should you.
Include analytics in your budget and don't hesitate to change your plans completely if they appear too unrealistic. It may feel awful to scrap all your plans in the middle of the operation and get back to the drawing board. But remember that improving on a plan that doesn't work is always better than continuing with it.
This is when the first step comes in handy. If you have budgeted and created business plans for multiple scenarios, you won't have to go in debt or close shop the first time you experience cashflow difficulties.
Conclusion
Budgeting is a guessing game that can be improved by scenario analysis, thinking ahead, and using machine learning. Invest in automation now, and you won't have to improvise to solve a crisis. You'll have a ready decision on your hands.
Alyse Falk is a freelance writer. She handles stories about the latest developments in the field of technology. Passionate about AI, Alyse has extensive experience writing articles and essays on data-driven analytics, cloud computing, cybersecurity, machine learning, and IoT devices. In her spare time, Alyse enjoys reading about all things innovative and in the field of technology. She also enjoys playing tennis and doing yoga on the weekends.

Small Business Finance 101
Download our free guide to learn the fundamentals of finance that will help make your small business more efficient and successful.