Why is InvoiceBerry so popular among small business owners?
Written by Leiann on February 10, 2020
Invoice, bill, tab, voucher – whatever name you use – refers to a list of goods or services provided, along with a statement of the sum due. If you're running a business, chances are you're sending out invoices.
Key details usually found on an invoice include the date of issue, name and contact details of the seller and buyer, a description of the product, tax amounts (if applicable) and the total amount charged.
Try our online invoicing software for free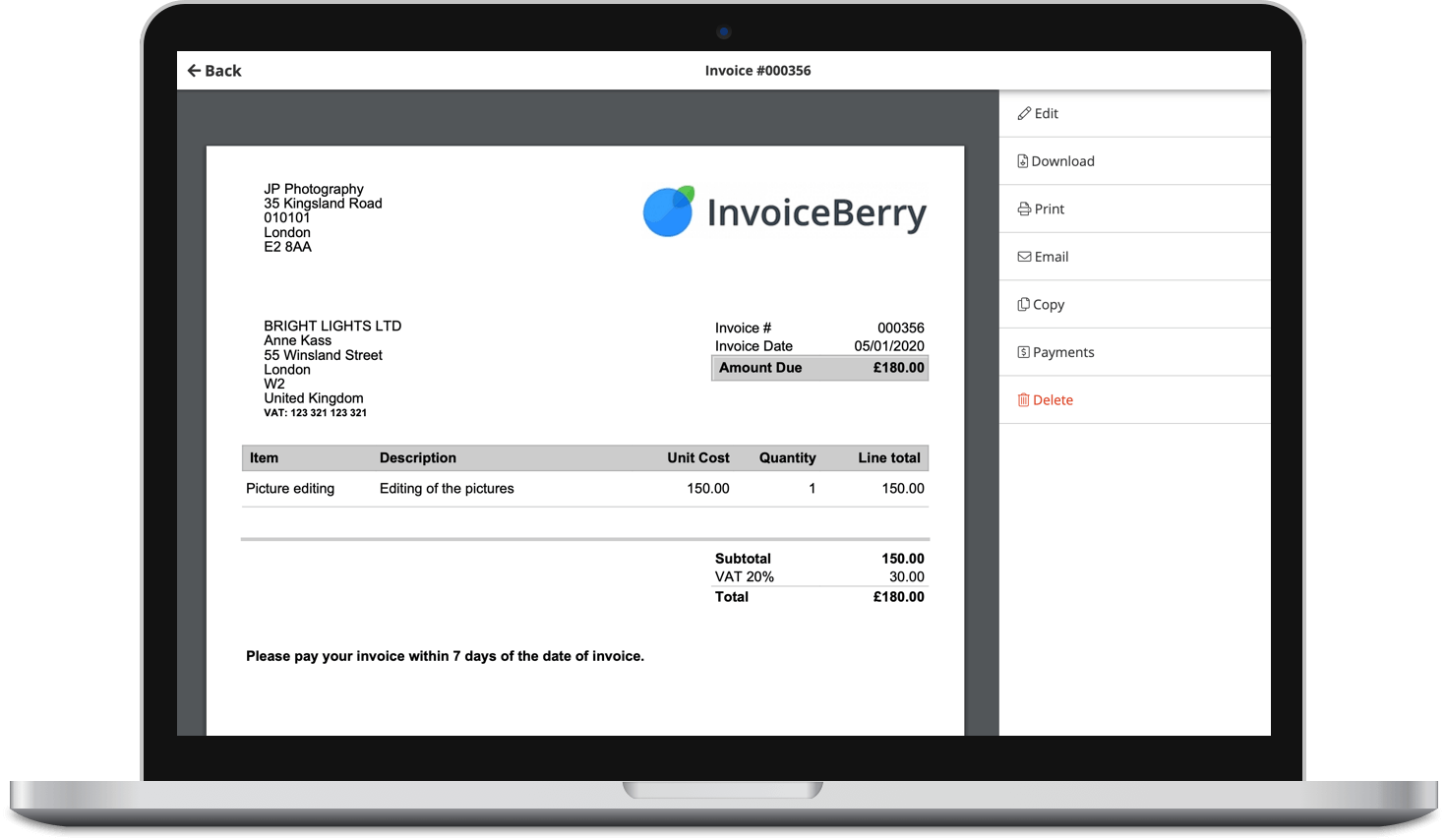 Send professional-looking invoices
Accept online payments with ease
Keep track of who's paid you
Start sending invoices
Invoicing helps you maintain a steady stream of cash inflow. And if managed effectively, it can be a great system to keep track of your business' financial status.
What is InvoiceBerry?
InvoiceBerry is a simple and effective way to send invoices, track your expenses and keep up with customer payments. What sets this particular online invoicing software apart is that it was designed with small businesses, freelancers,  entrepreneurs, and sole traders in mind.
Testimonials received to date indicate that it's doing just that. Winning financesonline.com's 2017 Rising Star and Great User Experience Awards was also a fine indication of a job well done. Two years later, our user satisfaction rate continues to soar at 100%. It's based on a behavior-based Customer Satisfaction Algorithm that gathers customer reviews, comments, and opinions across a wide range of social media sites.
Outlined below are the main features and benefits that users of InvoiceBerry tend to rave about. You're sure to join their ranks once you sign up for your free one month trial!
Impressive designs
"I love that we were able to choose between a large variety of different designs for our invoices. Most invoicing apps only offer one design which normally looks very boring. The InvocieBerry designers have done an amazing job by providing all those different invoice designs. Well done!"
Despite its simple interface, InvoiceBerry packs a great punch when it comes to delivering crisp and professional-looking invoices. The variety of predesigned templates and colour options makes it super easy to customize according to company colours. And your business logo and contact information will remain consistent across all invoices.
It's a favourite of both savvy designers and customers with little to no experience with graphics. We aim to please and provide templates that fit just about every style. So whether you prefer a more minimalist look or bold floral designs, InvoiceBerry has got you covered!
Simple easy access
"I am not joking. I was suffering for so many years with my company's invoicing. Then I looked for a good online invoicing tool. At first I couldn't find anything because I just needed a simple invoicing and expense tracking and most of the online invoicing software are full of unnecessary and overcomplicated features. But Invoiceberry is different. It's simple. That's the best way to describe it! Highly recommended for all small businesses who are struggling with invoicing creation!"
The next big thing that InvoiceBerry customers tend to rave about is its ease of use. Once you take the leap and make the choice to use this software for your small business, the transition to get everything up and running is super quick and simple.
Whereas some other companies make you sign contracts and invest in extensive complicated software that requires training to get started, InvoiceBerry removes the headache. Once you enter your basic business details, your preferred date format and the currency (or currencies) you'll be using on your invoices, that's it!
No expensive add ons – just a quick and simple user-intuitive interface for our customer's invoicing needs. There's also a bunch of tutorials and help guides available to walk you through any confusing bits.
Safety
 "I would definitely recommend this software to anyone looking for a simple way to avoid accountants and keep your records tidy and safe."
Security is one of the most important things to consider when making an online purchase or payment. InvoiceBerry's special SSL encryption technology, similar to what is utilized in online banking, keeps information 100% secure. Thanks to card number encryption and fraud protection,  users can rest assured when making and soliciting online payments using the software platform.
Constant backups of cloud data additionally guarantee that information never gets lost. By default of online invoicing software being online, all your information is stored online. Receipts can even be scanned and saved. This means never having to wander down another paper trail.  Just log in to your account and feel confident the information saved will be there.
Different payment options
"I submit 25 – 30 invoices every two weeks with 7 different clients and InvoiceBerry does a great job at a great price every time. This statement may not be business pc correct… but I love InvoiceBerry!"
Without payment integration, online invoicing software might be a bit of a joke. In this day and age, customers are used to having a variety of payment options and the advantages of accepting online card payments are undeniable.
That is why InvoiceBerry users are able to fully integrate and utilize Square, PaymentBerry by WePay and Paypal payment options. When an invoice is sent to a customer, all they need to do is follow the link that is automatically generated at the bottom of their invoice.
Each link is unique to the specific invoice and takes them to a page where payment information can be entered. When the payee settles up their bill, the payment from their bank card is authorized and the money is then placed directly into the InvoiceBerry user's business account.
Voila! Something added to your piggy bank to help keep the lights on.
Multiple currencies
"I like it very much! I am just starting out as a new company so I think it will get even more valuable as I start to expand the range and complexity of my client base. It is an excellent and affordable platform for the 'budding entrepreneur' sector looking for ease of convenience at a reasonable price."
This feature is a special favorite for companies that have clients and customers spread out around the globe. Converting different currencies has been known to result in early-onset baldness from all the frustrated hairpulling.
InvoiceBerry helps by enabling invoices to be sent in over 200 different currencies. You can also create an invoice that lists the bill in different currencies to provide your clients with an overview of what the total would be using another exchange rate.
Save yourself the time and grief by using this InvoiceBerry feature to handle your international business expenses.
Impeccable customer service
"InvoiceBerry is very intuitive and easy for us to review invoices and time/expense. It is also very flexible, and InvoiceBerry stands ready to work with you to customize the system to your needs. It's a very powerful package for the purchase price. Most modifications on our wish list have been met. It's very user friendly with good security features. If you need help, try their tech support. They have one of the best support people I've ever worked with."
You know as well as I do, the key to business success is acquiring and keeping customers happy. It's something that InvoiceBerry takes very very seriously.
Geared with the knowledge that it's 5-25 times cheaper to keep a customer than to get a new one, InvoiceBerry does everything possible to provide great support. The InvoiceBerry Help Center houses tutorials related to just about every solution you might need.
You can also contact the team with questions at any time. A helpful, pleasant and prompt response is guaranteed to follow.
Remember, a happy customer is a loyal customer and, boy oh boy, does InvoiceBerry have some devoted fans.
Integration with Zapier
In 2017 InvoiceBerry integrated with Zapier. This enabled customers to connect their InvoiceBerry account with over 750 other software applications.
Talk about streamlined workflow! Time-consuming tasks can be automated to work cohesively between applications of your choice. All you need to do is got to your settings, select the integrations button and boom there'll be a list of available software that can 'use this Zap' aka link with your InvoiceBerry account.
You can follow these instructions and be on your way to full integration with QuickBooks, MailChimp, Trello, Expensify… and the list goes on!
Next Steps…
The InvoiceBerry platform meets the needs of small businesses. The days of printing, mailing and maintaining paper-based invoicing records are fading to grey. Electronic transmission through online invoicing software is becoming the new reality.
Electronic invoicing standards differ from country to country, but Electronic Data Interchange (EDI) requirements have kept up with the times and expanded to include message encoding guidelines for invoices.
So rest assured and follow in the footsteps of countless other small businesses and who are already benefiting from the advantages of online invoicing software.
Small Business Finance 101
Download our free guide to learn the fundamentals of finance that will help make your small business more efficient and successful.