Top 36 Australian Business Directories to Get Your Small Business Noticed [UPDATED 2020]
Written by Alla on November 23, 2016
We've brought you top business directories from the United States, United Kingdom, Canada and South Africa. Something would be amiss if we didn't also feature top directories from the land down under!
Business directories are ideal for Australian small businesses looking to grow their online presence. They're a great asset for attracting new customers thanks to the fact that directories usually help business websites rank a little higher on search engines. 
Try our online invoicing software for free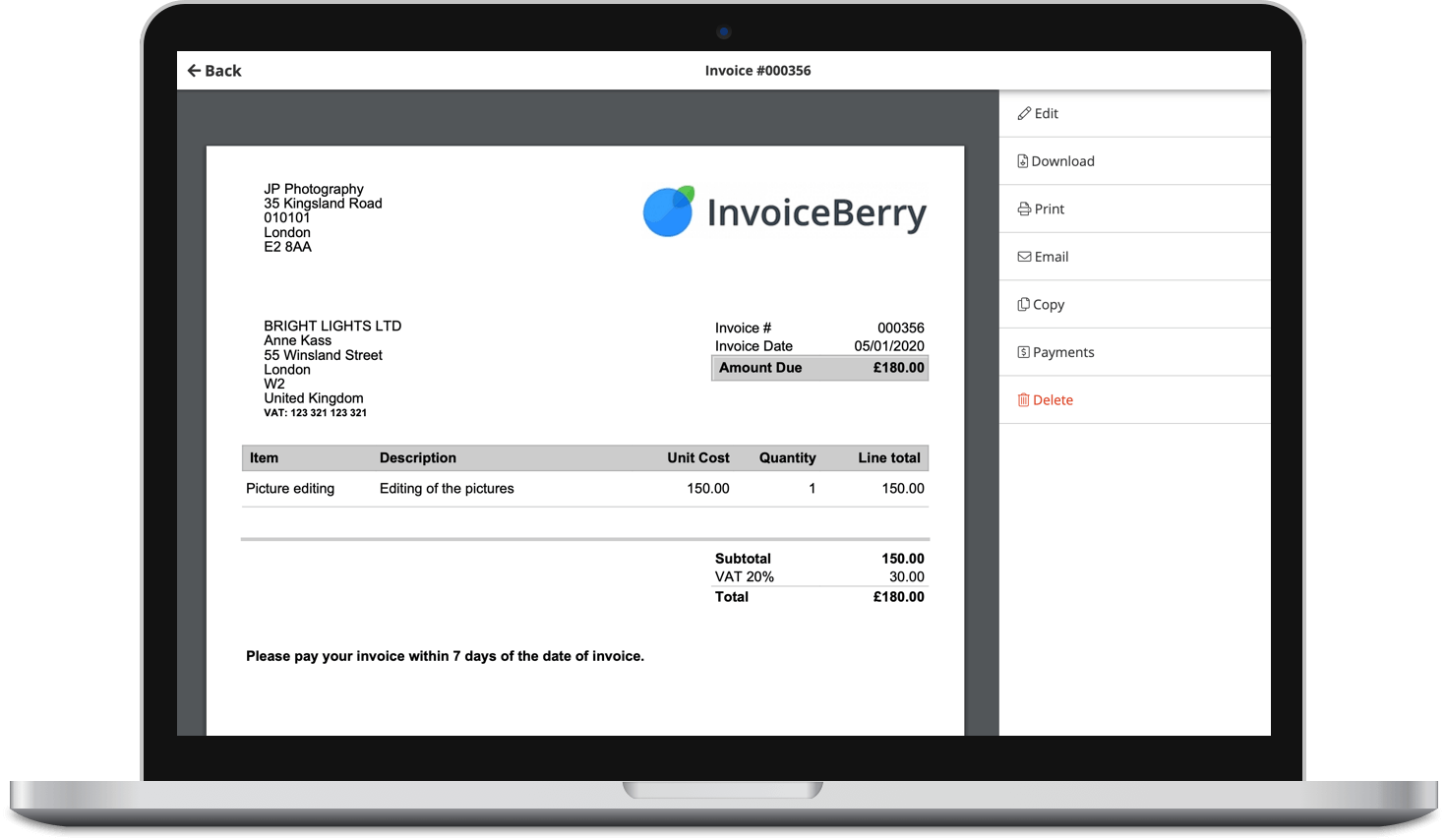 Send professional-looking invoices
Accept online payments with ease
Keep track of who's paid you
Start sending invoices
How is this possible, you ask?
Well, think of it as an easy (oftentimes free) way of putting yourself on the map and creating an initial footprint for your business. by creating listings on business directories, your website's domain authority and local search performance are improved.
By listing your business' name, address and phone number on a directory people frequently turn to, you stand a much better chance attracting leads, inquiries and eventually customers. You also typically have the ability to mention your website's link which in turn encourages search engines to start viewing your site as more authoritative and trusted. 
To get you started on your quest for increased visibility and improved SEO, here are some tidbits of advice to take into account when creating your business directory listings.
Tips for optimizing your business directory listings
Ensure accuracy of your NAP (Name, Address and Phone number) – consistent contact details is the whole point of your listing. Outdated phone numbers and addresses will undoubtedly have a negative impact on your business
Pinpoint the most appropriate category – there can sometimes be hundreds of options, but don't get overwhelmed. See if any of your top competitors are already listed and consider going with the same category
Include as much detail as possible – take advantage of every bit of information the directory lets you include whether it be social profiles, photos, taglines, etc. The more exposure the better
Craft a truly unique business description – no copied and pasted stock language please. This is your time to shine, so take advantage by coming up with multiple description versions til one feels just right
Have your logo ready to upload – consider creating a folder in which you keep multiple sizes as well as square and rectangular versions
Consider having a dedicated email address for all the submissions – you'll usually receive a confirmation email requiring verification after every sign up. A dedicated email address might avoid cluttering up your regular inbox
Create a tracking spreadsheet – this will help keep your sign ups and log in information organised across the board
Now that you have a run down of the best practices, let's check out the best Australian business directories for your company's success.
Yellow Pages is one of Australia's #1 marketing service company based on a full-service portal that includes not only small business listings, but also reviews, advertising, analysis and various recommendations. It's estimated that Australians make 5 million+ searches monthly via the trusted platform.
Around since 2006, True Local contains a massive collection of trusted local businesses with customer reviews. Business owners as well as consumers are able to easily upload photos to business listings – providing great potential to stand out from the crowd.
Yelp is one of the most popular business directories and social networking sites around. It lets users post reviews and rate businesses thereby connecting people with local businesses by bringing word of mouth online. It's 35M average monthly mobile app users seem to really appreciate how easy it makes it to request a quote, join a wait-list, and make a reservation, appointment or purchase.
Kapitol Infobel was established in 1995 and is one of the first businesses to have started publishing online directories. It also continually updates a database of 186 million+ businesses worldwide.Any data added to the Infobel database may also be included on other partner websites.
By adding your business profile and keeping it up-to-date on HotFrog, you have the ability to reach a huge online audience while helping to maintain the site's owner-verified dataset. And if you're lucky, your sign up may even end up appearing in the recent activity box prominently located on the homepage for a while.
Flying Solo is one of Australia's largest small business communities. Premium membership includes a full page listing inclusive of reviews and social media blasts in addition to loads of education and advice pieces via their Learning section.
Enroll Business Au's estimated monthly traffic amounts to over 213,000 visitors. It helps businesses expand their horizons by making them more searchable. It's free to create a business profile and gain access to thousands of potential customers.
BusinessListings is a free Australia business directory that provides online sales leads to businesses. All you need to do is fill out a detailed and accurate online profile which clearly highlights products and services offered. Profiles are then matched and shared with interested customers.
Zipleaf Australia only takes about 2 minutes to sign up for. After that your business can get noticed on the Zipleaf Network, which provides invaluable free exposure. List your business profile and upload details including available products and services, pictures, articles/news releases, company descriptions and more.
To date 2.1 million Australians have used ServiceSeeking to hire local businesses and 224,000+ local businesses have used the site to get more customers and increase profit by connecting with leads. The company tailors your Membership price based on the area you cover, the type of work you do and how many leads you want to receive each month.
Listing your business on LocalSearch is quick, easy and free. With 2+ million page views a month, the business exposure seems endless. Not to mention the site currently houses 92,160+ customer reviews, so your clients can sing your praises and start building up social proof.
There's also the option to become a paid Verified Business which enables you to add your business logo, photos and documents (such as menus), receive quotes and enquiries directly and positions your listing higher up than basic profile holders.
SearchFrog gives you the ability to view thousands of businesses across Australia in a variety of categories. Search Frog integrates Google review ratings and costs $8.95 per single listing. You'll have the ability to include additional features like map display, image gallery, videos, business hours, social media blasts and more.
PureLocal is an up and coming exclusively Australian business directory. Founded in 2012, it features a transparent and user friendly list of businesses complete with full descriptions, addresses, phone numbers, website links, emails, logos and more. Users are also able to provide reviews, share on social media, etc.
Showmelocal counts more than 19 million businesses, 2 million listings and 375 000 user reviews. It's fully dedicated to spreading the word about local businesses by bridging the information gap between business and the local consumer.
Whereis is a free local business directory along with a navigation map. Their data is sourced from Yellow Pages and the company also has mobile apps and an open API.
Oneflare is a free listing quotation site that works to connect Australian businesses with customers by matching job requests with personalised quotes from local experts. Since their founding in 2012, over 2.8 million matches have been made. After registering your business with them, details of your accreditations, licenses, previous customer reviews and quotes can be shared with interested customers actively seeking out a service provider.
dLook is a business directory site that offers different listing and advertising plans in addition to the regular free ones which serve to broaden your marketing options. They currently have 1.7 million+ registered businesses in their database.
The AussiesRus directory, founded in 2009, prides itself as being a 100% Australian owned and operated free business directory. Businesses are able to list videos for free and some other unique site offerings include news headline feeds, weather, daily horoscopes and articles.
Australian Start Local is an online directory that also collects a large amount of deals, discounts and coupons for customers. It offers both paid and free listing options.
Bloo business search is an easy to use business directory that's very invested in ongoing product development. It features products like map based searching, free call facility, widgets, post code finder, statistics for advertisers and much more (depending on whether you spring for a free or paid package).
Local Business Guide has been operating since 2006, and offers free, classic and power listing options. The free option lets your business be listed under 1 category and includes basic business details and a description on the listing page.
Ezilion has the power of a web directory and search engine. This combination allows for fast access to relevant information for customers and better SEO results for businesses.
Word of Mouth is a user-generated free business directory where people can share their experiences with businesses. They have a reward points system which provides businesses with a place where they can be promoted on merit while connecting with quality-oriented customers.
AussieWeb is a local search directory founded in 1996. It lists over 1 million Australian businesses, with high quality and accurate data being a core feature. It is free, but there are also paid plans, e.g. Top Spot is available with premium listings.
Come on Aussie has been sharing Aussie business listings since 1997. In addition to adding your new website URLs to the directory, you're also able to contribute opinion pieces and press releases/ news. Plus, as their API becomes more widely used, business details may also start appearing on other approved websites as well.
The Australian Planet resource allows businesses to post a free listing and advertisement. All you need is submit valid and detailed information about your business. Searching is simple and some popular categories include: beauty salons, hotels, spas and more.
Australia Combo Directory Network is a free business search directory. The platform makes it quick and easy to sign up.
Local is a mobile and tablet friendly local business directory. The company has been operating since 1999 and has virtually replaced printed directory versions with its interactive and user friendly search features.
Oz Business was developed to help the Australians make fast and accurate connections with local businesses. To do this they verify all businesses submitted to the free directory to ensure an accurate description is given. The site already has 2,400+ categories and 1.2 million+ businesses listed. You also have the option to put an OZBusiness verified Badge on your website in order to show visitors your business has been checked by an independent third party.
Tuugo is a free business directory with thousands of listed businesses. Adding your listing is a quick and painless process. You'll also have the option of adding products and services.
Opendi Australia houses more than 600,000 listings and 1,500+ customer reviews. It's 100% free to add a basic listing and start drawing attention to your business. The widespread exposure can only benefit your website once you optimize and include as much detailed business info as you can.
Fyple is an online business directory with more than 1 million listed businesses – only open for those based in Australia. You can add your entry for free as well as comment or leave reviews.
Localbd receives 250,000+ local visitors on average each month. By signing up on this free directory you get to list your full business details, a link to your website, products and services news as well as any applicable coupons.
And that's all for now, so G'day mates & happy listing!
Small Business Finance 101
Download our free guide to learn the fundamentals of finance that will help make your small business more efficient and successful.