The Best UK Bank Accounts for Small Businesses and Startups [UPDATED 2020]
Written by Uwe on July 25, 2016
I take it you've decided to start a new business in the UK. Kudos! Choosing the right bank for your small business or startup is crucial for company success. Although there are many great options, which is the best for your business?
Well, there are a few things to consider.
Try our online invoicing software for free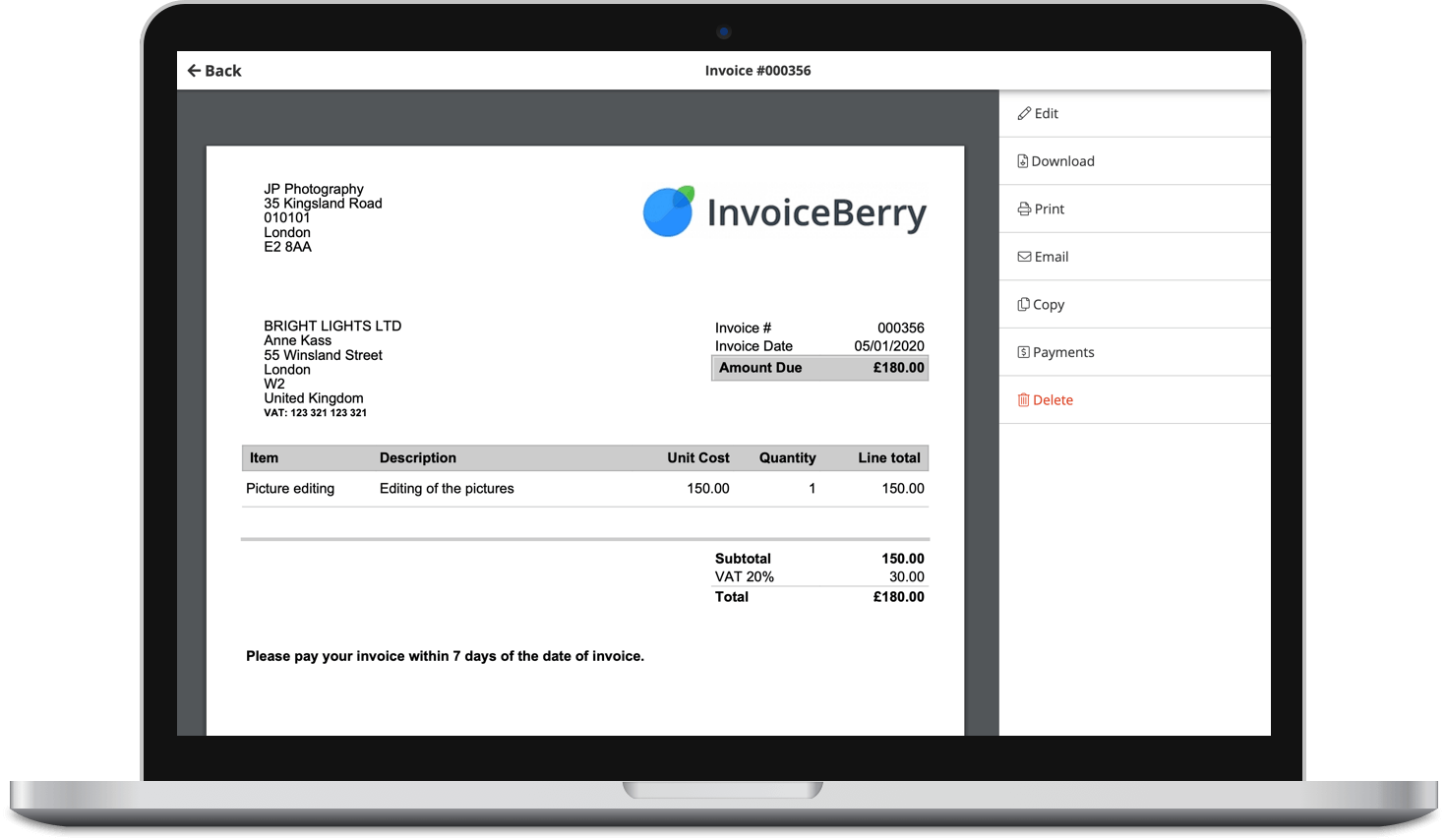 Send professional-looking invoices
Accept online payments with ease
Keep track of who's paid you
Start sending invoices
In terms of services, you'll want to ensure your bank offers stellar internet and telephone banking services as well as a mobile app especially if your business is not cash based. 24/7 access to customer support and a good distribution of ATMs are also a must.
When looking at in-branch offerings, you'll need the ability to conveniently deposit cash and checks, make cash withdrawals, and get cashiers checks if needed. Then the oh so important topic of banking fees and tariffs come in.
In most of the banks outlined below, introductory offers of free everyday banking for start-ups are outlined. Some accounts go as far as to charge no fees for basic banking or they offer checking accounts with a monthly fee that fee can be potentially be waived if the right transaction limits are met.
Speaking of limits, always be on the lookout for them when opening a new account – especially if you're in sales. Limits of total deposits or withdrawals can be quickly surpassed if transaction volumes (fingers crossed) soar.
You may opt to stay with the bank you already use for your personal accounts as this might result in priority access to lending and related services. But another bank may offer better conditions, so do your research before just settling.
To aid in your big decision, here are our top choices for small business/ start-up banking in the UK. They offer all of the services mentioned above and then some.
HSBC was crowned the Best Bank for small businesses in 2019. And with good reason. Their introductory offer account for start-ups offers a free business banking period to help get you on your feet. But the £6.50 a month maintenance fee remains pretty low even after.
In addition to 24/7 online, telephone and mobile app banking, with HSBC you have the convenient option to make cash deposits, withdrawals or submit balance inquiries at any of the 600+ branches spread out across England or at 12,000+ eligible Post Offices.
Customers can deposit up to £3,000 in cash per month during their first 30 months banking with HSBC. If surpassed, it's important to note that a fee of 0.50% of the value deposited will be charged. The account is available to businesses with up to £2 million turnover and you have the option to switch from another account to another free of charge.
There's also a choice between an electronic banking tariff, which is best if you mainly bank online or by phone, and a small business tariff, which is better if you mainly handle cash or cheques.
You can access this pdf of their Business Price List to see the breakdowns for yourself.
Santander's Business Current Account may be a great option if you're a start-up that's been operational for less than 12 months and its your first business account with them. There's no minimum or maximum opening deposit or maximum balance to get started.
Like HSBC, Santander also offers the options of convenient access at Post Offices countrywide. There over 700 local bank branches and 64 corporate business centers, not to mention an excess of 2,000 ATMs available for you to make unlimited cash deposits.
After the first 18 months, the introductory offer of free everyday banking expires and the account's monthly maintenance fee of £7.50 kicks in. There's also a cash deposit monthly limit of £1,000 and 70p per £100 deposited in excess of this monthly limit.
The bank also offers a 1|2|3 Business Current Account that offers interest on your credit balance. But it's worth noting the standard monthly fee is £12.50 per month after enjoying an introductory rate of £5 for 18 months.
Refer to their Key Facts Document for an in-depth outline of specific conditions that apply to the Business Current Account.
Royal Bank of Scotland, founded in Edinburgh in 1727, is one of the biggest banks in Scotland. They are another one of many banking and investment businesses owned by RBS.
Royal Bank of Scotland offers bank accounts to new businesses as well as more established ones with a turnover of up to £2 million. Both offerings are pretty flexible and with no minimum monthly charges so you only pay for what you use. Plus as a RBS Business customer, you can access and apply for FreeAgent accounting software.
Royal Bank of Scotland has dedicated support for their business customers to help them grow and develop their business. Their Business Growth Enablers programme aims to help businesses by providing a range of events and support tools.
For a full list of business account charges, you can refer to their business account charges booklet.
NatWest is another RBS owned banking institution that offers a variety of start-up business banking services. The bank provides personal guidance to get your business off the ground, as well as free business training courses.
More specifically, the Startup account is open to businesses that have been trading for less than a year and have a turnover of less than £1 million. It has free banking for 18 months, moving onto the Standard Published Tariff.
The Business account is available to those who have been trading for over a year with a turnover of up to £2 million. It gives you access to benefits and services like FreeAgent accounting and Business Boost along with your own Relationship Manager.
Be sure to pore over this leaflet that outlines Natwest's business account tariffs. It is correct as of 2 May 2020.
Lloyds Banking Group is one of the largest banking providers in the UK, made up of Lloyds Bank, Bank of Scotland, Halifax, TSB, and Scottish Widows. Lloyds Bank specifically was founded way back in 1765.
New businesses can get 12 months' free day-to-day business banking with the Business Current Account offering. The simple pricing structures and fact that all of the accounts have free electronic payments are a real draw for start ups .
Dedicated support from the bank's business management team and financial tools can help you get your business off on the best foot. Not to mention, extra support in the form of business loans, insurance, overdrafts and charge cards can also be a big help.
Try out the bank's Business Current Account Calculator to get an idea of how much you might end up paying per month if you go with this option. By the way, £7.00 is the fixed fee for operating your account after the 12 month offer expires.
TSB, another member of Lloyds Banking Group, is a retail and commercial bank and a subsidiary of Banco Sabadello. It operates a network of 530+ branches across England, Scotland and Wales and notably offers 25 months free day-to-day business banking for startups and switchers.
At the end of this free period, you'll have the opportunity to choose which banking tariff you want to move on to.
Their Fixed Fee Account has tiered levels with fixed allowances for transactions which have a different fixed monthly fee. Whereas the Business Extra Tariff account has no monthly fee and a pay-per-use transaction set up.
There's also an Electronic Business Tariff option that ideal for businesses that heavily depend on electronic and automated banking transactions. Charges for this account is also on a per transaction basis. Here's a complete breakdown of the tariff options for your careful consideration
TSB is also a heavy contender if you're a small business wanting to switch banks. They have a team dedicated to walking your businesses through the change process. Not to mention additional specialist support from the business advice hub Enterprise Nation.
You get free banking for 12 months with the start-up business account. Plus, receive expert advice from Barclays' Business Direct team that offers support to help your business blossom. They can assist with shaping business strategy, figuring out cash flow management and forecasting as well as guide you through lending and trading abroad.
The Established Business account options do not offer free banking but you can get a percentage of your charges back depending on your annual credit turnover and how long your account has been open.
As for payment plans, both have mixed payment plan which is great for businesses that use cash, cheques or mixed methods to make and receive payments. There's also e-payment for those that receive electronic payments and make payments through online banking and debit cards.
For more information on charges, check out their Business Current Account Price Plan Charges sheet.
Metro Bank may not be one of the most well-known banks in the UK or the most established, but they offer a different style of service catering for the modern-day business. They offer bank accounts to businesses that have no monthly fee and 50 free transactions per month if you keep a minimum balance of £5,000.
To be eligible for a Metro Bank account you will need to be over 18 and have an annual turnover or balance sheet of up to £2 million. At least 50% of the shares of your business will need to be owned by UK residents and at least 50% of the business' directors or beneficial owners need to be UK residents too.
Metro Bank offers flexible banking allowing you to access your bank account and services online, over the phone or on move through providing both online banking and mobile app. Metro Bank also has a network of Local Business Managers who are based in the Metro Bank locations available to readily provide support and advice.
For more information on charges, check out their Business Bank Account Details.
Yorkshire Bank, established in 1859, is actually the trading name of Clydesdale Bank. Started in Halifax, West Yorkshire, the bank's experience and reach has spread forming a large UK branch network.
Yorkshire Bank design their business bank account for everyday business banking with basic management that offers all the services businesses require. It also offers the added benefit of an optional agreed overdraft.
They offer two business bank accounts that offer slightly different offerings. The Business Current Account offers an introductory free day-to-day banking for 25 months for both new business start-ups and new customers. The Business Choice Account is a flexible bank account that features credit interest linked to the Bank of England base rate.
The standard charges and limits can be found in the business banking tariffs section.
Choosing the right fit for your business
Depending on your business knowledge and needs, free add-ons might be more or less attractive to you when choosing a bank account for your business.
All banks offer similar deals, it really depends on your business needs.
HSBC is an internationally-recognised bank with ties all around the world which might be of advantage when looking into exploring Asian and international markets.
Metro Bank is the newer kid on the block with same-day printing of your debit card and an incredibly fast account opening process. However, it's still early days for the bank and they might not offer all the conveniences their competitors offer.
Others, like Royal Bank of Scotland, go above and beyond to offer online invoicing software to their business current account customers. This is pretty awesome since it allows you to link your business bank account directly.
Many options to choose from
The best bank account for your small business or startup is going to mostly depend on what you need from your bank, what your actual or potential market will be, and the rates and conditions of each bank.
Unfortunately there is no one "best" business bank account. If all you need is a simple account many of the challenger banks offer solutions that are easy to start with. Some basic accounts are even free for life.
However, if you need more complex services you may be better off choosing a high-street bank as they can offer these additional products along with a standard business current account.
As an added bonus, if world domination just so happens to be your thing, we've also carefully curated guides for choosing the right SMB bank accounts in the United States, Canada and South Africa! Be sure to check them out in the event your operations start to expand outward.