Top 27 Canadian Business Directories to Get Your Small Business Noticed [Updated 2020]
Written by Alla on October 26, 2016
For your Canadian business to succeed, you'll need to get the word out. Mastering local SEO is a great place to start.
Because directories are typically compiled by humans for humans – unlike search engine listings which are compiled by robots – the relevancy of results tends to be greater. Directories also tend to have higher Page Rank, so the link back to your website typically ends up being good for your overall link popularity and ranking.
Try our online invoicing software for free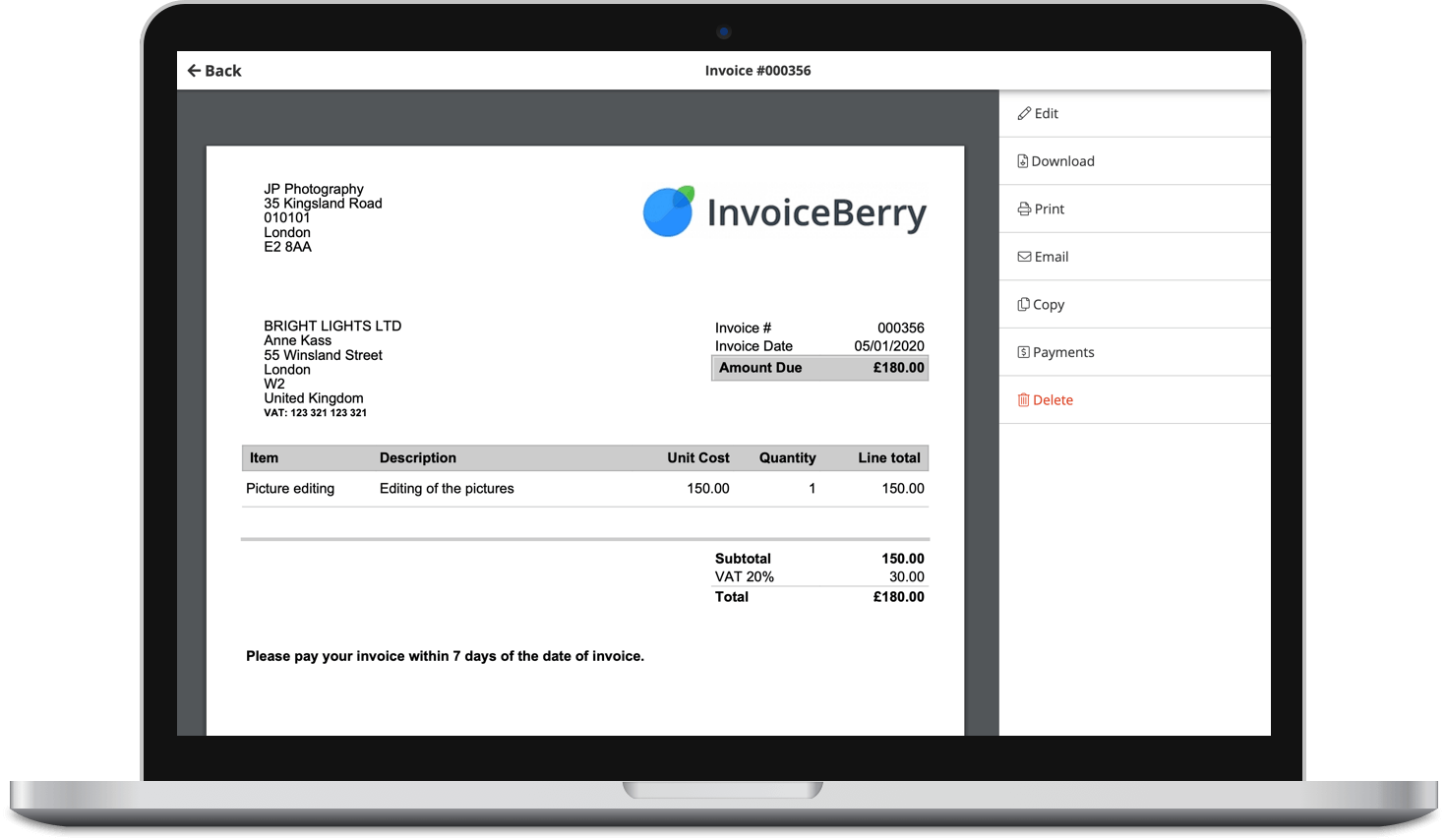 Send professional-looking invoices
Accept online payments with ease
Keep track of who's paid you
Start sending invoices
The nuts and bolts of directory links
Some directories provide one way or inbound or dofollow links. These are beneficial from the SEO standpoint because search engines like Google give importance to the number of inbound links your site has.
One way links are generally considered to hold more weight than reciprocal links since the latter link exchange occurs in a quid pro quo, or a "you scratch my back, I'll scratch yours" type situation. An insightful Ahrefs link building study found that developing relationships through authentic outreach, and linking to sources without expecting anything in return, are the best and natural ways to build links.
Nofollow links, on the other hand, fail to influence search engine rankings of business website URLs because Google neither transfers PageRank or anchor text across nor crawls nofollowed links. Before going through the trouble of signing up to list your business with a directory, it's worth checking if their listed links tend to be nofollow.
How do you check if a link is nofollow?
Right click on your browser and click "View page source".
Next, look for the link in the HTML of the page.
If you see a rel="nofollow" attribute, that link is nofollowed. Otherwise, the link is dofollow.
At the end of the day though, the greatest value ultimately lies in the mention of your business. The more your business is mentioned online, the better your local ranking will be.
The following list of carefully curated Canadian business directories provide a useful avenue for improving local SEO well as occasionally display promotions, customer and expert reviews, and much more.
Without further ado let's check out the best Canadian business directories to help scale your business today:
Moz Domain Authority: 91
Cost: Free and paid package options
Better Business Bureau is a directory where only CBBB trusted businesses are collected through the National Partner Program, which makes it a source of high-quality content. It prides itself on being an ethical marketplace where buyers and sellers can rely on each other by taking control of purchasing decisions and delivering excellent service with integrity.
If your business is one of integrity that meets their accreditation standards, it's worthwhile to apply to be listed.
Moz Domain Authority: 81
Cost: Free
Kijiji, launched in 2005, is Canada's most popular free local listings directory. It already has millions of live ads, helping Canadians easily buy and sell things. The Shop Local Businesses section in the new Kijiji Village category connects consumers with local businesses in their community.
Moz Domain Authority: 78
Cost: Free
The Websites.ca directory is used by thousands of people to search for businesses every month. By creating an account you'll be able to add your Canadian business for free. They also offer services like setting up a new website, fixing up old ones, designing, hosting, and doing regular updates.
Moz Domain Authority: 67
Cost: Free with paid solution options
Canadian Yellow Pages aims to connect SMBs with potential customers across Canada. Their free listing lets you create your own mix of online, mobile and print advertising. It also helps you connect with actively searching consumers and reach more people via improved visibility.
Moz Domain Authority: 66
Cost: Free
Yelp is one of the most popular business directories and social networking sites around. It lets users post reviews and rate businesses thereby connecting people with great local businesses by bringing word of mouth online.
Moz Domain Authority: 59
Cost: Free
BrownBook is a free local business directory. Anyone can add, review and update a business listing within the website. You can tell prospects more about your business with a customized page that includes photos, videos and detailed marketing info.
Moz Domain Authority: 55
Cost: Free with paid advertising options
Canada411 is a business listing directory that features businesses and local services. The information is updated monthly. In terms of privacy and security, Yellow Pages does its utmost best to follow technology and process best practices.
Moz Domain Authority: 51
Cost: Free with paid package options
411 boasts connecting over 19 million visitors to people and local businesses each year. It's a free, fast and simple way to advertise your business online. Digital marketing solutions like listings management, reputation management and Google My Business Set Up are also available.
Moz Domain Authority: 50
Cost: Free with paid package options
Showmelocal is dedicated to spreading the word about local businesses. It works to bridge the information gap between business and the local consumer by posting local business information. Reviews are also actively collected from users.
Moz Domain Authority: 46
Cost: Free
WebLocal is a search website for Canada businesses that helps them find local business, products and services. Users can also rate and review products and services they've been using as well as create a 'neighbourhood' by adding other users as friends. You can also invite others to join and they will be added to your list of friends making it easy to organize events and introduce friends to the best your neighbourhood has to offer
Moz Domain Authority: 45
Cost: Free with paid package options
n49 features Canadian business listings while providing a review building system. It allows you to collect user reviews and as a business you have the option of listing your business for free with N49 or signing up and managing all your listings with one of their data partners.
Moz Domain Authority: 44
Cost: Free
Canada One has a list of more than 20 thousand verified Canadian businesses since 1998. The directory also offers a library of more than 900 business articles and an events calendar. The site's focus on only Canadian businesses arguably set it apart.
Moz Domain Authority: 38
Cost: Free with paid service options
Profile Canada is a simple search engine marketing platform that posts a wide range of business advice in addition to listings. It's responsible for connecting millions of customers to local businesses every month by helping SMBs improve their search engine ranking. Paid services include website optimization, sourcing competitive info on competitors, reporting on what is being said about your business online and more.
Moz Domain Authority: 37
Cost: Free with paid package options
Hotfrog receives on average 1.6 million visitors each month. By adding your business profile and keeping it up-to-date, you have the ability to reach a huge online audience while helping to maintain the site's owner-verified dataset. If you're lucky, your sign up may even end up appearing in the recent activity box located on the homepage for a while.
Moz Domain Authority: 31
Cost: Free with paid advertising options
YLM is a community local directory. It allows businesses to search through various locations and directories via a number of customizable filters. It also allows local businesses to showcase their products and services by purchasing online advertisements from Breken which in turn works to foster local economic development through Community Partners like Economic Development Offices (EDs), Chambers of Commerce, Tourism Bureaus, etc.
Moz Domain Authority: 31
Cost: Free with paid advertising options
Canadian Trade Index (CTI) is an industrial directory that lists online company profiles in an effort to promote products and services to prospective buyers. It gives you the opportunity to explain to industrial buyers any specific products you offer, different materials, trade names, industries served and any notable accreditations.
Moz Domain Authority: 29
Cost: Free with paid service options
SmallBizPages is Canada's fastest directory listing. The website uploads only valid links and descriptions into the directory. To submit a listing, click on 'Submit Listing' in the menu. You'll be taken to a page where you can add details, select categories and create a Login and Password. Don't see your business' category? Feel free to click 'Contact US' and let them know your suggestions and it just might get added!
Moz Domain Authority: 27
Cost: Paid
CanLinks is an online search directory that has been in business since 1994. The company also accepts international businesses and approves listings within 72 hours. It costs $79.95 to obtain a lifetime listing and $299.95 for a listing with maximum branding and exposure.
Moz Domain Authority: 27
Cost: Free
MisterWhat is a simple directory to find companies, shops, restaurants, services and professionals throughout Canada. Business listings and local services are organized by category and location. When you add your company profile, be sure to make use of the ability to include an interactive map.
Moz Domain Authority: 22
Cost: Free
CanadianPlanet allows businesses to post a free listing and an advertisement. All you need is submit valid and detailed information about your business. Searching is simple and some popular categories include: photographers, hotels, beauty salons and more. 
Moz Domain Authority: 21
Cost: Free
ZipLeaf Canada only takes about 2 minutes to sign up for. After that your business can get noticed on the ZipLeaf Network, which provides free exposure. It's free to list your business profile and upload details including available products and services, pictures, articles/news releases, company descriptions and more.
Moz Domain Authority: 21
Cost: Free
Opendi has over 9 million visitors from around the globe each month. It's 100% free to add a basic listing and start drawing attention to your business. The widespread exposure can only benefit your website.
Moz Domain Authority: 21
Cost: Free
Shop in Canada is an online resource where you can list information and create a profile within one of the categories. When registering your business, the sign up form aptly advises that listing since search engines reward original and unique content, you should avoid copying and pasting previously used business descriptions.
Moz Domain Authority: 16
Cost: Free
Akama is a free business directory that provides information about companies classified by their business activity. Newly registered companies appear in search results usually no later than 8 hours after signing up. It's a nice easy way to start online marketing by creating a detailed virtual business profile.
Moz Domain Authority: 15
Cost: Free
LiveBusiness is a Canadian business directory that has been growing its listings since 2003. There are many categories for submission so your business site in need of promotion is bound to find it's match.
Happy listing!
The Ultimate Social Media Tool
Download our free guide to learn how to create shareable content, generate website traffic & increase conversions.