TOP 10 Website Builders To Create Your Small Business Website
Written by Uwe on November 04, 2013
Nowadays it's quite difficult to imagine a business without a website. Every entrepreneur or business owner understands the importance of having a website in the 21st century. More and more people look for information about products and services on the internet.
It's understandable that a small business owner, freelancer or entrepreneur does not have the required time and/or knowledge to create a good-looking website. Therefore there are specific website building tools that help small business owners to design and create a website. In this article we are going to introduce you to 10 website creator tools and list their advantages and disadvantages. It hopefully helps you to decide which website building tool is the best and most suitable for you.
Try our online invoicing software for free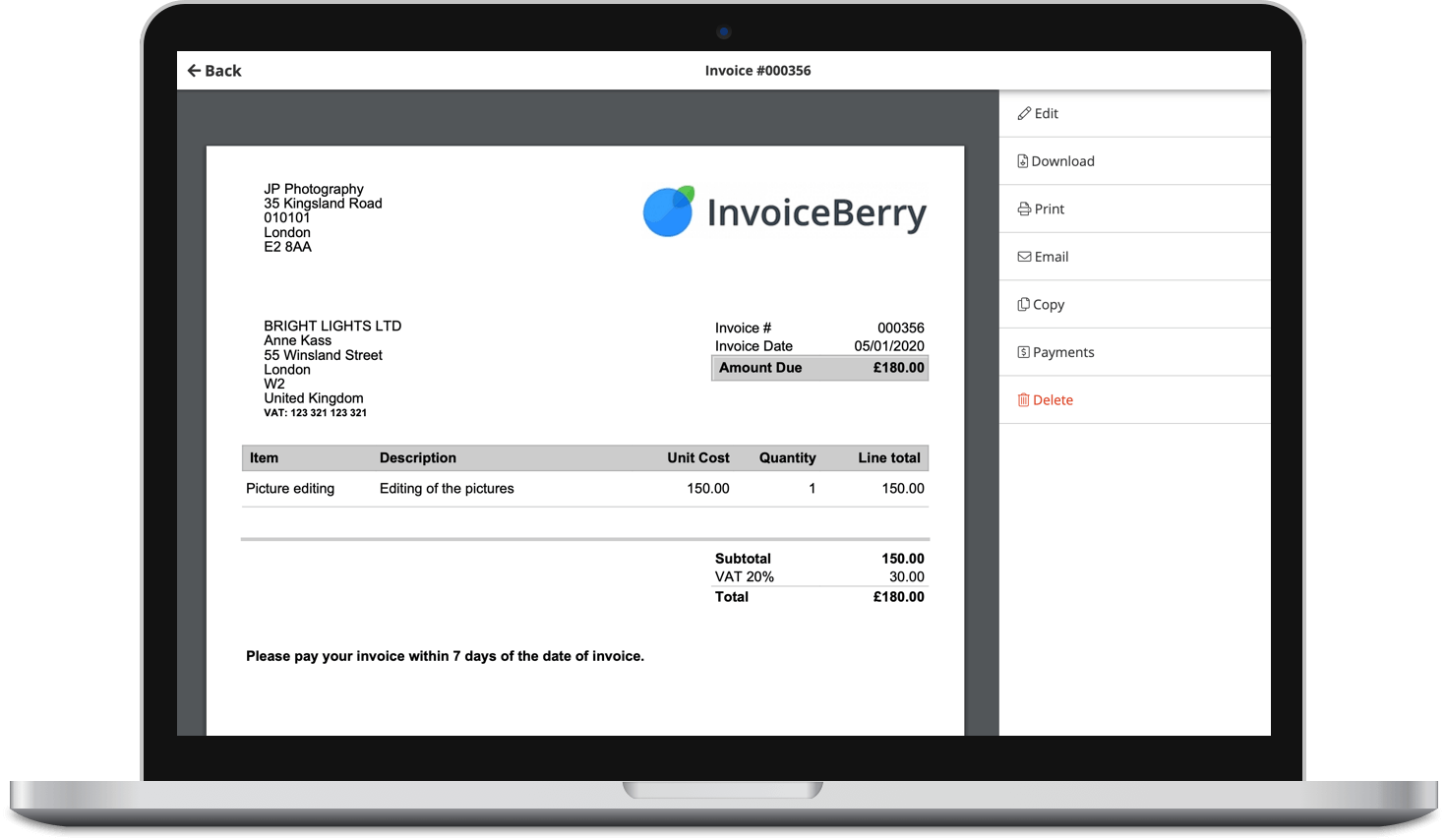 Send professional-looking invoices
Accept online payments with ease
Keep track of who's paid you
Start sending invoices
TOP 10 WEBSITE BUILDERS FOR
SMALL BUSINESS WEBSITES
Webs is a great website building tool for small businesses and entrepreneurs. As well, it's for those who want to build communities because Webs offers membership sites. The membership is allowed to be created directly on the website. Members can sign up, create and edit profiles and participate in community activities. For the owners Webs allows them to manage their members, send out emails to group members etc.
Pros:
around 10,000 web templates that can be customised
30 day money back guarantee
Redo and Undo buttons in the editor section
Membership sites
Cons:
Simple, basic and out-dated themes
Poor customer service
Pricing:
Webs offers four different plans ranging from $0/month to $16,67/month. The Free plan offers 5 web store items, 0.5 GB bandwidth, 40 MB web storage and it is worth to know that the mobile version comes with ads. The most expensive PRO plan offers 15 emails, 100 GB bandwidth, 5 GB web storage, unlimited high quality video storage, $100 Free Goolge Ads and $50 Free Facebook Ads credit.
Adobe Muse is a great web tool for graphic designers and for those who are already used to using other Adobe products. It's one of these products that gives you loads of opportunities but is not easy to use. Adobe Muse allows you to create the website from scratch which is great because most of the other website building tools don't allow that. However, if you want to use already ready to use templates Adobe Muse is not the right choice for you.
Pros:
Plenty Javascript elements such as tabs and accordions
Any font can be used
Allows to create 3 different versions of your website: desktop, tablet and phone
Cons:
Problems with SEO because the semantic code is not properly organised
No blogs
No option to add external links to your navigations
Difficult to add Google Analytics
No ready-to-use templates
Pricing:
Adobe Muse offers three plans ranging from $0/month to $49.99/month. The free creative cloud membership offers a 30 day trial with limited access to services and 2 GB of cloud storage. The most expensive – creative cloud complete plan for individuals costs $49.99 and offers full versions of other desktop application such as Adobe Photoshop, Illustrator, Acrobat and more, full access to Adobe Muse services, 20 GB of cloud storage and it requires an annual commitment.
Jimdo is a great website builder for those who want to create an online shop. It is very easy to use and has great features. It comes with standard layouts but has a flexible style editor. Jimdo has a strong e-commerce editor because it allows you to manage everything that you will need: Confirmation emails, order processing, shipping costs etc.
Pros:
Customer support in 12 languages
Cool QR code creator
Ability to link your DROPBOX account with Jimdo
Automatically converts the website into a mobile version
Offers large community forums in multiple languages
Cons:
Ads on the free platform
Not a drag-and-drop user interface
Limited number of ready-to-use templates
Pricing:
They offer three plans: JimdoFree ($0/year), JimdoPro ($90/year), and JimdoBusiness ( $240/year). The JimdoFree account offers 500 MB of storage, 1 password protection section, a PayPal payment option for the store, 5 store items etc. whereas JimdoBusiness offers 2 domains, 20 email accounts, unlimited password protection areas, unlimited store items, discount codes and much more.
Squarespace is currently one of the easiest and most complete web builder tools out there. It's a great web builder tool for blogs and portfolio sites. Squarespace allows you to change pretty much everything and it seems to work quickly and satisfying. It offers a very good image editor that allows you to put pictures into light-boxes, edit, crop etc.
Pros:
14 days free trial
Full site analytics
Cloud based hosting
Visual style designer
Unlimited support 24/7
No coding knowledge is required
Cons:
Too much functionality makes it complicated
The CMS is not Open Source
Pricing:
Squarespace offers three plans starting from $8/month to $24/month. The cheapest standard plan offers 20 pages, 500 GB bandwidth, 2 GB storage, 2 contributors, a mobile website and 24/7 support whereas the most expensive Business plan offers unlimited pages, bandwidth, storage, contributors, fully integrated e-commerce with no transaction fees, a mobile store, inventory tracking etc.
Weebly is another great web builder tool. Together with Squarespace they seem to be the two best and the easiest-to-use web creator tools currently on the market. Weebly is good for both blogs and business websites. The interface is easy to use and every button seems to have a reason. When building a website with Weebly it feels that there is nothing in-between. They don't offer e-commerce at the moment but they seem to work on it and might release it soon.
Pros:
Modern design templates
Functionality to add photo galleries and slideshows
Mobile phone optimised
Mobile editor (iPhone & Android apps)
Automatic SEO
Cons:
24-36 hour support turn-around time
No e-commerce
Pricing:
Weebly offers three plans at the moment: Free for $0/month, Starter for $4/month and Pro for $8/month. They say that the Free plan is suitable for anyone who wants to create an own high-style website whereas the Pro plan is for those who want the most powerful and professional features.
GoDaddy definitely offers one of the most well-known website builder tools. But is it good? Well, not that good according to a lot of people. GoDaddy doesn't seem to be up-to-date and their website builder is quite complicated to navigate because wherever you go they just try to sell and up-sell you something. They offer many functions within the website builder which is great but the tool seems to be very complicated to use.
Pros:
20,000+ images library
Shopping cart & PayPal integration available
Free advertising credit
Cons:
Constantly tries to sell and upsell you something
Difficult to navigate
Poor customer service
Not mobile friendly
Pricing:
GoDaddy currently offers 3 plans that range from just $1/month to $7.49/month. The most simple Personal plan gives you 1 free domain, 50 web design themes, unlimited pages, 1 GB disk space, 150 GB bandwidth whereas the most expensive Business Plus plan offers you 300 business and personal themes, 50 GB disk space, 1000 GB bandwidth, 10 business email addresses, mobile site, a SSL certificate etc.
Wix is one of the most popular website builder tools. Most people know Wix from the early days when they offered great websites with Flash, but nowadays when most people say a big NO to Flash they changed everything to JavaScript. Wix is great for anyone from photographers to small business owners. Wix offers hundreds of design templates, analytics as well as full online and phone support. It also allows you to add videos and slideshows.
Pros:
Offers shopping carts and payment features
Smartphone apps
Built-in site analytics
Offers Instagram feed and live chat
14 days free trial
Easy to use "drag and drop" editor
Cons:
Poor SEO
Not allowed to change the theme once you chose one
Not designed for complex e-commerce needs
Pricing:
At the moment Wix offers 4 different plans for a monthly plan ranging from $4.08/month to $16.17/month. The most basic plan Connect Domain offers 500 MB storage and 1 GB bandwidth, the mobile website version comes with ads. The most expensive plan that is ideal for small businesses is called eCommerce and offers 20 GB of storage and 10 GB of bandwidth, shopping cart and it's ad-free.
Virb is a website builder tool most suitable for creative people. It's a great tool for photographers and videographers. It is stylish and up-to-date. Virb is not very flexible but that's their strategy and part of their philosophy. Virb gives you an easy-to-use interface but less flexibility. They are partnered up with "BigCartel" which is an artist-specific eCommerce provider.
Pros:
Powerful audio and gallery pages
Easy to use
Stylish and modern
Cons:
No built-in solution to add "Contact us" page
Not very flexible
Pricing:
Their strategy is very simple. Virb charges everyone only $10/month and there are no other pricing plans.
Onepager is a great website builder tool for simple small businesses. They have a philosophy that it's better to do less but well. Onepager believes that website building shouldn't be complicated and that's what they tried to implement when they designed their service.
Pros:
No need to know HTML & CSS
Only one page concept
No technical knowledge needed
Mobile friendly
Cons:
Not flexible
Doesn't allow to re-order content types
It decides automatically where the content should go on the page
Only 12 themes that are general and not industry specific
Pricing:
The pricing seems to be ranging from $8/month to $199/month. The simplest Starter package gives you 1 website, 1 newsletter and only email support. The most expensive Agency package gives you 150 websites, 150 additional users, unlimited newsletter and priority support.
1and1 is a large well-known corporate company. Most people end up using 1and1 because they don't know about all the other options in the market. The 1and1 website creator is actually an earlier version of Jimdo. So if you like 1and1 it is worth to check out the Jimdo website builder tool too. 1and1 offers 175+ industry specific design templates but no style options. It has very good SEO settings.
Pros:
Fast customer support
A mobile version of the website is automatically created
30 days free trial
30 days money back guarantee
Cons:
Inconsistent interface
Inflexible templates
Credit card required for the free trial
No blog
Pricing:
1and1 currently offers 3 plans ranging from $9.99/month to $49.99/month. The cheapest plan offers a maximum of 50 products and 5 categories and 5 GB of web space. The most expensive plan gives you 20,000 products and 2000 categories, inventory management and 80 GB web space.