Top 35 UK Business Directories To Get Your Small Business Noticed [UPDATED 2020]
Written by Uwe on October 09, 2013
There were an estimated 5.83 million UK small businesses at the beginning of 2019. Let that number sink in for a moment.
Today's competitive SMB environment makes it crucial to have a website that stands out from the crowd. However, just launching a new website is not nearly enough. The website needs to be easily found by your potential customers.
Try our online invoicing software for free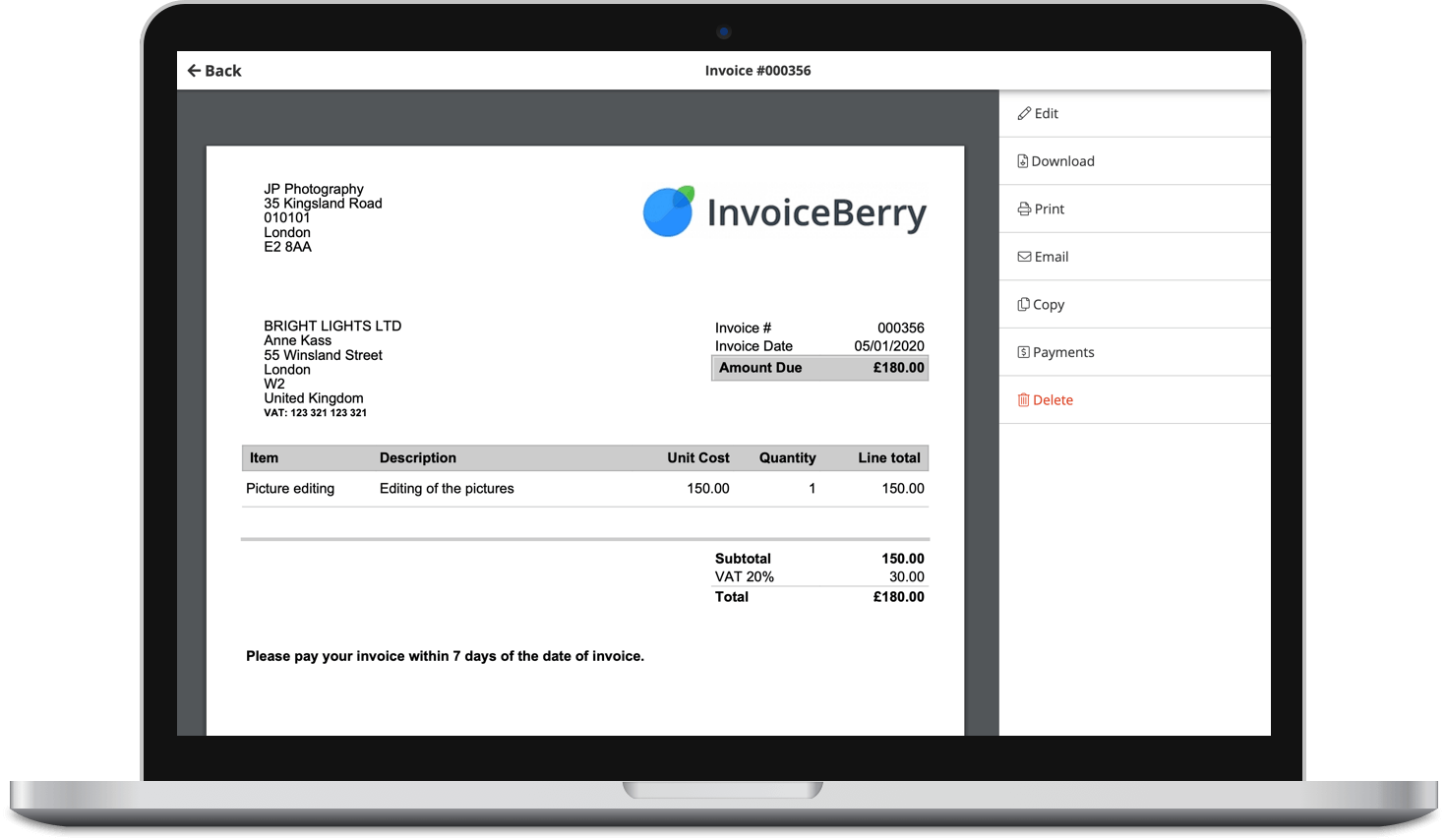 Send professional-looking invoices
Accept online payments with ease
Keep track of who's paid you
Start sending invoices
In addition to actions like optimizing content, increasing page speed and gaining backlinks, you'll want to look into getting your business listed on some game changing business directories – many of which receive thousands and even millions of visitors each month.
Advantages of UK Business Directories
There are four major advantages for getting listed on business directories:
1. Visitors of the actual business directory might find your business and go to your website or give you a call. This potential for discoverability requires you to provide accurate and updated details across the board.
2. The link from the business directory to your company website gives it a little extra validation and helps with search engine optimization. As an up and coming SMB you need to ensure your web content makes it easy for search engines to find and rank higher in relevant search results. Business listings can only help in this regard.
3. Directories connect your business and company website with a physical address which helps your business when potential customers search for nearby options. Local visibility is a huge deal and most large business directories accordingly offer filters that let people hone in on their local community.
4. Several business directory and listing websites actually extract business details from larger directories in order to create their listings. This means that being listed on one online directory can result in listings on many others. Talk about an easy win!
Ignoring these advantages will only serve to hurt your business. So get started checking out the following options, listing and regularly updating today!
Top UK Business Directories
Moz Domain Authority: 93
Cost: Free
Yelp is one of the most popular business directories and social networking sites around. It lets users post reviews and rate businesses thereby connecting people with local businesses by bringing word of mouth online.
It's 35M average monthly mobile app users seem to really appreciate how easy it makes it to request a quote, join a wait-list, and make a reservation, appointment or purchase.
Moz Domain Authority: 94
Cost: Free
This Mirror Business Directory is easy to sign up for and contributes to the Central Index local information database (along with most other directories linked to local area newspapers).
As long as you do your part to keep your business listing up-to-date, they'll take care of promoting you to a wide online audience.
Moz Domain Authority: 75
Cost: Free
Yell.com is the online version of the UK's Yellow Pages. It was launched in 1996 and has since added the names, addresses and telephone numbers of over 2.9 million businesses.
There are a whopping 3,000+ classifications for companies matching just about any type of business. You're bound to fin your ideal niche. Their service covers the whole of the UK (except the Isle of Man and the Channel Islands).
Moz Domain Authority: 66
Cost: Free with paid package options
Search for people, businesses and places with this UK business directory which contains almost 700 million records. Companies get automatically listed but it is advisable to claim your own company's profile and add information such as telephone numbers and website links.
Most offerings are free including directory inquiries and local business searches.
Moz Domain Authority: 62
Cost: Free with paid advertising options
All In London is a London-specific directory for retail businesses, restaurants and shops. It was launched in 2003 to provide details on all things London including business listings for shops, restaurants, bars, clubs and services.
If you're based in London and your business is not already listed, get it added for free. Banner advertising, featured posts, social ShoutOuts and more sponsored options are also available.
Moz Domain Authority: 61
Cost: Free with paid package option
Cylex operates over 30 online directories in numerous countries and languages. Their websites are visited by over 1 million people daily. In addition to your business listing, their Free Basic Entry option lets you publish offers, articles, news, create a products and services catalog and upload video presentations.
All services are being optimized for Google search purposes so customers can effectively access info on you business from the get go. The Premium Entry feature which costs ₤9,90/month goes a step further and ensures your business profile appears ad free and higher up in search results.
Moz Domain Authority: 58
Cost: Free
In the past 12 months alone Infobel has received 67,000,000+ visitors and listed 200,000+ new businesses. Kapitol Infobel was established in 1995 and is one of the first businesses to have started publishing online directories.
Any data added to the Infobel database may also be included on other partner websites.
Moz Domain Authority: 58
Cost: Free
Brownbook is a global business directory which includes UK businesses. It has been featured in the likes of BBC and The Telegraph and has more than 2.2 million UK businesses listed.
Anyone can add, review and update a business listing within the website. making it easy to tell prospects more about your business through customized pages that include photos, videos and detailed marketing info. Not to mention, you can make instant updates at any time and get other business owners to endorse you.
Moz Domain Authority: 56
Cost: Free
The FreeIndex Business Directory (freeBD) offers completely free listings to UK companies to get more exposure to potential new customers. The site boasts 1.5 million+ registered members who are able to read local reviews, browse business profiles and request countless quotes. Check it out today.
Moz Domain Authority: 54
Cost: Free with paid package options
Scoot is part of the Scoot Network which is an online search company that gives businesses targeted online exposure to ensure to help when attracting new clients. The network focuses on B2B connections between new business and existing local businesses.
There are 600,000+ members and counting with an average of 4,000 to 6,000 new businesses creating listings every month. After adding your business you'll have the ability to update your profile 24/7 using the accessible Scoot Dashboard.
Your business will also automatically be added to network which includes The Sun, The Independent and Touch Local.
Moz Domain Authority: 54
Cost: Free listing with commission charged
Lacartes started in London, but soon expanded to list businesses in over 138 countries. There are currently 108,000+ listings withing the United Kingdom alone. There is also an online marketplace add on that helps customers discover everything from online menus, price lists, photos and videos to staff profiles.
You can add your business and list your products for free. If customers find something they want, they pay online and their payments will always go to you after a 5% commission is subtracted.
Moz Domain Authority: 54
Cost: undisclosed
Applegate is a B2B online directory for UK businesses and suppliers. It lists millions of products and services from 400,000+ companies. What started out as a directory, quickly morphed into a procurement platform.
If you're looking for a simplified way to get requests for quotes from buyers, receive reports on how you compare to competitors, track IP visits to develop business opportunities and more consider requesting an informational call.
Moz Domain Authority: 51
Cost: Free with paid package options
Thomsonlocal has a printed as well as a online business directory version and is chock full of business phone numbers, opening hours and tradesman reviews. This UK directory is already well known to search engines and attracts lots of traffic each year. So if you happen to be tradesman, you'll for sure want to get on board.
The free listing option lets you link back to your business website thereby passing along a 'vote of confidence' and potential ranking boost. But there are also Enhanced, Premium and Sponsored listing options you could consider springing for.
Moz Domain Authority: 48
Cost: Free
Hotfrog operates in 38 countries, including the UK, and helps over 68 million businesses to reach new customers. By adding your business profile and keeping it up-to-date, you have the ability to reach a huge online audience while helping to maintain the site's owner-verified dataset.
After verification, you can add images, a logo, opening hours and start connecting with customers. Even before that you can check out their small business hub and begin reaping insights from the helpful articles.
Moz Domain Authority: 45
Cost: Free
Express Business Directory is the local business listing site which helps the business people to list their business for free. Get found on local search and take advantage of a free Business Profile.
Moz Domain Authority: 44
Cost: Free
EnrollBusiness's directory is free and makes it very easy to create a Business/Services Profile. In fact you don't even need to have a website in order to become listed here.
As soon as you're set up, your business becomes more searchable to thousands of users as well as on popular search engines.
Moz Domain Authority: 37
Cost: Free with paid package options
Since 2002 the UK Small Business Directory has shared listings for 225,000+ businesses. The free option is very basic and includes no link, but there are paid bronze silver and gold listing options with added features that cost £30.00 per annum and upwards.
Moz Domain Authority: 36
Cost: Free with paid package options
Tipped makes it easy for people to recommend their preferred local businesses and let others know ones to avoid. Add your business and start collecting stellar reviews today.
Moz Domain Authority: 36
Cost: Free with paid package options
Besides traditional listings, My Local Services has their own on-site forum where users share their tips and additional business information. There are two options when it comes to business listings.
Free Basic Listings only display telephone and address information whereas the Lifetime Listing lets you add web links and more.
Moz Domain Authority: 34
Cost: Free
Bizwiki is a business directory for UK-based businesses. The directory collects its company data through the bizwiki robot which finds businesses as long as they publish their UK address on their website.
It combines user listings and reviews and structures them in a search-attractive package to help to boost your business.
Moz Domain Authority: 30
Cost: Free
Yalwa's goal is to help locals find information about businesses in every UK neighbourhood and city. After contracting a service, people are able to leave ratings that help others decide which businesses will give them the best bang for their buck.
With an excess of 10 million visitors and over a decade of experience, this directory definitely worth checking out as you attempt to expand your customer base.
Moz Domain Authority: 29
Cost: Free
Britaine allows the businesses to post free company listings, classified ads and blogs/websites in under 30 seconds. The user interface is super simplified. So if you're looking for a quick and easy option for getting your business on the map, this is a good one.
Moz Domain Authority: 25
Cost: Free
Opendi originally began in Germany, but it's UK version now lists more than 3 million businesses with 53,000+ displaying detailed information accompanying company details. It's 100% free to add a basic listing on this site.
So do it and start drawing some attention to your business. The exposure could only benefit your website.
Moz Domain Authority: 23
Cost: Free
B99.co.uk is a UK business directory with over 2 million business listed in more than 2,000 categories. The directory adopted a more responsive design in 2018 so it works well on most mobile phones, tablets and desktop computers.
It's an easy and completely free option to get behind.
Moz Domain Authority: 10
Cost: Free with paid premium option
This up and coming business directory and resource list spans the entirety of the UK. The site hosts reviews of businesses worldwide and provides the option of listing your business for free or paying for a premium version with additional features.
Happy listing!