7 Reasons VoIP Software is a Trending SMB Hot Topic
Written by InvoiceBerry Team on August 10, 2020
VoIP software has been gaining momentum over the past few years. In fact, research predicts that the global VoIP market share is going to hit $55 billion by 2025.
These technologies benefit small and medium sized businesses on multiple levels. They can help you handle phone calls more successfully, encourage remote work, improve customer satisfaction and so much more.
Try our online invoicing software for free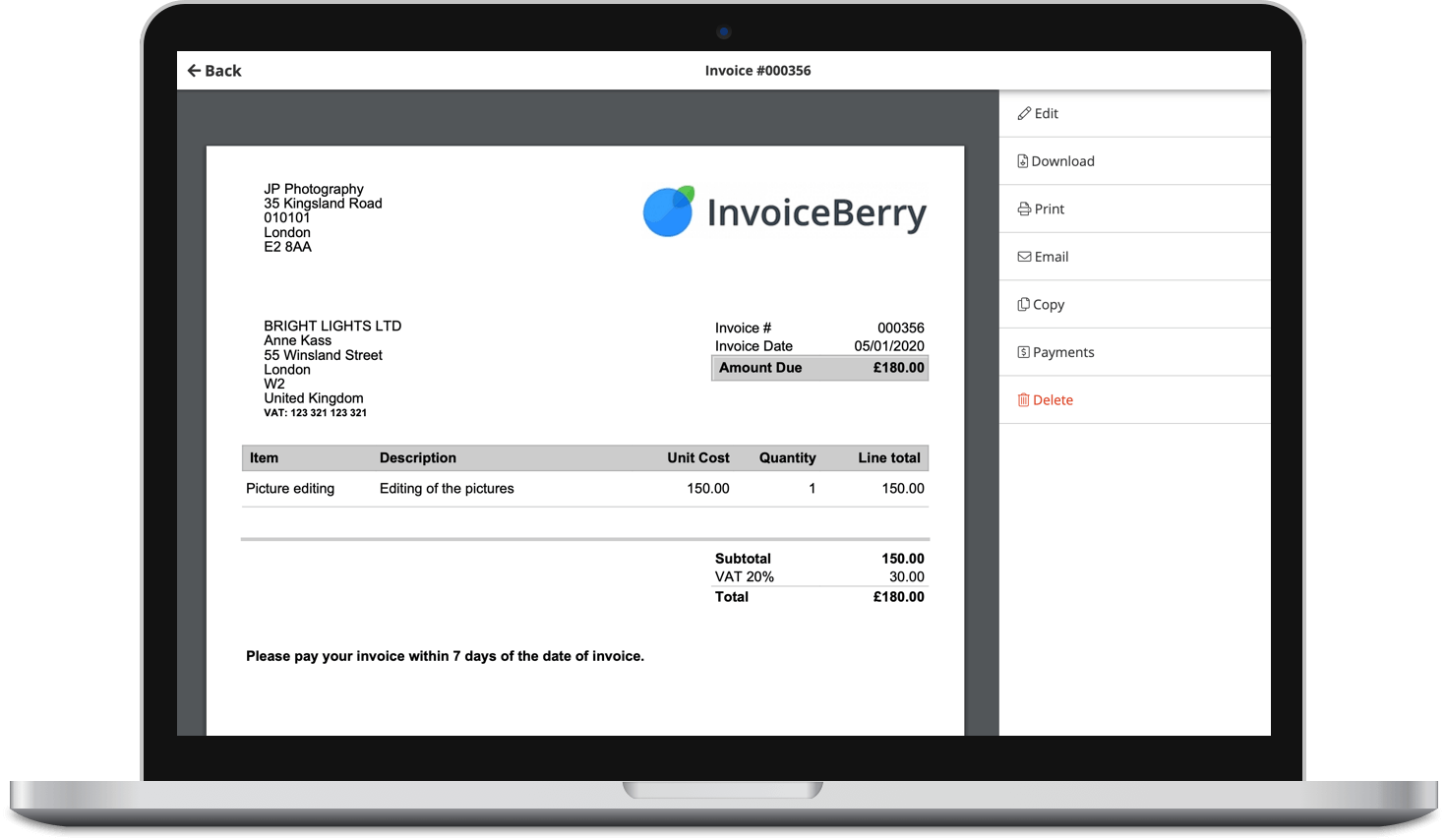 Send professional-looking invoices
Accept online payments with ease
Keep track of who's paid you
Start sending invoices
Let's delve into what VoIP is and how it can help you with your business goals.
Cost-effectiveness
Cost is the main reason why cash-strapped small businesses decide to invest in VoIP.
First, most online phone service providers charge a monthly subscription fee for a plan your company chooses, rather than measuring the minutes your staff spends on the phone.
Second, the Public Switched Telephone Network can get expensive. Companies need to buy costly on-premise hardware (PBX) to connect phones and transfer data. On the other hand, VoIP is cloud-hosted and delivered over the internet. Therefore, it does not require any costly hardware investments.
Third, there is not much maintenance required, as everything is running in the cloud. This process is usually handled by the provider, reducing the need for hiring an in-house IT department.
Finally, you do not need to pay for add-on features, such as auto-attendant line monitoring virtual faxing, videoconferencing, screen sharing, and IM tools. You can consolidate them with a single phone service provider.
Efficient employee collaboration
In the hyper-connected era, where business communications happen online, investing in the right cloud technologies is critical. VoIP allows you to communicate with your employees more efficiently and create constantly-connected teams.
As mentioned above, VoIP services are delivered over the internet. To use it, you only need a wireless router and several pieces of hardware. VoIP clears your employees' desks and minimizes your costs. Most cloud phone service providers offer mobile, cloud apps your employees can use both on desktop and mobile devices so they can talk uninterruptedly, irrespective of their location.
With VoIP applications, your teams can invite participants, schedule video conferences, hold online meetings, share screens, upload files, and chat in real-time. Noise-canceling microphones and audio compression features allow your employees to eliminate interruptions and improve the overall quality of phone calls.
For any small business, that is an opportunity to access global talent, embrace telecommuting, and reduce costs. Statistics say that companies can save up to $11,000 per person yearly by allowing them to work remotely 50% of the time.
Improving customer support
In 2020, customer satisfaction overtakes product and price. When communicating with brands, tech-savvy customers expect them to respond to their service inquiries within 24 hours. Most importantly, they want businesses to provide omnichannel customer support across a wide range of online and offline channels.
That is where VoIP steps in.
One of the main advantages of virtual phone services is their comprehensive customer relationship suites that allow you to interact with customers on any channel they choose. VoIP integrates with your CRM software, allowing you to collect customer data and create comprehensive customer profiles. That way, the VoIP software puts all of your customer data in one place and helps you access it from any location.
Powered by artificial intelligence and automation, VoIP provides a wide range of advanced features, such as:
Smart case routing: You can point support tickets to the right agents at the right time. That way, you will manage your customer service agents' workloads efficiently and offer faster and more relevant feedback.
Personalized customer support: Many VoIP providers offer sophisticated features, such as on-screen popups. Namely, when an agent receives a phone call, the VoIP software immediately displays a caller's data, such as their name, phone number, location, purchase history, previous service inquiries, etc. That way, phone call center agents can answer the phone call more confidently and provide customers with highly personalized support.
Multichannel customer support: Whether a customer interacts with your small business via email, phone service, email, social networks, IM apps, or SMS, the system will store this data and allow you to view it on a single screen.
Building an internal knowledge base: By creating a knowledge base for your employees, you will cater to customers that want to find answers to some common questions themselves.
Automating manual tasks: VoIP software allows your employees to automate many repetitive business processes, such as filling forms, changing fields, completing a predefined message, or adding attachments. That option will save your employees' time and help them focus on more complex aspects of their jobs.
Greater Security
With the rise of modern technologies, the number of telecom scams has also grown. According to some recent statistics, telecommunications fraud costs companies approximately $32.7 billion annually.
One of the most common causes of telecom scams is your employees' lack of knowledge. Not understanding the risks of online and offline data thefts, your employees can easily be manipulated to reveal your company's most sensitive information, such as your bank accounts or customer data.
VoIP software can help you minimize telecom security vulnerabilities and enhance the overall security of your systems. Namely, they use sophisticated data security technologies, such as identity management and encryption, providing an additional data security layer.
Above all, you do not need to carry out security audits yourself. A business phone service monitors network security for you and automatically sends you alerts for any odd calling patterns.
Maintenance and ease of use
Unlike analog phone services that include bulky hardware and multiple components, VoIP is user-friendly. Setup is easy, while communication suites are highly intuitive.
That will eliminate the need for hiring and growing an in-house IT team and help you save money.
Another great benefit of online phone service is improved customer support. Most VoIP software providers offer multichannel customer service via live chat, email, or phone calls, where professional staff will assist your team, detect the problem, and fix it fast.
Advanced call analytics options
Just providing exceptional customer support is not enough to keep customers satisfied. To understand customers' needs and provide highly personalized customer support, you need to analyze your call center data.
With VoIP software, analyzing your call center data is simple.
Customers choose to call your agents when they have specific questions or complaints. For your employees, that is a unique opportunity to understand and note customer frustrations. However, talking to customers and taking notes at the same time is not easy. VoIP software offers call recording features that allow employees to play the call back and analyze the interaction objectively. That feature is vital to you as an SMB owner, as you can assess the quality of your customer service.
By integrating your VoIP software with your CRM, you can analyze customer data captured across the system. By understanding where they are in the sales cycle and what problems they face, you will be able to adapt your marketing and services to meet their needs.
Understanding customer sentiment and experience
With the help of AI and advanced call analytics features, VoIP allows you to measure the overall sentiment for all interactions for a customer account. You will also be able to track your analytics and identify at-risk customers to engage or loyal customers to reward.
Scalability
Traditional phone systems consist of bulky hardware and fixed elements. As such, they are not easily scalable. To upgrade your analog phone system, you would need to purchase additional equipment, which may be too costly for your small business with a limited budget.
On the other hand, VoIP software is far more flexible, as it is built for the cloud. You can always choose to scale your plans up and down, without spending a fortune.
Over to you
In today's hyperconnected world, VoIP helps your small business grow. It is scalable, user-oriented, cost-effective.
Sure, there is no one-size-fits-all approach to choosing VoIP. You will first need to sit down with your team and make a list of your priorities, so you can hire the online phone provider that meets your expectations.
Lauren N. Wiseman is a marketing specialist and author that has many articles published with main focus on clients who want their personal and professional brands to grow in the fast-changing and demanding market. She believes in a holistic approach to business. If you believe that people can be driven through life with one strong moto – hers would be Kindness, always.
Small Business Finance 101
Download our free guide to learn the fundamentals of finance that will help make your small business more efficient and successful.