Top 22 VoIP Providers for US Small Businesses
Written by Aleks on January 18, 2021
The business world has spoken and it appears VoIP software is trending with good reason. Depending on the industry you're in, landing on the right Voice over Internet Protocol phone service could make or break your small business.
All things considered, the ability to make and receive phone calls over the internet has been a total game-changer. People have the option of placing calls from traditional handsets, desktops, laptops, tablets and mobile app. The sky's the limit since calls are no longer dependent on a physical location or physical hardware and installation.
Try our online invoicing software for free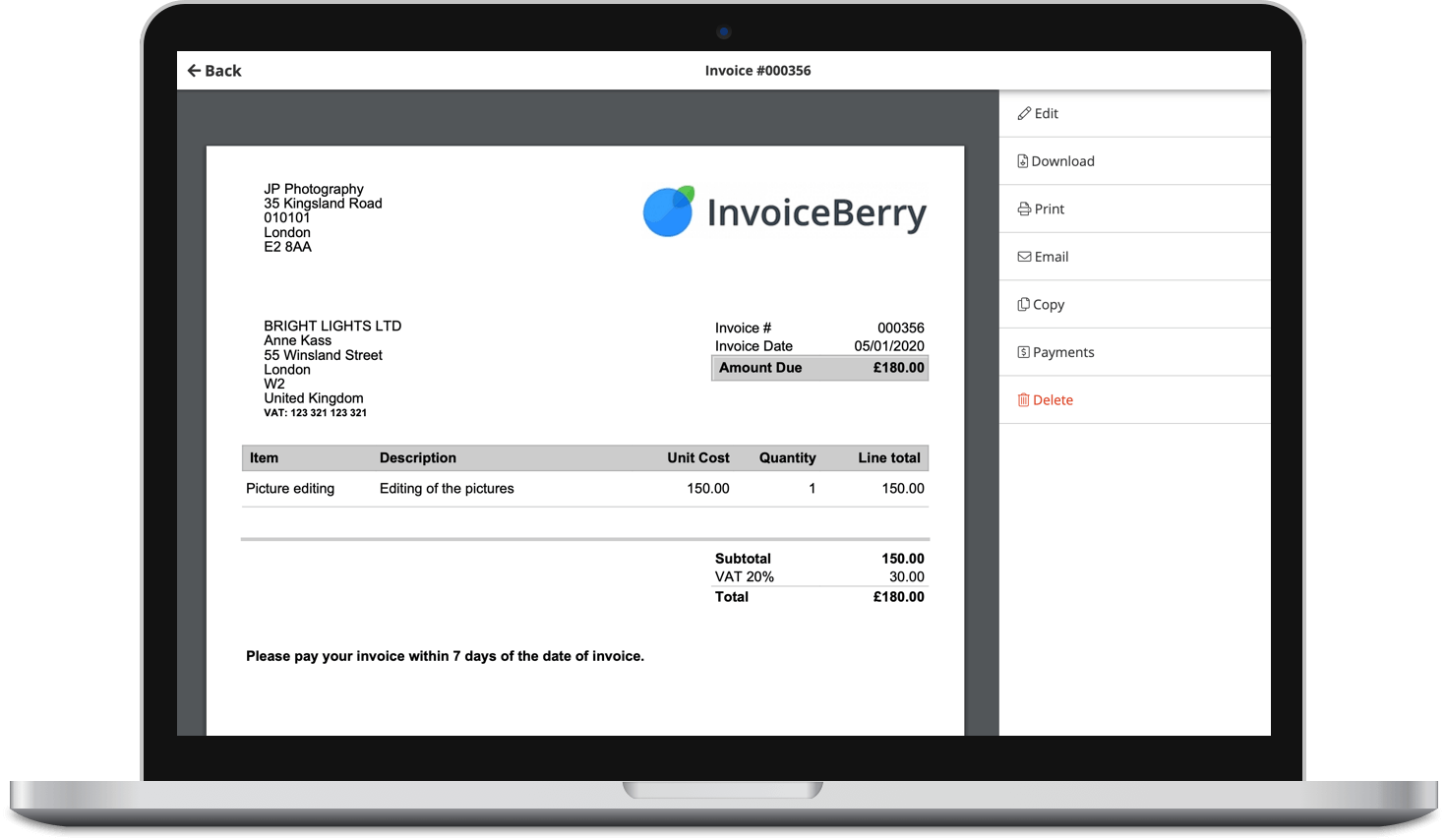 Send professional-looking invoices
Accept online payments with ease
Keep track of who's paid you
Start sending invoices
According to Statista, in the United States alone more than 35 million VoIP lines were added between 2010 and 2018. Let the the scale of it sink in while also noting that VoIP market growth remains steady especially among SMBs which are expected to grow exponentially by 2025.
Why the big VoIP provider boom?
VoIP technology has been around since around 1995, but it's recent growth can be mostly accredited to increasing mobile work trends. The technology's accessibility and flexibility has greatly contributed to a growing remote-first work culture shift.
When the only infrastructure needed is stable internet connection, communication benefits blossom. Speaking of benefits, here are are some other undeniable perks of VoIP:
Affordability: there's typically only a small cost associated with installation, maintenance, and setup. Hosted systems usually cost $20 – $40 These are cost savings that can be used to grow your business, rather than pay for outdated technology.
Scalability: When things are going great and business is booming, scaling becomes a priority fast. VoIP lets you capitalize on your opportunities to grow, rather than waiting on new phone purchases and landline installations. Adding a new number to a VoIP phone system doesn't require any requests to the IT department. In fact, it doesn't require much more than a few clicks of a mouse. : You get to grow on your terms.
Simplicity: The ease of use that comes with a VoIP system stems from modern software and user-friendly interfaces. In today's digital age, the workforce is accustomed to using web-based products that they can test and learn quickly. Managers can train on these systems much faster than they could with manual setups. And without the need for physical phones and ongoing maintenance, managers can focus on growing their teams, rather than fielding troubleshooting questions from confused employees.
Ooma offers 35+ features that combine to create an awesome small business phone solution ideal for providing optimal customer service. From a Virtual Receptionist that can be customized to provide essential information to callers to Ring Groups that make sure every call is answered, Ooma Office can greatly add to business' efficient running.
Pricing starts from $19.95/user/month
Free mobile and desktop app
SMS messaging
Call recording
Unlimited calling in U.S., Canada, Mexico and Puerto Rico
FREE number transfer
8×8 integrates voice, video, chat, contact center, and enterprise-class API solutions into one global, secure and reliable cloud communications platform. From call activity reporting to AI-driven speech analytics and virtual agents, this VoIP option provides unique insights that can drive business productivity improvements, cost savings and revenue growth.
30-day free trial
unlimited nationwide calling plus video conferencing and chat for $12/month
unlimited calling in the U.S. and Canada
voice, video and messaging in one app
cancel at any time within the one month trial period.
VirtualPBX has been providing VoIP services for more than two decades. Over the years it has won awards from customers and industry organizations alike delivering innovate features from simple Follow-Me Calling to plug-and-play VoIP phones.
pricing starts from $11.99/per month
unlimited Users
300 Plan Minutes
2 Toll-Free or Local Numbers
24/7 Support
Mitel offers a comprehensive range of business phone systems so you business can have a targeted call center and unified communications product. It makes it easy to integrate with key third-party business applications from Salesforce to Skype for Business, there's a plug-in for almost everything.
plans starting at $20,99/user/month
unlimited minutes
mobile app
rich PBX features, advanced call controls and softphone, mobile and IP desk phone options
modern, intuitive user interface
backed by Google Cloud's industry-leading reliability
RingCentral prides itself as providing everything you need to get work done in one simple app. They make it easy to manage calls with extensions, shared lines and an Auto-Receptionist feature. Switching calls between desktop and mobile app is made possible with a single tap and the admin portal will allow you to track service quality, view usage and set up call routing.
plans starting at $19.99/user/month
essentials plan allows to have up to 20 users only
unlimited calls within the US/CA
unlimited business SMS
other plans include integrations with Office 365, G Suite, Slack, Salesforce, Zendesk, and more
mobile apps for iOS and Android
Nextiva business phone software is an other option that provides unified communication with VoIP, video and chat all rolled into one. Plus if your business requires local phone lines or a toll-free number, they can make it possible along with the usual key features like call recording and call forwarding.
plans starting at $19.95/month/user
essential plan offers 1000 Toll-Free Minutes
unlimited Calling within the US/CA
free Local & Toll-Free Number
mobile App Calling
24/7 Support
Vonage Business Communications activates conversations across voice, SMS, team messaging, fax, social, meetings and more. It's all in the name of providing a quality unified customer communication experience. Over 50+ business phone features also combine to pack a powerful punch.
plans starting at $19.99/month
provides mobile and desktop app
CRM integrations
conference calls, online meetings, video conferencing, file sharing
multi-level auto-attendant
Grasshopper empowers small business with the option of various business phone numbers. Pro tip: toll free numbers are awesome when it comes to building a more professional presence. Not to mention this VoIP option can work with your existing phone so there's never any need to buy additional equipment.
plans starting at $26/month
desktop + mobile apps
7-day free trial
voicemail transcription, business texting, call forwarding
VoIP/Wi-Fi calling
virtual receptionist
OpenPhone aims to speed up workflow through automation and shortcuts. Handy features like voicemail to text make it possible to skim voicemail messages and know what's important and what can be left til later. Snippets is another useful one to quicken response times by creating and sending message templates for common questions.
plans starting at $10/user/month
free trial
unlimited calls to US and Canada
voicemail to text
IVR and extensions
toll-free phone numbers
Loop Communications' core focus is to provide hosted business phone systems to small businesses and mid-sized companies within the United States and Canada. Cordless, desk, conference phones and headset are all available for purchase accompanied by self-described passionate customer support and flexible contracts.
plans starting at $17/month
unlimited calling within the United States
no long-term contract
Direct Dial other locations or have one number route to multiple locations
call routing
With CloudTalk's cloud-based business phone system, CloudTalk Voice, you can interconnect branches, departments and team members without any hassle. Literally all you'll require is your internet browser and a headset and you'll be ready to make your first calls.
plans starting at $15 per user/month billed annually
14-day free trial
call recording
each user, agent, caller queue or department can have their own personalized number or extension
toll free numbers
International numbers
customized call queues
Verizon VoIP Business Digital Voice is a professional communications solution that works over a secure cloud-based VoIP connection. There are 45+ calling features, including automatic call forwarding, voicemail to email and seamless call transfer between devices. Plus if your business is on the larger side, Verizon makes it easy to order additional lines.
mobile leader
built-in bring-your-own-device (BYOD) solutions
unlimited nationwide calling
secure VoIP network
full-service connections
fiber-optic internet
CallHippo helps businesses deliver smoother customer service with IVR, smart call routing, live call monitoring and more. You're able to buy numbers from more than 50 countries worldwide.
plans starting at $14 per user/month
free number
forward calls to multiple devices
call recording, voicemail transcription
SDAP : Patent Pending Technology
iOS and Android App
integrations with Slack, Zoho, Zendesk, and more
Freshcaller is a modern cloud-based architecture phone system that brings together legacy features with new advanced capabilities like Smart Escalations and Custom Call Center Analytics. The company offers phone numbers in over 90 countries globally.
21-day trial with access to all features
easy number management
custom reporting
advanced inbound routing engine
virtually monitor every conversation
Dialpad Talk is a cloud based business phone system that includes voice intelligence features like real-time transcription and post-call summaries with highlighted action items. This VoIP option is easily integrated with other important applications like G Suite, Salesforce, and Zendesk.
plans starting at $15 per user/month
free 14-day trial
unlimited calling, SMS, MMS
custom voicemail greeting
custom routing
G Suite & Office 365 Integrations and more
Bitrix24, founded since 1998, is a free social knowledge management and collaboration platform used by 4 million+ companies worldwide. This VoIP solution is available in both cloud and on-premise format with open source code access.
free plan available
online file storage, file sharing and document management
offers a fully-featured CRM
customizable self-hosted editions
Private Cloud Suite
SIP.US is a business-class Session Initiation Protocol trunk service provider for IP-PBX systems and analog/digital telephone adapters. They work with an Internet connection and setup is easy leaving you in full control via an interface that enable managing all aspects of your SIP account including, adding or changing your service and reviewing or exporting real-time call data records.
pricing plan of $24.95 per month
prepaid pricing with no contract
powerful easy-to-use control panel
Call Data Records (CDRs)
tier-1 upstream providers to route traffic
own bandwidth
3CX Phone System's installation and maintenance can be handled effortlessly whether its been installed on-premises on Windows or Linux, on an appliance or server, or on the cloud. It's super user friendly and enables remote managers to view, listen and transfer calls as well as keep track of team activity.
free plan available up to 16 users
unlimited users
choose your own SIP Trunk
CRM integration
WebRTC Web Conferencing
mobile apps
GoToConnect (formerly Jive) delivers business telephone systems and services to organizations large and small. There are five various pricing tiers accompanied by over 35 productivity features.
plans starting at $19.95/user/month
cloud PBX
call routing
unlimited call queues
international calling
250 meeting participants
MessageBird is a communications platform-as-a-service company that's on a mission to modernize and simplify the overcomplicated space of customer communication. The SMS, Voice and Conversations APIs make contact easier, more efficient and more accessible.
offers free plan
24/7 support
unlimited team members
equipped with auto-scaling APIs
integration with WhatsApp Business
Flow Builder
Weave is a technology company aimed at helping practitioners and office managers increase and maintain their patient and client base by building and retaining stronger relationships. The smart phone system provides key insights on things like heavy call times and other actionable intel.
no contracts
see all the important information about a customer before you start a call
schedule messaging
customize any phone experience
weave's mobile app
team chat
dedicated business line
ZoiPer is both an on-premise and cloud-based softphone solution that caters to service providers, call centers, VoIP integrators, mobile operators and businesses that require softphones independent of their service provider. It aggregates contacts from various sources such as Outlook, Windows, Android, iOS and all incoming calls to create an address book.
unified VoIP communication
free calls among ZoiPer users
compatible with Windows, Mac, Linux, Android, iOS and browsers
end-to-end free encryption for texts, voice calls and video calls
custom interface to best fit your user's experience
Last Call
According to Top 10 VoIP List, business owners commonly switch to VoIP because of a growing need for increased productivity when managing customer support channels.
A desire for improved customer experience and faster response times is also up there along with dissatisfaction with high telecom costs.
If any of this sounds relatable, check out the listed solutions and be on your way to improved connectivity and business performance today!
Small Business Finance 101
Download our free guide to learn the fundamentals of finance that will help make your small business more efficient and successful.