5 Ways to Optimize the Efficiency of Your Ecommerce Store
Written by InvoiceBerry Team on July 06, 2020
As an eCommerce small business owner in the digital age, there is much to learn in order to stay ahead of the game. Everyone's goal is to sell and sell more. But selling online is not as easy as having the lowest price in the market. Especially in this day and age, Amazon is more of an unbeatable.
Now, as a small business owner compared to Amazon, wouldn't you want to at least get a share of what they are getting?
Try our online invoicing software for free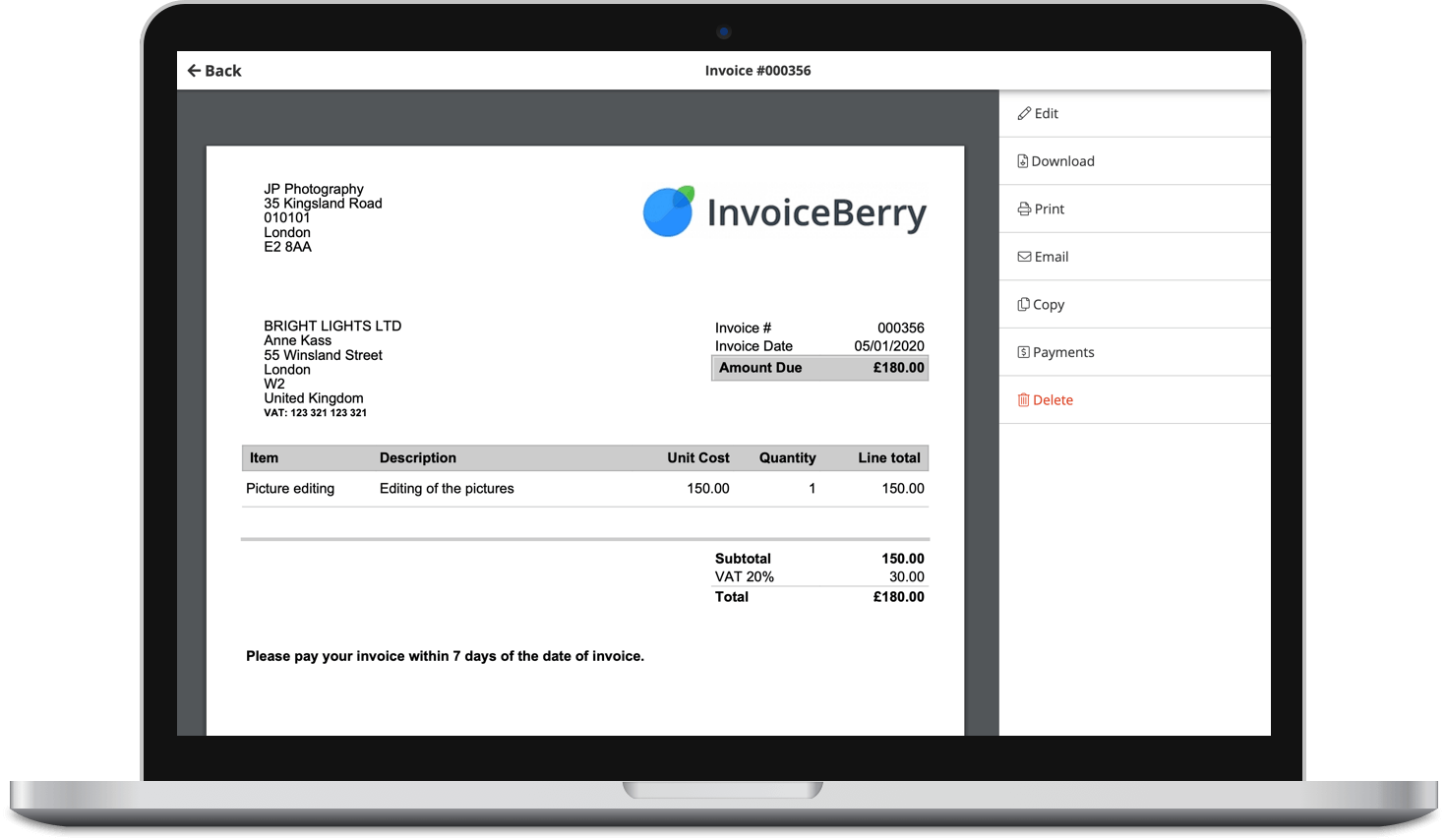 Send professional-looking invoices
Accept online payments with ease
Keep track of who's paid you
Start sending invoices
Good thing, almost every internet user in the world has already purchased something online. Make that 93.5% to be exact. That means you have a massive pool of potential conversions to make.
Just by maximizing the efficiency of your eCommerce store, getting to convert most of these internet users is not far from reality even with a small enterprise or a startup. But before we go through the ways you can make that happen, let us begin with what an eCommerce business is.
What is eCommerce?
Pretty much anything you transact online or through the internet involves eCommerce (electronic commerce, but no one really calls it that). However, the term is popularly associated with online shopping.
But as a business, you are at the selling end. eCommerce also entails online banking, online ticketing, online auctions, and online payment gateways.
Source: Trellis
So, if you are transacting online, you need to have a platform where you are transacting. This could be social media, online marketplaces (Amazon, eBay), or online storefronts (Magento, Shopify).
Whichever platform you are using, there are many ways to optimize them and make sales. The good thing is that most of these platforms offer automated order processing and inventory management system.
Here are some elements to consider in order to optimize the efficiency of your Ecommerce store:
Source: Beeketing
Optimize through Omnichannel
One of the ways to optimize your eCommerce store is by implementing an omnichannel strategy. The interaction of a customer and an eCommerce business happens online.
The good thing is that many customers engage in various devices that can connect through the internet. This is why an omnichannel strategy widens the channels for interaction. But, what is omnichannel?
Omni means "all," and channel includes every platform involved in running your eCommerce business. It is the seamless integration of all the modes of contact between your business and the customers.
Let's say you have your eCommerce website, social media presence, chat platform, voice calls, and email marketing. If these means of communication are not seamlessly working, then it's not omnichannel.
The different platforms of communication should be unified in one management system. So, customers can toggle between these platforms seamlessly.
Source: Moosend
If you are still using an unintegrated system for your eCommerce business, then you are way behind the competition. Using an omnichannel approach provides a seamless customer experience.
One study says that 55% of customers who shop online are likely to tell others if they are unhappy with a company or their product.
Imagine this, a consumer visits your website using a laptop and searches for an item. If the consumer wants to check the same item using your mobile app, it should "remember" where the customer left off.
Just like how Disney wonderfully exemplifies omnichannel experience, everyone can easily recognize the brand through the website, the mobile app, and even across their brick-and-mortar stores.
Develop a data-driven store
Data fuels eCommerce businesses. Effectively utilizing your data can significantly optimize the efficiency of your eCommerce business. These are the essential types of data for your business.
internal data (inventory, financial analysis, payroll, etc.)
product data (product description, size, shipping weight, etc.)
consumer data.
Analytical tools such as inventory management systems give you the forecasting power to work on gaps in the supply chain. This way it is easier to identify fast-moving items, items that are going out of stock, and other important aspects to smoothly run your online business. Businesses should stress the importance of supply chain visibility, such as higher flexibility and faster decision-making. But what is supply chain visibility? When you and your customers are able to track the individual moving parts of your operation, usually with the help of software and data, you're maximizing the visibility of your supply chain.
Source: PrestaShop
When it comes to managing product data, make sure that virtually everything that a consumer needs to know about is clear and easily understandable. The product description should also be searchable. No one wants to be confused especially when purchasing online.
Additionally, search parameters should be refined so that customers can easily find what they are looking for. It can also help if a customer can find an item even if they are not sure what to look for.
Inaccurate information or categorization on your eCommerce website may discourage customers from exploring. The filtering options (product type, price range, size brand, etc.) should be structured in a manner that the customers can easily find what they need.
Systematically collect data and maximize its use through efficient sorting and product description. You can invest in infrastructure that can house your data computing requirements.
Provide the best customer experience
Let's better discuss the effective use of consumer data at this point. Providing the best customer service in your eCommerce business can be more efficient if it is data-driven. You can use consumer demographics to have a picture of what your usual audience entails.
With this, you can plan if you want to focus on selling items catering to a certain demographic group or broaden your target audience.
Make your communication platforms are simple yet engaging to customers and visitors. It pays to have an engaging website because this paves the way for customers to be attracted. The aesthetics of your website or mobile app is your first interaction with visitors or potential customers.
However, the customer experience you provide can charm your way to future conversions.
Source: Superoffice
Engaging elements include visuals, bright colors, interactive options, music, trivia, and many more. But, you need to strike a balance between engaging and simplicity. An overcrowded website can still discourage visitors to continue with their navigation and purchase.
Making your online storefront or website interactive can be engaging to customers. However, overdoing it can be a bit confusing. For example, as a buyer, you search for a pillow. Hovering through the picture of the pillow can get you engaged since you are able to see more of the item.
But, if you accidentally hover into other things on the website and it gets you out of the page, you're most likely to be confused and back away.
The best customer experience entails the harmony of the elements on your website or mobile app. Your platform need not be embellished with so many moving parts just to engage your customer.
Pro tip: You can consider adding chatbots to your store's website to automate your customer service and provide your visitors with answers to their queries in real-time.
Customize upsells and rewards
Here is another way to make use of data such as demographics and search history. You can craft ways in making your returning visitors and customers feel special. Let them know you "remember" them.
This is the time to convert returning visitors. On the other hand, you would want returning customers to buy more. Items your recommend on your website or mobile app should be relevant to what you know about your customer.
This kind of marketing increases the probability of your customers to purchase more. The items your website should suggest should bring value to them. Otherwise, you waste the opportunity for the customer to make a purchase.
Moreover, reward loyal customers with a personalized item or something you know they can use. This way, you can encourage them to buy more. You can incorporate the power of AI in this realm so that your system can automatically enumerate recommendations based on what you know about your customers.
You can also automatically promote specialized discounted offers on items that your customers have abandoned in their carts. Customization can strengthen the relationship between your business and your customers. Making them feel special builds trust and encourages them to make you the go-to store if they need anything.
Cut the clutter on checkout
The crown jewel of your eCommerce application is the checkout page. This page defines everything you ever worked for. An inefficient checkout page can cost you a lot of conversion opportunities. The last thing you want to happen is cart abandonment. You don't want them to accidentally click on something that takes them out of the checkout page.
There are several reasons for cart abandonment. One of which is a faulty checkout workflow. Make sure each prompt leading to the checkout page is working. Next is the high shipping cost. You can insert vouchers or discounts within the checkout workflow to encourage the customers to go through with the purchase while availing of the savings.
There are also customers who prefer not to create an account. Be lenient and offer the option of ordering as a guest. This way, you can still cater to individuals who would rather not give out too much information about themselves but just want to buy something.
Source: Oberlo
The checkout workflow should be simple and easy to navigate. Avoid adding any confusing options here. This way, there is only one clear path for the customer but to confirm their order.
Make sure that the layout of your checkout page is not cluttered with too much information but their purchase should be detailed. These are the important elements of your checkout page.
Shopping cart contents indicating the product description, image, and quantity
Billing information
Shipping information
Payment method
Order total with an itemized description
Confirm order button
Tricking customers is not an effective strategy to earn. Yes, you may get more profit from one transaction. However, it is so much better if your business can earn their trust so they keep on coming back.
Wrapping up how to optimize the efficiency of your Ecommerce store
In this day and age, optimizing your small business operations is a must. When it comes to Ecommerce, it all highly depends on your website or mobile app. This is where you have set a date with your customers and have the opportunity to get to know each other. Because first impressions last, maximize this opportunity to impress them and earn their trust. Businesses are built through relationships.
Be customer-centric. Be aware of their wants and needs and cater to them as much as possible. Make yourself clear and dependable. With hard work, meticulousness, and genuine care for your customers, they will all give it back to you.
Nick Shaw is the Chief Revenue Officer (CRO) of Brightpearl and is responsible for Global Marketing, Sales and Alliances for the leading retail inventory management software provider. He has written for sites such as X-Cart and SAP.
Small Business Finance 101
Download our free guide to learn the fundamentals of finance that will help make your small business more efficient and successful.