5 Steps To Your Small Business Website Using Wix
Written by Marya Sutimi on October 11, 2021
In a world where digital marketing is necessary, a website is a must-have item, no matter how small your business is. The problem is that not all business owners are savvy to build their website from scratch, and that's how Wix offers the solutions.
Wix is a user-friendly website builder that offers drag-and-drop features in its platform. It enables businesses to create a website from scratch and provides well-designed, professional templates to apply to their website.
Try our online invoicing software for free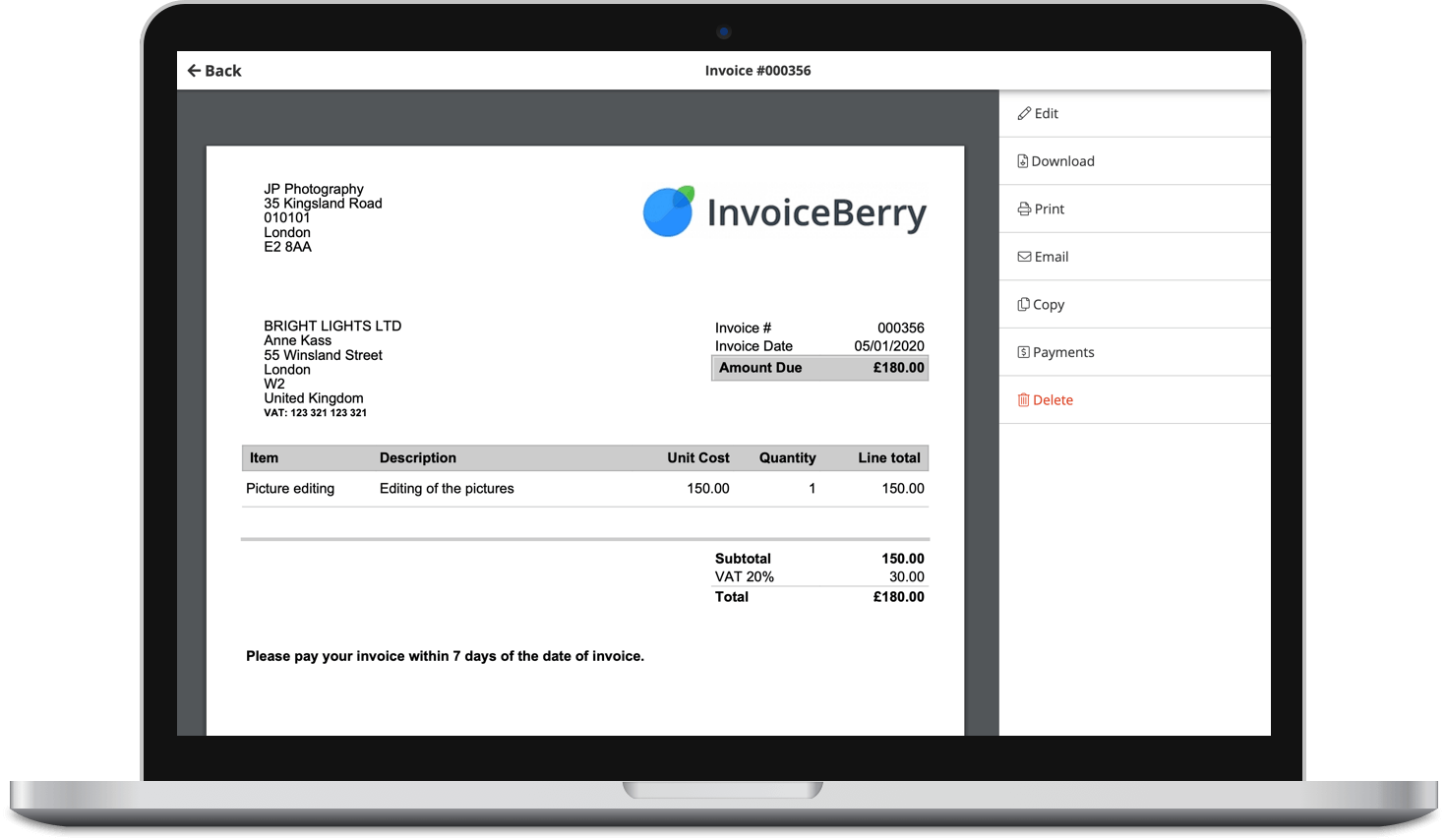 Send professional-looking invoices
Accept online payments with ease
Keep track of who's paid you
Start sending invoices
In this post, we're going to outline a few simple steps to make a website for your small business using Wix. For starters, you may also want to know why you should choose Wix as a website platform for your small business.
Why You Should Build Your Small Business Website Using Wix
Having a functional business website is essential to drive growth as an entrepreneur. The number of online consumers is increasing every single day, and it only grows higher after the pandemic hit last year.
Building a strong online presence through your website can enhance your credibility, and that's how Wix can help you with that.
#1 Free plan Wix is available without a credit card
While a domain name for your business website is available for the premium plan, you can always sign up for a free account anytime with no credit card required.
As the Wix web says on the tagline, Wix is the platform that gives you the freedom to create and develop your web presence. On top of that, Wix also makes sure to make their platform accessible for everyone.
Whether you want a website with a single page that outlines your profile and portfolio, or you want the full e-commerce features for your online shop, you can do it all!
While the free plan comes with some limitations to experience the whole business website experience, it can be a great alternative to build your online presence if budget is your concern.
There are plenty of alternatives to Wix that you can consider if you're seeking more custom features or diverse templates.
#2 Wix offers plenty of premium options that are adjustable to your business needs and budgets
Their premium plan starts from as low as $4.50 per month, and you can easily upgrade it based on the features you need for your website.
Whether you just need a website with a custom domain to make it more professional or want to secure online payment for e-commerce, you can pick one accordingly.
Moreover, Wix also allows you to create several websites under the same account, which is suitable if you're a multi-faceted entrepreneur having a few businesses to run.
#3 Wix drag-and-drop building tools are impeccable
While other website platforms sometimes require you to code to create a highly functional website, Wix comes with drag-and-drop web building tools that are easy to follow through.
They go so far to push boundaries with web design that nowadays, they even have the feature to create a website using Wix ADI (artificial design intelligence).
The process is quite straightforward, as you only need to answer a few questions about your business and pick one of the themes and website layouts available on Wix. Then, it will automatically create a website with a suitable design for you, which is also editable for your future use.
If you prefer adding your personal touch to your website, there are still plenty of professional templates that you can choose and edit for your liking. Developing a website has never been easier!
3 Steps to Create a Business Website Using Wix
All you need is just an email address and set up the password to sign up for a Wix account. To make it even easier, you can also sign up using either your Gmail or Facebook account. You can start it for free and upgrade it when you're ready.
#1 Create a new site
Once you signed in to your account on Wix, you'll get to the dashboard with an option to create your first site. Click the button, and you will get directed to a question about the type of website you're going to make.
#2 Pick the kind of website you're going to create
There will be a few options that you can choose from an online store to a technology company. For this tutorial, I will make a website for a consultant business as an example.
#3 Choose how you want to create your website
As previously mentioned, Wix currently offers to design a website using Wix ADI. While it is obviously faster and easier, you can still add your personal touch by creating a website with the editor option. In addition, none of them is too complicated, even for a beginner!
Creating a Website with Wix ADI
If you choose to use Wix ADI to create your website, you'll get through a few steps that include selecting features that you want to add to your website. Wix offers many additional features in one go, from the must-have items like chat and subscribe form features, to the online forum and pricing plans for your business.
All items are available in one click, and you can also import the content from your existing website if you have one. Otherwise, you can skip the entire process and complete your business details accordingly.
Once completed, you'll be given a few options for the available themes that you can choose based on your personal style and branding.
On top of that, the ADI feature also enables you to automatically use your branding color palette if you upload your business logo beforehand. Once everything is set, all you need is to choose your homepage layout, and voila, your website is done, and you can also edit the layout anytime you want!
Creating a Website with the Editor
Developing a website with the Editor option on Wix allows you to have the freedom to create a business website from scratch that is personalized to your liking.
Not only Wix comes with drag-and-drop building tools that make it easy to create a website, but it also has more than a thousand design features that you can opt for free!
If you prefer to start your website from scratch, you can easily click the blank templates option to opt for the layout and upload all your company assets from the start. Otherwise, Wix comes with a smart feature that will direct you to some selected templates that are suitable for your line of business.
Once you pick the template, you can also get a Youtube tutorial to start creating your website on Wix. Otherwise, you can begin playing around with their drag-and-drop tools.
You can see all the menus available to edit your website according to your style on the left-hand side, from the menu list on your homepage to the booking manager. If needed, you can also include additional apps such as Wix Pricing Plans or Magic Form Builder on the free plan.
#4 Make sure your website is also responsive for mobile
As of January 2021, there were 5.40 billion internet users worldwide, and 92.5% of them accessed it from their mobile devices. Don't miss your chance to gain your audience through your website, and double-check to see if your web design is optimized for mobile devices too!
On the editor page, you can hover to the mobile icon and easily edit the layout for your mobile web. Whether you want to change the block position or simply just change the font size, you can do it in this section!
Click the preview option on the top right to see how it looks like from your audience's point of view. Make sure everything is set before you put your website on the world wide web!
#5 Don't forget to click publish!
Now that you're done designing your website, click the "PUBLISH" button on the top right to go live. Only by doing this, your audience will be able to see your online existence through your website!
Conclusions
Wix can be a good alternative for small business owners who want to develop their business website without enough resources or knowledge in web development and design.
Their drag-and-drop tools are user-friendly, even for the beginner. No coding required, and they offer myriads of professional-looking templates for your business websites.
Even though most of their advanced features require you to upgrade to the premium plan, their free plan does all the work to create a basic website for your small business.