How to Create a Business Website with Carrd?
Written by Ana Mladenovc on September 26, 2022
If you're wondering what's the best way to create a business website, wonder no more! Today, we help you choose the best type of website for your business and show you how to effortlessly make one with Carrd.
Why does every business need a website?
Try our online invoicing software for free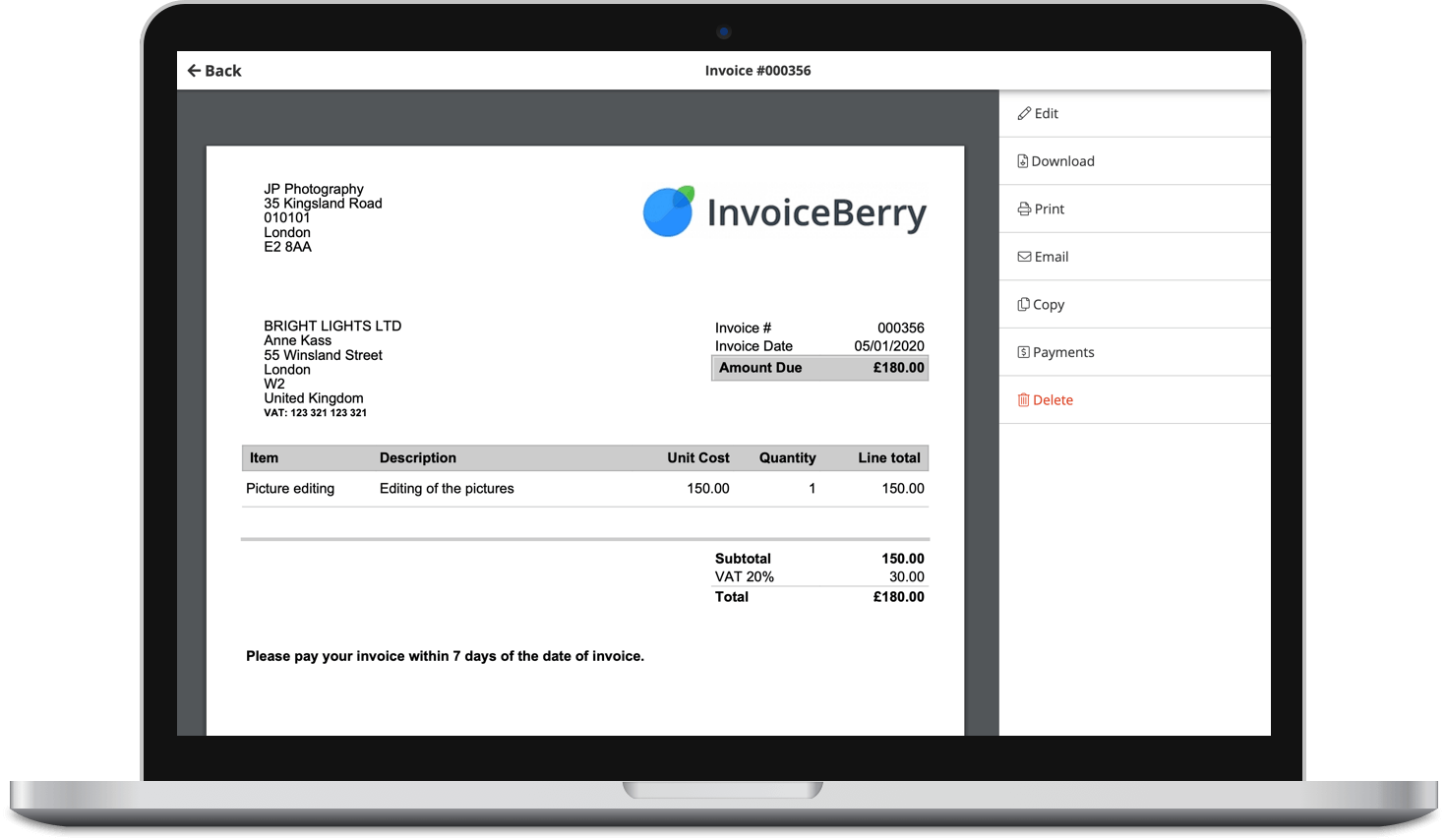 Send professional-looking invoices
Accept online payments with ease
Keep track of who's paid you
Start sending invoices
Having a website in this day and age is crucial, as most people live and breathe online. Simply, if your business doesn't have an online presence, it's as if it doesn't exist at all. Besides that, there are several benefits of having a website we listed below.
Improves business credibility
Believe it or not, around 85% of customers today think a website makes a business more credible. Regardless of your industry, customers are likely to check your business online before making a purchase, and the website is here to serve as a virtual business card.
If they cannot find your business online, customers will likely question its legitimacy. That said, your business needs a website to make a good first impression and provide all relevant information on why the products or services you provide are the best options for them.
Improves brand image
Having a website is a great opportunity to showcase to your customers what your business is all about. More specifically, a website serves to establish a clear brand image and provides information to your customers on who you are, what values you're trying to promote, and what sets you apart from competitors. Without a website, it's quite challenging to do all that because people can hardly find reliable information about your business.
Boosts opportunities for generating new leads
Business success goes hand in hand with the number of customers it has. Attracting new customers and retaining existing ones is a demanding process that takes a lot of time and resources. Having a website can help you increase the number of leads as it helps customers to find you online, get familiar with what you offer, and be more confident they made the right choice.
Furthermore, having a website can help you market your business online and improve your lead generation campaigns.
Saves time and improves customer services
Businesses that don't have a website usually spend a lot of time answering customers' questions about simple inquiries such as working hours and location.
Besides taking a lot of time, customers' calls can be distracting to the staff that can focus their efforts on doing more important things. That said, having a website can help decrease the volume of such calls and increase business productivity.
It's good for digital marketing
The time of leaflets, billboards, and mascots has long gone. Online marketing is proven to be one of the most successful strategies for marketing a business since it can provide data-backed insights that help businesses plan and execute their advertising campaigns.
However, businesses cannot expect to execute a digital marketing campaign without a website. That said, you'll need a website to market your business successfully.
What type of website should your business have?
While every business needs a website, not every business needs a complex website with multiple pages. If you're an entrepreneur, or you focus on providing one type of service/product, you'll choose the one-page website for your business.
The biggest benefit of one-page websites is the fact they're mobile-friendly, allowing customers to seamlessly browse them on the go, neat as they provide all relevant information in one place, and better in terms of cost of maintenance.
However, they do come with a few downsides such as the difficulty of conducting SEO and limited scalability options.
How to create a business website with Carrd?
First of all, before explaining how you can make a business website with Carrd, we need to mention that Carrd is a tool that will help you create a single-page website. As we mentioned above, single-page websites are beneficial for small to mid-sized businesses that focus on a specific target audience or offer only one product (for instance consultants, plumbers, cleaners, etc).
To start your journey, first, you need to sign in. You can do this by filling out your information such as a name, email address, and password on Carrd's website.
After you completed this step and verified your account through the verification link sent to your email, you'll be redirected to a Carrd dashboard.
A good thing about Carrd is the fact you can use its free version. However, without a paid plan you won't be able to use your domain name. That said, we strongly recommend opting for one of three paid plans: Pro Lite ($9/year), Pro Standard ($19/year), or Pro Plus ($49/year).
After you choose the plan that suits your needs the best, the next thing you'll have to do is to choose a template for your website. Carrd offers a wide array of professional-looking templates, allowing you to scroll and find the one that fits your needs the most.
However, we'd recommend picking one that requires the least customization, to save time and avoid the risk of ruining the overall look of the website.
After you decide which template you'll use, you should go to the website editor where you can further customize the template by modifying the elements. Furthermore, you should import your logo, insert your title and tagline, and add information your customers will search such as working hours, location, etc. 
After you finish modifying the look, you can insert your content, and publish your website!
Making a website from scratch with Carrd
In case you're confident in your design skills, Carrd offers you the possibility of creating your website from scratch, without using templates. If you decide on this option, you'll go to the "Choose a Starting Point" page and pick a "Blank canvas" option.
When you click on it, you'll get "Nothing here yet! :)" message.
The next thing you want to do is to change the background of your website. You can pick either a color or an image that will be used throughout your website. Here, we'd recommend you choose lighter tones and color schemes, to avoid your website from looking too confusing.
To choose a background for your website, go to Options, then click on "Choose the color code" option.
The next thing you'll have to do is to create a navigation bar that will be located on top of your website and contain links to other sections of your website (for instance Services, Pricing, Careers, Contact, Testimonials, and so on).
To create a Navigation bar, you'll have to delete the "Nothing here yet!" text, click on a plus icon, and then on the Add container option. You can change the settings for the container to match your preferences.
Next, you want to click on the left column and then choose the Add image component. Then, click on the right column and choose the Add button component. Add as many buttons as you need according to the number of sections your website will have (Testimonials, Services, Pricing, Career, etc)
The next thing you should do is to populate your website with content visitors will immediately see after they visit your website. 
To do it, you should add a background image and a gradient layout, and then add a text layer with a catchy headline. After you do this, start populating the sections you chose for your website by the same principle.
Now, the only thing that's left is to review your website before making it public. Make sure to delete all typos and fix small mistakes such as broken links before making it live. After you do this, you just need to publish your website by clicking on the Save button.
BONUS TIPS: Four things to ensure business success
Now, when you know how to make a business website with Carrd effortlessly (and why is having a website beneficial in the first place), let's see what are some other ways of driving business success.
Make a business plan
Writing a solid business plan is crucial for every business. Having a business plan guides organizations through each stage of managing their business and shows the best way to run, manage, and grow it. Furthermore, with a good business plan, organizations can meet their milestones easier, and avoid mistakes that would lead to waste of money and time. That said, if you still don't have it, the best way to improve your business is to write a solid business plan. Assess where you are and where you want to be, and think about the steps you need to take to ensure your goals are met.
Turn your invoices into a powerful marketing tool
In case you didn't know, you can turn your invoices into powerful marketing tools in a few different ways. First, you can personalize invoices and adjust them to show your company's brand by adjusting colors, adding a logo, setting payment terms and offering various payment options, and so on.
Secondly, you can offer incentives to your customers through invoices such as x% off for their next purchase or a discount for early payments.
Lastly, you can send out quotes and turn them into invoices in a few easy steps, which will help you seal the deal while the lead is hot.
What's best, you don't have to do all these things manually! You can subscribe to InvoiceBerry, powerful invoicing software that will help you do all these things (and much more) in seconds.
Interested?
Subscribe for a free trial period!
Add a blog section to your website
Adding a blog section to your website is beneficial for your business in a few ways. First, writing about the things you know how to do the best will help you increase the credibility of your brand, making customers more likely to remember you and choose your services and products over competitors. 
Secondly, having a blog section can help you improve your Google ranking as you can optimize your blog posts to be more visible to your customers.
You can easily add a blog section to your Carrd website by using BlogHandy's services. What's best: you don't even have to know how to code. Setting up a blog section through BlogHandy is fast and easy, as it involves adding two lines of embed code!
Offer incentives and discounts
Experience has shown that the best way to build awareness, loyalty, and interest among consumers is by offering discounts. Furthermore, customers are attracted by promotions and tend to share them with their peers through word of mouth. However, you should be careful to only share relevant offers with your customers, as spamming them with too many offers might provoke an unwanted reaction.
Final Words
As we've seen, having a website is a must in today's world. Luckily, you can make one for yourself without coding knowledge for an affordable price using Carrd's services. You just need to pick a plan that works for you, and you're set.
Small Business Finance 101
Download our free guide to learn the fundamentals of finance that will help make your small business more efficient and successful.