How Project Management Software Can Change Your Business
Written by InvoiceBerry Team on July 29, 2019
Effective project management is one of the most crucial aspects of literally any business, regardless of its size or industry it operates in.
Correctly leading a project from its start to the finish line, with the right people necessary to complete the project, is vital for achieving company goals and objectives.
Try our online invoicing software for free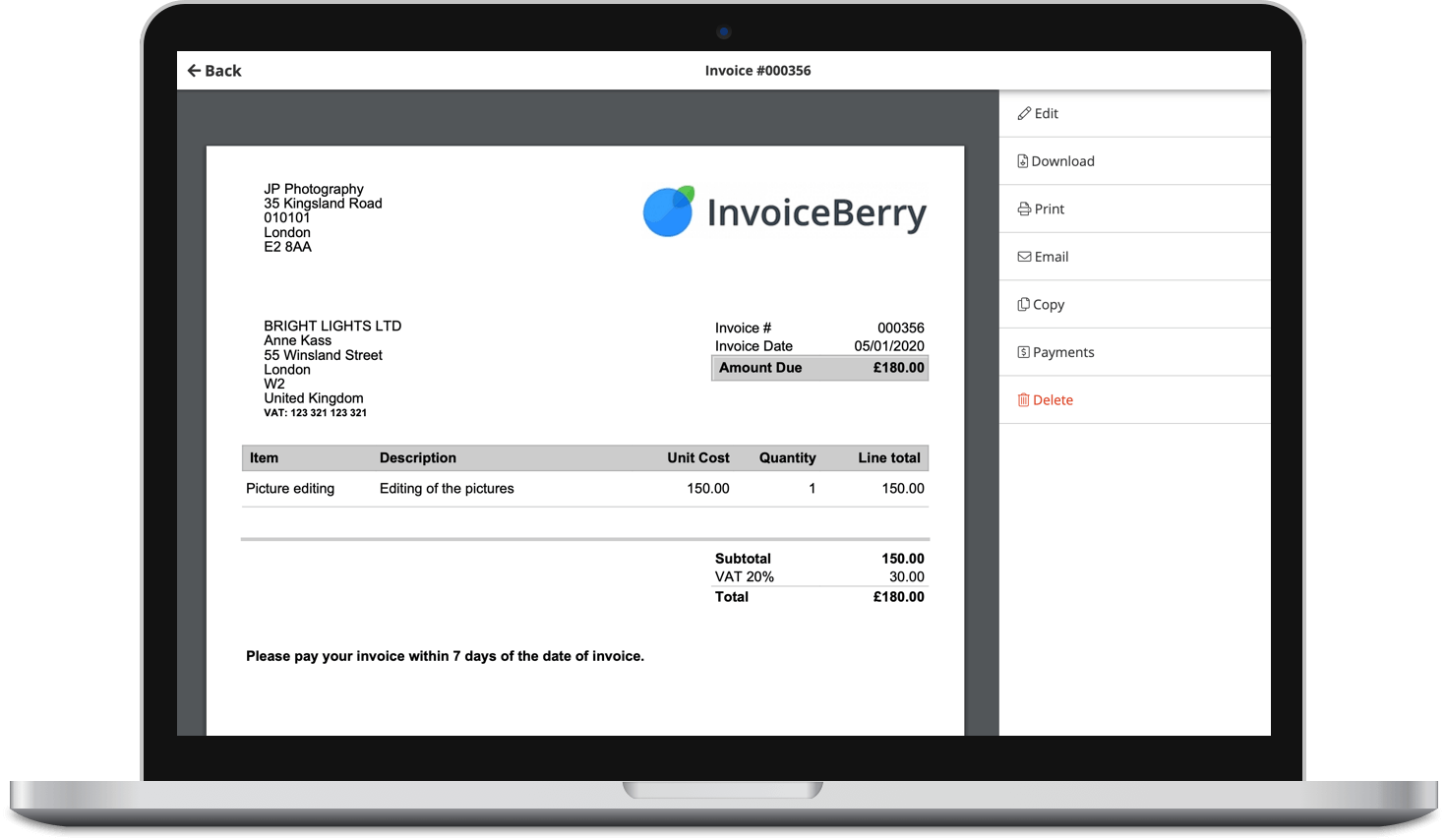 Send professional-looking invoices
Accept online payments with ease
Keep track of who's paid you
Start sending invoices
The most critical factor for successful project completion is team collaboration.
A study confirms that 59% of the US workers believe that lack of collaboration is the biggest obstacle for successful project completion.
Goes on to show that team collaboration gets tossed out of the window quite a lot. This is especially true in scenarios where teams are distributed across the world – situations when team collaboration is paramount.
According to a Stanford study published a few years ago, collaboration is the crucial factor in workplace performance. A similar study from the Institute for Corporate Productivity and Rob Cross, Edward  A. Madden, Professor of Global Business at Babson College, found that companies that promoted collaborative working were 5.5 times more likely to be high performing.
There are project managers who fully understand the importance of workplace collaboration both during projects and throughout their daily agendas. Those are the ones who know how to make the most out of their workplaces, boosting employee morale and empowering their teams, helping them reach their full potential and thus becoming the real contributors to their company's success.
However, many project managers often underestimate the power of team collaboration, leaving it only for face-to-face or virtual meetings.
They tend to focus all their efforts on merely managing projects and making sure that all the team members are doing what they should to complete their tasks efficiently and effectively.
Enter Collaborative Project Management Software
The considerable role of collaboration in project management is what sparked the idea for the new tool that would offer everything one needs to successfully see through every single project – collaborative project management software.
There are numerous strategies to improve team collaboration, but utilizing collaborative project management software is the essential step that every project manager should take to effectively manage teams and ensure that everyone completes their tasks with flying colors, without ever missing a deadline.
What is a collaborative project management software?
It is a tool for managing projects that have built-in collaboration features which make team communication extremely easy and streamlined. It functions just like any other project management software but includes functionalities that take team collaboration to a whole new level, enabling teams to communicate in real time without any friction whatsoever.
It is extremely beneficial to remote teams, and it eliminates the need for long daily or weekly meetings and sending emails back and forth to keep everyone up-to-date with all the project matters.
In today's hectic business environment, where the number of remote teams is on the constant rise, real-time team collaboration is more than important. Collaborative project management software can quickly take all the challenges that come with managing and collaborating on a project out of the picture and help teams and managers ensure that their every project pans out correctly.
6 Essential Benefits of Project Management Software for Your Business
There are numerous benefits of collaborative project management software that you and your team can look forward to once you utilize it, but the following are those that bear an enormous significance for any project and business.
1. Enhanced Communication and Collaboration

As discussed in the beginning, many US workers find lack of communication the biggest obstacle to complete a project successfully. But this is where organizations should think of adopting a project management software.
But how does this software integration helps to bridge the communication gap? 
One of the most important advantages of this type of project management software is that it significantly improves team communication and collaboration. These two factors are significant for every workplace. However, they can easily be set aside when teams are working remotely or when particular team members have trouble working together.
It is precisely where collaborative project management software comes in to save the day. When you use this powerful tool, everyone can interact freely and efficiently, and no one will ever miss any vital piece of information necessary for completing their tasks.
You can post notes and comments, communicate via chat, use VoIP and video calls, tag other team members, communicate with external stakeholders and much more – all in real time, without any friction.
This doesn't mean that this tool eliminates the need for meetings, both face-to-face, and virtual ones. Instead, it reduces the frequency of your meetings and significantly improves their efficiency and effectiveness. 
If you integrate your collaborative project management software with your preferred email platform, you can set automatic reminders that your project management tool will send to all team members and eliminate the risk of anything substantial being buried in a bunch of emails.
What's more, this tool will keep the history of all your interactions, enabling you to see what is being communicated and how. You don't need to keep track of all that communication on your own and check with all the team members to see if everyone is on the same page and whether or not anyone missed the latest updates.
That way, you can make sure that everything is clear and that everyone fully understands what they need to do to finish their tasks and milestones and help you complete your projects. Everyone will always stay in the loop, and they won't need to wait for your office to open to check the status of a project, as they can log into their account and see everything they need on the tool's dashboard.
2. Increased Productivity 
With improved collaboration and communication naturally comes increased team productivity. If your workplace lacks team collaboration and everyone is working alone on a project, it can be a while until the project is complete.
This is especially common in remote teams or when some of the team members are taking a lot more than they can handle, without joining forces with their peers to finish everything more efficiently and effectively.
Not only can this lead to stress and frustration, but it can also open the door to plenty of bottlenecks that are bound to slow things down.
With collaborative project management software, your employees can work together to come up with the best solutions to problems and considerably speed up the process of completing every single task.
Hence, their productivity will spike, and with greater productivity comes better job satisfaction. When everyone in your team sees how much they have accomplished together and how much they have contributed to your organization, they will feel much better in their workplace, being more motivated to go above and beyond what is expected of them to help you reach your goals.

3. Higher Level of Efficiency

Higher productivity and a higher level of efficiency go hand in hand. A more productive team can finish all the necessary tasks faster, which means that a lot of time and energy are saved along the way. When your employees do more in less time, all of you will have more time on your hands to focus on your core competencies and get involved in even more projects.
All that saved time and energy naturally translates to reduced costs, which is yet another huge benefit for your organization, especially if you are paying for physical office space. With this tool, you can set up a virtual office space where everyone will be able to communicate in real time and share documents with one another, so there will be no need for frequent, time-consuming meetings.
Speaking of saving money, if your collaborative project management software is based in the cloud, you will save an incredible amount of money in the long run. Not only will you not need to install any hardware, but your SaaS provider will also handle all the updates, upgrades and everything else related to software maintenance.
This means that you won't need an expensive in-house IT team to take care of the software (which again means higher operational efficiency) and you can scale up as easily as you add your daily tasks – with a few clicks of a mouse.
4. Better Project Input
Regardless of the type of project, it is prevalent that some issues arise along the way. Finding the best possible solution to any problem can be challenging if your team members don't work in unison and try to solve a particular problem together.
With collaborative project management software, your employees can brainstorm together and share ideas with one another, no matter where they are located. This is also incredibly important for teams distributed across various locations and working in different time zones.
When they can communicate and collaborate in a shared space for online project management, their input will become much better, both concerning quality and quantity. They will be able to solve problems much faster, and easier and they will come up with quality solutions that will significantly help you achieve your goals.
5. Improved Team Relationships
When employees don't collaborate with one another, it reflects poorly on the whole organization. It slows down the progress and a lot of time and energy goes down the drain.
This usually happens when employees don't know one another well, which is very common when they are dispersed around the world.
Collaborative project management software is an excellent tool for bringing employees closer together and helping them get to know each other better. When you communicate with the people you work with on a daily basis, you are bound to learn more about them and better understand their ideas and their style or work.
That is one of the most important advantages of any collaboration tool – strengthening team relationships and enhancing employee morale. All the possible strategies to improve team collaboration are focused on exactly that – empowering teams and helping them work together in unison to achieve common goals.
With project management software for collaboration, your team members can become friends instead of only being co-workers who don't know each other. As such, they will make a strong team that will save a lot of time and energy in the long run. The feeling of isolation will become a thing of the past, and you will witness a much better collaboration leading to the successful completion of every project.
Ultimate Guide to Keeping Your Team Happy
A great team is a cornerstone of any business. Keeping your team happy is essential if you want to keep the wheels turning and the momentum going. These are the key elements you want to consider if you want to see smiles and the morale high in the workplace.
READ MORE
6. Better Accountability and Performance Monitoring
Collaborative project management software is excellent for one more reason – monitoring accountability and performance in real time.
You can easily keep track of everything that your team is doing – anytime you want, anywhere you are and on any device. You can see all the dependencies and not only better allocate your resources, but also help your team members make better decisions and finish all their tasks perfectly.
You can monitor the performance of your employees in real time and quickly identify all the potential bottlenecks. That way, you can take proper actions for resolving the issues, seeing who may be falling a bit behind the others and slowing things down. You can provide additional training when necessary and ensure that every one of your employees reaches their full potential.
The software also enables you to see both the big picture at any given time and all the milestones and sub-projects, drilling them down to the finest detail. That way, you can seamlessly keep track of the progress and organize schedules and tasks, which will help you make much better business decisions.
How to Maximize Collaborative Project Management Software?
Implementing strategies to improve team collaboration can sometimes be challenging, and it takes more than merely utilizing project collaboration software. To get the most out of this powerful tool and experience all the benefits it offers, you should apply the following actionable tips.
1. Train Your Team
It's vital that you train your employees to help them get the hang of the project collaboration software, and learn how to maximize it. This is a tool that is incredibly easy to use, but you should still take the time to explain every little detail and ensure that no confusion regarding completing tasks ever takes place.
A great thing about this software is that you can conduct the training directly within the software, so you don't have to get everyone in the same physical location to train them.
2. Emphasize Communication and Collaboration from the Get-Go
It's not always easy to get everyone on board when you utilize a new piece of software. People are creatures of habit, so it can be tough getting your employees to use the new tool.
This is why you should continuously emphasize the importance of collaborating within the software and communicating consistently. Your employees should fully understand that effective communication is the foundation for project collaboration and that is the most crucial factor for successful project completion.
3. Steer Clear from Email
You'll need to send a few emails here and there, but you should consistently encourage the use of collaborative project management software for communication. Managers can quickly send their team members a response if they received an email addressing any problem.
That way, you will compel them to start using it on a regular basis and, before they even know it, they will start communicating with one another via the tool.
4. Share Your Calendar with Your Entire Team
Sharing your calendar with your team can help everyone stay in the know regarding all the meetings and important events. Project collaboration software allows you to do that with a few simple clicks and, more importantly, you don't have to do it every single time you add a new meeting or event.
You can add members to your list, and they will always have a clear insight into your calendar, seeing all the changes and updates in real time.
5. Check in with Team Members on a Regular Basis
No matter how well you train your employees to use collaborative project management software, or any other software, for that matter, some issues may arise down the line. Some of your team members may run into specific problems, so you should always be there to offer a helping hand.
Check in with them regularly to make sure they are using the software to its full potential and that they are satisfied with the new way of collaboration. They'll appreciate your concern and feel free to come to you for advice on any potential problem, which will mitigate some potential risks before they even happen.
Now that you know how a collaborative project management tool helps overcome some of the challenging tasks and situations during a project, it is time you give a glance to some real names too.
Choosing the right software can have a huge effect on your work.
Tom Gorski is an entrepreneur, growth hacker with 12 years of experience in online marketing, and CEO of SaaSGenius – a business tool which gives you a chance to find the right software, fast and completely free of charge. To date, his biggest accomplishment is achieving 4500% growth for one of his clients over a three-year period.
Want to write for InvoiceBerry? 
We now accept high-quality guest posts just like this one. If you want to write for us, have a look here: https://www.invoiceberry.com/write-for-us