5 Tools to Automate Freelance Client Management
Written by InvoiceBerry Team on February 14, 2022
Being a freelancer comes with several perks—including flexibility in the schedule, charging desired rates, and the freedom to work from anywhere in the world. But, it's nothing less than managing a business.
As a freelancer—you're in charge of pitching clients, drafting contracts and proposals, client onboarding, managing deadlines, sending invoices, handling a team, keeping track of payments, and not forgetting, tax and compliances.
Try our online invoicing software for free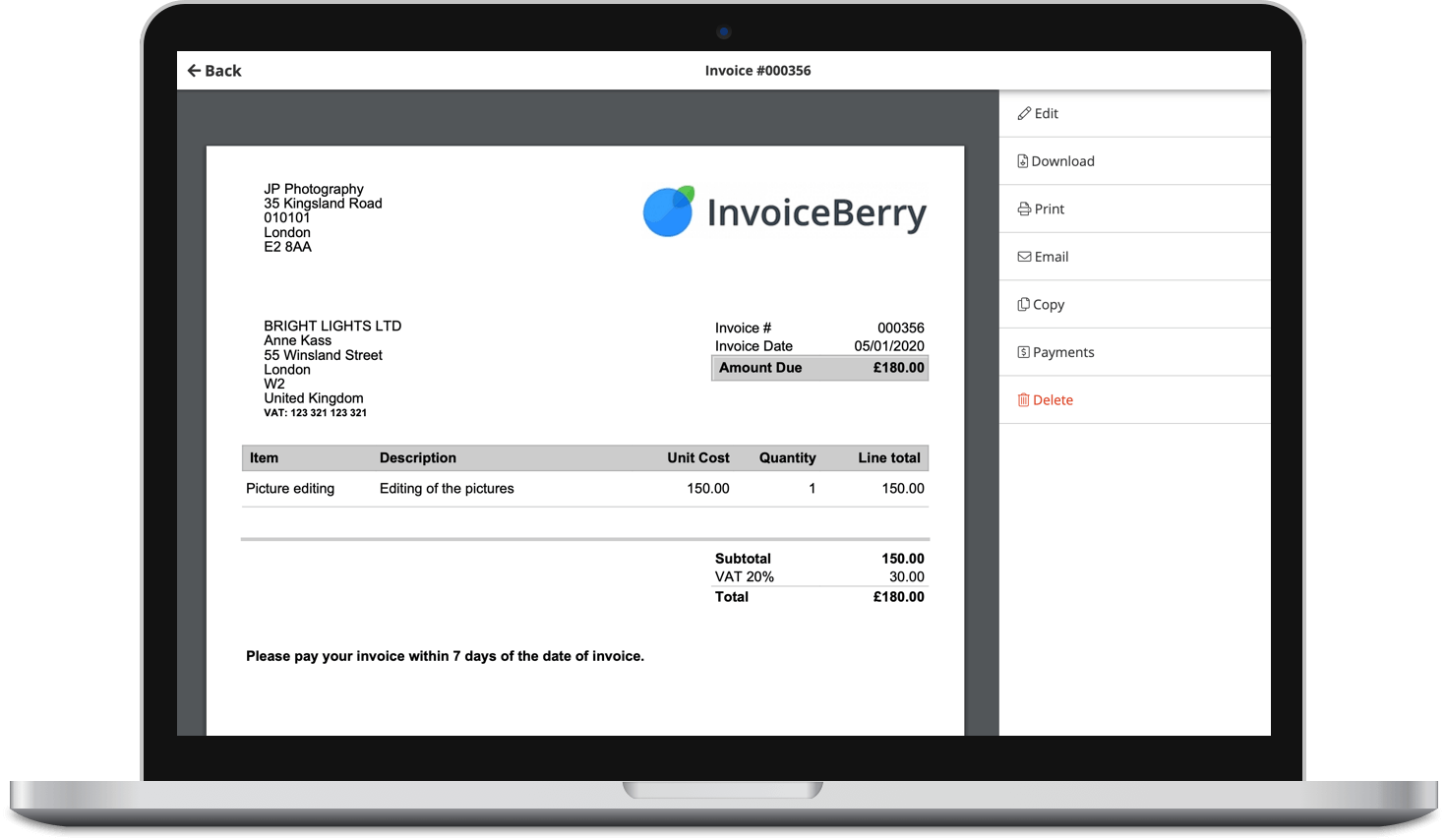 Send professional-looking invoices
Accept online payments with ease
Keep track of who's paid you
Start sending invoices
No matter how organized you are—managing all these things can be overwhelming. Long gone are the days when freelancers relied on spreadsheets to manage these tasks—which is not only time-consuming but highly inefficient.
The solution? Automated client management tools, which help organize tasks, streamline projects, enhance productivity, and build better relationships with your remote team and clients.
This article shares five such tools that can help you keep track of freelance clients and projects with no hassle.
Automate your freelance client management using these five excellent tools
Fortunately, client management doesn't need to be manual anymore. Using Customer Relationship Management (CRM) software, you can easily automate managing multiple clients and deadlines and get a comprehensive picture of your project timelines.
Grand View Research's report suggests that the global CRM market size is expanding each year—and anticipates it to rise at a Compound Annual Growth Rate (CAGR) of 10.6% by 2028.
This statistic clearly shows the increasing popularity of these automation tools worldwide. So, if you want to ease your freelance administrative work and focus more on revenue-generating activities, here are the top five freelance client management tools you can use.
Notion is a highly intuitive freelance client management tool that provides a common workspace to manage your clients and teams. It's ideal for freelancers, startups, small businesses, and large enterprises.
This tool is highly customizable, and you can create a custom dashboard with various table views using a simple drag-and-drop feature. For instance, you can use it as a task management software, time tracking software, writing repository, a database, or even a content calendar.
What's best about this tool is that you can find relevant information like CEO contacts, learn more about company goals, or the best social media marketing tips in a central location using its Wikis feature.
Overall, it's a perfect tool to get a better project overview, create a streamlined workflow, and increase productivity.
Features:
Perfect for collaborating with teams and sharing projects and docs in a single workspace.
Goes beyond note-taking and facilitates project planning and tracking using the customizable database.
Enables distraction-less typing or essay writing with a clear and blank page.
Easy to use shortcuts to enhance productivity.
Rearrange content using a simple drag-and-drop feature.
Integration with 50+ apps including—Gist, GitHub, Twitter, and Typeform.
Offers thousands of community-based templates to seek inspiration from.
Other features include SSL Security, public access, mentions, and SAML single sign-on.
Best use for: Creating clients project master sheets, managing deadlines, and keeping track of monthly projects, personal projects, and finances.
Pricing: Free, but the paid plan starts at $4/month (billed annually).
Monday is an excellent fit for freelance project managers—courtesy of a wide range of features for efficient team collaboration and client management. Using its flexible task management tools, you can easily handle multiple projects simultaneously and stay in the loop with your clients via real-time notifications and intuitive automation.
You can choose a suitable template of your choice and manage clients or team members with a tailored board. For instance, the Sales & CRM Work OS—Monday provides sales CRM, sales assets, and partner management templates for your sales team.
Features:
Timeline feature allows you to plan and monitor goals.
Custom workflow automation like automatically assigning tasks whenever the status changes.
Integration with around 50+ applications to streamline workflow.
Use the list view feature to view monthly goals and plan accordingly.
Select widgets to create a custom dashboard and keep track of timelines, progress, and budgets.
Provide feedback, add comments on the tasks, and gain access control for seamless collaborations.
Provides a built-in repository to offer inspiration for project organization.
Best use for: Team collaboration and automating your project workflow to manage deadlines.
Pricing: The free plan offers 2 seats and is best suited for individual freelancers who are just starting their business. The paid plan starts at $8/month per user and increases depending on the number of seats.
Zapier is one of the most popular freelance client management tools.
It works by connecting multiple web applications like Slack, Dropbox, and Gmail to help you automate your daily workflow and repetitive tasks to build faster and more efficient processes.
All you need to do is create a Zap (automated workflows that connect apps), select the apps you use, and Zapier connects them all so you can manage everything from a single workspace.
Suppose you're an event manager and need to update your spreadsheet with the new user registrations. Instead of doing this mundane task manually—Zapier will connect the registration app with Google Sheets to automatically update all the user information.
Each Zap includes a trigger and one or multiple actions. In our case—the trigger can be "submit a user registration entry to Typeform," and actions can be "Update on the Google Sheets" and "Email registration confirmation to the user."
Thus, used by over 3 million customers—Zapier seamlessly takes care of your tedious tasks and offers a time-consuming and automated solution for your workflows to improve productivity.
Features:
Create numerous Zaps depending on your pricing plan.
Choose between Single-step Zaps (one trigger and one action) or Multi-step Zaps (one trigger and multiple actions)—depending on the plan.
Checks the triggering app for new data entries every 2 to 15 minutes update time—depending on the plan.
Integration with over 3000+ apps.
Offers the Transfer feature for moving bulk data from one app to another.
Best use for: Automating redundant tasks like sending an automatic email based on a Slack message or reminding you to follow up with an email you received a few days back.
Pricing: Free, but the paid plans start at $19.99/month (billed annually).
Trello offers an interactive way to manage client, solo, or team projects. Its simple Kanban-style interface makes it a breeze to manage projects with less complexity and eases the difficulty of handling multiple clients.
The best feature of this management tool is that you don't necessarily have to use it for work. Instead, you can also use it to manage side projects or even keep track of your monthly to-dos.
Here's a simple breakthrough of how it works:
Create different boards for different clients or teams.
Add lists within these boards like—To do, doing, done, and paid.
Add cards within these lists, which can be individual client tasks.
Customize these cards and add checklists, due dates, files, and comments.
Thus, it's as simple as any freelance client management tool can get.
Features:
Highly collaborative—making it easy to work in teams.
You can remove cards with automated, rule-based triggers and due dates.
The power-up feature allows you to integrate with third-party applications like Google Drive, Evernote, and Dropbox.
Its mobile applications are available on iOS and Android—helping you manage and stay organized on the go.
Best use for: Managing multiple teams of 4-5 members, different client projects, meeting deadlines, keeping track of monthly projects.
Pricing: Free, but the paid plans start at $5/month per user (billed annually)
Whether you're a freelancer, small business owner, or work at a large enterprise—Wrike is an ideal and highly versatile client and project management tool for everyone.
You can create multiple projects, and for each project—create a board to organize tasks into lists. In addition, you can easily customize the dashboard to streamline the workflow. Moreover, you can view the progress status of the tasks, assign tasks to team members, and add notes for their reference,
You can also choose from the number of project templates, and whenever you're assigned a task or receive a new message—it sends instant notifications from your inbox.
Overall, Wrike makes it accessible and easier to view the bigger picture of your projects with its 360-degree visibility and enables better sharing of files, tasks, and reports with the team.
Features:
The calendar gives you a quick overview of the projects and their due dates.  
An interactive product tour to get a feel and understanding of how it works. 
Offers unparalleled security. 
Offers 400+ application integration with apps like Jira, Google, Microsoft, GitHub, Box, and Adobe. 
Provides a holistic view of all the individual tasks and real-time notifications for potential roadblocks. 
Use advanced real-time insights and analytics to visualize team performance and progress. 
Best use for: Team collaboration across large enterprises, enhance overall productivity, time tracking projects, and streamline invoices.
Pricing: Free, but the paid plan starts at $9.80/user/month.
Conclusion
Client management tools are essential for freelancers—whether you wish to manage work solo or collaborate with other freelancers and clients. The right tool will allow you to complete work before deadlines, manage finances, and overall track your projects seamlessly—without getting overwhelmed.
While all of these client management tools are quite feature-packed, identify your core requirements and choose the tool that matches your needs in the best way.
Alex Garcia is a content editor and writer at Writers Per Hour. She enjoys writing (and reading) about small business marketing, entrepreneurship, and design. When she's not writing, she's probably learning a new skill.
The Ultimate Social Media Tool
Download our free guide to learn how to create shareable content, generate website traffic & increase conversions.