Boosting the HR Processes with Expense Management Software and its Role in Onboarding
Written by InvoiceBerry Team on March 27, 2023
Expense management software is a valuable tool for companies of all sizes and industries. It streamlines the expense reimbursement process, making it more efficient and less time-consuming for employees. It provides transparency and accountability in the expense management process, which can increase trust in the leadership.
Why is expense management software important for HR processes
Invoicing software allows organizations to ensure their expenses are tracked effectively and efficiently. It eliminates paper-based processes while maintaining compliance with internal policies. Moreover, reports can be created with just a few clicks of the mouse, leading to cost savings.
Try our online invoicing software for free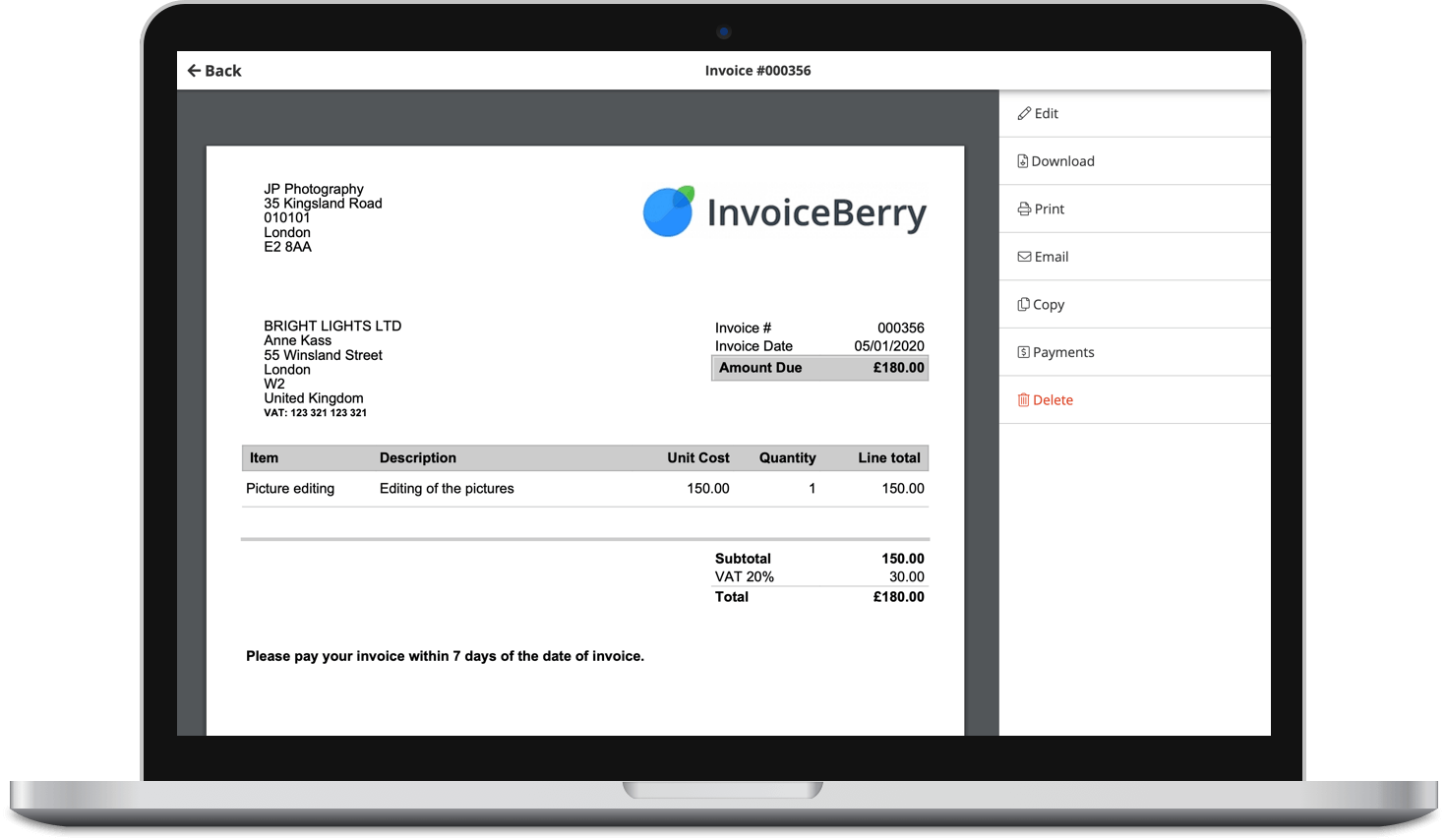 Send professional-looking invoices
Accept online payments with ease
Keep track of who's paid you
Start sending invoices
Benefits of expense management software for employee onboarding
Expense management software reduces the process from a labor-intensive manual task to an automated system. Companies establish guidelines for expenses, keep track of spending, and identify areas where budget efficiencies can be made.
The software systems allow organizations to set up different reporting structures for budgeting purposes and modify multiple expense scenarios according to their needs. With this type of software in place, a company can ensure the following with minimal effort on the part of both managers and employees.
Faster onboarding processes
Perfect solution for remote new hires
Transparency between a new hire and employer during probation
Better productivity of HR and finance managers
Increased employee motivation
Personal financial planning
Faster onboarding processes
Expense management software can help facilitate the employee onboarding process, saving both employers and employees time. The software simplifies the onboarding journey through automated processes and faster payment cycles. Therefore, this software can make onboarding a simple and expedient experience for everyone.
For employers, this means gaining access to essential team members quickly, minimizing operational disruption. This provides long-term cost savings as well. For employees, it grants access to resources right away. They can hit the ground running with any new assignment or task.
Expense management software is the key to ensuring your company's sensitive financial data remains safe and secure. New hires often make mistakes in their first days, and as a result, your invoicing documentation can contain many similar and duplicate files. Special invoicing software will help you to avoid chaos in your financial operations, and you do not have to worry about important information ending up misplaced on your team laptops.
Perfect solution for remote new hires
The Expense Management Software is an essential tool for companies with remote teams, offering a reliable and secure way to oversee new hires' expenses. It provides crystal-clear visibility of your team's deadlines, locations, and budgets at any time. This helps you manage your business finance effectively and also ensures proper alignment and accuracy across teams.
With the expansive features available, the software can save organizations time, money, and resources. Workers can also make sure that the projects are visible online for all to see. Apart from auditing and tracking reports, it ensures that all transactions are completed accurately. It also offers new hires the following benefits:
Flexibility: Expense management software can be accessed from anywhere, at any time, making it easy for remote employees to submit expenses when it is convenient for them.
Streamlining the process: Expense management software automates many of the manual processes associated with submitting expenses, making it easier for remote hires to navigate the process and ensuring prompt reimbursement.
Better tracking: Expense management software can help remote employees keep better track of their expenses, which can help them budget more effectively and avoid overspending.
Transparency between a new hire and employer during probation
Expense software brings transparency between a new hire and an employer during the probation period. By having expenses tracked digitally, employers can get an accurate accounting of how much money was spent and a full breakdown of each expense on file. This allows employers to set clear expectations upfront with the new hires.
The virtual tracking allows all parties to stay up to date with how much is being spent throughout the gap between hiring and promotion. Besides, some features and automation of the best expense management software facilitate legal compliance. This can cut down on manual tracking and increase accuracy.
Better productivity of HR and finance managers
Expense management software allows HR and Finance managers to save time on tedious tasks. Through automated processes, the software can streamline workflows. Such streamlining speeds up the resolution of claims and reduces errors efficiently.
With features such as faster reimbursement cycles, HR and finance managers can make more accurate decisions. This increases operational efficiency, leading to improved strategic outcomes. Besides, it has a range of data-driven analytics capabilities that can help companies gain insights into their expenses, including the following:
The software can track and categorize expenses by employee, department, or vendor, providing detailed information.
It helps companies set budgets and track expenses against them. This can help identify areas where the company is overspending and take corrective action.
The software can track invoices and receipts, allowing companies to see which invoices have been paid and which are still outstanding.
The technology generates expense reports, vendor reports, and compliance reports, which can help companies identify trends and patterns.
Dashboards can provide an overview of the expenses, compliance with the policies, and other key metrics.
Advanced Analytics and Business Intelligence capabilities help companies make data-driven decisions to reduce expenses and increase efficiency.
Expense management software can be integrated with other systems to provide an end-to-end process and better visibility and control.
Many expense management software integrate with project management software to track resource utilization.
These capabilities can help companies gain a deeper understanding of their expenses, identify areas for cost savings, and make more informed decisions. Ultimately, the enhanced productivity of the managers results in better performance.
Increased employee motivation
Promoting expense management software can help to increase employee motivation by allowing them to manage their expenditure with ease and accuracy. Having access to accurately tracked expenses and financial transactions, employees can make better decisions about their spending. This enables them to plan according to their budget. As such, they will have an increased sense of autonomy over their finances, which can, in turn, help elevate morale in the workplace.
Company leaders would do well by investing in and promoting expense management software to give employees a valuable source of business support. Additionally, it can also increase trust in the company's leadership. This can lead to a more positive work environment and increased employee satisfaction.
Personal financial planning
Smooth onboarding is an essential process in any organization or firm, as it ensures the new employee will succeed and contribute to the ongoing success of the company. By utilizing an expense management software system, you can ensure that your onboarding program includes a comprehensive personal financial planning element.
This type of tool helps new hires better understand their financial requirements while also providing specific budget advice they may need to get started in their new job. With more visibility into spending and budgeting, companies can create offers and perks tailored to each employee that ensure their long-term financial stability.
Improved compliance
Businesses can benefit greatly from expense management software to aid in maintaining accurate expense reports. Expenses can be tracked and monitored to make sure they are compliant with corporate policies or government regulations. This prevents any fraudulent or improper use of funds.
Companies that utilize expense management software can be confident that all expenses will be handled properly and documented. It reduces the risk associated with audits or legal matters related to finances. Such compliance can help companies reduce the likelihood of errors or discrepancies in their financial reporting.
With expense management software, companies can easily flag any expenses that are outside of policy limits or require additional approval. This can help prevent non-compliant expenses from being approved and reduce the risk of fraud or misuse of company funds. Moreover, because it provides real-time visibility into employee spending, managers can identify non-compliant expenses as soon as they occur. This can help managers address non-compliant behavior before it becomes a larger issue.
In short, expense management software can help improve compliance by providing automated policy enforcement, real-time monitoring, simplified audit trails, consistent and accurate record-keeping, and customizable approval workflows. By utilizing expense management software, companies can help ensure that they are compliant with government regulations and internal policies and reduce the risk of non-compliance-related issues.
Conclusion
Expense management software can help remote new hires by streamlining and automating the expense reimbursement process. This can save time and reduce errors in submitting and approving expenses. It can provide visibility into spending for budgeting and forecasting purposes and help with compliance and audit requirements. Furthermore, it can provide a self-service portal for employees to submit and track their expenses efficiently.
---
Lillian Moore is a prolific business writer covering human resources, finance, sales and marketing, and technology sides of the corporate sector. She focuses on growing trends and disruptive ideas that have the potential to change the business environment.
---
Invoicing doesn't have to be scary
GET 50% OFF SOLO & PRO PLANS
UNTIL MIDNIGHT, OCTOBER 31