Why Seamless Invoicing is More Important Now Than Ever
Written by InvoiceBerry Team on April 22, 2020
With many people adjusting to work-from-home formats or becoming financially vulnerable due to the coronavirus pandemic, seamless digital invoicing grows in its importance to keep everyone organized, afloat… and paid!
With technology at the forefront of navigating and surviving the coronavirus wave, the way we conduct business has gone through a rapid evolution in just under a couple of months. Many companies and freelancers known to avoid digital processes have now become reliant on them. Seamless invoicing services, and the role they play in business operations, are more important than ever.
Try our online invoicing software for free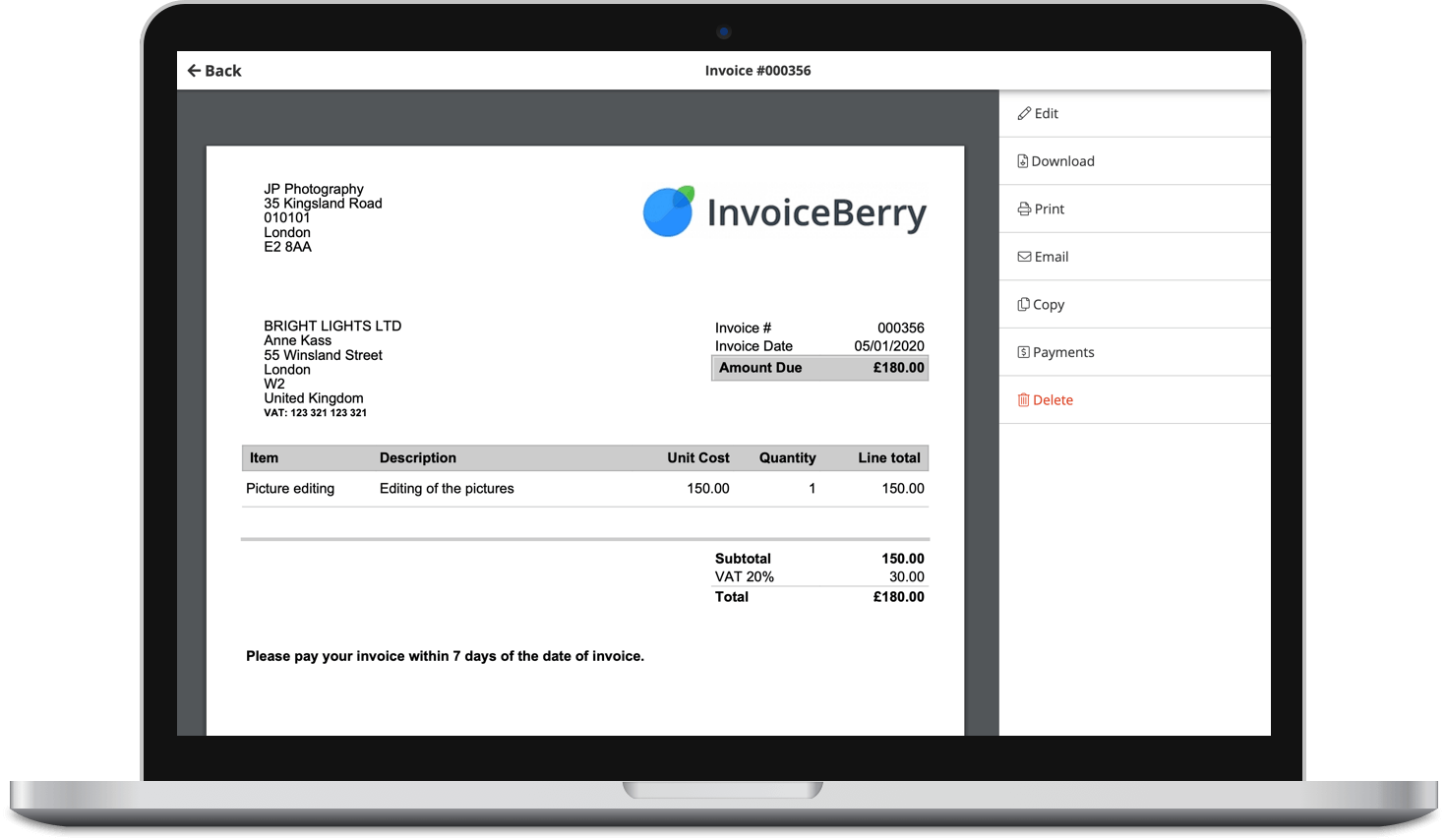 Send professional-looking invoices
Accept online payments with ease
Keep track of who's paid you
Start sending invoices
Small businesses, contractors, and freelancers need efficient, reliable systems immediately. Previous unorganized and outdated systems serve as a major obstacle for business efficiency and revenue flow.
By making the switch to automated invoicing software like InvoiceBerry, you can add a powerful business tool to your toolbox at such a crucial time.
Eliminates Stress
Online invoicing software like InvoiceBerry eliminates stress by automating a crucial part of your business. There's no debate. Manual invoicing can be a true pain. Relying on multiple tedious systems to stay accurate and up to date is so yesterday.
Manual invoicing can also take a lot of time, especially if unorganized. It's easy to create and administer invoices in InvoiceBerry, you only need three minutes!
Safety and security are two other business transaction stresses. Unlike manual processes sent by hand or email, all invoices created and managed in InvoiceBerry are 256-bit AES SSL encrypted and regularly backed up. You can rest easy knowing that your invoice information remains between you and your customer. 
Makes Sure You Get Paid
Online invoicing software like InvoiceBerry organizes all of your invoices so you can get paid with ease. You can see open and past due invoices with the touch of a button.
Setting up recurring invoices is also a breezy dream come true.
You can even send payment reminders via email. These make transactions way easier by allowing customers and clients to pay directly within the invoice–even in different currencies.
It's simple for everyone, meaning more paid invoices — from anywhere in the world.
Saves Lives
The buzzword these days as the coronavirus infection rates increase is "social distancing"––and for a good reason.
According to the CDC, "social distancing means remaining out of congregate settings, avoiding mass gatherings, and maintaining distance (approximately 6 feet or 2 meters) from others when possible."
Luckily, this can be avoided with software like InvoiceBerry.  Virtual invoicing software adheres to the social distancing guidelines and keeps you and your customers safe. It is completely contactless.
With distancing rules and restrictions around the world increasing rapidly, you're able to practice business transactions with empathy and caution. You protect yourself as a business owner as well as your employees, customers, and clients. 
Keeps Your Customers Connected
Speaking of customers, a personalized touch goes a long way in keeping clients happy and connected to your business. InvoiceBerry software allows you to send custom messages before you initiate an invoice and after payment.
Adding a personal touch and brand voice to your invoices is simple. But it'll keep your customers and clients loyal and locked into your services. It's also a way to make business transactions a bit more consumer sensitive.
Easily integrated with countless top web apps
Another timely InvoiceBerry feature is that you can connect it to your favorite web apps and supercharge your invoicing. You're able to seamlessly link with over 750 other software applications. Talk about potential for streamlined workflow!
Say goodbye to going back and forth between previously time-consuming tasks. Automation enables you to work cohesively between applications of your choosing. Whenever you're ready This article explains exactly how to go about getting everything set up.
Mailchimp, Trello, Expensify, the handy list goes on and on. So get on board and start taking advantage of InvoiceBerry's epic functionality. Save yourself time and effort that could be better spent on self-care at a time like this.
It's FREE for 30 Days!
InvoiceBerry offers a no-strings-attached free 30-day trial. It's a huge benefit for small business owners and freelancers that may be financially adjusting to the unpredictable economy.
You're can utilize the software to see how it works for you and your business before ever investing a cent. And the quick chat option for software support is available. Any concerns or issues you come across–– ask away!
In such fragile times, small business owners and freelancers can rely on invoicing software like InvoiceBerry to make life easier. Introducing a seamless online invoicing software to your business flow is a forward-thinking business move .
It's a convenient and essential tool for keeping your business stable and organized, no matter the unforeseen circumstance.
And for more coronavirus updates and important information, visit the CDC website for coronavirus.
Stay smart and safe, folks!
Small Business Finance 101
Download our free guide to learn the fundamentals of finance that will help make your small business more efficient and successful.