Scaling Your Business – Unusual Strategies [Expert Roundup]
Written by InvoiceBerry Team on April 20, 2020
If you're a small business owner who was working on scaling your business in 2020, the Covid-19 pandemic has no doubt thrown a spanner in the works. From countless layoffs to drastically lessened sales, the detrimental economic effects of the outbreak have been far-reaching.
In fact , according to a recent survey by Goldman Sachs, a whopping 96% of small business owners reported that they've been significantly impacted by the virus outbreak. Yet, now more than ever, we think it's important to share insights from some experts who have scaled up before.
Try our online invoicing software for free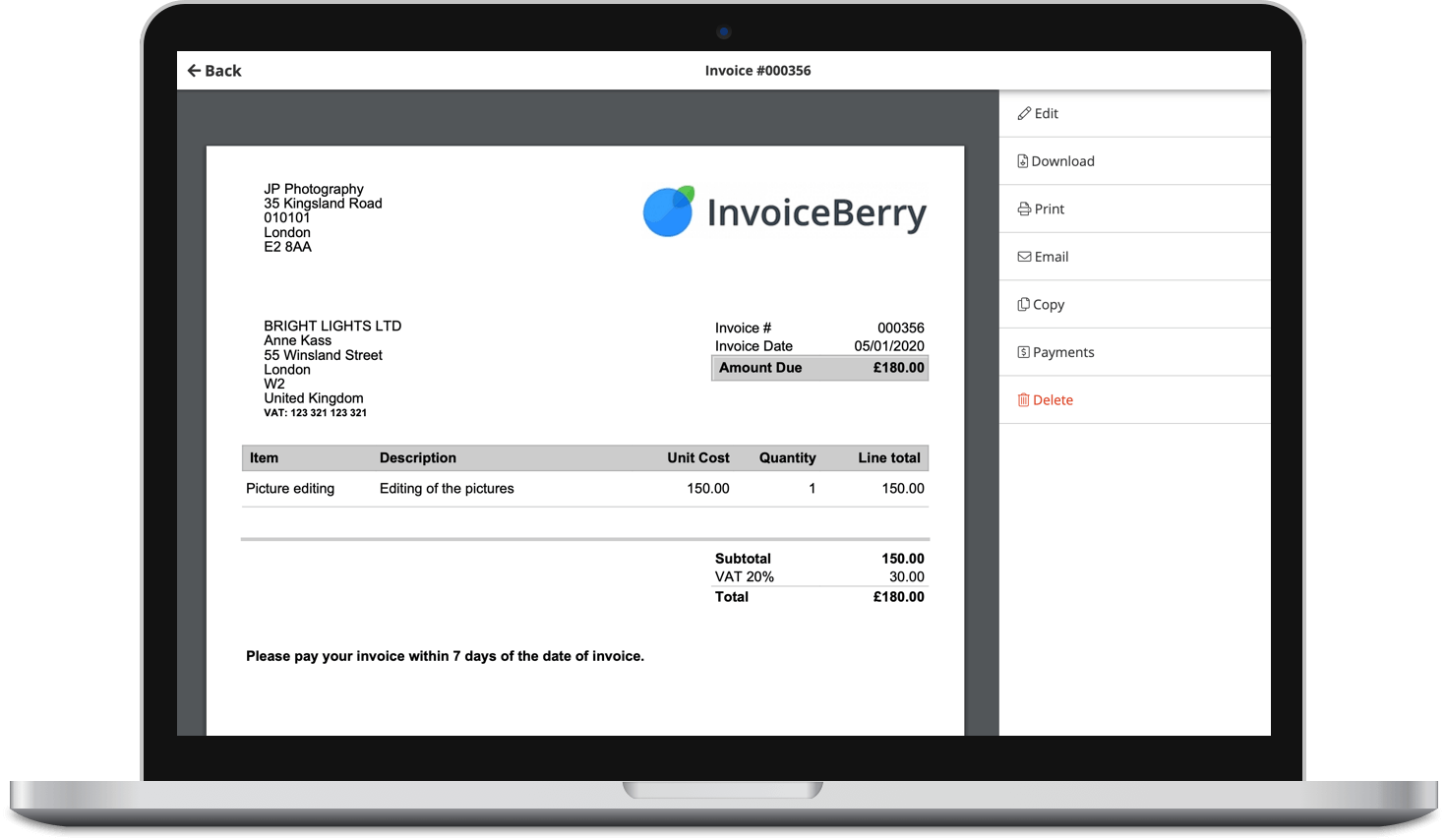 Send professional-looking invoices
Accept online payments with ease
Keep track of who's paid you
Start sending invoices
The fact of the matter is that entrepreneurs and really everyone else is taking a massive hit at the moment. But the sun will eventually come out and when it does, you'll want to have as many tips as possible in your toolbox.
So, here goes:
---

Lewis Goldstein, President of "Blue Wing Marketing"
bluewindmarketing.com/ | 
 lewisgoldstein
---
The first strategy I used to help scale my business is a joint venture. You can arrange it so that you provide a percentage of the profit you generate to businesses who provide you traffic, eg: through their newsletter, social media or podcast. That way everyone benefits from this. You sell more, they serve their audience and the audience gets a product or service that helps them solve a problem. It's performance-based so there is little to no risk.
Another strategy I used to help scale my business is to arrange a trade. Let's say you want to get a newsletter to advertise your product or service and they charge $2,000 to do that. You could trade them that amount in products or services in exchange. If you have excess inventory or time, then you're are minimizing waste and maximizing your purchasing power by trading it for advertising.
---

Carsten Schaefer, Owner of "Crowdy.ai"
crowdy.ai/ | 
carsten-schaefer
---
Growth hacking includes outside-the-box marketing strategies business owners adopt to get the maximum number of customers with minimal spend. However, growth hacking has become the most annoying word for those who actually have tried some of the 'shining' strategies but to no avail. It's about me too.
So I decided to go my own way. And one day I thought 'What if my current customers can bring me new ones?'. It was ingeniously simple. However, it turned out to be a powerful growth hacking idea that I called Clients-Convert-Clients marketing strategy.
Clients-Convert-Clients (CCC) marketing is a concept that uses other client's experiences to prove the quality of your product/service to visitors on your website.
The main principle is that potential customers will believe reviews left from existing clients because nobody likes to be the first buyer. We all have a tendency to turn to copy others when we're not sure what is appropriate behavior in a specific situation. This is called social proof and it's used for a long time in marketing to persuade visitors to buy the product/service.
The main goal of Clients-Convert-Clients marketing is to use current customers' experience in order to convert new customers. This strategy combines social proof (reviews, testimonials, star ratings, opt-ins, sales or other recent conversions) and notifications to interconnect your customers and website visitors. Put simply, showcasing your current clients and their satisfaction builds trust around your brand and improve the conversion rate with minimal time investment.
If you are selling products or services on the web, you want to convert as many visitors into customers as possible. The best way to do that is to gain their trust by implementing the CCC marketing concept on your website, either manually or by using some of the available tools.
---

Tony Arevalo, Co-founder of "Carsurance"
carsurance.net | 
tony-arevalo-insurance
---
One strategy that has been very effective in helping me scale my business is outsourcing work to freelancers. As a small business, we have a core unit that is able to keep business activities running on a daily basis. But in order to scale up, we essentially duplicate our team's capabilities by hiring freelancers on a contractual basis. This way, they are able to operate as an independent unit and work more efficiently.
This way we are able to output more content on a daily basis compared to just doing it ourselves. Since there are so many talented freelancers out there, it's easy to keep scaling up your business while keeping your high standards of quality. This way, you can scale your business and even save money since it costs much less to hire a remote-based freelancer than having them physically working at your office.
---

Paige Arnof-Fenn, Founder and CEO of "Mavens and Moguls"
mavensandmoguls.com|
paigearnoffenn
---
I started a global marketing and branding firm 18 years ago.  My advice to build your brand and find new customers is to go on a Listening Tour!  Politicians do it all the time and it is great for business too.  Make a list the movers & shakers, people you admire and prospects, ask a few smart open ended questions then sit back and take notice.  They will be more than happy to tell you what is on their mind.
If you listen to what they share with you there will be plenty of opportunities to help them.  I did it when business slowed and picked up several new clients but you can do it any time.  It is a great way to connect and a lot of fun too.
Start listening with no strings attached, you'll be amazed what you find.  It does not cost much, for the price of a few coffees and ! meals you will get an earful.  I had no idea what to expect and got a lot of new work as a result.  I did my listening tour the old fashioned way by sending out e-mails & picking up the phone then brought a pad & pen, asked a few open ended questions then shut up and started taking notes.
Social media and technology are 24/7 so it is easy to get sucked into it but you do not have to let it run your life!  My advice is to pick a few things you enjoy doing and do them really well.  You cannot be everywhere all the time so choose high impact activities that work for you and play to your strengths.
For example, Content Marketing and Thought Leadership are great ways to build your  brand, increase your visibility more broadly, raise your profile and attract more clients/customers.  Activities like  speaking at a conference, writing articles, building your following on social media all contribute increasing your awareness with potential customers and building your credibility with a larger community.
Instead of trying to start your own blog or newsletter, try contributing regularly to existing well trafficked blogs in your industry or newsletters of like-minded organizations reaching the same target audience as you.  Make sure you put your URL or contact info on it so they can find you and follow up.
When your articles or talks become available online, make sure to send them out via social media to all your friends, followers and contacts.  Don t let social media drive you crazy, you do not need to be everywhere, it does not matter which platform you choose just pick one or 2 that are authentic to you.  It should look and sound like you and the brand you have built.
Whether yours is polished or more informal, chatty or academic, humorous or snarky, it is a way for your personality to come through.  Everyone is not going to like you or hire you but for the ones who would be a great fit for you make sure they feel and keep a connection and give them a reason to remember you so that when they need your help they think of you first.
Start small and build as you go.  For me I started speaking at local events and then submitted proposals to speak at industry conferences and trade shows nationally and eventually global events too.  Same advice goes for writing start with small publications then move up the food chain to reach bigger audiences.
People need to be on LinkedIn so that they can be found too.  It adds credibility and transparency when you know the people you are meeting or working with know people in common.  LinkedIn has become more than an online resume or Rolodex, it is the foundation for building trusted relationships in the digital economy.
You do not need to blog or be on all social media platforms but make sure you are active on the ones where you are.  If your customers do not use Facebook, Twitter or  Instagram to find you then you do not need to make them a priority.  For many professional service businesses like mine, LinkedIn matters the most.
---

Marcus Svensson, Head of Growth at "Albacross"
albacross.com | 
 marcus-svensson
---
The use of videos is among the most essential components of our marketing strategy. We highly invest in this strategy since we know that audiences are approximately 10 times more likely to engage, share, and comment on video content than blogs or any other related social posts.
Videos are also crucial when developing educational content, such as 'how to use Albacross tool', 'how to add the Albacross plugin to your WordPress website', etc. Statistics show that 65% of Internet users are visual learners, and that is why videos are considered to be the most powerful method to educate the website audience.
It would be much harder to gain and retain our customers without video content. And 'Yes', video marketing is worth using. Not only because everyone's doing it but because it's one of the most versatile and profitable digital marketing tools there is.
---

Sergey Yudovskiy, CEO and Co-Founder of "electroNeek"
electroneek.com | 
yudovskiy
---
For the last year, our automation startup, electroNeek, has grown from three to 35 team members, and we are not planning to slow down.
We've used different techniques to grow and scale our business, and here I'd like to share three of them that were helpful, and one – that was not.
Efficient tactics:
Give your team members room to grow. We decided to hire not just people with the required set of skills, but people who share our passions and vision of the company. At the same time, we wanted all new members to know that they can apply to managerial positions after six months, if interested.
Go the extra mile with happiness and productivity. Take care of yourself and your employees by adding an hour after lunch for hobbies, personal tasks, etc. You will notice how more energized and focused you become.
Sometimes it is better to show good work rather than being late with the perfect one. Show your product or service as soon as it is ready and start analyzing feedback. These first harsh opinions might have more significant insights that you expect.
Inefficient tactics (for us):
Omni-channel marketing. This strategy had worked for us at the beginning when we needed to build brand awareness. However, after a couple of months, we calculated the costs, and the results were not paying off. So choose only those channels that work for you, or your investments will vanish in a matter of time.
---

Dave Waring, CEO of "Fit Small Business"
---
One of the hardest things for a non venture backed company when it comes to scale, is finding the sweet spot between how much you can afford to reinvest in growth, without putting the business at risk if you hit a bump in the road.
Growth sucks cash, and many successful and fast-growing businesses have gone out of business because they run out of cash. To avoid this issue we stick to a simple rule.  Always keep 2 months worth of operating expenses in the bank. When we have two months cash in the bank we know we can safely reinvest additional earnings back into scaling the business.  When we go below two months cash in the bank, we know we need to put those earnings back into our bank account until we get back to 2 months worth of operating expenses in the bank.
This simple rule has made decisions around how fast we can scale simple and has allowed us to scale our business from just my business partner and myself, to over 180 team members with no outside investors
---

Anthony Miranda, Digital Marketing Specialist at "Qualified Online Traffic"
---
Everything is leveraged against growth and taken as an investment in providing higher quality, faster, and allowing us to serve more customers in this way. If we can do that, then it's time to level up. I started building my online business from the ground up from home while doing all the work initially, leveling up comes as soon as I get the revenue to afford to pay someone.
It started as it can be from $0 to $1000 a month; I would go ahead and start hiring and outsourcing the menial tasks. Even if it brings me down to $0 in profit because this way I can focus on higher-level work and grow faster.
In the next stage, I could be at $5,000 and then hire more and go back to zero then be at $20,000 a month and do it again. I would keep doing this until I have outsourced all menial tasks and I'm focusing on the most important task and the ones I know I'm the best at.
That's when the hiring would stop and only resume when we have outgrown our current capacity to provide high-level quality to our customers. Outside of that, I don't hire but I will get new software and equipment if they make us more efficient and effective at serving the customers.
Moving Forward
In addition to all the fanstastic advice shared above, the Harvard Business Review has also aptly outlined what they think small businesses need to survive the current crisis. It's believed that securing liquidity, ensuring access to capital and engaging with policy makers are most surefire ways of ensuring survival and eventual scaling.
Now more than ever we need to be thinking outside the box and figuring out how best we can tap into unusual strategies to save and scale our businesses. Hope these tidbits of wisdom helped to inspire.
Hang in there, folks! Brighter days and bigger things are on the horizon.
Invoicing doesn't have to be scary
GET 50% OFF SOLO & PRO PLANS
UNTIL MIDNIGHT, OCTOBER 31