Top 7 Advantages to Accepting Card Payments Online
Written by Irakli on December 03, 2018
Did you know that credit cards were the main preferred form of card payment for online shoppers in 2017? With electronic payment like Paypal, for example, and debit cards just behind in the list. This may not be particularly surprising, but it's still worth stressing the importance of accepting card payments online.
Card payments are the industry standard for a reason: they're convenient and push the customer one step closer to making a purchase.
Try our online invoicing software for free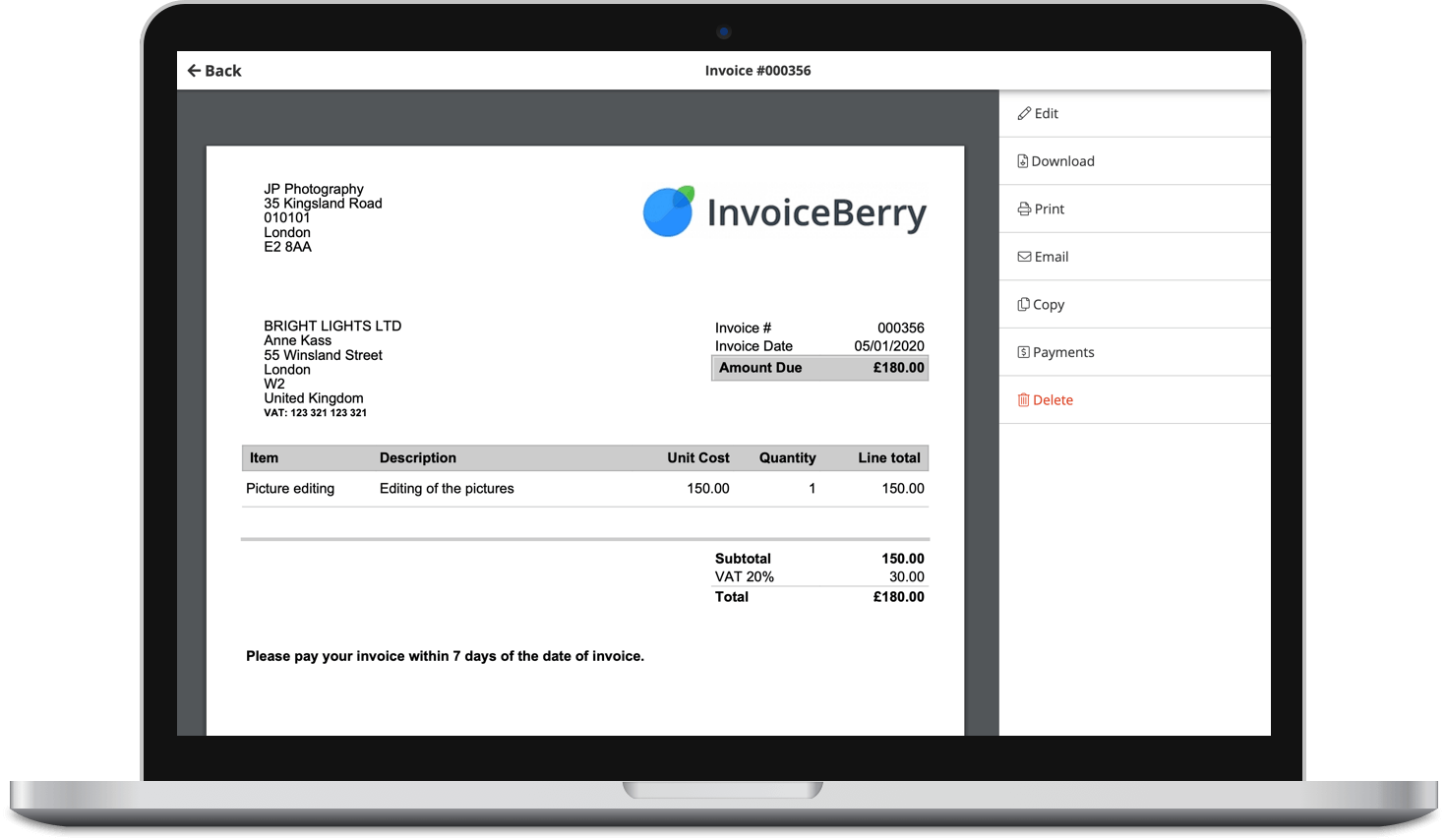 Send professional-looking invoices
Accept online payments with ease
Keep track of who's paid you
Start sending invoices
We may take accepting card payments online as part of our shopping ritual for granted, since we're used to it so much. But as far as maintaining cash flow and upholding your website reputation goes – it's an essential.
Without it, the cash flow drops significantly. Any business that doesn't accept card payments online might as well be turning potential customers away daily.
In today's digital world, convenience is everything.
For most people, credit cards just so happen to be the way to go when making a purchase. And the more customers you attract, the more likely you are to make additional sales. By giving them more options, they're more likely to interact and engage with your website.
Of course, these are just a few of the many benefits that come with accepting card payments online.
It goes without saying that if you're thinking of setting up an online business – you better make sure to accept card payments, no excuses. Online shoppers have become accustomed to the tradition of paying with their cards and as a business owner, you have the duty to live up to that expectation.
So, with that said, here are some of the many advantages that come with accepting card payments on your website.
1. It legitimizes your business
Let's face it, if your website doesn't offer the option to pay with a card – you're missing out.
Your customers start to ask questions (and for a good reason, why shouldn't they be able to pay with their cards?) and might click away from your business to the next one.
Enabling your customers to pay with their credit card on your website is the most basic way to connect with them to make a purchase. It's best to meet them halfway through: if they're seeking to make a purchase, then you should have the option to satisfy their needs – it's as simple as that.
Ideally, you should have multiple ways of allowing their payment (credit card, Paypal, etc.). By displaying the logos of the credit cards you accept, they're more likely to be reassured and make a purchase. And the more integrations you have – the better.
In short: if they're willing to give you money, you extend your hand with as many options to take it as possible.
2. It's convenient
In fact, it's so convenient that over 35% of millennials regularly use their phones to pay online.
This is the primary reason behind the 'mobile-first' trend that is driving eCommerce. But the same applies to other industries as well.
There is no denying that the convenience of being able to purchase with a single click has direct effects on your sales. So, if you're looking to boost your sales further, make sure your website is mobile optimized and you don't throw too many loops at them.
Convenience, cost, and security are some of the main influencers for people when they make a purchase. As long as you satisfy their concerns and your site looks legit, more customers will be willing to do business with you.
And as people spend more time on their phones, mobile payments will continue to increase accordingly.
3. Minimizing security risks
As mentioned above, security is also one of the most important things when making a purchase.
When a customer makes a purchase online, the payment from their bank card is authorized and the money is then placed directly into your business account.
This is a win-win situation as it eliminates any security risks on your end, and the customer doesn't have to worry about any potential financial scams. Thanks to card number encryption and fraud protection, people are already used to making purchases online with their cards.
So, as long as they're confident everything will go without a hitch, they'd be confident in their purchase. The payment is something they're used to and can do with a high degree of confidence. By showing that their card payments are confidential and secure, you're budging them one step closer to making a purchase.
4. Recurring billing
If you're selling a monthly subscription type of service, this applies directly to you.
Simply by being able to accept card payments online, scheduling recurring billing also becomes more convenient than ever (for you and the customer alike). And it guarantees for you to be paid on time as well, making it a win-win situation again.
Instead of having to send monthly cheques for their payment, the whole process becomes automated. Staying organized and keeping track of your cash flow becomes easier as well.
Though, one of the biggest concerns customers sometimes have with recurring billing is that they might miss track of the due date.
This can be easily solved by sending an automatic email the day or the week before the billing is due if they want to cancel their subscription, just in case.
5. Instant gratification
And when customers want something, they want it then and there.
Luckily for you, when accepting card payments online, this is essentially what happens. If they find something they like and the online payment is instant – then you're on the right track.
So, the next time a customer buys something of yours with their card, be sure to give them everything they need.
Shipping info, tracking code, updates, and more. Because they are interested and the sooner they get it, the more satisfied they will be. And who knows, if they like your service so much, you might be setting them up to be a return customer.
6. Easy to set up and a competitive edge
When you think about it, there is no excuse for not having an online card payment option for your website. Simply having the choice to do so improves your reputation and allows you to gain the trust of your customer.
As a business, you should be focusing on satisfying and meeting the customers' needs.
So, if they want to pay with their card, why not give them the option to do so? It's easy for you to set up the option to accept online payments and by taking a few hours of your day to optimize your site, you're gaining a competitive edge and the trust of your customers in return.
7. Last minute purchases
At the end of the day, many customers can be impulsive and in one way or another, be influenced to make a purchase.
As long as you accept card payments online, you can make a sale even at the last minute.
It's important to meet your customers halfway through. When they're seeking to make a purchase, you should always be accommodating to their needs.
Simply by accepting card payments online through different integrations and payment options, you're already ahead of the curve and have a clear competitive edge.
Remember: for customers, convenience is everything.
And the easier it is to make a purchase on your site, the more likely they are to do so.