6 Ways Invoiceberry Can Help You Save Your Time
Written by Uwe on December 01, 2014
It's quite surprising how so many businesses are still creating their invoices manually or using outdated programs. Are you thinking you're an entrepreneur or small start-up and so probably don't need to use an online software? Well this article will surely change your mind.
To begin with, you first need to understand the whole reason behind why invoicing for your company is really important. Invoicing forms the back bone of any company's financial success. Maintaining a steady stream of cash inflow and outflow is crucial to helping any business smoothly run their day to day activities. Invoicing is not only about sending a piece of paper to your customers. It's about having a system that empowers you to keep a solid track over your company's financial status, customer records, and keep an eye on any shortcomings.
Try our online invoicing software for free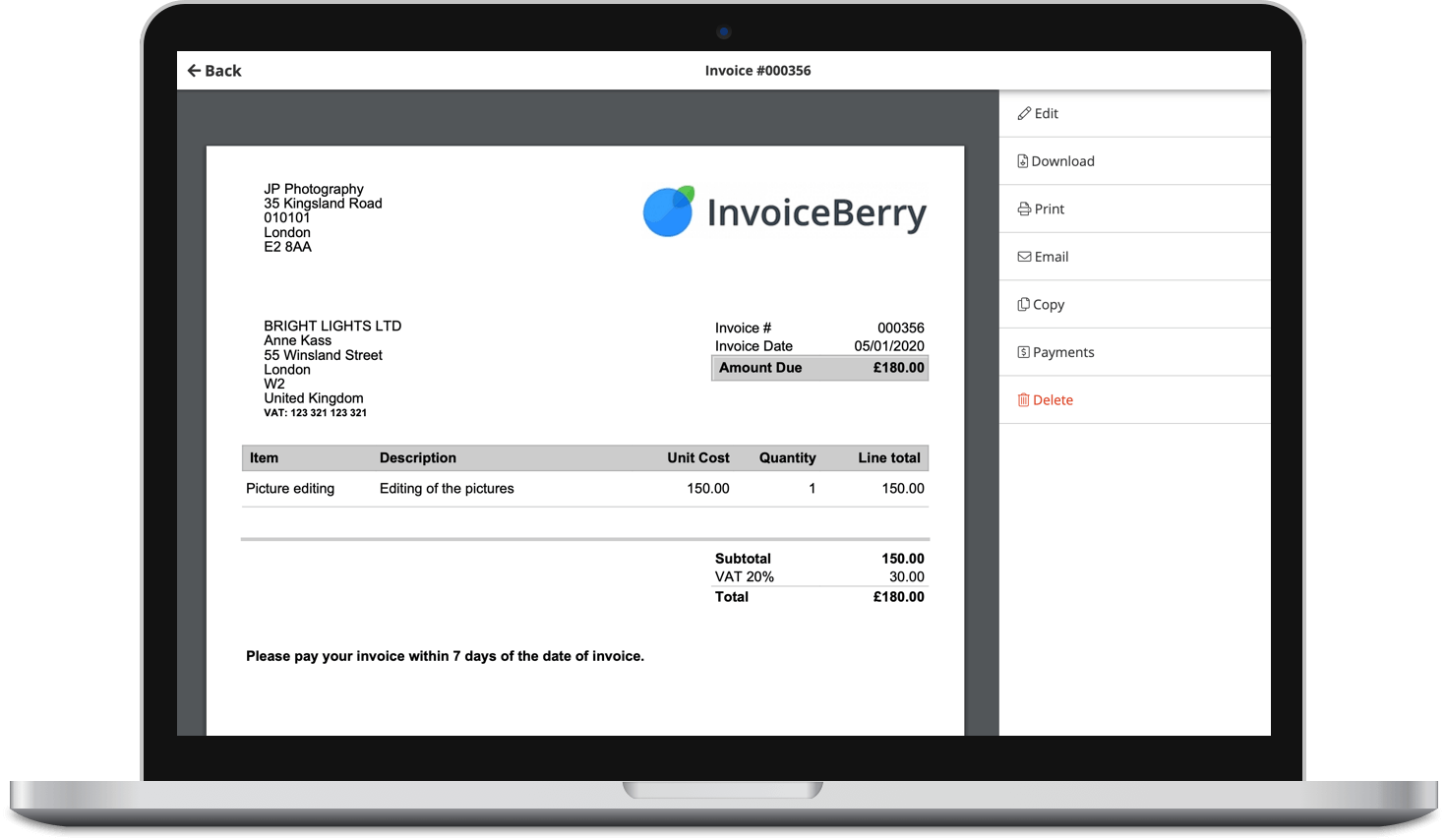 Send professional-looking invoices
Accept online payments with ease
Keep track of who's paid you
Start sending invoices
This is why we strongly urge all businesses, regardless of their size, to always use an online invoicing software to avoid any hassle and confusion in the future and most importantly to save time. This is where Invoiceberry steps in. This article highlights all the ways in which this software can help you save an immense amount of time when doing your invoicing.
1. Web-based software
The best thing about having a web-based software is that you can access it from anywhere, including your mobile devices. This works out really well as opposed to a software you have to download on your computer. That means that you can only access it when on that particular computer device. With a web-based software, you are never limited or restricted to a single device. Being able to log in to the web-based software using any browser really saves a lot of time. All you need is your login details and access to the internet. Then no matter where in the world you are, you can access your company's financial invoicing data within a matter of seconds.
This is also really helpful when you have multiple employees using the software. It makes things much easier and allows everyone to gain access to one single shared platform that is available on the web.
2. Simple and easy to use
When companies decide to invest in an online software solution, they often get carried away by the countless options out there, ending up looking at ones that are promising a lot, designed more for multinational businesses and thus have complex and difficult to understand platforms. If you're a small business and simply need an invoicing system, then you really want a solution that is quick and easy to use so you don't have to waste too much time first learning how to use the software. This also applies when you have multiple employees in your organization who will be using the online software solution. You don't want to be held back by purchasing a system that now requires you to train all your staff members.
Invoiceberry is designed in a manner that makes it very easy to use. It's uncomplicated and quick for anyone who does not even come from an accounting background, to quickly generate professional looking invoices in a matter of seconds. This is what really differentiates this software from others.
3. Quick and simple to start up
The next big advantage of Invoiceberry is that, as soon as you have made your choice of wanting to use this software in your business, the transition to setting it up is really quick. Here again, when a lot of companies end up signing contracts with extensive complicated software, they often require company professionals to personally visit their offices, set up the software on their systems for them, and even providing them with training and support to get their employees started on the invoicing software.
This is not the case with our software. You can immediately get started on this superb online solution within 4 quick and easy steps. The online platform leads you through the self-explanatory process where you simply have to enter some basic information like the name of your business, the business address, date format you wish to use, currency you will be using on your invoices etc. You won't even have to worry about purchasing expensive add-ons as everything is right there in one solution making it the perfect invoicing software for small companies looking for a quick and simple solution to their invoicing problems.
4. Customizable templates, professional looking invoices
Despite its simple interface, Invoiceberry is still strong enough to deliver crisp and professional looking invoices in no time at all. The set of predesigned templates and colour options makes it really easy for you to customize a template according to your company colours, embed in your logo, the basic information that is consistent across all invoices and there you go, within a few clicks you have generated a professional looking invoice that is adapted and customized solely for your business.
5. Setting up reminders
Creating invoices is not the only thing you can do using Invoiceberry. This software is simple yet advanced enough to save you even more time in your business by allowing you to do many more tasks than just creating invoices. With this online solution you can put up reminders and make sure you are never late for sending out invoices. This indirectly saves so much time as then you will never be late in receiving payments and will always be on top of each client's time frame. As a business you need to make sure you know exactly when a customer is late in payment and when you need to start taking extra actions to chase a payment so your business does not suffer financial cash flow problems.
6. Multiple currencies
This feature is particularly beneficial for companies that have clients and customers all over the world. Dealing with different currencies can lead to so much confusion and frustration. Having a system that can easily cater to different currencies is what an international business needs. This online invoice solution allows you to send your invoices in over 200 different currencies within a few clicks thus saving you so much more time as compared to a software that doesn't cater to this feature.
Ultimately the main goal of using any online invoicing software is to make things simpler for yourself, save time, and run your business more efficiently. These top 6 ways are only some of the advantages that you can enjoy with Invoiceberry. Explore all the other ways your business can benefit with this great solution and read through our customer's testimonials to see what people are saying about our invoicing solution.