Top 11 VoIP Providers for UK Small Businesses [Updated 2020]
Written by Alla on August 31, 2016
VoIP, or Voice over Internet Protocol, is a trending phone service software which allows businesses to make calls using their internet connection instead of through traditional phone lines – no landline phone company required.
Avoiding the long tech explanations and unnecessary terminology, VoIP turns phone signals into digital ones and sends them across the Internet. As a result, VoIP phone systems give businesses the freedom to use a wide range of devices to make and receive calls.
Try our online invoicing software for free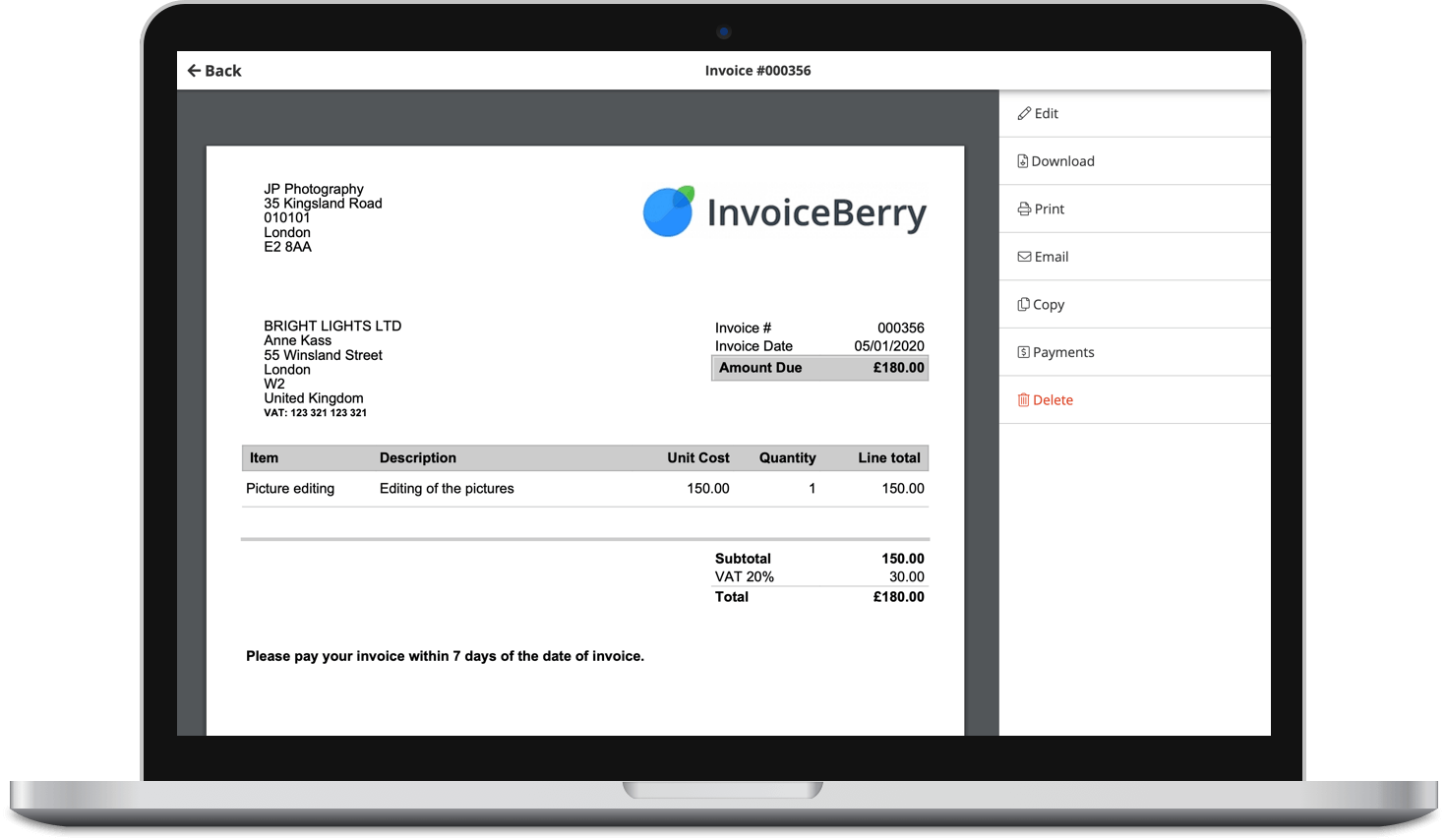 Send professional-looking invoices
Accept online payments with ease
Keep track of who's paid you
Start sending invoices
So why use VoIP?
Firstly, to save money. Generally, VoIP services are cheaper than traditional phone services, especially when we're talking about roaming calls.
Secondly, VoIP tends to include way more functions. You can have your clients redirected to your mobile number while you're enjoying margaritas on the beach.
Thirdly, say hello to voice quality that is the equal of and oftentimes better than traditional phone connections. Once there's strong bandwidth, you're good to go.
VoIP networks also offer extra flexibility. While private phone networks have a limited amount of phones that can be added to a system based on the number of available lines, VoIP networks are only limited by bandwidth. This means that thousands of connections can conceivably be made!
The advantages of VoIP are staggering when you think about it. That may be why BT, the UK's largest telecoms provider, made an end-of-life announcement that by 2025 they'll shut off their PSTN (public switched telephone network) traditional circuit-switched telephone network. Thereby requiring all businesses to move to VoIP solutions.
For this reason we've worked extra hard to research and compile some key features of the best UK VoIP service providers. Stay well connected and ahead of the curve. Start exploring the options today.
Top UK VoIP Service Providers
Various plans starting from £2 per month for PBX (aimed at startups and small businesses)
Port existing number from almost any other provider
Poftphone and browser calling
Hardware pre-programmed to work straight out of the box
Cloud-based VoIP calling, conferencing, chat, collaboration and call center capabilities free for 3 months
Voice, chat, SMS, email, FAX, IVR, chatbots, and 3rd party media available
Mitel Business Analytics offers flexibility: from 1 to 000s users / from 1 to 100s sites
Easy to deploy, easy to adopt, easy to use
Mitel Flex provides enhanced mobility for smartphones, softphones and tablets
Small business phone system from £8month
Unlimited calling in the U.K.
Unlimited video meetings and chat
Auto-receptionist, voicemail and extensions
G Suite, Office 365, Outlook, NetSuite, Salesforce and Zendesk Integrations
Unlimited Internet Faxing
Plans start from ₤19.99 monthly per user
One phone number for calling, team messaging, and video meetings access
24/7 customer support
Automatically convert voicemail messages into text form
Keeps complete records of all inbound and outbound calls and faxes
Able to host unlimited number of audio conference calls, with up to 1,000 attendees per conference
Hold face-to face-meetings via HD video with up to 4 participants and 4 video feeds
Real-time screen sharing improves collaboration and speed of decision making
Team chat feature lets you send and receive chats in real-time with team members
Real-time backup of all files, mobile photos, and videos
Transcribed voicemails can be delivered via email or viewed on the mobile app
Various plans starting from £8.99 per user per month
No contract, no cancel fee
Free call forwarding and routing
Unlimited voicemails
14-day free trial, no credit card required
Plans start from £5.95 per month
Wide choice of UK local numbers
Easy call diversion to mobile or landline
£5 welcome call credit
Goes abroad with you and avoids roaming charges
Free 0843 and 0844 phone numbers
Local and City phone numbers starting from £6.96 per month
Free divert of an unlimited number of calls for up to 5 landline and mobile numbers
Simple web and mobile portal for complete control
Provides music on hold options for better audio branding
No base fees and no minimum contract
Ability to connect offices, external team members and home offices to one account
Low cost rates and call pack worldwide
Easy faxing in your browser with the ability to upload documents
Comprehensive UK call packages starting from £30 per month
Telephone numbers start from £1.99 per month
No connection fees, cancel anytime
Able to set up time-of-day diverts and route calls to many numbers
Allows for tracking & viewing live call stats to better understand inbound calls
Can play pre-recorded announcement to give a good first impression
Business package starts at $4.99 per month
Make and receive free calls for up to $5 every month
Keep a recording of your calls for future reference
Easily create custom pre-recorded messages
Handle multiple calls using call queues
40% discount for international calls with Premium plan
Single-user plans start from £2.99 per month
Free voicemail box and ability to configure any email address you want with your number to receive call alerts
Call forwarding to multiple destinations at the same time
Three way calling feature lets you set up and ad hoc conferences
Call Recording and other options from £1.99 per month
Access via handset, web, soft phone or mobile application
Auto attendant can direct your calls to the right place
Flexible access via via handset, web, soft phone or mobile application
Add company related messages and custom on hold music
Consolidate your bills & services with one trusted provider
24/7 support options
Monthly plans are from £10 per month
A stripped down free version of the Counterpath software called X-Lite is available
Free Auto Attendant, Intelligent Call Diversion, Call Filter, Call Blocker and more
Callback cost is calculated separately
Personalised numbers start from £1 per month (pay as you go option)
You're not tied down to contracts
Choose to add and remove the services you need
Mobile services including SMS Text Messages, Call Back Services & free access callback
Have your number listed in the BT phone book and the 118 online directory services
Top VoIP features to help your small business grow:
Call Forwarding: ensures customer's calls never go unanswered by automatically redirecting inbound calls to another extension or phone number. For example, in working in an office setting, you can minimise lost sales leads by redirecting calls to a mobile number when away from your desk.
Call Recording: saves calls for training and reference purposes and may wind up being exceedingly helpful in customer service or sales environments where it's useful to save important conversations.
Find me/follow me call routing: allows for the creation of a list of numbers where they can be found before a call goes to voicemail. Your office phone could ring twice followed your cell phone and then your home phone.
Music on hold: if you've ever been stuck on hold listening to silence, or worse, elevator music on a loop, you'll understand just how important this is. Having the ability to choose what your callers listen to as they wait is a true gift and it can do wonders for small business branding.
Auto attendant: is typically a premium feature that allows callers to interact with a menu and be forwarded to the appropriate extension. Your business can start to seem a lot more professional and impressive with the help of a good auto-receptionist.
Call Flip: transfers calls from one device to another with the press of a button without disconnecting the line. It can become very useful if, for example, your cell is about to die. Stay professional with clients by seamlessly switching to another device.
Conferencing: can turn confusing fast. But having the ability to set up tools like a conference floor monitor who manages things like invitations and "hand-raises" aids greatly in keeping collaborations streamlined.
Business Tool Integration: lets you connect with other business tools such as ticket systems, chat, and email in order to keep records centralised and teams connected.
Voicemail: advanced voicemail packages can include things like custom greetings and automated transcriptions that convert messages into text.
To wrap up
I know. The add-on possibilities seem endless. But depending on your business specifics, you'll want to consider choosing different solutions. For example, if you have 1-2 client calls per week, it makes sense to think about a VoIP provider that charges on a per minute basis without fixed contracts.
On the flip side, if you receive a large number of calls each day, consider monthly contracts, adding voicemail and other features to improve the customer experience and save more money.
Consider based on your small business' context and keep your wish list of VoIP features in mind while shopping around!