7 Surprising Benefits of E-invoicing (+ Tips on How to Get Started)
Written by InvoiceBerry Team on May 23, 2022
Invoicing has always been a major pain point for most businesses. Financial transactions can be back-breaking and most B2B businesses are always on the lookout for anything that can make the invoicing process simpler. E-invoicing is the answer to these problems as it is a reliable and convenient way to generate and share invoices with your customers.
E-Invoicing is being implemented worldwide and fast becoming an indispensable resource for companies. The digital age has transformed all aspects of the corporate world and those businesses that adopt up-and-coming technologies will find themselves far ahead of those that don't.
Try our online invoicing software for free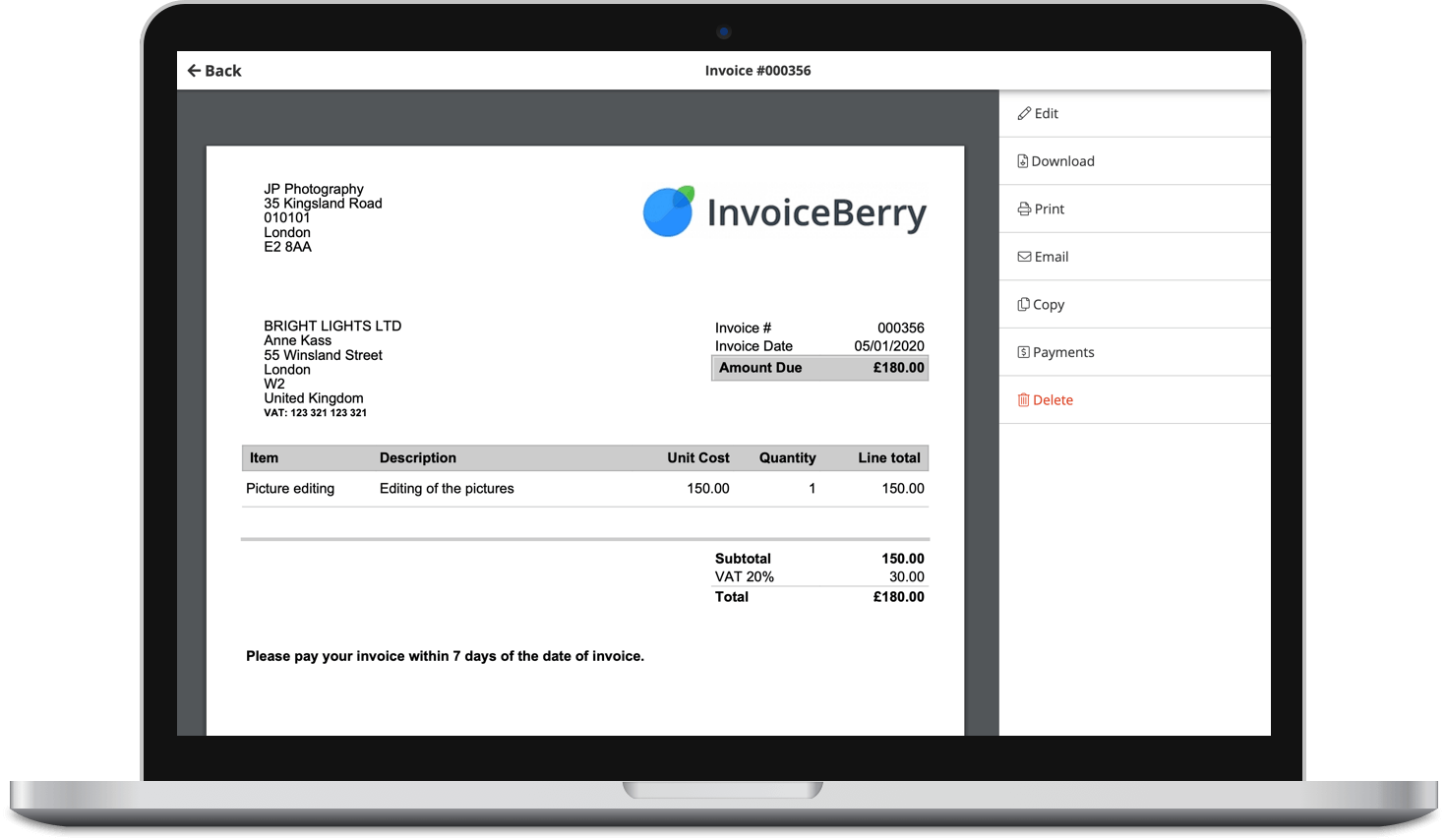 Send professional-looking invoices
Accept online payments with ease
Keep track of who's paid you
Start sending invoices
E-invoicing makes your most critical financial processes smooth and error-free. An invoice is a significant document and conventional methods to generate it are slowly becoming redundant in the modern workspace. Especially for a small business, e-invoicing is a facile and undemanding technology that cuts out many unnecessary steps in the invoicing process.
What is an E-invoice?
An invoice creates a sales agreement between you and your customers. Before you can receive payments, you have to submit an invoice as proof of products or services sold. An electronic invoice is similar to a paper-based invoice but the mode of delivery differs. An e-invoice is a digital transactional document that is shared with your clients in an integrated electronic format.
E-invoicing is entirely electronic. Transmission, reception, and processing of the invoice are digital and dynamic. A pdf invoice shared via email isn't an e-invoice, because it can't be edited. Additional re-entry increases the chances for invoicing mistakes and takes time. A true e-invoice is created in the seller's invoicing system or in a web-based form. It can be sent directly to the buyer from there, or it can be downloaded and shared via email.
Whether your business follows the B2B model or it is a retail operation, with e-invoicing, financial transactions for both business models have been made effortless. Embracing e-invoicing brings with it 7 key benefits:
1. Saves Time
E-invoices are immediately accessible on your customer's system. As one of few proven time management techniques, technology-based invoicing makes many steps in the invoice receipt and approval process obsolete. The buyer doesn't have to sort through invoices, re-key, and then submit them for approval. Processing cycle time is reduced by 65% by using e-invoicing.
With invoices available in their system, your customers will approve them faster, leading you to receive your payments earlier than before. When your payments are cleared on time, it will resultantly improve your cash flow.
2. Reduce Costs
Installing an e-invoicing software has a cost to it, but you will find that cost is offset by the many savings that you will make. You'll save on paper, of course, and you save on postal fees. With e-invoicing, you can optimize your resources so you have drastically reduced costs associated with printing, processing, storage, and delivery of paper invoices.
Instead of using copy templates and emailing pdfs, you have an efficient system that will be saving time that can be spent on other value-adding tasks instead. Time is money, and e-invoicing will save both.
3. Fewer Disputes
With the buyer's accounts payable system connected with the supplier's account receivable, data is as accurate as possible. The risk of error is reduced because data re-entry is minimal. Potential of invoices being rejected also decreases because you have minimized manual input.
Since the invoices are shared digitally, you don't have to worry about them being lost in the mail. With invoices being stored on your cloud or your servers, human errors in document classification, labeling, and storage are also avoided.
4. Better Customer Service
With fewer payment issues, and a reduced number of disputes, your relationship with your customers grows and strengthens. Late payments because of reconciliation problems or lost invoices create bitterness between both parties. When such issues cease to exist or even occur once in a blue moon, it allows businesses to provide a higher level of customer service.
Since your relationships with your customers aren't marred by the difficulties that your financial transactions entail, you will find that you are able to retain more customers.
5. Improved Account Reconciliation
Reconciliation of invoices issued to clients is one of the major challenges every business faces. Customers choose to pay multiple invoices in one single payment, making it difficult to find out which invoices were paid and which weren't. The values of invoices in your system and the customer's can differ because of different currencies, deductions, bad goods, etc. This has led to many a video meeting and in-person visits by your accounts receivable team.
With e-invoicing, all these problems are mitigated because the records on both ends match automatically. E-invoicing uncomplicates the entire process and helps reconcile accounts faster than with paper-based involves.
6. Track Invoices Easily
If you work on credit terms, perhaps your cash flow and immediate payments are the least of your concerns. But it would do wonders for your financial planning and peace of mind to know at what stage your invoices are. If they have been received, acknowledged, or processed? Knowing if your invoices will be paid on time can be a massive help in deciding important expenses.
With e-invoicing, submission is almost immediate but invoices can be tracked and monitored. E-invoicing software allows you to see if your invoice has been viewed and eventually paid. The visibility and transparency provides detailed audit trails.
7. Reduced Risk and Higher Compliance
An e-Invoicing system enables a higher level of compliance. Since there is greater visibility in financial transactions, it is far easier to maintain greater standards of compliance.
E-invoicing also creates hurdles for invoice fraud, duplication, oversight, and human error. This reduces the chance of problems that your auditor might raise an eyebrow over. It also saves time and resources that are spent on the due diligence necessary to avoid such errors and fraud. E-invoicing doesn't leave room for such risks to affect the invoicing procedure.
Tips on How to Get Started with E-invoicing
Electronic invoicing is well on its way to becoming the norm. Paper-based invoices are a thing of the past. Here are 8 tips that can help you get with the digital age and begin e-invoicing:
Do your homework before deciding on an e-invoicing software. Ask yourself what invoicing features you need and how much are you willing to pay. It should allow you to invoice all your clients and should be compatible with different currencies and payment gateways. Being user-friendly is an added bonus.
The invoices should be readable across all software systems.
Get trained on the invoicing software, especially the customizable features. This will help you familiarize yourself with the invoice schema.
Let your clients know that you're making the shift to e-invoicing.
Customize your invoices, they should have certain markers that help distinguish them from simply being digital documents. Input your physical address, website link, contact information, and preferred payment methods.
Connect it to your customer database or CRM (customer relationship management) system. Invoices should have the customer's contact information, contact person's name, billing address, phone number, and email address.
Reorient your enterprise resource planning system (ERP) to align with your new invoicing software.
Ensure your invoicing software can back up your data. It would be preferable if data back-up is on the cloud as this will allow you to access data wherever you like.
The software has to adhere to PCI Data Security Standard (PCI- DSS), to protect data from cyber-attacks.
Get Started
Once you have e-invoice software, you're well on your way to optimizing your invoicing process. E-invoicing will prove to be your biggest asset and a financial management tool that you can rely on for consistent results. Regardless of whether you have a new business or an established one, e-invoicing is going to help you grow.
You can finally invest the time and money wasted on paper invoices on boosting business growth. It is a strategic step towards digitization and it is critical in making one of your key business processes automatic, simpler, and faster.
Some of the better e-invoicing software do have a certain cost associated, but this is the right time to invest in one, if you want to take your business to the next level. Governments worldwide are introducing mandates and implementing frameworks to make e-invoicing the standard. With the benefits listed above, switching to e-invoicing is a no-brainer for businesses that find paper invoices exhaustive.
E-invoicing is one of those new processes that might seem daunting at first but are very simple to implement. Make the transition now because your business could certainly do with the many advantages of automating your invoicing process. Manual invoicing is tiresome and it is about time these legacy systems were abandoned to make way for e-invoicing.
Bio:
Severine Hierso
Severine Hierso is EMEA Senior Product Marketing Manager for RingCentral Office, the leader in cloud communications and business phone solutions, and is passionate about creating value, differentiation and messaging, ensuring a better experience for customers and partners.
She has gained extensive international Product Marketing, Market Research, Sales Enablement and Business development experience across SaaS, Telecommunications, Video Conferencing and Technology sectors within companies such as Sony, Cisco, Cogeco Peer 1 and Dimension Data/NTT. Severine Hierso has also written content for WeVideo and Valuer.
Small Business Finance 101
Download our free guide to learn the fundamentals of finance that will help make your small business more efficient and successful.