11 Invoicing Terms Every Small Business & Freelancer Should Know
Written by Bernard on September 26, 2016
It's very difficult to establish and grow your businesses without important financial vocabulary, such as invoicing terms. However, when you're not in the accounting area, these things can seem like a major chore.
That's why many small business owners and freelancers put off financial responsibilities until their businesses creak and groan. But by then, it could already be too late.
Try our online invoicing software for free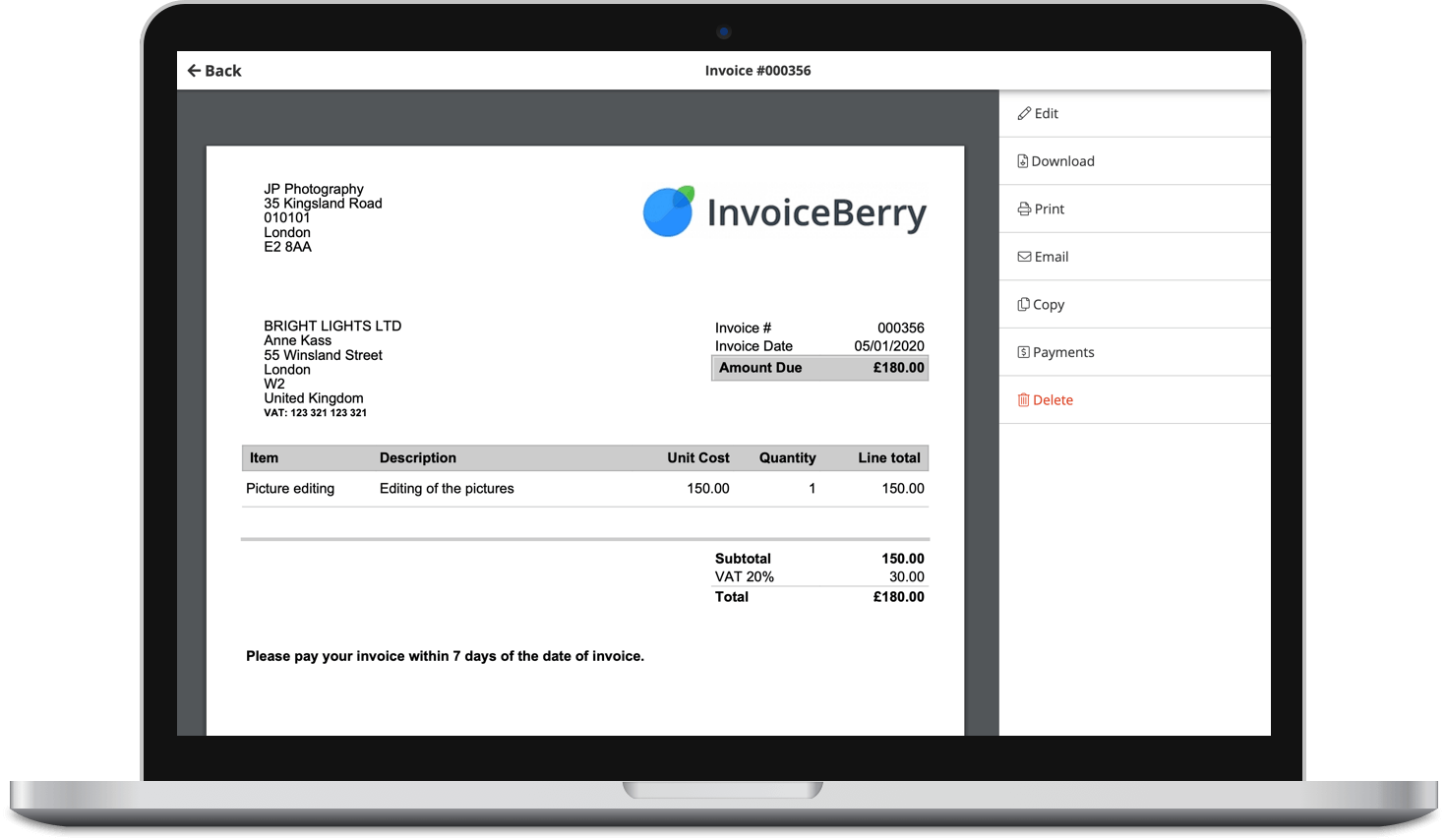 Send professional-looking invoices
Accept online payments with ease
Keep track of who's paid you
Start sending invoices
It's nearly impossible to have a successful business without getting familiar with some accounting vocabulary.  That's why today we'll look at the 11 most important invoicing terms for small businesses and freelancers.
Recurring Invoice
Sometimes you'll need to send invoices not one time, but on a regular basis. This could be if you are providing web hosting services, gardening and cleaning, or any other kind of monthly service that has the same price. It would be a chore to remember to send one each month to each client.
That's why there's recurring invoicing. This allows you to send an invoice automatically each month (or any period) according to your need. Online invoicing software, such as InvoiceBerry's, makes it easy to set up your recurring invoices.
Quotes & Estimates
When you are busy getting customers, or customers send requests to you, you'll need to send them a quote, quotation or estimate. Three terms for the same thing: a proposed price for your goods and services.
Although creating a quote for your freelance or small business can be tricky, they usually have the same information. Your quote should include the price, a breakdown of how you've determined the price, and a time schedule. You may also want to include for how long the quote is valid.  InvoiceBerry makes it easy for you to turn your quote into an invoice with just the click of a button.
Proforma Invoice
A proforma invoice is comparable to a quote/estimate. Whereas a quote or estimate is the proposed price submitted to a potential customer, a proforma invoice is the price that you and the customer have already agreed upon. It is a binding agreement before goods are delivered.
Think of a quote or estimate as "I hope we can deal" and a proforma invoice as "the deal is done." For further information, The Balance provides a great breakdown.
Interest Invoice
An interest invoice is an invoice sent after a customer is late on payment. The invoice is created with only the interest listed and will include the time period, the month or months of missed payment, and the interest on those missed payments.
Charging a customer interest and creating an interest invoice, however, is a sensitive issue. You should decide if it is best for you and what the terms should be. For example, designer David Dairey charges 5% on payments after 30 days.
Setting similar terms is highly recommended, but so is sending professional reminders to late-payers. There are more useful and in-depth tips in our post Top Invoicing Tips for Small Businesses & Freelancers.
Fiscal Year
The fiscal year, or financial year, is determined by each business. This may coincide with your tax or accounting year, although it is not necessary.
Different industries generally set different fiscal year periods. For example, if you are in a highly seasonal business, you would set your fiscal year to coincide with your seasons. This way the fiscal year ends after the season ends, and not in the middle.
Expenses
There are four types of expense that are important for you to know. First is fixed expenses, which are consistent on a month-by-month, year-by-year basis. These are not affected by your sales or business even, such as rent, salaries, bills, etc. Variable expenses are determined by the business, and can and usually do fluctuate with the business sales (such as marketing, production, materials, etc.). These are necessary expenses.
This differs from the controllable discretionary expenses, which can be defined as "want" expenses rather than "needs." Lastly, there are operating expenses, which are just the costs that your business needs in order to operate. This can include such things as the paper and ink for your printer.
Tax summary
A tax summary is a summary of your taxable amount and a total value of the taxes you have paid on that amount for a specific period. Individuals may also get their personalized tax summaries from their governments on a yearly basis.
In InvoiceBerry, it's easy to create your tax summary report for any time period. This will be very useful for filing your annual taxes.
Item Revenue
Item revenue is a review of the revenue created by a specific item.
On online invoicing software such as InvoiceBerry, it is easy to check the item revenue for a certain time period. It allows you to determine how much revenue a specific item that you've created (such as 'Wedding Photographs' or 'Yard Cleaning') earned for that period. This is useful not only for personal records, but also for financial forecasting.
Profit and Loss Statement (P&L)
Also known as an income statement, this is probably one of the most important invoicing terms you should know and one of the three major financial statements.
A P&L lists the revenues, costs and expenses for a specific time period. This time period is usually your fiscal year, or it could be a fiscal quarter (for larger companies). In the UK, if you're a sole trader or limited company making more than £50,000 a year, you're required to submit one to the HMRC.
InvoiceBerry has free P&L templates for download by clicking here.
Cash Flow Statement
The second of the three important statements to know, the cash flow statement shows how much cash and cash equivalents have gone through the company.
The CFS is broken down into three parts: operations, investing, and financing. For most small businesses and freelancers, operations will be the most specific section, as it lists how much cash inflows and outflows have been generated by the business product or services. Investing is related to equipment, buildings or short-term assets, whereas financing concerns debts, loans and dividends.
Download our free Cash Flow Statement here.
Balance Sheet
Last but certainly not least for important invoicing terms is the balance sheet. It is used to describe a company's financial position at a certain point in time, and is often referred to as a "snapshot" of the company's financials. Your balance sheet usually lists the company's assets, the liabilities and obligations, as well as the business owner's financial involvement. For a more thorough definition, you can click here.
Small business owners or freelancers will find balance sheets important when applying for various loans, grants, doing taxes, or finding investors.
InvoiceBerry's free balance sheet template can be found here.
Invoicing terms for your business
These are only some of the most important invoicing terms for your small business or freelancing career. One of the most important things you can do as a responsible business owner is to update your knowledge base on the parts of the business you're not comfortable with.
For many of us, that is the financial aspect, but it can include many others. When you do update your knowledge, however, you'll soon see your business blooming.
Did we forget to include any other crucial invoicing terms? Let us know in the comments below!