How to Make Your Small Business Eco Friendly
Written by Ana Mladenovc on May 16, 2022
In the wake of global warming, it's becoming clear that we need to put all our efforts into saving the only home we have – our planet.
Big corporations and businesses, as one of the biggest polluters on Earth, need to put all their efforts into becoming more sustainable and fight global warming.
Try our online invoicing software for free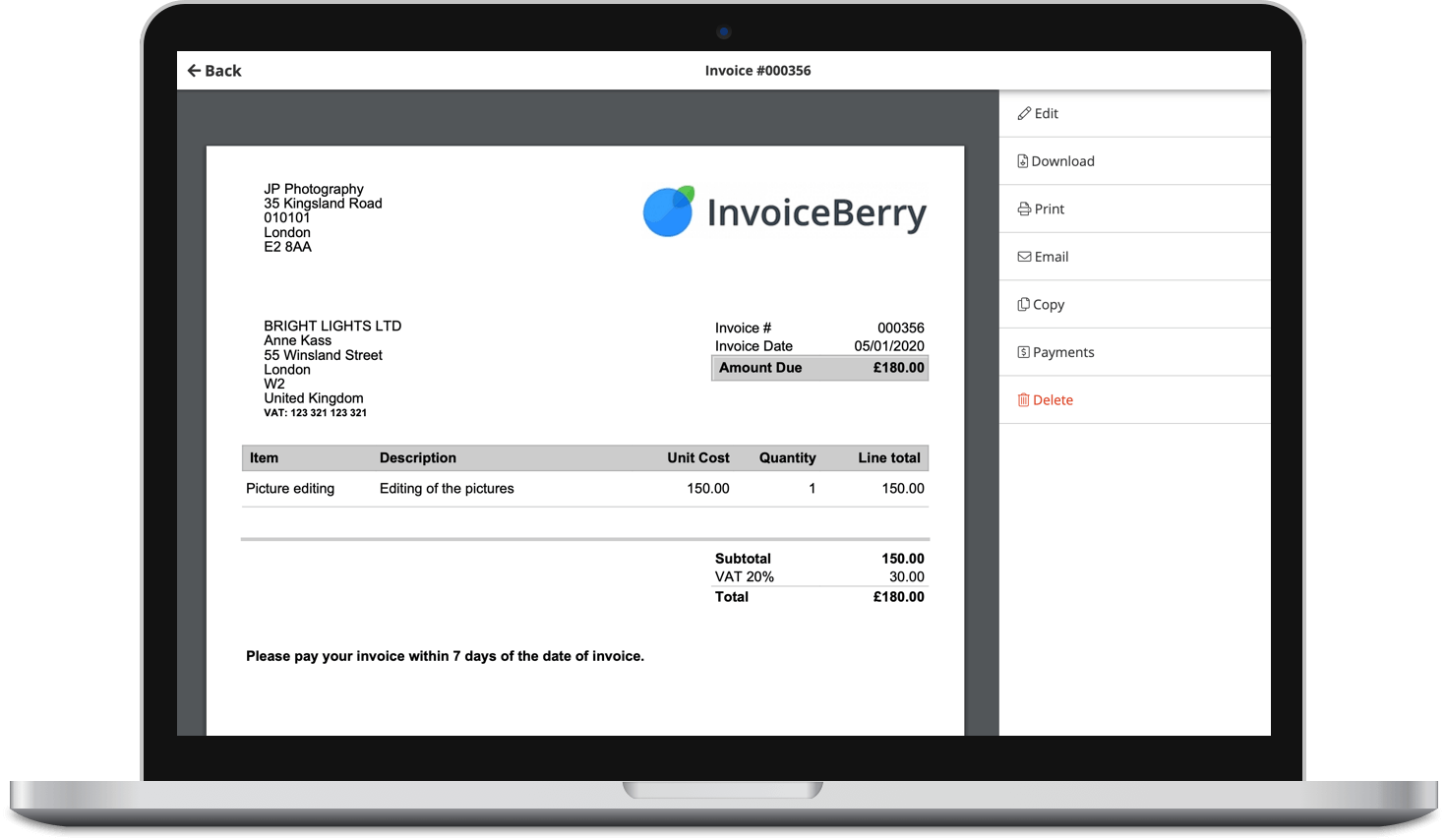 Send professional-looking invoices
Accept online payments with ease
Keep track of who's paid you
Start sending invoices
What's best, going green comes with a wide array of benefits for businesses. Sustainability can help them lower costs and increase profitability since sustainable businesses use fewer resources.
Furthermore, being sustainable is a good talent acquisition tool, as employees now rather work for companies with a clear purpose and mission.
Lastly, as the 2021 Edelman Global Brand Report indicates, customers and investors are likely to engage with businesses that care about the environmental impact they have.
That said, we wanted to explore the easy ways you can make your company more sustainable.
How to Make Your Small Business Eco Friendly
Now, when we've seen why sustainability is important for businesses, let's see how you can make your business more sustainable in a few easy steps.
Introduce Remote/Hybrid Working Model
Since we live in the tech era, we can do more and more work online, without having to go to a physical office. Staying remote or decreasing the number of days employees commute to the office decreases their carbon footprint and makes business more sustainable, without putting a lot of effort.
While remote work has become increasingly popular over the past couple of years, some employers still prefer their employees in the physical office. If you are a more pro-office type of business, and you're reluctant to offer full-time remote work to your employees, you can still opt for a hybrid work model and make employees come to the office on certain days of the week, which can help you become more sustainable.
Provide Commuting Benefits
Employees who regularly commute are more damaging to the environment compared to those who work remotely or come to the office occasionally. If you're a type of business that requires employees to come to the office every day, you can still be eco-friendly by offering public transportation incentives such as paid bus, train, and vanpool tickets or incentivizing them to come to work by walking or cycling, when it's possible.
Support/Organize Eco-Friendly Activities
Another great way to make your business more environmentally friendly is by hosting and supporting sustainable projects. This is something that can be both beneficial to the environment, and for the company's image. You can show how you contribute to the environment by donating money to charities, setting fundraisers, engaging your employees in different activities such as planting trees, and so on.
Introduce Reusable Office Supplies
If we know that, in the USA alone, more than four million pens are thrown away each day, we understand how important it is to make the switch to reusable supplies.
Businesses who want to become more sustainable can cut down their paper waste with mini dry erase boards, tablets, or notebooks or by buying refillable pens.
Compost At Work
Composting is another great way of diverting waste from landfills. The point is that without composting, organic matter decays in the dump and releases harmful gasses such as methane whereas compost becomes soil for gardens. You can compost at work by turning lunch leftovers into food for the soil.
Opt For Green Hosting Providers
Today everything lives online and businesses need to keep up with their online presence if they want to stay relevant in the market. However, maintaining and running websites uses energy too.
However, you, as a business, can choose to decrease your environmental impact by opting for green hosting providers that are offsetting that energy usage.
Build Sustainable Partnerships
You can become more eco-friendly by partnering with and supporting other sustainable businesses. Your business can look for sustainable suppliers, partner with other businesses with organizing eco-friendly activities, help and educate other businesses on how to be sustainable, and so on.
Make Office Snacks Sustainable
If you're having an office kitchen, you can always try to be more sustainable by purchasing organically produced and fair trade items and ensure your negative effect on the environment is minimalized.
Make Your Business Paperless
Besides helping your business become more environmentally friendly, going paperless can also help in reducing confusion and streamline other important and time-consuming processes.
For instance, your business can switch to online invoicing and opt to use software such as InvoiceBerry. You can even incentivize your customers to switch to paperless billing by providing them with discounts if they decide to do so. What's best, InvoiceBerry can help you run your business more efficiently by keeping all your data in the cloud, allowing you to become more organized and seamlessly track your expenses and pending invoices. Besides helping your business become more sustainable, InvoiceBerry can help you build better relationships with your customers by allowing you to customize your invoices. 
Sounds interesting? You don't even have to spend a dime to try it! Just register for a free trial!
You can also avoid using too much paper by choosing to use digital documents, virtual signing, fillable PDF forms, and so on. Lastly, you can also avoid using single-use paper and opt for bamboo toilet paper and kitchen rolls, for instance.
Try To Save Water
If we know that 97% of water is salt water, which cannot be used for drinking, and that only 0,5% of all water is available for drinking, we understand the importance of preserving and conserving this precious resource.
Businesses can become more environmentally friendly and save water:
In the kitchen, using a dishwasher to wash dishes collectively, rather than individually.
In the bathroom, installing dual flush toilets helps avoid water wastage.
By collecting rainwater and reusing it for flushing toilets, washing the office space, or feeding the office plants.
Educate Others
Celebrate and promote what you are doing externally through your website, newsletters and social media. You can also collaborate and partner with other businesses to share and think about sustainability ideas and solutions.
Try Sustainable Marketing
As they say it: "It's not important how great you are, if nobody knows about you". Marketing is vital to business success, as it helps companies present their product or service to customers, and prove to them it's the right choice for them. However, marketing can also be damaging for the environment. Before the internet, businesses used to market their products and services by printing flyers, catalogs, and posters which use a lot of energy to make, and are usually produced out of unsustainable materials such as plastic.
Switching to more modern marketing techniques, such as investing in SEO, PPC, and Social Media advertising can help businesses decrease their negative environmental impact and get better results at the same time, as online marketing methods provide better insights on consumer needs, likes, and preferences.
Invest In Software
You can make your business more sustainable by utilizing the same software we use in business every day. For instance, you can decrease commuting costs and the environmental impact commuting has by insisting on more online meetings instead of in-person ones. For that purpose, you can use software such as Zoom and Skype for instance.
You can also connect with your employees, whether they're full-time or part-time employees by using tools such as Slack or Microsoft Teams, and cutting the time they'd spend in the office.
Reduce Waste
Each business produces different amounts of waste, regardless of the industry or company size. What really makes the difference is the things they do to reduce what they produce, whether that's cardboard, plastic, or even electrical items.
Businesses can use recycled paper or recycle their paper themselves as it uses less energy and water, and its manufacturing process produces less carbon than non-recycled paper.
Another material that is often overlooked in the workplace is tech. Every office needs new equipment now and then – it could be because your business is expanding or because you've increased the services you offer. Whilst refurbished technology isn't new on the market, employers may still be skeptical about these products as they may seem less reliable. This, however, is not true. Refurbished electronics can have a great impact on the environment, and can help your business save money too.
Use Sustainable Materials
Another great way of making your business more sustainable is to use sustainable packaging and materials while making your product. There's a wide variety of options to make your packaging more sustainable such as using biodegradable packing peanuts, cornstarch packaging, organic fabric, and recycled paper. Furthermore, consider how big your product is, can it be packed in another way, or can it be reduced in any way.
Final Words
Each company impacts the planet in a different way and with a different intensity and it speeds up climate change and pollution. However, what makes the difference is how much each company strives to correct its impact and make a positive change.
The path to sustainability is different for everybody, but it doesn't have to be rocky. We provided you with a few easy ways how you can turn your business for the better. Which step are you the most likely to make the first?
The Ultimate Social Media Tool
Download our free guide to learn how to create shareable content, generate website traffic & increase conversions.