Top 9 Invoicing Tips for Web Designers
Written by Bernard on November 29, 2016
As the always-online world increases in its scope and impact, the demand for web designers will continue to grow. More and more businesses are depending on not only functional websites, but also responsive, beautiful websites that are high quality both on desktop and mobile.
This will mean that the web design industry has a healthy future. However, when you pair that with the fact that the gig economy is growing, one in which more and more work is given to freelancers, what this means is that more web designers will have more work that they'll have to do by themselves. And with more work, yes, more money, but also more paperwork.
Try our online invoicing software for free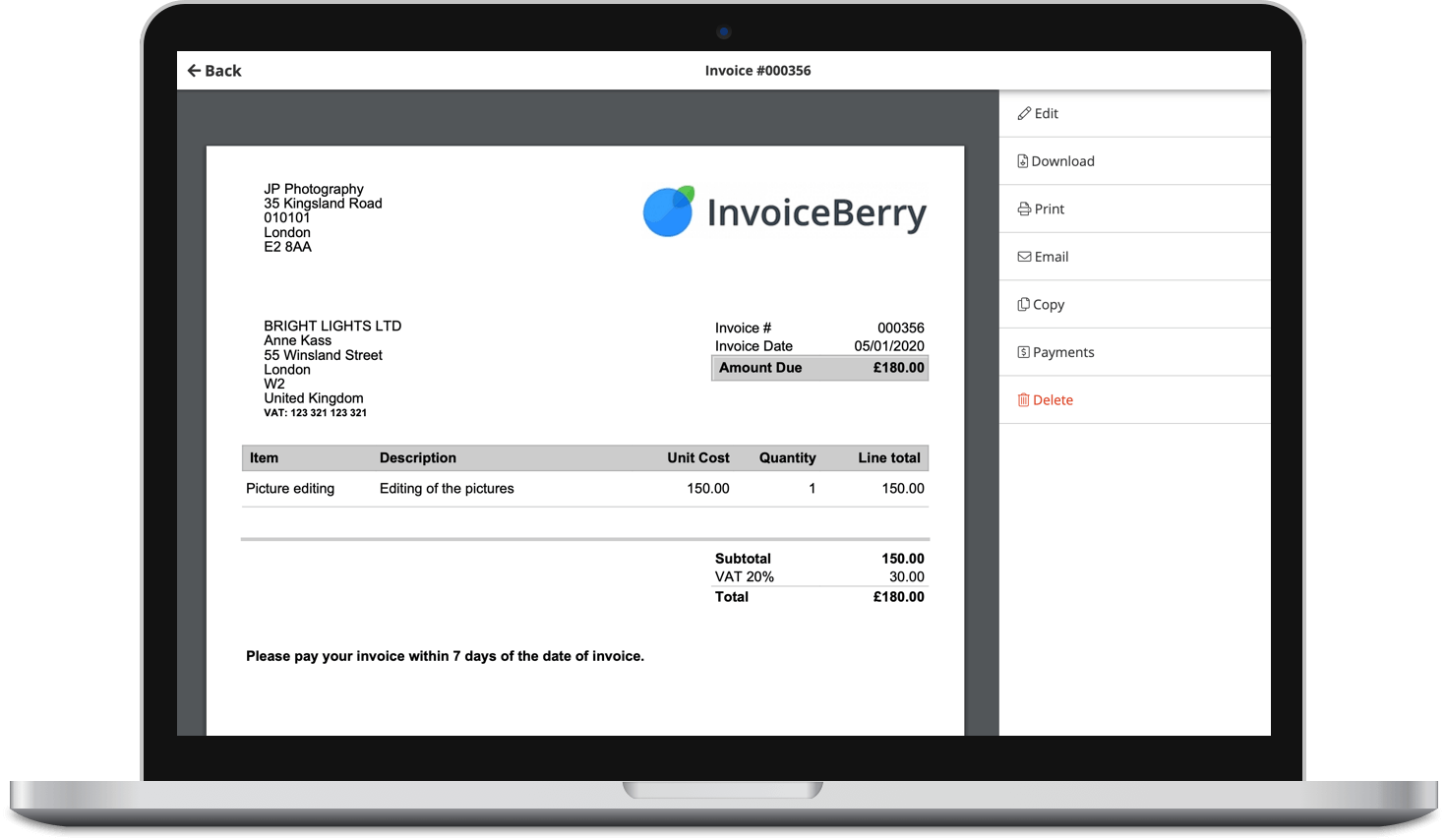 Send professional-looking invoices
Accept online payments with ease
Keep track of who's paid you
Start sending invoices
In order for web designers to work on their craft, they will have to be able to take care of their financial responsibilities in an efficient way. They will also have to make sure they get paid for their work.
So today, we'll look at some of the best invoicing tips for web designers.
Use software
The most important piece of advice when it comes to invoicing for web designers is to make it easier on your business in general—get on the cloud.
Online invoicing software is software that is on the cloud, so all the necessary information you need to invoice your clients (names, dates, places, addresses, emails, etc.) will all be stored online.
What this means is that you won't need to hunt down customer details through your emails or files in order to send out an invoice. This also means that you'll be able to create and send an invoice in under 60 seconds, rather than spend much longer on invoice templates.
Online invoicing software also helps you to be more organized in your documentation, as you can track expenses, create finance reports, and much more.
Be specific in your policies
When you create your policies, you should be very specific in what you and your client's expectations should be.
Your overall policy should be clear and general enough to cover everything, but also to leave wiggle room for each specific situation. In this section, you should definitely discuss the general payment due date that you'll be setting for each client. Many freelancers set the payment due date to 30 days.
However, this is a mistake as customers are always late, meaning you'll be paid much later than that. Instead, set the payment due date to 14 days to get paid faster.
Furthermore, you'll need to decide how much interest there will be on late payments (if any), whether you'll require payment to be paid before work, after the work is completed, or half and half. Lastly, how many revisions will be required on your work? 3, 5, or infinite?
Create your price list
The next step is for you to create a great price list. Remember, your prices should reflect your experience and quality as a web designer.
This means, logically, that if the first time you saw a computer was last week at a trade show, then you'll probably not be charging the top fees. Specifically, your price list will be based on your experience, location, how much competition there is, how fast you can deliver, and how many services you offer.
However, it is also advisable to have flexibility in your pricing. Although most clients won't negotiate prices, it is always a good sign that you are willing to negotiate. In the negotiations, you may also offer a lower price for greater work.
Send clear quotes & estimates
When you create your quotes and estimates, you should be explicit in what it is that you are offering and what your client should be expecting. This will help to avoid any confusion or surprises on both your sides when it comes time to pay the invoice.
Your quote/estimate is a very specific version of your general policies. Here you can directly and clearly state how long the project will last, the frequency of events or updates, the specific charges that you'll be making, and lastly how much time the buyer has to pay.
You shouldn't be scared to sound quite legal in this document, as you'll help avoid pain later.
Create beautiful invoices
When you've finally agreed on a service with your customer, with online invoicing software you can easily convert that quote into an invoice with just a click.
When you send your invoice, be sure to not forget that the client is still your client. What this means is that, if you showcased your creativity in the work and the project that you delivered, why stop there?
More specifically, if you are not using invoicing software, how can you show off your creativity? It's important to remain memorable to your client, as there is a greater chance of your client both paying you on time and coming back for more services.
To that end, you should work on creating invoices that are memorable, even beautiful. With online invoicing software, you will have a choice of templates to use in your invoices to reflect your personality.
Invoice on time
If you do not send your invoices on time, how can you expect to be paid on time? It is crucial to get out those invoices as soon as (or even before) you have delivered the work.
It is of course quite understandable for creative freelancers like web designers to hit a wall of energy drain right after completing a job. You've spent so much time and energy on finishing that project on time and beautifully, that you just want to click send and forget about it for a while.
However, now is not the time to procrastinate.
Send those invoices out faster, and you'll get paid faster. This is of course much easier with online invoicing software, which takes care of invoices in less than a minute.  Any way you do it, the point is that you'll have to do it quickly.
Include details on invoice
When you send out your invoices, remember to be very clear in how you've arrived at that figure. If you were clear on your quotes/estimates, then it's just a matter of clicking convert (if you're using invoicing software) and then matching the work you did with what's on the quote.
You can update the information. If you didn't go that route, you'll still need to be detailed in what you've done.
You need to include the times, products and services, quantities, of course, but also your bank information, payment terms, due date and fine or penalty for late payment (that you set in your general policy). Doing this helps clear up any possible confusion.
Schedule automated invoices
If you are working on large projects, for example, ones that take 6 months or years to complete, and you'll be doing regular work that requires regular payments, you can just automate the process.
Instead of having to remember to create and send out an invoice on the 3rd of every month (or whatever the agreement is), you can set up your invoicing software to create a recurring invoice profile.
That way, all you'll have to do is set the time the invoice should be issued, to whom it should go, and the amount for each invoice sent. If there are any changes, you can adjust the recurring invoice at any time.
Chase payments
The last and most important invoicing tip for web designers is to be quite vigilant in going after late-paying customers. It's been shown that small businesses and freelancers get paid an average of 72 days after invoices are sent.
This is an extremely long time, especially if you are a freelancer with cash flow problems.
In order to reduce that waiting time, you'll have to a) cut down the payment due terms to 14 days, and b) go after those late payers.
This does not necessarily mean you should threaten or approach them with anger. Instead, send a polite payment reminder a day after payment is due. This is relatively easy to do with invoicing software (with pre-written messages), but you can do this by yourself as well.
Usually, one or two payment reminders are all it takes to get your invoice paid. However, if you just wait on the customer to remember at some point, you'll probably end up waiting 72 days or longer.
The best invoicing tips for web designers
These are some of the best invoicing tips we here have come across for web designers. Since your work is in the technical and creative fields, you'll probably be on computers most of the time.
If so, there's no reason to make your invoicing slower with templates. Instead, switch to online invoicing software and get paid faster, guaranteed.
If you follow these tips, you'll be able to increase the positive cash flow by having your invoices paid faster without confusion, and increasing the size and scope of your business.
Small Business Finance 101
Download our free guide to learn the fundamentals of finance that will help make your small business more efficient and successful.