A Guide to Starting Your Own Profitable Window Cleaning Business
Written by Kamile (InvoiceBerry.com) on April 11, 2016
Starting a new career is exciting, but also worrisome: what if I choose the wrong path? Even more so, if you decide to go freelancing or start your own business, not only your professional life, but also finances and family life are at risk.
We understand how hard it is to make a 180-degree turn in your life, therefore we completed a detailed guide for those of you thinking about a career in window cleaning. Starting a new career is stressful, but we hope our guide will help you reach a well-thought-out decision.
Try our online invoicing software for free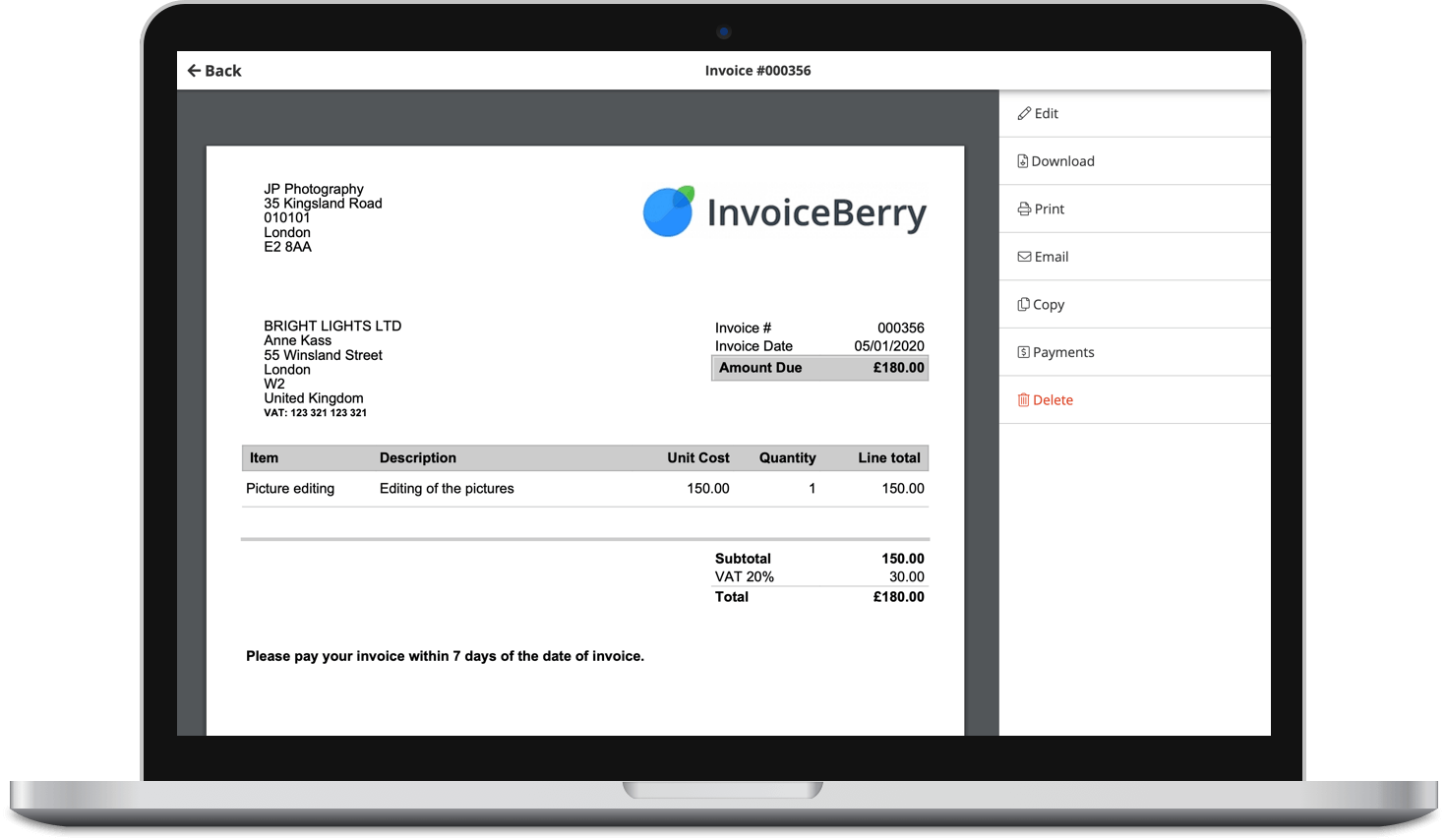 Send professional-looking invoices
Accept online payments with ease
Keep track of who's paid you
Start sending invoices
Who knows, maybe you will realise that window cleaning career has the thrill and excitement you've been looking for your whole life?
What is window cleaning?
"Some people do look at us as the lowly window cleaners. And I think about that as I go eat a nice big fat juicy ribeye in front of my insanely large TV." – Marc, professional window cleaner
You may think window cleaning is a lowly job with no decent pay and hours of boredom scrubbing someone's dirty windows, but you're mistaken. Window cleaning is a profession requiring expertise, courage, and passion. Some even call it a work of art: you are the artist, and the windows are your canvas.
Window washing involves the cleaning of windows, as well as decorative or lighting glass. It can be done manually, but often a variety of tools are used, especially if one is cleaning… a skyscraper's windows.
As you may have already guessed, window cleaning is one of the most dangerous jobs. In fact, skyscraper window cleaning has been announced the most dangerous job in the UK, only recommended to "those with nerves of steel and an appetite for adrenaline".
Having said that, window cleaners are usually well trained in safety and rescue in order to avoid falls and injuries; and the lower the buildings in the area, the less you need to worry about the dangers of abseiling down 30-storey buildings. You could also consider tackling high-rise buildings in pairs — a much safer and sociable option.
Is window cleaning for me?
Window cleaning businesses are in high demand because people don't like cleaning windows. It's as simple as that. Also, sometimes it's difficult or impossible to reach windows without special equipment or it takes too much time and money to clean the windows.
It is hard work that includes both working at ground and upper levels. But although it sounds simple, for the reason discussed above, there are a few things to consider before you take this career path.
"Everyone thinks they can do the job but many can't. We can usually tell after the first few weeks if a person is cut out for the job."

-Richie Brown, veteran window cleaner (think-mag.com)
So, is this job for you?
If you want to start a window cleaning business you should make sure you have the following skills and qualities:
Using the right technique
Window cleaners take their job very seriously. Leave one water mark on the window and you could get cranky for the rest of the day.
Work during any season
No matter summer or winter, windows need to be cleaned at the regular basis if you want to provide a reliable service. So if you choose this career, make sure you can tolerate both the heat in direct sunlight, and the negative temperatures.
Be reasonably fit
Window cleaning is a daily workout. A 40-foot ladder can weight up to 100 pounds, and if you work on higher buildings, you may have to rappel while balancing a 50-pound bucket of water to your side.
Attention to details and multi-tasking
As mentioned above, leaving water marks on the glass is not an option. Especially when you need to be careful not to slip at the same time.
Self-motivated
You won't have a boss breathing down your neck, so make sure you can motivate yourself enough to keep your business going.
Good communicator
Cost negotiation will be a part of your job every day, and you need to be able to stand for yourself without being rude or insulting.
Organised, trustworthy & reliable
Your clients need to know they can trust you with their property, they will also expect you to be on time. Keep providing a great service, and they will become your clients for a lifetime.
No fear of heights
Although you can develop some amount of tolerance to height, it would be wise to honestly ask yourself if your fear will take over. Even if you think you can manage your fear, it is a good idea to keep your eyes directly on the window and never look down.
Salary
Your salary will depend on the market you are working with. Domestic window cleaning will require less equipment than commercial window cleaning, but your salary may as well be less.
In the US, a window cleaner working for private homes (and perhaps storefronts) might only earn $12-$15 per hour. Working in a commercial market, including skyscrapers, however, will get you $15-$25 per hour.
Window cleaning veterans working with exceptionally high-rise buildings earn the most. If you have months or years of experience, and are qualified for working with special equipment (i.e. have the equipment and certificates), in New York you can earn as much as $29-$35 per hour (nbcnews.com). The average salary for all types of window cleaners was around $13.38 per hour in 2010.
In the UK, window cleaners' the rate is usually calculated per house, this could go from £10 to as much as £50 per property, depending on the location, and the size of the property. You could also calculate the costs like this:
Normal ground floor window=£1.20

Difficult to reach window= £2.40

Powder coated window= £1.70

1st floor window=£1.30

2nd floor window=£1.50

3rd floor window= £1.80
Finally, in Canada you can earn from C$10.52 to C$21.03 ($8.04-$16.07) per hour.
Becoming a window cleaner: going freelance
So you decided that you have the basic skills and qualities mentioned above, you like working outdoors, and setting your own rules. So, the only thing left is to start cleaning windows? Not so fast, there are still some things you need to know.
First of all, good news: you don't need a special education to become a window cleaner. Doing an apprenticeship in a company should be sufficient.

However, later in your career, or if you want to employ more people and expand your business, you should plan to acquire a special window cleaner certificate. This, however, does not apply for high-rise window cleaning: if you plan to clean high-up windows, you'll have to pass safety requirements.
Becoming a freelancer gives you loads of advantages, such as flexibility, wide range of projects, better salary and being your own boss.
But you also have more responsibilities.
For example, you'll be responsible for charging customers and setting up pricing. The typical price for a 4 bedroom house is $34 (£20). Also, you charge extras depending on the difficulty, size of the windows, and so on.
Furthermore, you'll have to take care of the marketing and advertising part of your business. Typically, window cleaning businesses get new customers through word of mouth marketing. So doing the best job possible might bring you more customers in the future.
Also, you should sign up for business directories, create a website and do market research. Window cleaning businesses must be visible in order to get customers, so branding is very important. Wear a uniform with your company logo on it and put your logo on your car.
What's more, you'll have to do some paper work. In order to have a profitable business you'll have to track expenses, send invoices and quotes/estimates.
Before you jump into the window cleaning business, you should also ask yourself what hours will you choose to work, and what kind of clients and projects will you take on? Will it only be a domestic market, or are you willing to do high-rise window cleaning?
After considering these things, let's not forget the equipment.
To start with, most people in the domestic window cleaning sector need a small car or van, and an aluminium A-frame ladder.
It is important to be smart about your workwear, too. Not only you have to look professionally when knocking on customer's doors, it has to be practical workwear, including overalls, several pairs of waterproof work gloves, a cap or fleece hat for cold weather, as well as some really comfortable waterproof work shoes and fleece socks.
If you limit yourself to domestic markets, keep it simple at first: instead of spending all of your money on fancy and unnecessary equipment, be moderate and focus on consistency with safety.
For commercial and/or high-rise window cleaning, however, this will not be enough.
Although in some occasions you will still need an extending aluminium ladder, you will have to consider these:
an extendable water-fed pole (at least one) and its attachments

a source of purified water (for start you can get one or more mobile pure water trolleys)

a large van
Additionally, for high-rise window cleaning you will need:
a bosun's chair

descending device

carabiners

full body safety harness

shock absorbing lanyard

fall arrest device / rope grab

primary suspension rope

secondary safety line rope

suction cups

tool bungees

rope protectors

self and assisted rescue system

portable roof rigger

tie-back clamps

canvas rope bag

convertible hand truck
To summarise, freelancing in window cleaning is not extra-ordinarily difficult, or at least no more difficult than any other freelancing career. You don't even have to have special skills, talents, or craftsmanship to do window washing. So go on and start working on your new career! Alternatively, read on to get more information about how to start a business in window cleaning, instead of working as a one-man band.
Becoming a window cleaner: profitable business plan
As long as there are windows people will need window cleaning businesses. It's a great business, isn't it? But because window cleaning businesses are in high demanded there is a large competition.
So to be successful you need to prepare a very good business plan.
Steps to follow in order to create an awesome business plan for window cleaning businesses:
Provide basic information

about your company. Fill out very basic information, e.g. name of the company, contact numbers, owners, partners, number of employees, managers and so on to get started with the business plan

Define business operation

. Define hours of operation, list of suppliers, equipment needed, e.g. ladders, buckets, lifts. Also think about the number of employees working on a task

Define short and long-term goals

of your window cleaning business

Do market research

of the industry. Find out who is your competition and how you can fill a gap in the market

Define your target market

by location, venue, income level, family status, marital status, hobbies, interests and so on

Develop pricing

for every service you're going to provide

Define how you're going to

track expenses, send invoices, quotes/estimates.
Prepare a marketing plan

. Specify how you're going to advertise your window cleaning business and how you're going to acquire new customers
This plan should act as a map for your business, to show you where you need to go.
Window cleaning businesses are easy to start and it doesn't require a high investment. So in order to beat the competition you have to stand out.  But how?
Understand your strengths
You can't be the best in everything or you need to have a large team of experts. But if you can't have or don't want to have a big team you have to choose a niche that suits both your skills and interests. You should become a leader in that niche.
Number of employees
Do you really need to take more employees or can you do everything with your current team? Maybe you're so busy that you have too many jobs/orders and you need more employees?
In any case, you always have to weigh the pros & cons on making such important decisions. These significant decisions are the difference between a highly profitable business and one that makes a loss.
Set up a competitive pricing
It means that your prices shouldn't be too high or too low. If you're the leader in a specific niche then you should charge a bit more than other companies who do everything to a mediocre level.
If you set up your pricing too high you simply won't have many clients. Establish yourself as an expert first and then charge more than your competitors.
It's a vital ingredient for any profitable business. By having all invoices, quotes/estimates in one place you're very likely to succeed.
Be visible both offline and online
You operate your business in an "offline" environment but you must have a website and be on social media in order to be found by your (potential) customers. If you can't be found by people, how can someone order your services?
Also, people can give feedback on social media about your services. Positive feedback might lead to more sales. Don't ignore negative feedback, rather accept and learn from your mistakes.
I didn't tell you any secrets how to make a profitable window cleaning business. But there are simply no secrets.
By simply delivering the best service, being the best in a specific niche and listening to your customers your window cleaning business can be very profitable and successful.
Useful Resources