How to Start Your Own Cleaning Business
Written by Bernard on September 14, 2016
There's an old English saying that goes, "Where there's muck, there's money." Meaning, wherever there's something dirty, there's someone that will pay to get it cleaned. That's where the cleaning business comes in.
The cleaning profession will probably never go out of style: it may change and develop over time, but it's remained largely consistent throughout recorded history.
Try our online invoicing software for free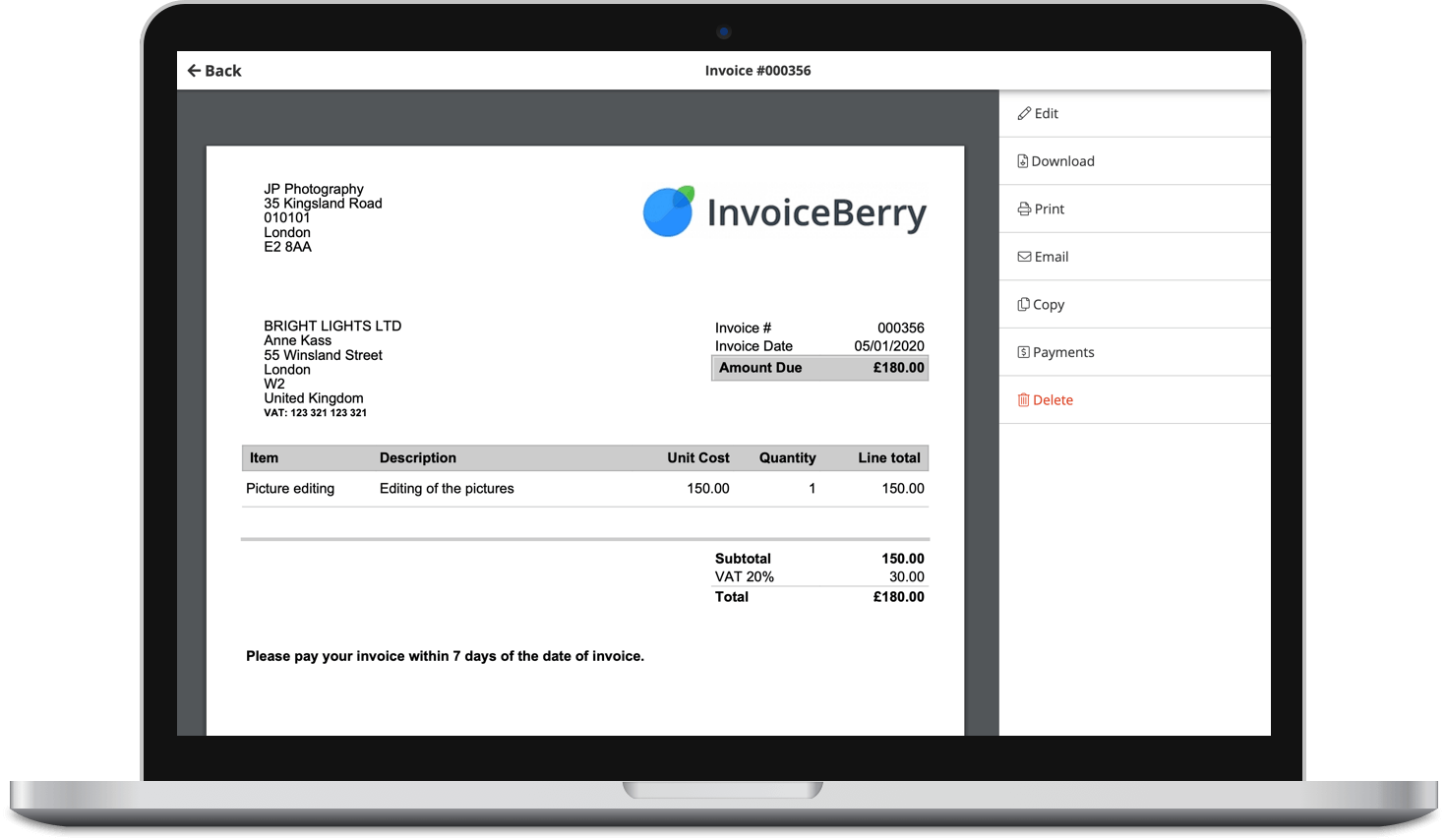 Send professional-looking invoices
Accept online payments with ease
Keep track of who's paid you
Start sending invoices
In modern times, the cleaning industry can be divided into four types: residential cleaning, commercial or janitorial cleaning, specialty cleaning and dry cleaning/laundry service.
Although these cleaning services are quite varied, they still suffer from one large setback: in tough times, they are quite sensitive to economic downturns. When the economy is suffering, people view cleaning services as a luxury and they begin to cut down on that first.
This explains why, during the Great Recession or Global Crisis of 2007-2009, revenue fell industry-wide by 5.3% in 2008 and then again 6.1% in 2009.
However, the negative just serves to emphasize the positive: in 2015 there were roughly 875,000 cleaning businesses with a combined 3.5 million employees in the US. Even better, in 2015 cleaning business revenue reached $51 billion!
Not a bad comeback at all.
The Cleaning Business
If you're a cleaner or are considering getting into the cleaning business, now might be a good time to start or expand. The business is bouncing back from the global economic downturn, and more and more regions are increasing in wealth.
But starting a cleaning business has some things in common with starting any business—you need to have a strategy.
Of course, you can ignore this advice and just go door to door with a bucket in hand and ask people if they'd like their houses or offices cleaned. Of course they'll trust you, of course they'll have heard of you. Of course they'll let you into their houses or businesses.
Right?
Not so much. There are many things to consider before you jump into the cleaning business, but where do you start? And how do you start?
That's where this guide comes in. Today we'll go over the advantages and disadvantages with starting your new cleaning business and how to get your basic business plan and tools ready.
We'll also go over the necessary hardware and software you'll need, as well as how to set up a social media marketing strategy and how to get your first clients.
The Pros
The first and greatest part of starting your own cleaning business is the complete freedom that comes from being self-employed.
You have the ability to set your own schedule and the knowledge that your work is (literally) in your hands, instead of having to answer to someone else.
The second advantage is that for the most part, you can start the business off without high upfront costs. Most residential cleaning, for example, will require standard equipment found in most homes.
Even better than that, you'll generate revenue soon after starting cleaning, as most pay either on a daily, weekly, or monthly basis.
Thirdly, the industry is quite flexible. You can start your cleaning business full-time and dedicate 8 or more hours to your work each day. Or you can do it part-time as either your studies or other responsibilities require the rest of your time.
Either way, if you provide quality services, the flexibility of the job means that you'll be able to fill up your schedule with cleaning work.
The last great thing about the industry is that there is a wide variety of cleaning areas. I'm not just talking about the big four categories up there.
There are many cleaning niches that will allow you to expand in a variety of ways—or special in one and expand. This includes anything from air ducts and vents, mattresses, or even, as in Sunshine Cleaning, biohazard removal/crime scene cleaning.
The Cons
The first disadvantage is related to the first advantage—with great self-employment comes great responsibility. You'll be free to decide things for yourself but—and this is especially true if you have employees—you'll have all the responsibility too.
You have to work many more hours than usual, be always available, and take care of all aspects of your business.
Secondly, although there aren't high costs for residential cleaners, if you want to start a laundry service, the costs will be quite high.
This is also true for other specialty cleaning services. The more specialized the cleaning gets, in fact, the more specialized the equipment may be. And although you'll see the potential in that niche, you'll have to find the money first to buy the necessary equipment.
Lastly, because the barrier to entry is quite low, easy to start and relatively quick revenue generation, there are also a lot of independent cleaners popping up all the time.
In fact, you are one now. With great competition comes greater work required to get noticed and possibly lower prices. Hopefully the quality of your cleaning is high, but you'll still need people to know that you exist and that your wonderful services are available.
Your business basics
It is good to know the advantages and disadvantages of the business to make sure you're prepared for any ups and downs that will surely be coming.
But if you're really looking into starting your own cleaning business, you'll need to be more than aware of the general trends of the industry. You'll need to do you r homework, and that firstly includes a business plan.
Create your business plan
A good business strategy depends on a good business plan. There are many different ways to do a business plan, but all of them cover a few basic points.
First of all, decide on what your market is like. That means: what area do you hope to work in, what is the average income level of that industry, who are your likely clients, etc.
Of course, those who'll probably use your services are college-educated, middle aged and upper middle class or above.  Your market will need to include those kinds of clients, and if you don't have those clients in your market, change your market.
Besides that, it's important to decide exactly who you're up against.
Who's your main competition, and what are the other smaller competitors? What do they have that you don't, and what can you offer that they can't? What makes your services unique—what problem are you solving?
In order to get started on your business plan, you can grab one of InvoiceBerry's free business plan templates. They'll really simplify the process of completing this important step—and best of all, it's free of charge.
Your insurance requirements
For your and your customers' well-being and safety of mind, it's recommended that you get insurance. This type of insurance depends on what type of cleaning work you'll be doing, but you'll need to have some coverage in any case.
There are many situations in which homeowners—and almost definitely office managers—will not accept cleaners if they aren't covered.
This is logical seeing as you'll be going into their homes and offices when they are probably not there.
Insureon has a great website to help you calculate estimates for insurance coverage depending on the type of cleaning business.
For example, for maid & home cleaning business, they list the annual prices. General liability will run you around $275-$700, a business owner's policy goes for $725-$1056, worker's compensation at $1,600 to $3,200, a surety bond at $100, etc.
These numbers can make anyone feel a bit dizzy, but it's important to know what type of coverage will be needed to run a trustworthy, successful cleaning business.
Knowledge and other requirements
As the barrier to entry is quite low, there isn't too much specialized knowledge required to begin working as a residential or commercial cleaner.
If you have ever cleaned your own home, you'll probably have enough qualifications to clean someone else's home as the work is large the same. Generally, you should know which chemicals are suitable for which materials in order not to damage and have to replace certain furniture.
Sometimes, however, the owners will require other types of cleaning that new cleaners may not have encountered, but the process isn't overly complicated.
It is a similar situation for commercial cleaning—if that is cleaning smaller offices. Larger offices with tiled lobbies may be beyond only one person to handle.
It would also require larger equipment and the knowledge of that equipment. The training shouldn't be too long—cleaning equipment isn't generally complicated.
For laundry services and other specialized cleaning, the knowledge required will be equal to the degree of specialization. High specialization, probably highly specialized tools.  This is especially true for dry cleaning, which requires knowledge in production material and cleaning processes.
You may also need to get a DBA (Doing Business As) and vendors license in the US. You can get your DBA relatively easily by getting in touch with your local county clerk or county administration office.
The software you'll need
In general, depending on the size of your cleaning business, you might need to invest in different software. As you'll be the business owner, your responsibilities include the business part of your … business.
Financials. I mean the financials.
You'll be sending invoices regularly to your clients and you'll first have to decide if it will be done daily, weekly, monthly, or any other time period.
You can download one of InvoiceBerry's many free invoicing templates by clicking here to help you with the invoicing part of your business. You can also use the free new Photoshop templates for an extra touch of creativity.
However, if you want to save yourself even more time and automate the process, InvoiceBerry offers great features that are designed for small business owners and freelancers.
These include the option to auto-fill in your regular invoices and keep track of and manage all your business expenses. It is also wonderfully easy and simple to use with many power-rich features.
Keeping your financials in order is one of the most important steps to having a successful business, no matter what your business is.
Your job specifics
There are some other important considerations for your new cleaning business. These include what type of fees you're going to be charging for your services and what equipment you'll need to properly do your job.
Fees & Charges
There are many different ways to determine what fees you should charge for your cleaning services. These generally fall into 4 different types.
Flat Rate
You can set a flat rate for all your services, which is how most cleaners operate. The rate is usually determined by finding out the size of the home or office, the level of disorganization, the number of rooms and then calculating how much time it would take.
This also depends on the frequency—if you're cleaning the premises once a month, it will take longer and you should charge more than if you're doing it once a week.
Per Room
Some cleaners prefer to charge by the room, but they don't treat each room as equal. For example, it takes longer to clean a bathroom or kitchen than it does to clean a guest bedroom.
It's best to calculate by yourself how much you would charge for each room separately, and then take an average of those rates to get to your per room rate.
Per Square Foot
Similar to per room, charging by the foot, meter or inch requires you to take into account the different difficulty levels of the different rooms. It's best to take an average of those rates. The per square foot rate is usually used for larger premises and may require at least two people.
Per Project
These can be for specialty jobs, such as laundry, window washing, cleaning the fridge or other relatively rare job. You can charge your usual flat rate for the house, for example, and then present an extra list where the rates are per project.
This is great because it separates those regular home or office cleaning tasks from the more labor-intensive, infrequent tasks. Also, you'll show what other services you offer, so that your clients may now think of it where they wouldn't have before.
Here's an example list of rates for an NYC office cleaning company based on frequency of cleaning and size of area:
HyperWhite, a cleaning service based in London, charges the following rates:
General cleaning at £10- £14/hour
1 bedroom flat for £129 and 2 bedroom house for £173
£11 per cleaner per hour each week with homeowner's own cleaning supplies for between two and four hours each cleaning.
Of course, these are only two examples of cleaning rates, but you can get an idea of what you should be charging.
The necessary equipment
For simple house cleaning, most homeowners have their own cleaning supplies that they make available to cleaners. For this reason, there's a very low expense related with simple house cleaning.
For office cleaning, you'll need a bit more depending on the size of the offices. For really small offices, it will be the same requirements as with homes.
For slightly larger ones, you'll need a commercial-grade vacuum cleaner, a floor buffer, and the usual mop and bucket, garbage bags, cleaning chemicals, etc.
For laundry and dry cleaning services, you'll have to spend quite a bit upfront in order to do your work properly.
This equipment includes washers & dryers, pressers, steamers, steam boilers, chemical products, etc. Luckily, it's possible to lease out most equipment, so the upfront costs aren't necessarily overwhelming, although in the long run it is more expensive to lease than to buy.
Get & grow your customers
Getting all your ducks in a row is the first step and great accomplishment on your way to success in the cleaning business. However, now you'll need to actually start getting a return on your investment—now you need to find customers and get paid.
Use social media
Your first, easiest and fastest marketing method should be social media. There are many things that people use Facebook, Twitter, LinkedIn and others for, and you most probably already have a profile. However, now you'll need to think a bit differently—social media is now the major marketing path for most small businesses.
It allows small businesses and freelancers who used to be prohibited by costly traditional marketing to get their message out there.
The first thing to do is to create a new Facebook profile for your cleaning business—for free.
This will be the platform for your satisfied customers to leave reviews, upload pictures (of their clean homes, offices, happy faces, etc.), ask questions, and in general show the lively, friendly, quality person that you are and services that you offer.
It is best not to underestimate the importance of having an updated page for your services online. Studies show that 81% of customers do research online first before they make a purchase. That means if they don't find anything about you online, they might not use your services.
For a more in-depth analysis of social media for small businesses and freelancers, read our full guide here.
Go old school—use traditional marketing
There are still many older methods that will be useful for you to get your customers. It would be a waste of time and money to create and print flyers, as most people tend to throw those away.
Instead, you can go to sites like Groupon and list a discount, for example, for the first ten days of your services at 30% off or another you find amenable.
For small office cleaning, you can do direct cold-calling.
First, research companies in your area that you feel may be in need of your services. Then, go ahead and call them up, explain the type of cleaning services you do, and offer to do a free, no-obligation assessment of the property.
Set an appointment and do a thorough, strict walkthrough, noting down trouble areas. Give some quick feedback but inform the manager that you'll write up a detailed report that doesn't just list the trouble areas but also the areas that are well-cleaned.
---
Although a lot of focus has been placed on social media marketing, small cleaning businesses can benefit greatly by using traditional marketing methods.
---
Then, go ahead and list the possible fixes for those unclean areas, the benefits your services offer, and an estimate of the cost of cleaning the premises on a regular basis. Submit the report in person and make a follow-up call within a week if the manager has not called you yet.
Expand your business
The decision to expand your business will usually come in one form: you have more clients than you can handle by yourself.
This is a good problem to have, and it means that your skills and quality of service have provided you with good word-of-mouth. Now, you have to decide whether you'll need to expand.
The decision should be relatively easy—most cleaners hire others when the cost of an extra cleaner is much lower than the income generated by having an extra set of hands. This could be either in helping work on one premise together or doing two premises in the same amount of time.
For simple house cleaning, this is a no-brainer. One former cleaning business owner reports that roughly 30 years ago his cleaning business earned $50,000 a year (about $110,000 in 2015 dollars) and only 3% of that went to cleaning supplies.
This leaves a lot of room for employee wages, equipment, upkeep, etc. This is also considering that there is virtually no training involved in simple house and office cleaning jobs.
If you have the work to expand your cleaning business—do it.
To sum up:
The cleaning business is a remarkably flexible and resilient industry that's been going strong for many years. These benefits include:
being your own boss and being in charge of your schedule
no high upfront costs for simple cleaning, as it's cheap to get started
a lot of flexibility so you can work it in your schedule around your studies or other responsibilities
a wide variety of cleaning areas and niches
There are other disadvantages that you'll have to think about as well, however:
all the responsibility is on you to find clients, make enough money, take care of your employees, etc.
high upfronts costs for laundry and dry cleaning services
a low barrier to entry, so there's lots of competition
After considering these pros and cons, it's a good idea to get started on developing your business basics:
create a strategic business plan
check which types of insurance you'll need to get
gain the necessary knowledge, training and other requirements
use the necessary invoicing software, such as InvoiceBerry, to take care of the financial side of your business
With your basics at hand, you'll have to move on to the specifics of your new career:
set your rates according to your location, experience, market, etc., using a flat rate or rates based on room, square footage or project
decide which equipment you'll need; for most residential and small office cleaning it will be few requirements; for laundry and dry cleaning there'll be more expensive equipment needed
From there, it's a good idea to establish a marketing strategy to get your first customers and/or grow your customer base:
create a Facebook business profile so potential customers can find you and read reveiws
use some older, traditional methods of cold-calling and doing free appraisals
if needed, expand your business if you have too much work for one person to handle
These tips will help you start your cleaning business and get you on the way to growing your customer base.
Got any other tips for our photographer friends? Let us know in the comments below!
Small Business Finance 101
Download our free guide to learn the fundamentals of finance that will help make your small business more efficient and successful.