6 Easy Steps to Better Invoicing
Written by InvoiceBerry Team on February 22, 2021
Setting up a new business is overwhelming. There's a lot to take care of. No matter how desperately you want the processes to be smooth, there's no running away from problems. Take invoicing for example.
Late invoicing, miscalculations, delayed payments, and even non-payments are some commonly encountered invoicing mistakes that cause business owners to want to pull out there hair. Then there's the trap of customer debts due to a lack of proper bookkeeping. 
Try our online invoicing software for free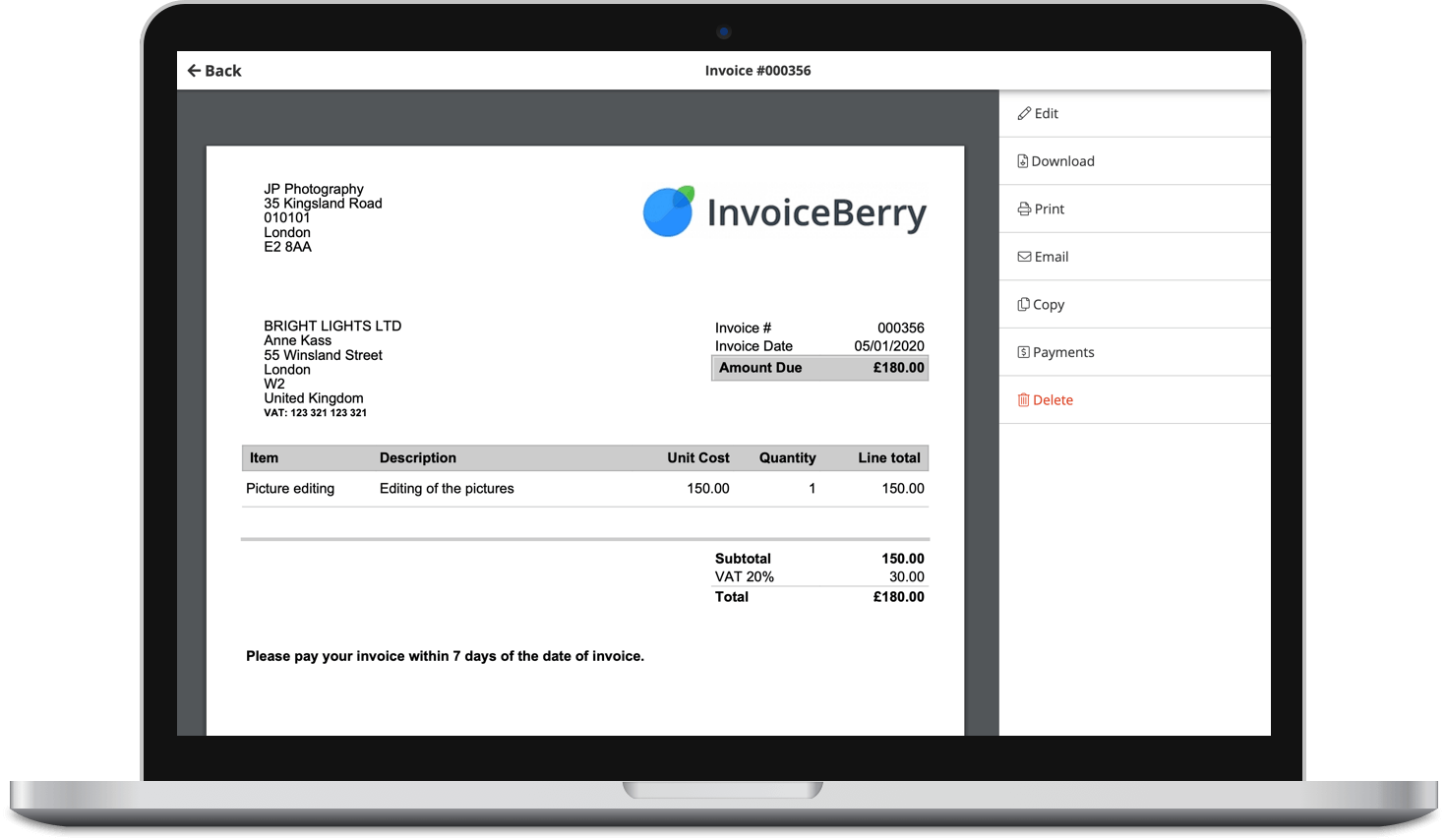 Send professional-looking invoices
Accept online payments with ease
Keep track of who's paid you
Start sending invoices
So, what exactly is an invoice?
To recap the awesome infographic above, invoices are legally-binding documents that indicate to the buyer the payment that is owed for the product or service a seller has provided. These can be products, services or a combination of both.
In terms of anatomy, an invoice should generally have the following key parts. Namely:
a unique invoice number
date of the invoice
seller name and contact details
buyer name and contact details
product or service description, including the quantity, unit price, etc.
total amount
payment terms (inclusive of the due date)
Be as thorough as possible and never forget that every business is different. Work on figuring out effective ways of invoicing your specific customers early on.
If you really want to get it right, here are six steps to better invoicing:
Step One: Keep an automated record
Your record needs to be on point to get the process started. It's as simple as that. A record helps you analyze and learn what's done and what needs to be done. You should be able to easily comprehend the billed invoices, received payments, expenses, and cash flow.
Online invoicing software can be your bestie when it comes to ensuring you never forget to include any key components. Plus the ability to automate the entire invoice delivery process is pretty sweet.
Step Two: Schedule invoices
Time for some decisions. Decide how often you need to invoice your customers. Again, it depends on what your business is offering. If it's a product, you can invoice twice or thrice. If it's a service, maybe think about sending out invoices once monthly.
Once decided, you can schedule recurring dates or intervals for invoice creation and delivery. Then let the software handle the rest. Plus everything is automatically stored and backed up so you never have to worry about data loss of lapses in memory.
It ultimately depends on your customers. Every customer is different, so you'll strike a different deal with each one. But be sure to send your invoices at the right time to circumvent the hassle of disrupted cash flows.
Step Three: Choose a payment method
Now its time for you to chose a payment method. Make sure paying is easy for your customers. This ensures that you receive the payment on time. The options are endless.
Choose between credit card, PayPal, PaymentBerry, or any other preferred payment method. Transaction fees might be involved in some methods, but it's worth it when you're looking for fast payments.
The advantages of accepting online card payments abound. Having your preferred payment option integrated and listed right on your invoice can be a godsend for customers. Talk about convenient!
Step Four: Create an impression
Create a strong impression by sending out professional-looking invoices. Choose the template that resonates with your brand identity. Leave an everlasting mark on your customers. You can use any online software to process everything smoothly.
InvoiceBerry lets you choose from 15 different invoice templates that can be further customized as you wish. Add your own logo, change the payment terms and edit the email text that accompanies your invoices.
You also have the option to change the late payment reminder and even add a thank you note, a discount and special messages on your invoices!
Step Five: Monitor payments
Give your customers a tentative date as a payment deadline. If the payment is due after 'x' days, make sure you define the 'x' and give an exact date. This is one way to avoid confusion and procrastination at the customer's end.
To reward customers for paying on time, you can offer exclusive discounts that make them feel rewarded. On the other hand, some people put paying off for the longest time. You can charge a late fee in these cases to discourage this unwanted behavior.
Step Six: Sound human
Software is convenient and makes your job easier, but don't forget to sound human. Don't be unwilling to pick up that phone and make a call to the accounts department of a late paying client.
Interact with your customers, so that they know that someone's appointed for recovery purposes too. That's how your invoice gets personal and speedy attention.
Bringing it all together for the sake of better invoicing
Now that you know 'what to do', let's figure out the 'how to do' part. Your life becomes ten times easier with invoicing software like InvoiceBerry. Everything is organized, and you end up making the right business decisions.
It's easier for you to track all the pending and outstanding payments, and reduce the chances of errors in calculations. You end up streamlining your invoicing process and send out invoices on time.
Online tools take the pain out of invoicing and help to simplify the process exponentially. Not to mention, more and more payments are received on time. Sounds like a sure-fire win to me.
Instead of drowning in the realm of traditional invoicing, sign up for a 30 day free trial of InvoiceBerry's online invoicing solution today. Say hello to automatically sending off invoices and efficiently growing your business!