11 Unconventional Ways of Increasing Website Traffic [Expert Roundup]
Written by InvoiceBerry Team on February 15, 2021
Finding ways of increasing website traffic is crucial to the success of your venture. When you think about it, a website could very well be the first line of contact between a potential customer and your business.
It's in your best interest to make sure people are finding you on the web.
Try our online invoicing software for free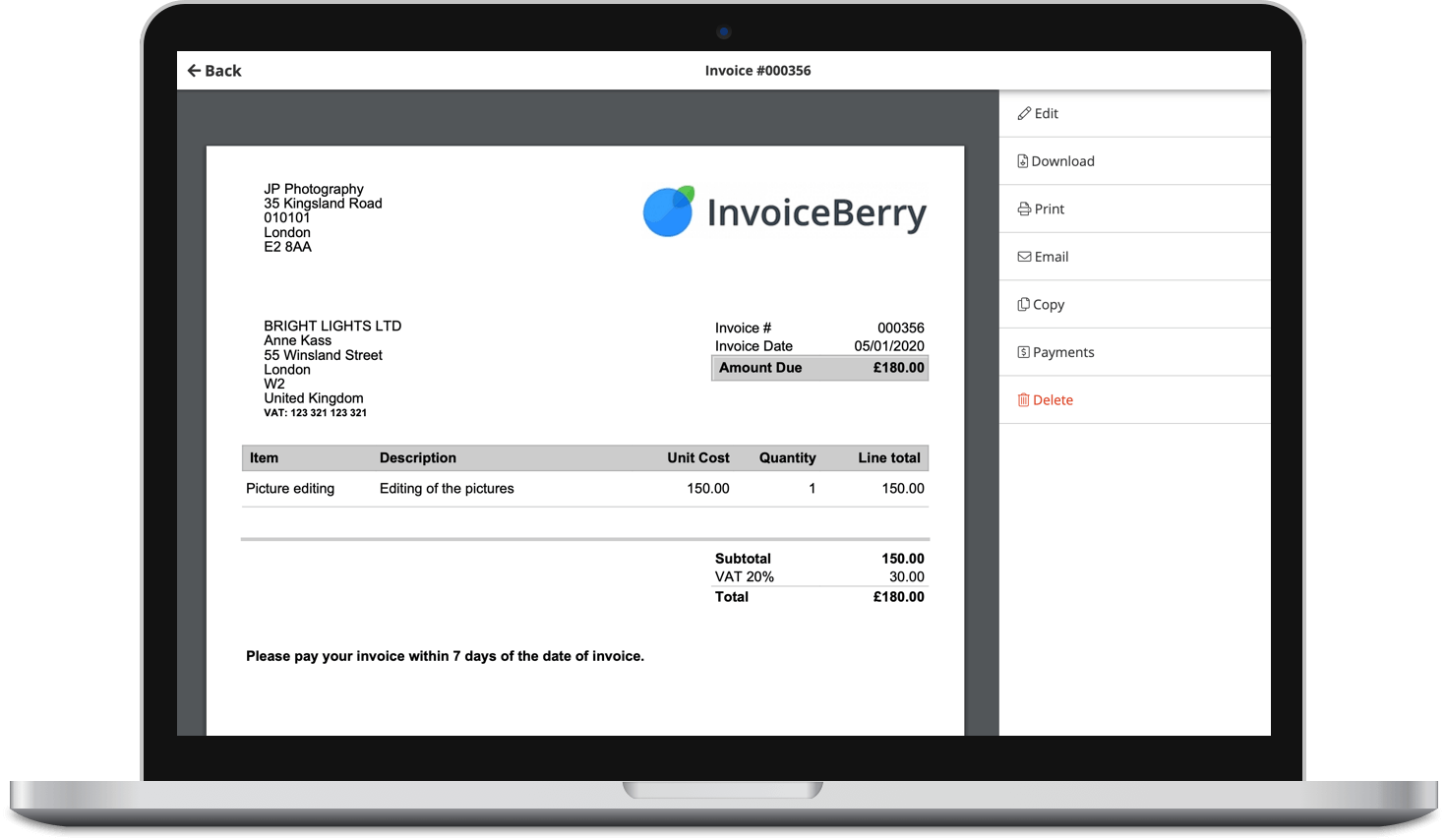 Send professional-looking invoices
Accept online payments with ease
Keep track of who's paid you
Start sending invoices
This is why we decided to gather up some expert opinions on the matter. Regardless of your business' context, you're bound to find some golden nuggets of wisdom to help boost your website traffic.
---

Lewis Goldstein, President of "Blue Wing Marketing"
bluewingmarketing.com |
 lewisgoldstein
---
One unusual tip to increase web traffic to a website or online business is a joint venture. You could arrange it so that you provide a percentage of the profit from the products or services you sell as a result of the traffic that the person or business provides.
That way everyone benefits from this. You sell more, they serve their audience and the audience gets a product or service that helps them solve a problem. It's performance-based so there is little to no risk. 
 
Another unusual tip to increase web traffic to a website or online business is to arrange a trade. Let's say you want to get a newsletter to advertise your product or service and they charge $2,000 to do that. You could trade them that amount in products or services in exchange.
If you have excess inventory or time, then you're are minimizing waste and maximizing your purchasing power by trading it for advertising. 
---

Corey Trojanowski, Director of Digital Strategy at "Valve + Meter"
---
We've doubled organic traffic to websites by simply performing a blog content audit. Essentially, a blog content audit involves taking an in depth look at all the articles you've published and assessing its relative strengths and weaknesses in order to prioritize your future content activities.
Not too long ago, we all through the best blog strategy was quantity vs. quality. The more blog articles you published, the more likely Google was going to crawl your website.
We now know this isn't the case. In fact, Google has come out and told marketers quality content that serves the user's needs is what wins search. Now, we're consolidating old blog posts with low word count and are not SEO optimized into single mega posts with the goal of winning one keyword phrase.
This practice will keep your own website from cannibalizing itself from potential search queries when Google can't figure out which blog post on the same topic you've written about seven times should be the one we show in the search result. The easy way to start is to list out all of your blog posts and identify the general topic of each one.
Find the ones you've written on the most, and find ways to consolidate these repetitive posts into one piece that is worth of ranking on page one of Google! It can be a time intensive process, but it's well worth it. The results are shattering expectations with our clients, and can do the same for your website too! 
---
Matthew Ross, Co-founder of "Slumber Yards"
---
One successful strategy we've discovered to drive more traffic to our website is producing video content on YouTube. As you're likely aware, YouTube is owned by Google, and as a result of this relationship, Google tends rank YouTube videos on the first page in search results. 
Accordingly, we've found that by creating videos that are relevant to our core demographic, we can rank on the first page organically and then drive traffic to our website through the use of verbal call-outs and graphics. 
We've been able to get in front of hundreds of thousands of potential customers that are searching for related services or products for a very low cost. To put it simply, creating YouTube content is a lot more cost efficient than strategies like PPC ads. 
---

Markelle Harden, Content Marketing Specialist at "KnowMad"
knowmad.com | 
 markelle-harden
---
If you operate in a super-competitive industry and there's no shortage of content ideas for the audience, don't try to expand the subject matter on your website. Instead of new topics, look at the data in Google Analytics to determine which website pages (and topics) yield the highest traffic numbers.
Once you've identified the topics for the top five-ten pages, explore subtopics, related questions, and industry updates that relate to the original topic. This strategy can help create content that will appeal to your target audience, ensuring a boost in lead generation and additional website traffic.
---

John Colascione, CEO of "Internet Marketing Services Inc."
searchen.com |
 colascione
---
A great way to build traffic to your site is to purchase expired domain names; web URLs which have not been renewed or web URLs for companies that have gone out of business.
Many websites go dark or come offline and those sites often have existing traffic or lots of old web links that point to them, so if you can purchased domain names which were once used for a business like yours, you will wind up getting traffic to your site, potentially forever for very little cost; only the price of the name registration each year. It's usually only about $12.
Probably the best site to find expired domain names is expireddomains.net which was developed by domain enthusiast Marco Schmidt who is currently a nominee for the domain industry's Coveted Lonnie Borck Award, where his nomination is based on the creation of the expired domains tool. 
---
Bobby Reed, CEO of "Capitol Tech Solutions"
capitoltechsolutions.com | 
 capitoltechsolutions
---
As a Digital Agency, I feel we do all of the standard digital stuff. Push out blogs, social media content, work on SEO, write case studies, get customer testimonials, and add schema to the website. But what I do that is unusual is as CEO, I add 1 meeting to the calendar every day. It is the first task I do.
That meeting could be an existing customer, a new lead, or just a person I met at an event. It might not even lead to immediate business. But I focus on expanding my network through personal contacts every single day.
While we get multiple leads consistently every day through our digital efforts, the single meeting I line up every day leads to more than 70% of our business.
It doesn't spike our website traffic too much, although most people do review the website before the meeting, and I always send a follow up referencing items on the website afterwards.
But it does certainly lead to more closed business, as people still overwhelmingly want to work with people they have a personal relationship with.
---

Nathan Thompson, Digital Marketer at "Pavilion Broadway"
---
One more novel way we drive traffic is by a combination of Google Posts and Google Maps Sponsored Listings. Google Posts allows us to host our most up to date offers, which are then triggered every time our Google Business listing appears in search results.
We find this to be a great driver of both online traffic and footfall to our showrooms, and frequently have our customers mention seeing an offer online when they pop in store.  
Google Maps Sponsored listings are another excellent way of appearing at the top of Google Maps results for luxury furniture searches in our area. If we can connect with prospective customers at the crucial time when they are planning a shopping day locally on their mobile device, we can maximize the chance of converting them to a customer.
---

Michael Tomaszewski, Content Writer at "Zety"
      zety.com | 
 michaeltomaszewski
---
For most of us, getting traffic to our website might feel like climbing Mountain Everest, blindfolded. But—there's an unusual trick you can leverage that will let you get more traffic.  
Here's what you need to do: 
One of the unorthodox methods of getting server-crushing traffic to your website is to go on podcasts. While you don't necessarily need to grab a mic and start your own podcast, you can go on other people's shows as a guest. 
As a result, you'll gain a ton of exposure, establish yourself as an industry expert, and magnetize people to your website. As a cherry on top, the podcast host will be happy to give you at least one backlink in the show notes, which should help send your Google rankings to the moon. 
---

Gregory Golinski, Digital Marketer at "Your Parking Space"
yourparkingspace.co.uk |  
 cloudninewebdevelopment
---
My tip to increase website traffic with images is to right click on any image from your website in Chrome and select "Search Google For Image". 

This will show you where copyrighted images from your website appear on the web. Whenever you find one on another website, you can ask them to credit you with a backlink. 
 
This link building strategy with images will send more referral traffic to your website. 
---

Matt Benevento, Senior SEO specialist at "Geek Powered Studios"
geekpoweredstudios.com |
 geekpoweredstudios
---
One of my favorite unusual tips for cultivating web traffic is posting on Reddit via relevant subreddits. Reddit is a great place to find users that are asking real questions in your verticals, allowing you to provide the answer and ideally link to your site, creating a new avenue of user traffic to your site.
Reddit posts routinely show up in Google search results, even posts that are many years old, if they can best answer the query.  
Successfully contributing to Reddit as a marketer can be a tricky proposition if you aren't familiar with the platform. Reddit users don't take kindly to "shills" or users that are flagrantly trying to sell an idea or product. You must establish yourself as a helpful member of the community and ensure that your posts are actually beneficial to other Redditors. 
Be honest. My post history clearly shows that I work in marketing, but am also an authentic member of the Reddit community and have solid insight into certain industries. You don't want to get called out for being a shill and be downvoted into oblivion, it will look bad for you and your client.   
If you can establish yourself and a legitimate and helpful member of the Reddit community, you will be able to successfully build new traffic and backlinks for your site. 
---

Alex Birch, SEO Manager at "Typeform"
typeform.com |
 alex-birch
---
Imgur is a diamond in the rough for blogs and sites struggling to drive traffic. If you write within a specific niche, try creating a detailed 'infographic of the week' that beautifully documents stats, facts and quotes related to your topic.
Use Imgur's 'Submit to the community' function to show it to the people.. If they like it, they'll upvote it.  
Be careful what you add to this wild west of images, the loyal Imgur crowd can sniff out a promotional post from a mile away. Humor and value is king with these folks.  It can be a tricky platform to get right, but if you provide something genuine the results can be great.
People often boast numbers of 50-80k view from popular posts, not bad for a free platform right?  
As always, try to be creative when figuring out ways to turn these views into website clicks. Don't spam links or be too promotional. Building trust can take time, but it's worth it. 
Now we draw to a close
There we have it! Some excellent tidbits of advice from the experts themselves.
Whether your key takeaway is that you need to perform a blog content audit ASAP or start venturing into the exciting and effective realm of Youtube, I'm sure these insights will prove useful in some shape or form as you work to boost website traffic.
Best of luck!
Small Business Finance 101
Download our free guide to learn the fundamentals of finance that will help make your small business more efficient and successful.