The 9 Best Invoicing Tips for Plumbers
Written by Bernard on January 31, 2017
Plumbing as an industry has been around since the first leaky faucet, and even before then. It is an industry that will seemingly always be around, as long as there are pipes carrying water.
Plumbing is also a physical job, meaning half the day most plumbers are spending their time bent over and fixing something. The other half of the day, for self-employed plumbers, they're busy trying to find and secure more clients.
Try our online invoicing software for free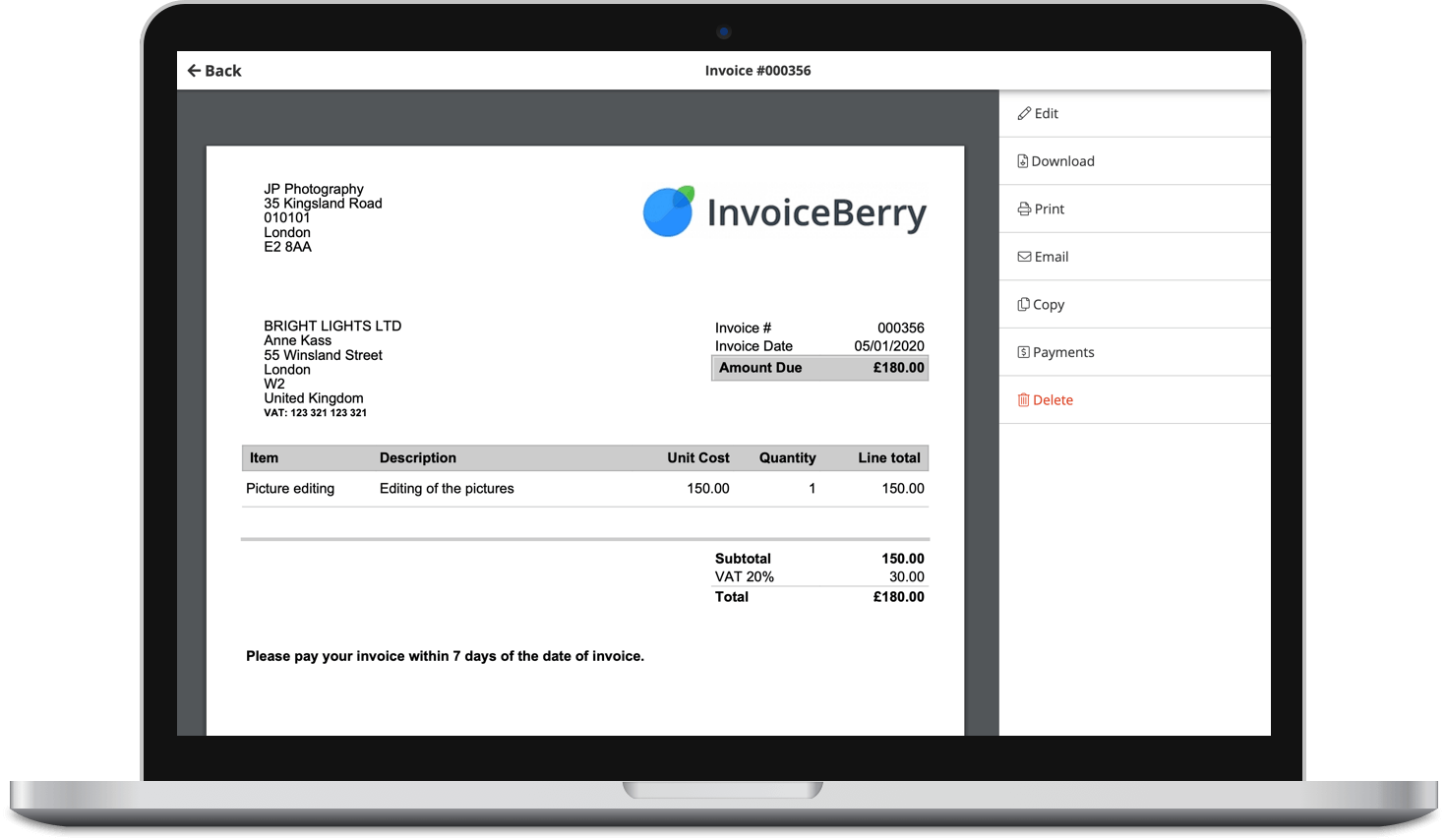 Send professional-looking invoices
Accept online payments with ease
Keep track of who's paid you
Start sending invoices
With such a busy schedule, plumbers often have little time to worry about paperwork, even when those invoices are crucial for their finances. This unfortunately causes problems in payment, such as late payment or even no payment at all.
However, it doesn't have to be so difficult. Today we'll look at the best invoicing tips for plumbers to help them get paid faster.
Write down your terms beforehand
One of the best invoicing tips for plumbers is to be prepared before you even have the job. That means that you'll need to prepare a list of your service terms so that you and your clients have clear expectations.
On your terms and conditions, you need to state very clearly:
what kind of payment will be accepted
what the due date is
whether there will be a late payment fee
the terms of the payment (before the job, after the job)
payment frequency (one lump sum, or week by week)
discounted work if there has been an error on the plumber's side
Although these can seem quite strict, it is best to set down your conditions beforehand. That way, you'll avoid any confusion later on.
Create your price list
Besides the terms and conditions, you need to clearly put down what your products and services are and how much they cost. The cost here is important, so that your clients are fully aware of what they are getting.
The prices you charge should be determined by:
your experience
your location
the complexity of the job
whether you work alone or with a team
your speed
Creating such a solid price and services list is one of the best invoicing tips for plumbers. This is because your customer will have clear prices and not be surprised later on.
However, it is also important to be flexible on a case-by-case basis and see if you can negotiate for a bigger job.
Use software for ease
It is very important that you get organized in your finances. Using Word invoice templates can be fine, but they won't help you with all the other parts of your invoicing and financing responsibilities.
For that reason, many people turn to online invoicing software.
Because everything is saved on the cloud, there is no fear of losing or misplacing important documents. You won't need to hunt down client information either, as it will all be online.
You can also get extra features like expense tracking, finance reporting and recurring invoicing for regular customers.
Send out a quote or estimate
Once you've seen the premises or looked at the job (or have a good idea based on pictures or descriptions), create a quote or estimate.
These are important so that you can set firmly what services you will be providing for the specific client. You should include the product/service, the estimated time, and the overall cost.
Your quote can also easily be converted into an invoice, so you don't have to repeat the same information. This is most easily done with invoicing software such as InvoiceBerry.
Send out invoices quickly
One of the most important invoicing tips for plumbers is that you'll have to be prompt in creating and sending out your invoices.
It's simple really: the faster you send out your invoices, the faster you'll get paid. This can be done slowly with Word invoices templates. However, if you want to get it done from start to finish in under 60 seconds, you'll need invoicing software.
That way, you can create and send your invoices in no time and get back to your work.
[ninja-inline id=8005]
Include all details on your invoice
In order for you to have the least amount of problems or confusion, you'll also have to include the most important information on the invoice.
This includes:
your payment details (bank details, online payments, etc.)
invoice date and unique invoice number
your business name and address
your company email address and phone number
the hours worked and services provided
the total amount, including taxes
When you send your invoice with these details, your client will be less likely to be confused and more likely to you faster.
Shorten the due date
Most businesses set a standard 30-day payment due date on their invoices. Although this is common practice, it is also not very wise.
When you set such a long due date, you are allowing your customer to forget about paying you. Either that, or to pay you closer to the end of the due date. That's why the average business has to wait 72 days for payment.
Avoid this by setting the due date only 14 days after receipt of invoice. That way, your customer will have to pay you sooner.
Use unique invoices
Getting your customer to pay you on time is a lot about sticking in your customer's mind. Just remember, your customer is busy, too. If they receive another standard-looking invoice, they may just quickly forget about it.
That's why you'll need to start using invoices that are memorable, and even better, suited for you and your job. InvoiceBerry's invoicing software has a great amount of invoices templates that it uses, and one of those is just for plumbers. With a great plumber invoicing template, your customer will definitely remember you.
Always follow up
Of all the invoicing tips for plumbers, this one is the most serious. You have to stay on top of your late payers. As we said before, it's understandable that your customers will forget to pay you; they're busy, too. However, there's no reason to pay you late, and half of that reason is your fault.
If you don't follow up on the late payers, they will just continue to forget about you.
Here's what you need to do:
the date after the invoice is due, send a polite email reminder
keep the tone professional and the email short (resend the invoice if necessary)
if there is still no payment after a week, make a phone call to the client
keep the tone positive and light, but remind your client that payment is late and there will be a fine (if you've decided to include penalties)
With these steps, your clients will begin to pay you on time, regularly.
The best invoicing tips for plumbers
These are some of the best invoicing tips for plumbers we've seen here at InvoiceBerry. In order to get paid faster, and more consistently, you'll have to follow these steps.