WordPress Vs. Joomla Vs. Drupal: Security Concerns
Written by InvoiceBerry Team on November 11, 2019
Today, WordPress, Joomla, and Drupal are the three most popular Content Management Systems or CMSs. Together, they occupy the majority (up to 75%) of the market's share of platforms used to develop and build a website.  
In other words, these three platforms provide the majority of the building blocks used to create most of the world wide web. But unfortunately, this also means that they attract a large number of hackers and cybercriminals to their front doors.
Try our online invoicing software for free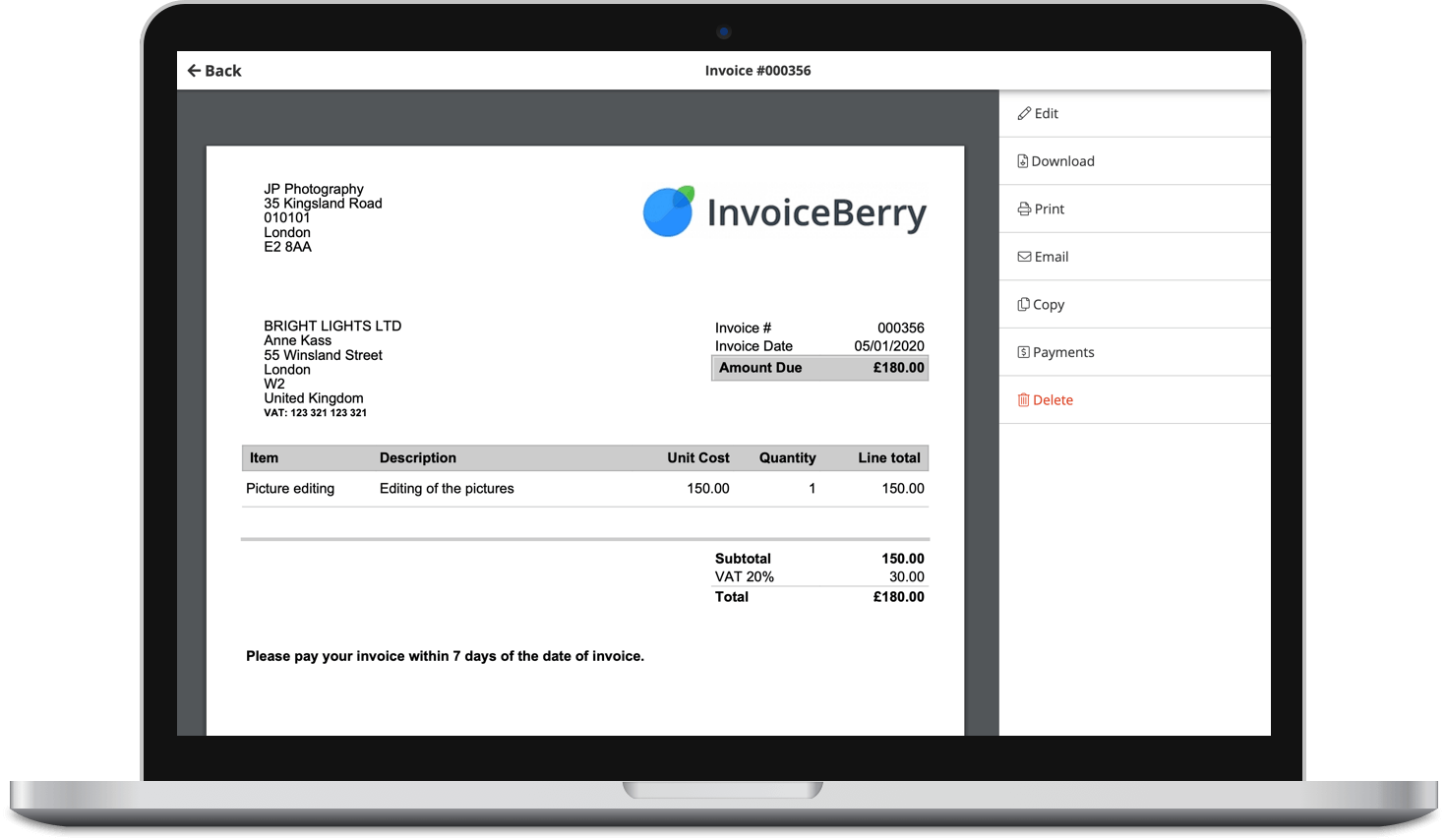 Send professional-looking invoices
Accept online payments with ease
Keep track of who's paid you
Start sending invoices
In fact, WordPress, Joomla, and Drupal aren't only the most popular content management systems, they are also the most popular targets for malicious attacks, which most often involve data theft, SEO spamming, identity fraud, and transaction fraud.
With that said, security should always be a major concern when trying to decide which CMS to use for your personal, professional, or business needs.
Fortunately, we've gone and done the research for you. The following article is going to take a look at three of the most popular website creation tools – WordPress, Joomla, and Drupal.
We'll compare the three platforms based on their levels of security, as well as explain the most common CMS vulnerabilities and how you can protect your website from these threats using services like NordVPN.
WordPress
Even if you're not a website developer or blogger, you've more than likely heard of WordPress. It is singlehandedly the most popular and most used CMS, which explains why it's also the most popular target for cybercrime.
According to a recent survey, WordPress powers roughly 27% or about 75 million websites, which includes many major names such as Sony, MTV, and the BBC. Because of this, WordPress is routinely victimized by a significant number of brute force attacks. 
In fact, studies have shown that most websites that get hacked were being hosted on the WordPress platform. In 2016, this figure was surprisingly high 16,000 websites that were hacked.
Although any CMS is vulnerable to hackings, it should be noted that the biggest security concern with WordPress arises from their third-party extensions, known as plug-ins, which make up more than 52% of all known vulnerabilities in the system.
For example, two extremely popular plugins, RevSlider and GravityForms have seen major security issues in the past, which ended up affecting a very large number of WordPress websites.
Although the WordPress team is regularly monitoring their system and fixing any vulnerabilities they find, new issues continue to pop up time and time again simply because of the platform's popularity.

Joomla
Joomla is another very popular CMS that has been around since 2005. The platform isn't quite as well-known as WordPress, but it has gained popularity with web developers around the world. It also has a very active online community of internet users focused on cybersecurity issues.
Unlike WordPress' open-source code, Joomla's code is secure. And because of this, some might argue that Joomla is safer to use than WordPress or other CMSs. However, it relies on its users to properly configure and implement its code onto their websites, making it less user-friendly.
Joomla's security team is also much smaller, especially when compared to WordPress'. But they do provide a significant amount of essential information for developers to use and incorporate when building their sites.

Drupal
Drupal was first launched back in the year 2000 and has since gained prominence as one of the world's most secure content management systems. This can be seen since it is most often used by government entities such as the Africa Union, the United State's White House, and many other large institutions.
Like Joomla, Drupal is built for more tech-savvy developers and has the capability to create a wide range of complex projects and websites.
Furthermore, Drupal is extremely proactive about cybersecurity and has a community of volunteers dedicated to continuously maintaining and improve the platform's security. They regularly release security updates and patches and notify their users each time one is released.

Protecting Your Website
As you can see, Joomla and Drupal are two of the more secure CMS platform. However, that doesn't mean that they aren't at risk of cybercrime.
In fact, since many large government institutions use Drupal for their websites, some might even argue that it is a bigger target than WordPress whose users are mostly individual bloggers.
Therefore, whether you're using WordPress, Joomla, or Drupal, it's important that you take precautions to ensure that your website is kept safe at all times.
Using a VPN
There are many different ways that you can be proactive about protecting your websites, such as using a firewall and antivirus software on your computer or device. However, the simplest and most effective way to protect yourself is to use a personal VPN service.
VPNs are private server networks that allow internet users to access the internet in a safe and anonymous manner. A VPN is created by establishing a virtual point-to-point connection through the use of dedicated circuits or with tunneling protocols over existing networks.
VPN services encrypt your Internet traffic, which means that nobody will be able to tell what it is you're doing online, even if, by chance, your connection is being tapped. The best no-log VPNs also ensure that there's no trace of your connection ever having taken place, which adds an extra layer of confidentiality to your online behaviour.
Data thieves often take advantage of open networks by setting up MitM attacks or illegitimate certificates that can give them access to your smartphone or laptop. A VPN helps you prevent the theft of your financial and personal data by encrypting your files and information, as well as by acting as a firewall between you and harmful software.
Because the best VPN services have numerous servers around the world, this means that you can filter your Internet traffic through one of their secure locations regardless of where you might be.
Another benefit of this re-routing is that your IP can be masked so that it seems like you are connecting to the Internet from another geographical location. Decrypting whatever data may be leaked by a VPN over DNS requests or a public network that is monitored is a next-to-impossible feat.
In addition, some VPN software is programmed to prevent you from accessing illegitimate websites or insecure portals that are likely set up in order to trap users into giving away sensitive information.
They create encrypted tunnels, through which any information being sent or received by your computer can travel through before reaching the internet, without being seen or accessed by anyone else.
The benefits that these services include:
Complete anonymity and confidentiality when using the internet, through technologies and policies that respect user privacy online (as well as a physical HQ or server location in countries such as Sweden which is renowned for its confidentiality legislation.)
The ability to get around geo-blocks to access locked content in other countries (for example, to see Netflix USA in the UK, to watch iPlayer when on holiday abroad or to see censored content from behind the Great Firewall of China.)
Security from spies, snoopers, hackers and general malware, by passing all user data through a secure digital 'tunnel' and encrypting it in the process for a double security layer.
Making it safe to use public WiFi.
There are dozens of VPN services on offer online – both via websites and through your favourite app store for Apple or Android phones. But how can you choose whether to go for a paid-for or free subscription? We went through Reddit users opinion about best VPNs in the industry, other review sites and here are our pros and cons of free and paid VPN.
Although there are no ways to ensure that your CMS is completely 100% safe, using a VPN ensures that you, your computer, and your data is safe at all times while using the internet.
Even if a hacker were to try and attack the CMS that you're using, if you have a VPN active, they would end up attacking the VPN's server, where the threat would be identified and neutralized far before it would ever be able to infect your computer.
Alex Mitchell is a cybersecurity enthusiast, WordPress guru, data-safety and privacy tools (VPNs, password managers, antivirus software) tester with over 10 years experience
Small Business Finance 101
Download our free guide to learn the fundamentals of finance that will help make your small business more efficient and successful.