32 SEO Tips to Drive Traffic to Your Business Website [Expert Roundup]
Written by Bernard on May 31, 2017
Setting up your business is hard enough, but if you're getting ready to create your website (which you should be doing), finding expert, useful SEO tips can be hard.
After all, SEO (search engine optimization) often can seem very technical and time-consuming.
Try our online invoicing software for free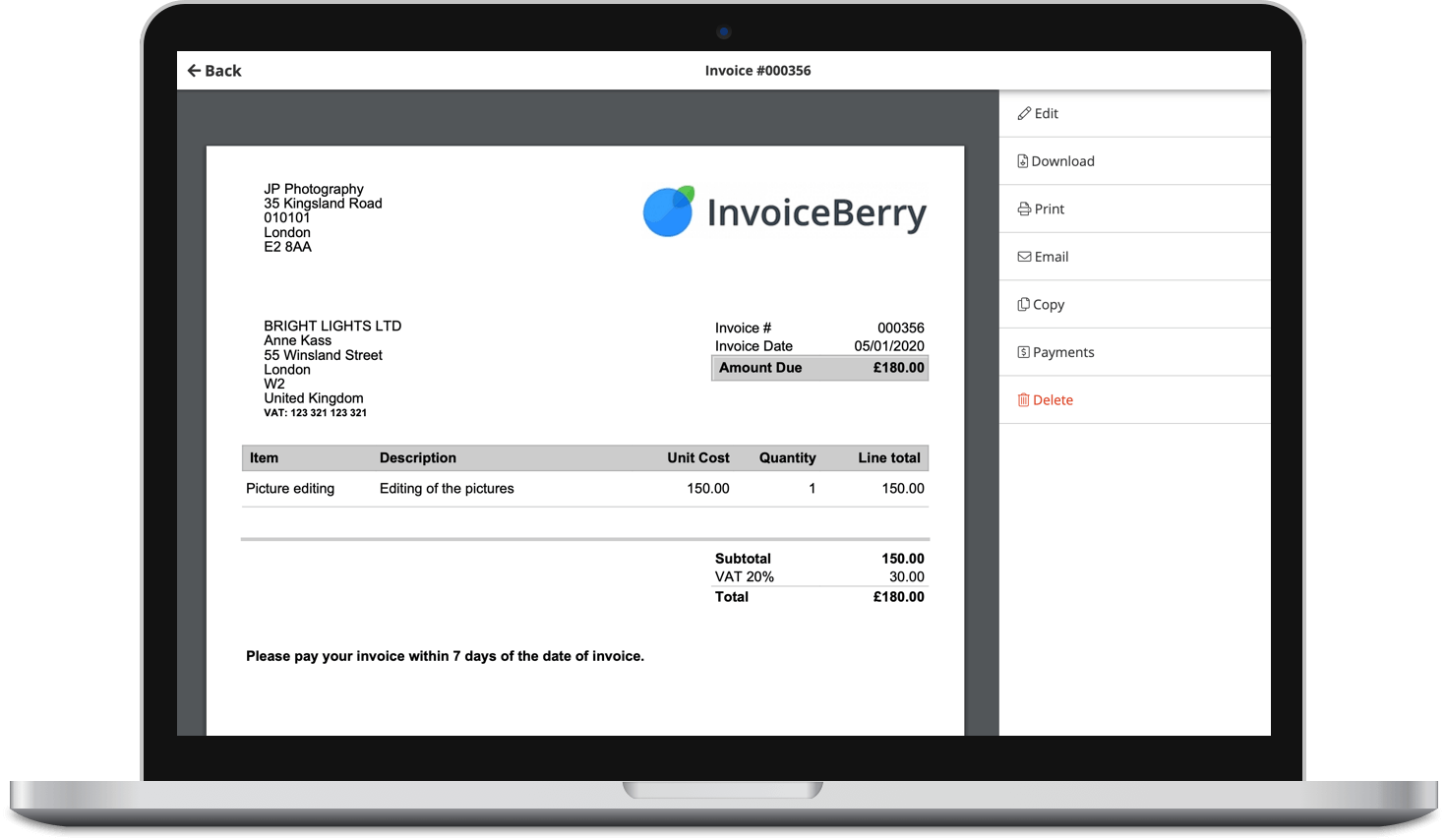 Send professional-looking invoices
Accept online payments with ease
Keep track of who's paid you
Start sending invoices
But if you're a small business owner or freelancer, you may not have much time to dedicate to SEO.
So what can you do?
Well, luckily for you, there are many different ways to improve your SEO and still run your business.
We've asked experts in SEO for their best SEO tips, and they gave us more than we can handle.
These SEO tips are made with small business owners and freelancers in mind, which means that they're easy to do and don't require a lot of time.
Let's check it all out below.
---

Brian Childs, SEO Training Program Manager at Moz
moz.com/training | 
 @thegrowthpilot
---
The most important thing for anyone doing SEO is to set up their reporting correctly. SEO is not a tactic, it is a process.
You will need to distinguish between strategies that deliver business value versus those that are not working. The way to accomplish this is by having very clear and measurable goals, and then structure your website and analytics platforms in such a way that you can measure changes effectively.
An example of a good, measurable SEO goal is "I want to see more people complete my contact form on xyz page."
You should be able to identify this action in Google Analytics by setting up a goal and then making changes to the page, testing to see if your form completion rate goes up or down.
Keyword rank positions are definitely an essential SEO metric, but rank position won't tell you if your conversion rates have improved.
Having good, measurable goals are important for all your digital marketing efforts and will help you from spending money on tactics or consultants that aren't delivering value.
What gets measured gets done.
---

Bob Bentz, Author Of Relevance Raises Response
relevanceraisesresponse.com | 
 @purplegator
---
When you create your website, keep SEO in mind. It's much easier to perform SEO strategies when you are building the site than afterwards.
The single most important thing that a small business or freelancer can do is to get the title tags right.
A title tag that says "home – name of business" is not going to do anything for your SERP's (search engine ranking positions).
Instead, use keywords that consumers would use to search for your product. Title tags are, by far, the single most important thing that you can do to increase site traffic for a small business.
---

Nick Hendricks, Director of Marketing and Public Relations at HaulHound
---
My best SEO tip for a small business is to find local charities that feature donors on their site and donate to them. If they don't link to you immediately, send over a friendly reminder.
Usually you can do this for about $99, and if your competition has no links, you will pretty quickly (within a week or two) begin getting more traffic.
The great thing about this is, while it can only scale so far, you can do it for as many charities you can find and are willing to spend the money on.
This takes away the pain of spending lots of time finding possibly disreputable sites to get a link on, and assures you that the link won't get you in trouble with Google.
Lots of my clients have actually found that these sites themselves send traffic over, as an added bonus!
---

David Tile, Founder of Nimble Media
article-writing.co | 
 @davidtile
---
Bad SEO is like throwing a coin into a wishing well, probably nothing will happen.
If you want to find SEO success, then you need to embed your keywords in content that has real value. This will make someone think "Hey! This person is right. Maybe they can help me with my problem."
Don't assume that just because someone makes it to your website that they will convert. Their visit is your first and last opportunity to convince them why your product is worth their time.
---

Buzz Tatom, Partner & Ranch Sales Associate at Venture West Ranches
venturewestranches.com | 
 venturewestranches
---
My best SEO tip is to go to the local college or junior college and hire the smartest kid you can find after talking to some professors. Many you can do as interns for free.
Teach him to blog, link build, find PINs, Social Media and outreach for guest posts. You can build a presence for a little bit of money, a little time and the satisfaction of helping someone grow.
I have done it several times successfully and we all (me, intern, and website) get a lot out of it.
---

Damon Gochneaur, Founder of Aspiro Agency
aspiroagency.com | 
 @damongochneaur
---
If you did nothing but the 3 things I've laid out below, you could conceivably rank and get solid traffic for most small business/freelancer types:
1. Create and verify your Google My Business Page
2. Get Google Reviews from your clients
3. Sponsor local events, charities, non-profits, etc for link building
A solid GMB page, coupled with strong reviews and quality local relevant links, has helped us drive significant rankings and traffic for multiple small clients who don't have the budget for larger scale content production, outreach and more in depth campaigns.
---

Matt Edstrom, Head of Marketing at BioClarity
bioclarity.com | 
 matt-edstrom
---
A sure way for a small business to improve their overall SEO is to start producing quality content regularly.
Not only does this mean that the content should be well written and relevant, but also that the content topics should be deliberate and chosen after proper research has been done.
For example, content that answers a searcher's question or intent (such as "How to Potty Train a Puppy") gets thousands of searches a month and are often thought of as more approachable and easily digestible by users. This makes them great types of articles to write.
By writing quality content, you will be able to improve your overall keyword rankings, backlink profile, and performance metrics.
This in return will help your website rank higher in search engines, drive more organic traffic and pull in more organic leads.
---

Steve Ryan, Founder & CEO of RyTech, LLC
rytechllc.com | 
 rytechllc
---
If there is one thing to pay attention to on your website for on-page site optimization, it's your title tags. Title tags are the billboard of search results pages.
Optimizing these to ensure they are clean, concise, and keyword-rich will increase the amount of customer engagement you see on your website.
Title tags are one of the on-page elements business owners can edit that have a direct effect on their search engine rankings. Edit these in your content management system and keep them between 50-60 characters.
---

Rob Swystun, Business Communications Specialist
robswystun.com | 
 robswystun
---
Videos are great for SEO because they keep visitors on your page longer, which helps your ranking. The videos have to be compelling to watch, obviously.
In addition to keeping visitors on your page longer, you can also squeeze some more SEO use out of videos by providing a transcript on your site of the content.
Any keywords that show up in your video will now also show up on your site in the transcript and it will be a handy resource for someone who can't or doesn't want to watch the video.
---

Brett Langlois, Team Lead – SEO & Content at Pure SEO
pureseo.co.nz | 
 pureseo
---
1. Set your site up on Google Search Console and use the Search Traffic report to see which search queries are generating organic impressions and clicks for your website.
You can use these queries to optimise your keyword targeting strategy, using the language that your visitors are already using.
2. Blog regularly, but don't write blog content just for your target audience or potential customers. Write it for people in your industry, and then reach out to those people directly to encourage them to share your content.
A simple outreach email message to a blogger in your industry can do wonders for your link building (e.g. "Hey, I enjoyed your recent blog post about X. It inspired me to write a similar piece about Y. I would love to get your feedback – here is the link.").
3. Distribute your content through social media, social bookmarking sites and email (to your list of subscribers).
Don't be afraid of spending money in your distribution strategy – that's how you get maximum reach.
Even a $10 boosted Facebook post, appropriately targeted to your audience, will perform far better than an organic Facebook post. And the social signals will have a positive effect on your SEO.
---

Lauren Pawell, Founder of Bixa Media
bixamedia.com | 
 bixamedia
---
My best piece of advice is for small business owners and freelancers is threefold:
Write GREAT content that targets medium to long-tail keywords.
Optimize that content for click-through rate by using a plugin like YoRocket (great for non SEO types)
Invest in building quality links to your site. (HARO is a great place to do this.)
If you can do these 3 things, you will be ahead of most small businesses and freelancers when it comes to SEO.
---

Christian Karasiewicz, Founder of Social Chefs
socialchefs.com/blog | 
 @socialchefs
---
If you're a small business or freelancer, you can take advantage of SEO on your site without having to rely on an outside agency. It all starts with writing quality, focused content that solves a problem.
The first thing you'll want to do is install the Yoast SEO plugin. This tool can help you see how well you're doing when writing, so that the more you write, the better you get at optimizing it for SEO!
Once you have this installed, it's not time to begin writing just yet. You'll want to identify a focus keyword for the content you are about to write.
If you're not sure where to look, ask yourself what questions you frequently get from your customers? Are there some that you get asked about multiple times?
You can also use Google to enter a keyword phrase to see what topics come up for you to write on as well.
By asking your customers what their pain points are and then writing about them, this can quickly improve your efficiency as a small business or freelancer. Here's why.
Instead of answering the same question over and over, you now have a link to content you or your team can share with your customers.
If you use the Yoast SEO plugin to optimize it around a particular keyword, you'll also likely bring in other people who are searching for this same answer, which can then potentially turn into other new leads for your business!
---

Sam Warren, Manager of Marketing and Partnerships at RankPay
rankpay.com | 
 @RankPay
---
One simple way to make sure your business is set up for local SEO success, is to ensure the accuracy of all of your online listings. Name, address, and phone number must be consistent to get the most out of these digital avenues.
There's no need to go crazy and submit to a ton of directories, but you will want to ensure you're in all of the most important ones (Facebook, LinkedIn, Yelp, Google+, etc.).
Believe it or not, one erroneous detail or left-over old address can impact a business's relevance in the eyes of the search engines.
Also, for the most basic approach to on-page optimization, employ keyword research to determine what keywords your target audience types into Google when they're searching for a product or service you offer.
Then be sure to include those keywords on relevant pages on your site. Place the keywords in the headers, body, page title, and image alt-tags for a basic implementation.
---

Sarah Nelson, Customer Service Manager at Staylisted
staylisted.com | 
 @Blogging_Geek
---
The best thing to do is to take control of your reviews. First of all, get as many as you can. Having no reviews can be just as bad as having negative reviews.
Don't be afraid to ask for a review. Studies show that 7/10 people will leave a review if asked. They can review wherever they're comfortable; Yelp, Facebook, HomeAdvisor, etc. All reviews matter.
Respond to negative reviews. Consumers are much more likely to ignore a negative review if the business owner responded to it in a professional manner. No attitudes.
If you monitor your reviews, you can reach out to the unhappy customer ASAP. Remedying a situation can often lead to the reviewer updating their negative review to be more positive.
---

Hailey Vasquez, Project Manager at Odd Dog Media
odddogmedia.com | 
 hailey-vasquez
---
My SEO tip for small businesses is to focus on getting Google reviews. There's increasing evidence that the quality and quantity of reviews can strongly affect a business's rankings.
Google has even started filtering out businesses with bad reviews if people use search terms such as "best" or "great."
If you're a local business that wants to show up in the local pack for your main keywords, you should try to get consistent, positive reviews. Be careful not to get too many at one time, which can be a red flag to Google that you may be paying for fake reviews.
But if you have a consistent customer flow, aim for getting a few reviews every week.
---

Joe Goldstein, Owner of American Image Displays
contractorcalls.com | 
 @ContractorCall5
---
One of the best things a small business owner can do for their SEO is to make sure the right pages are getting indexed.
Search for your site on google using the format "site:mydomain.com" and you will see everything they currently have indexed from your site.
You can then check the number of indexed pages against what's in your sitemap, look for thin pages that shouldn't be indexed (like dummy pages generated by the theme or left by the designer), and check the cache dates on your high value pages (if they haven't been cached in a while, they might need a content update or more internal links.)
---

Lisa Chu, Founder of 
Black N Bianco Kids Apparel
blacknbianco.com |
 @BlackNBianco
---
My best SEO tip for small business owners and freelancers is to build an audience. Social media and blogs are great ways to build a community around your brand.
You don't need to be an SEO guru to create and share useful content your audience will love. Building a relationship with your users will result in organic backlinks to your website.
Nothing brings you more credibility in the eyes of search engines than users promoting and sharing links to your site. The more popular you are, the more natural links you will acquire, which will result in a better SERP for your target keywords.
Provide value to your customers through service, products and content because it's the best way to earn reputable backlinks. It's clearly defined in the Googles policy backlinks are to be earned not built.
---

Kent Lewis, President & Founder of Anvil Media, Inc.
anvilmediainc.com | 
 kentlewis
---
1. Site speed: the faster the website, the better the user experience and the higher the conversion rate. As a result, Google weights speed in rankings.
Therefore, the more effort put into speeding up the site, the greater the rankings AND higher conversions for the increased traffic.
2. Mobile responsive: since Google rewards a good user experience, ensuring your website is mobile responsive is essential to maintaining strong visibility in organic search.
Many real estate websites see 25-30% of leads originate from mobile devices, which is a significant percentage. Small businesses & freelancers can use WordPress as a website platform, as it is fast, mobile responsive and easy to manage.
3. Schema Markup: Google values rich snippets/structured data, as it helps them understand the type of content contained on your real estate website.
This is particularly useful for embedding listings and neighborhood information, which can dramatically impact conversion rates and enhance organic listings. Depending on your industry, schema can provide an additional layer of visibility.
---

Craig De Borba, Onpoint Internet Marketing
onpointinternetmarketing.com | 
 californiaseoexpert
---
Step one is to create complete profiles (with the keywords sparsely placed) on all the local business listing ie Yelp, BBB, Yellowpages etc.
Then do the same thing with Google My Business and post content there regularly (also related to keyword niche services). Focus on getting lots of reviews on GMB, Yelp, and BBB and share these on Social Media.
With these profiles you can drive a link building campaign to them, rank them, and you don't have to be as picky with link quality as you do with links going to your main site.
These steps will rank your profiles and you can do the same things with video.
---

JD Santiago, Digital & Search Marketing Specialist at August
august.com.au | 
 johndavidsantiago
---
Make the most of the existing business relationships you have.
Think of the other companies you work with, suppliers, distributors, partners, local clubs even your customers. Do they have websites? Maybe they already have a suppliers or useful links page.
If you already have a good relationship with them, they might be happy to add you to the list. Find a way to leverage these relationships and gain local and relevant links.
Learn the basics. There's a lot you can do yourself like basic keyword research and on-page optimisation and even outreach.
You don't need a degree in SEO to be effective, why not save yourself some dollars and do some of it yourself? Moz's beginners guide to SEO is a great place to start.
---

Kate Neuens, Marketing Analyst at Opploans
opploans.com | 
 @kateneuens
---
If you're just embarking on your SEO campaign, you need to make sure your foundation is solid.
You can write the best content in the world, but if your robots.txt file contains Disallow: / you're not going to ever rank (because you're telling Google to ignore your site!).
So you need to:
Make sure your robots.txt file allows Googlebot to spider your site
Set your robots tags to index and follow
Get your site to load in 2 seconds or less
Make your site mobile-friendly
Set clear, consistent, and short URL structures
Make the site easy to navigate
Getting these technical aspects in place will lay a strong groundwork for your SEO campaign moving forward.
---

John Lagoudakis, Facebook Ads Expert
johnlagoudakis.com | 
 johnlagoudakis
---
If you want your website to rank on the first page of Google, here's some absolutes you must do:
Make your domain SSL secure; i.e. make your domain https://yourdomainname.com
Make sure your website has all the necessary content pages, such as your Home page, Contact Us, Products and Services, About Us, FAQ, etc.
Have a Terms of Service and Privacy Policy pages on your website with links to them in your website footer.
Make sure your site's Title, Tagline and Description are the way you want them to appear on Google Search and that they contain the keyword phrase you are targeting
Register your website on Google's Search Console (https://www.google.com/webmasters/tools/home)
Within Google Search Console, submit your website's xml sitemap. If you have a WordPress website, you can create one using the Google Analytics for WordPress plugin by MonsterInsights.
Create a Facebook page for your business. Make sure your website url is entered in the Facebook page settings. Get as many friends and clients as possible to like and review your Facebook page
Create a Google Business and also a Bing Business listing and add your website url to your listing. Get as many friends and clients as possible to leave a review.
Use free resources like HARO (https://www.helpareporter.com/) to build up quality backlinks to your website
If you do all of the above you will get your website on the first page of Google.
---

Travis Nagle, Co-Founder of Viesso
viesso.com | 
 @viesso
---
One shift in how Google values pages is giving more value to hte user metrics like bounce rate, average time on site, and average page views.
This is an indication of how the page offered to the user after landing there.
Beyond links, keywords, and other more technical elements, really focus on providing an amazing user experience on the page and any pages thereafter.
Have valuable content, engaging visuals, and an easy to navigate site so that the positive user behavior tells Google to send more traffic your way.
---

Asaf Darash, CEO and Founder of Regpack
regpacks.com | 
 Regpack
---
While there are tons of SEO tips I have up my sleeve, for small businesses who don't have a lot of time and SEO skills (finding backlink opportunities, optimizing their website content and structure, etc) a BLOG is the best and easiest way to "do" SEO.
A blog serves a few purposes.
1. It builds your website! Every blog post is a new website page, and showing adding new and fresh content on a regular basis is great for SEO.
2. Writing a blog is easy if you are an expert at your business. You know your clients, what they would enjoy reading and can write content that is related to what you do. This makes ranking for keywords easy, since it comes naturally and doesn't require tons of "research" to find the best keyword, etc.
3. It's a great way to then get on social media and share! Which helps your traffic, and your SEO. It's easy to write a Facebook post sharing your latest blog post, or comment on other posts on social media with your post where relevant.
The best part is writing a blog is FREE! You can do it yourself, it's great for SEO, and isn't super time consuming. The perfect combination for a small business owner!
---

Michael Mignogna, CEO of Minyona
minyona.com | 
 @mikeymignogna
---
You don't need to have SEO knowledge to get started on the right foot. What you do need to have is a website with a blog, and that blog should consist of answers to commonly asked questions.
For instance, if you're an HVAC company and you want to begin ranking for keywords pertaining to 'ac repair,' start writing blog posts about AC repair that answer questions you get from clients and potential clients on a regular basis.
A good rule of thumb: If people are regularly asking you certain questions, chances are they're also asking Google those questions. If you answer those questions really well on your blog, Google might just show you on the first page.
---

Drew J. Stevens Ph.D., President of Stevens Consulting
drew-stevens.com | 
 drewstevens
---
Here are some simple things that might get you started so that if your business or your website is not obtaining the traffic, you desire these ideas might create some changes.
Keywords are nothing more than the specific descriptors for your business.
For example, if you are an auto repair shop then you need to have the words that your consumers use to help find you on the Internet.
Using terms such as auto accident, car dings, dents, fender bender etc. will allow your order repair shop to be found more easily.
Further, you need to ensure that your city and state also appears on your website. These keywords must be shown on pages of your site where you describe your products and services.
This will allow your site to appear quickly on the first page of Google and be considered amongst your competitors.
---

Jason Parks, President of The Media Captain
themediacaptain.com |
 @TheMediaCaptain
---
Start working on your SEO a year before your website launches. Most people underestimate how long it can take to rank well on Google, especially if they are in a competitive industry.
The second you conceptualize your idea and bring a developer on board to build your site, have them build a splash page that says your company is "coming soon" with a basic overview of your product or services.
The reason why this is important is because if you purchase a domain and can get credible external links pointing back to your domain, you are boosting your SEO…
Let's say you are a doctor who is opening up a practice, start contributing article content on external sites sharing your expertise. You'll get links pointing back to your site which will help your SEO.
In taking this proactive step, by the time your website launches, you'll have a strong SEO foundation and can rank on the first page of Google quicker. This will help you bring in more business and it will yield one of the best return on investments from a marketing perspective.
---

Christian Sculthorp, SEO Consultant
at Sculthorp SEO
sculthorp.com.au | 
 @sculthorpseo
---
This pertains more to small businesses but can also work for freelancers (if you work locally).
Everybody overlooks Google Maps when you're thinking about SEO. Most likely, if you're a small business, that's what you want to rank for.
Here's my 1-2-3 super simple guide to optimizing and crushing it on SEO for Google Maps:
Register and fill out your Google My Business profile. Pick as many categories as are relevant to your business.
Go sign up for Moz Local and register your business.
Sign up for GetFiveStars and start generating reviews to your Google My Business page.
It's THAT easy. That's basically all many local SEO providers do anyway.
---
 
Kristian Rivera, Digital Marketing Specialist at Fit Small Business
fitsmallbusiness.com | 
 @FitSmallBiz
---
A great way to build exposure for your brand and build links to your site is by answering HAROs.
For those unfamiliar with HARO (Help-A-Reporter-Out), journalists send out queries looking for experts to provide tips and advice for content they are currently writing. Why is this so great?
You can show your expertise
You can build relationships with journalists
You can get links back to your site
Keep in mind, you don't want to answer just any and every HARO, but those that are relevant to your area of expertise and your business/website.
---

Ainsley Llewellyn, Homes and Villas Abroad
homesandvillasabroad.com | 
 @Homes_in_Italy
---
One of the easiest SEO tips for small businesses is fixing broken links to your site.
It's practically zero-cost and you don't have to spend time and effort doing outreach to other sites for inbound links.
The first time I cleaned up broken links on our site our traffic went up nearly 15% in little over a week. Here's how it works:
Log into Google Search Console (formerly Google Webmaster Tools).
In the left-hand menu, click "Crawl" and then "Crawl Errors".
You will see errors for the past 90 days under headings "Desktop" and "Smartphone".
Click on each heading in turn for a list of broken URLs ranked in order of importance.
Clicking on each link in turn will show you the page(s) linking to it.
If they are pages on your site, head to those pages to amend the link.
If they are pages on external sites, contact the site owners to ask them to redirect the link to another suitable page on your site. Should this prove problematic, you may wish to install a 301-redirect from the non-existent page/link to a suitable replacement.
---

Paul Allen, SEO Consultant at Dublin SEO services
dublinseoservices.com | 
 SEOJediMaster
---
One of my best SEO tips for small businesses and freelancers is often one of the most overlooked.
Often times, Titles and Meta descriptions are used to get your keyword out there and provide information about your business, service or article.
But what should be taken into consideration is that once your article has been published, it is in a constant, never ending battle with all the other articles around it to attract the attention of readers.
Focusing on language used here and not just keywords can really help an article stand out.
And if an article in position 6 on Google's front page is getting more traffic than the article in position 5, Google's search algorithms will sit up and take notice. They will bump your article up.
So instead of saying:
Top 20 SEO Tips for Small Businesses
Say:
20 Fast & Effective Tips to GROW Your Site [Small Business Edition]
Have a think about it. There are lots of ways to get creative and make your listing stand out from the crowd.
---

Nikolay Trifonov, VIP Spades
vipspades.com | 
 vipspades
---
1. Set alerts for your brand name! Since we do a lot of direct marketing, occasionally someone will mention us in their media without us knowing.
With the proper brand name alert set (be it Google Alerts or any other tool) we can trace all the unlinked mentions, connect to the author, and request to turn that mention into a link.
Be sure to set all the variations your brand name could have (e.g. "VIP Spades", VIPSpades", "Spades VIP", etc.)
2. When doing outreach, never work with pre-made templates. Try to be personal.
If you want to convince the other party of collaborating, write the mail as you would write a relative. Be clear on what you want and try to give them a perspective of what they would win if they include your blog post/infographic/whatever you're giving them.
Point out numbers ("we had 600,000 unique visitors last month that all fall into your target group"), show them their benefit ("our game is really liked among your readers") and never beg.
Most will reject you and you should be fine with that.
---

Dimitris Tsapis, Content Manager at Linkody
www.linkody.com | 
 @Linkody
---
The one thing I would recommend to anyone is to focus more on the quality of your backlinks, instead of the quantity.
A few years ago, you could simply rank articles by adding lots of irrelevant backlinks to them, such as links from directories, forums or websites that have nothing in common with yours.
In 2019, however, all this has changed. At this moment, when it comes to ranking, Google's algorithm is more focused on the relevancy of your backlinks, as well as their authority in the niche you are serving.
And the best way to find relevant backlink opportunities is to check what your competitors are doing. Which websites are linking to them and to what type of content? Go through the linking websites are discover opportunities to get high-quality backlinks.
As great as your content may be, if you stuff it with irrelevant links, it will never reach the eyes of the people you are trying to target.
Therefore, paying attention to quality over quantity is a guaranteed way to help you increase your page rankings, thus bringing more traffic.
Have any other amazing small business and freelancer SEO tips you'd love to share with us? Let us know in the comments below!
The Ultimate Social Media Tool
Download our free guide to learn how to create shareable content, generate website traffic & increase conversions.