Turn Holiday Shoppers Into 'Forever Customers' [Expert Roundup]
Written by Mindaugas on February 11, 2019
Holidays are not only for family gatherings or overindulging on delicious food  – holidays also come with new business opportunities. Holiday shoppers are eager to unearth new products and services that tickle their fancy; how do we get them to come back once the season of shopping and giving has come to an end?
There are variety of industries that take advantage of the holidays in order to expand their client base. Varying tactics are employed that help reel in new customers and retain them year-round.
Try our online invoicing software for free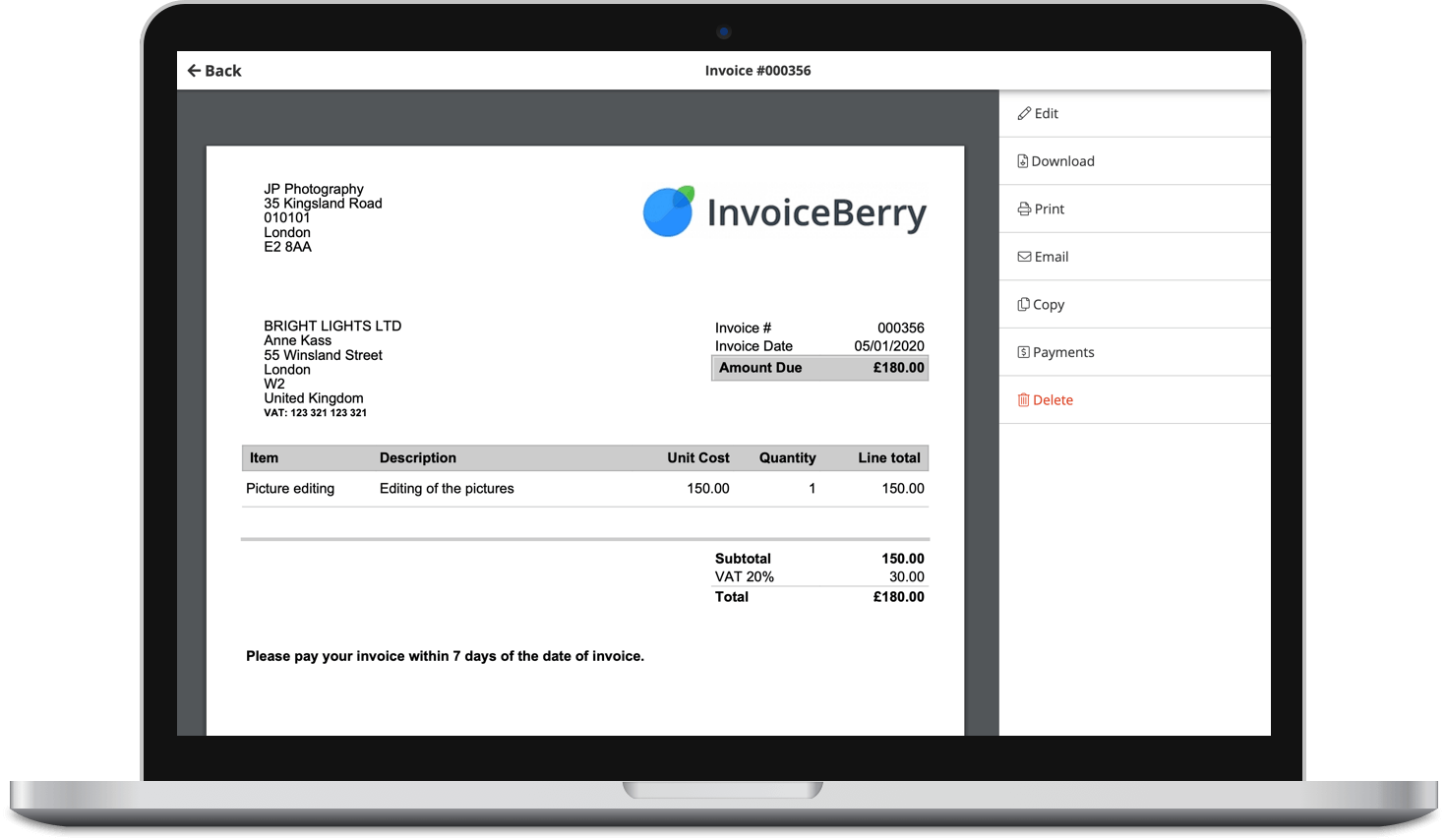 Send professional-looking invoices
Accept online payments with ease
Keep track of who's paid you
Start sending invoices
What specific strategies are being incorporated during the holidays that cultivate long-lasting customer loyalty? Bellow are 14 testimonies from business experts that will help you maintain the customers you've acquired during the holiday season.
---

Steve James, Marketing Consultant
 stevej1
---
Any planning for marketing and sales over a predefined time span, such as Christmas, should also include pre-event advertising and customer contact after the event. These plans should be put in place as soon as the campaign is realized.
Think of advertising your special sales event three weeks before the date, and ensure that it links with the next sales event: Black Friday sales lead to Holiday Sales, which leads to late January holidays.
Show who you are advertising to (audience), and where can you find them (location)? How are you going to attract them to your events? Any sales opportunity is a chance to give them something that links to the next event – after all, your advertising brought them to you in the first place.
Find a reason to gather their contact info at the point of sale: Newsletter – be first in line to get our best deals, etc. Make them feel at home, and they will become not only repeat purchasers, but will also spread the word of your business to others.
---

Deborah Sweeney, CEO at MyCorporation.com
mycorporation.com | 
 deborahsweeney
---
Providing customers with the opportunity to interact with the products is a benefit and detains customers in your establishment. Almost anything can be purchased online now but customers still like to go shopping and experience the actual products they intend to buy; providing that interaction increases consumer satisfaction with your store and keeps them with you longer.
If your store is an online store, provide customers with a description of the product that is both understandable and informative. Customers will appreciate knowing what they are getting and again, will be in your 'store' longer
---

Cristian Rennella, Co-Founder of oMelhorTrato.com
https://www.omelhortrato.com/ | 
 cristianrennella
---
After 9 years of hard work to go from 0 to more than 21.5M customers, I can assure you that the BEST strategy to convert holiday shoppers into customers is implementing "Gamification" (Wikipedia: is the application of game-design elements and game principles in non-game contexts).
In this way, we developed a game called "Come Back to Win" with different levels, points, prizes, and board with positions that are reached depending on the achieved goals (number of purchases in a week, in a month, size of your purchases, combination of offline and online purchases, etc).
Thanks to this gamification of holiday shoppers, we were able to improve our sales by 14.6% (yes, AMAZING!).
We believe that the main reason why it worked better than any other option is because of the game format where a lot of commitment came from the younger customers.
---

Amanda Sutton, CEO of Catalyst Communications Choreography
catalystcc.ca | 
 @catalystccpr
---
When it comes to the holidays, one way that companies (especially small ones) can stand apart is with their customer service at point of sale. And for most companies with limited time around the holidays – that means automation and a little forethought.
A thank you also goes a long way, but there are multiple things you can incorporate into your sales and online purchase process that can seal the deal for these first time buyers and turn them into FANS of your brand!
Some tips:
Offer a Thank You in the form of either a Draw entry or free gift on their first purchase – something unexpected is always nice and makes them feel like a King or Queen!
Ensure you are offering at least 1-2 chances to capture their email: for future membership, communications, sales and discounts, etc.
Entice them to take a step to your Facebook or other social media pages IMMEDIATELY after purchase – upon which they should find other discounts, consistent posting, VALUABLE content – and generally impressing them with your professionalism and knowledge.
---

Brandon Chopp, Digital Manager at iHeartRaves
iheartraves.com | 
 iHeartRaves
---
As an e-commerce store, one of the things we do around the holidays is send out redeemable promotion codes that can be used up to one month after the original purchase date. For example, if someone makes a purchase on Black Friday, we'll include a flyer with a unique promotion code so they can receive a discount on their next purchase if made within the next 30 days.
We usually offer a 20% discount, but this varies. This encourages customers to come back and visit our online store again. Our inventory constantly changes with seasonality and a number of other factors, which increases the likelihood of a customer finding something they'd like to purchase.
---

Vassilis Dalakas, Ph.D. Professor of Marketing at Cal State University San Marcos
https://www.csusm.edu | 
 vassilisdalakas
---
The key is to think of this as building a relationship with the consumer the same way as building relationships with another person in other contexts.
Along these lines, the secret is about what *not* to do after the one-time holiday purchase: Do not bombard the consumer with emails or other messages after their purchase, letting them know about offer after offer and asking them for another purchase. It is the same thing as having a first date with someone and then constantly sending them multiple texts within the next few days asking to meet again.
Such behavior is more likely to repel than attract. However, companies often do exactly that and, instead of building a relationship, they actually push the consumer away. So, if you want to turn the one-time holiday shoppers into repeat life-time shoppers, build the relationship slowly and be wise about not overwhelming them with ads and promotions right after the purchase.
---

Brandy Miller, Executive Story Teller at '40 Day Writer LLC'
https://writeyourbook.today/ | 
 brandymmiller
---
The secret to turning a one time purchase into a lifetime customer is to go beyond the expected in terms of what you give them. This doesn't have to be a huge expense on your part. It can be a simple tip sheet on how to do more, get more, or make more with their purchase.
People buy to get results – so always seek to deliver greater results than they ever imagined they would get for the money that was spent with you.
If you do this every time, you will have buyers who become fans and come back to buy from you every time and those fans, over time, will become raving fanatics who can't stop talking about you.
---

Natalie Athanasiadis, Owner and Head of Growth at Ormi Media
ormimedia.com.au | 
 natalieathanasiadis
---
To turn once off holiday shoppers into loyal repeat customers you can nurture the relationship after their purchase via email. Email consistently remains a strong and powerful tool to generate revenue for businesses.
It helps keep your brand top of mind for purchases and can generate buzz for new items or sales. Ideally, depending on what your products or services are, you will not just bombard your audience with sales material.
Try to include entertaining, educational and curated content that actually makes people want to read your email blasts. Don't be shy to let people get to know your brand better, people like to do repeat business with brands and people they like. Build that relationship and the increased repeat business will follow.
---

McKinzie Bean, Founder of Moms Make Cents
momsmakecents.com | 
 @momsmakecents
---
There are two key ways to turning a one time customer into a forever customer:
1. Wow them – Make sure that their first experience with you is a phenomenal one. Surprise them with faster shipping, a handwritten note, or a surprise gift with their order. Chances are they are going to be getting a lot of orders and you want yours to stand out and make them say, "Wow, these guys really go above and beyond".
2. Have an email marketing plan – After their purchase make sure to keep the lead warm. You can easily set this up with an email service provider. Check-in to see if they are enjoying their product, add value and instruction on how to use the product and then share complimentary products. This sequence can be spread out over a six month period and will help keep your business fresh in their minds even after the holidays are over.
---

Ana Santos, UX and CRO Consultant
ana-santos.com | 
 @ux_by_ana
---
User Experience is key. User Experience encompasses all the touch points up to and beyond the final purchase – this includes your business' website, your store, your customer service and post-sales activity.
Stats say that 62% of visitors who have a bad experience would never purchase from that brand again in the future. So even if your visitor was able to purchase a product due to the holiday season need, you'll only earn their trust and loyalty if ultimately you provide them with a great user experience.
---

Anthony Capetola, Marketing Manager at Sales & Orders
salesandorders.com | 
 anthonycapetola
---
Making use of a memorable packaging/unboxing experience can help with turning one time shoppers into forever customers. By creating a premium unboxing experience that leaves a positive impression with a first time shopper, you help with brand affinity as well as creating a personal connection. This type of experience will lead shoppers to keep coming back for more.
A few things to consider adding to make a memorable unboxing experience:
Ditch the boring brown box and have a great design that sets you apart from the competition
Connect with shoppers on a personal level by thanking first time shoppers for their purchase (acknowledging that they could have bought from others but chose you specifically)
Include a small add-on / sample (for example if you're selling coffee and someone purchases several pounds, consider adding a small sample of another blend)
While custom packaging costs extra, the ROI will be worth it as you'll set yourself apart from others (better brand recall) as well as delight your first time customers which will ensure that they come back for more.
---

Emil Kristensen, CMO and Co-Founder of Sleeknote
sleeknote.com |
 @emilkristensen
---
With website traffic increasing during the holiday season, it's the perfect opportunity to grow your email list with quality leads.
Ecommerce companies are often at the mercy of Facebook and Google, and if they decide to make changes to their policies you could end up significantly worse off. In contrast, you actually own your email list, so no amount of policy changes will be able to stop you from being able to directly interact with your customers through email.
Another benefit of having an email list of quality leads is that it supports repeat purchases. In a world where competing on price is becoming the norm, being able to directly contact customers to encourage repeat purchases is more important than ever.
Finally, qualified email leads allow for abandoned cart emails to be sent out. Not only does this reduce the amount of revenue lost due to a purchase not being completed, but it also enables you to take advantage of further upselling opportunities.
---

Josh Meah, Marketing Specialist and owner of JoshMeah.com
---
The key is that businesses must understand the quality of the first buying experience and how it attaches to the second. For example, many consumers will experience a new fashion brand on Black Friday due to the steep discounts and diversity of clothing on sale — this is an opportunity for many high-end brands to bring more consumers into their market.
The mistake many businesses make is not having a reliable follow-up process to convert first-time purchasers into repeat buyers. Email and post-card advertisements and even short-term promotions exclusively to new buyers — so that a second purchase is encouraged almost immediately after the first — can help cement long-term buying behaviors.
Another example: people often go out to eat more over the holidays. Yet, savvy restaurant owners know that it usually takes 3 visits to turn a new customer into a "forever customer."
It's a good idea to offer a unique experience on the first trip, a promotion to come back a second time, and then an even better promotion to come back a third time; that point, one behavior has led to another, and the restaurant may have a new long-term patron.
---

Elijah-Blue Vieau, SEO Manager at Looka
looka.com |
 @ElijahBlueWho
---
Email is by far the best marketing channel to convert shoppers from a one-time purchase to a repeat customer. Sending a thank you email 1-2 days after their order is complete can yield an open rate of 40% or higher.
Keep it short and sweet, with an incentive or coupon code to fuel a second transaction.. Once that second order has happened, continue to add value with an email follow up sequence that includes useful, relevant blog posts, sprinkling in coupons or exclusivity as needed.
To take it a step further, invest in a social media campaign to retarget those holiday shoppers on Facebook and Instagram. Retargeting enables you to show specific ads to specific customers – specifically those who have completed a purchase, or abandoned their cart during checkout process.
Retargeting is not only cost-effective, but it's been shown that customers who've had a great experience with a brand on social media are 71% more likely to recommend that brand to their friends and family.
Lastly, even though customer service demands can be higher during the holiday rush, you must maintain the highest level of service possible. Nothing turns off a post-purchase customer more than sub par support.
Do you have any holiday customer retention strategies of your own? Share your thoughts and ideas in the comment section bellow, I would love to hear your input. 
Small Business Finance 101
Download our free guide to learn the fundamentals of finance that will help make your small business more efficient and successful.