How to Start a Dropshipping Business
Written by InvoiceBerry Team on June 28, 2021
Many people nowadays are on the search to find jobs that enable them to do what they're good at and some people come up with creative ways to make money. Earning money is not a big deal for people who are working in huge companies that pay well. But for those who are thinking of starting their own business, it might be tough.
This is because we all know that if you are going to begin a business, you need to invest money for buying products that you are going to sell, advertising them, renting a place to keep the inventory and so much more. But wait, what if we told you that you don't need that investment? This is where dropshipping comes into the picture.
Try our online invoicing software for free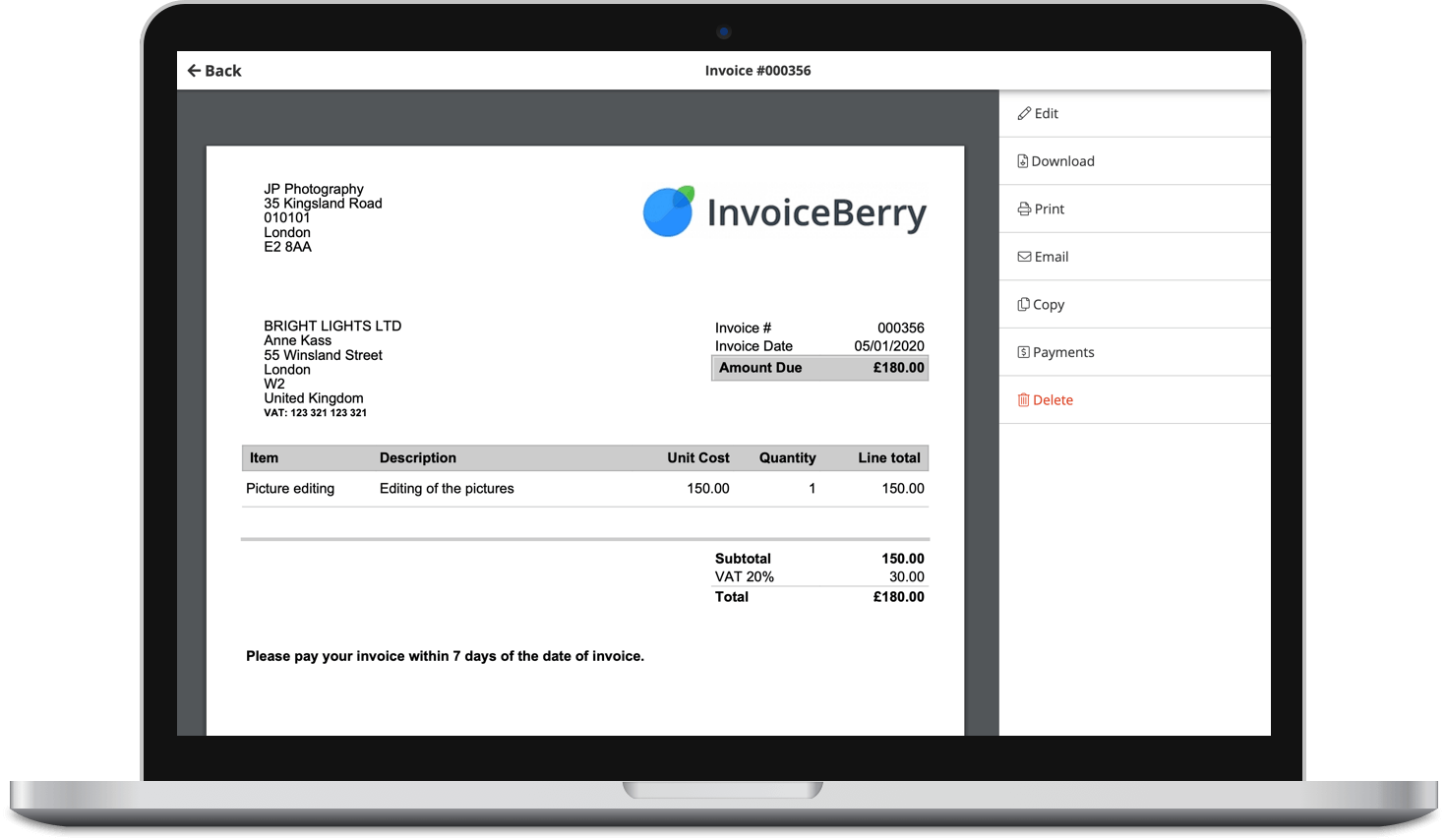 Send professional-looking invoices
Accept online payments with ease
Keep track of who's paid you
Start sending invoices
Dropshipping is a kind of retail business where the seller takes the customers' orders without owning any stock or inventory. Instead, they send the details and address of the customers to a third party that directly ships the item they ordered.
Dropshipping began to gain popularity when AliExpress launched its Chinese eCommerce stores in the United States. At first, most people did not know what dropshipping was, but some capable entrepreneurs carved their way into this business. Dropshipping is considered to be the easiest method to make a living without having to invest too much money.
As simple as it sounds, this type of business has its pros and cons like any other retail business. If you are already into e-commerce, you can make use of dropshipping as an accompaniment to your business. If not, you can make dropshipping your full-time work. The only thing is that it might be a little hard to work things out and get customers in the beginning.
Advantages of Dropshipping
Unlike any other businesses, dropshipping has one of the greatest advantages which is capital investment. Dropshipping calls for less capital which makes it effortless for sellers and saves them a lot of money. Initially, retailers had to put money into starting their own business and purchasing inventory.
Plus, you do not have to buy any products unless the customer has ordered and paid for them. Cool right? Unlike normal retailers, you would not purchase the products in advance so you can quit or stop selling whenever you want which means there is barely any risk.
Another advantage of dropshipping is that it is easy to get started. Running an e-commerce site is way better than having to deal with physical products. You do not have to bother about the packing and shipping of orders, you do not have to pay for an inventory or a place to store your goods. You also would not be concerned about managing the stock or returns if any.
Dropshipping Flaws
Low margins are one of the major drawbacks while dropshipping. You cannot make as much as you expect. As you are reselling them, the products already have a price and you can not set the margin high because no one is going to buy them if they are expensive.
Another drawback is with the inventories. You can keep track of your products and know whether they are in stock or not if you maintain your warehouse.
But when you are buying from multiple traders who are also selling their products to other resellers, you cannot keep track of the stock. Plus, there might be issues in shipping and some supplier errors. At times, customers may get another package instead of what they ordered.
Now that you got to know the pros and cons of dropshipping, here is how you can get started with dropshipping:
Website
The most important thing is to build your e-commerce site. Whatever you do, building your e-commerce site is the most essential part of dropshipping. Many platforms allow you to create your e-commerce website. So, it would not be much of a problem.
The only thing that sets you apart is how you build your website. Design your website in a way that customers are attracted to it and visit your website often. This can increase the number of buyers wanting to make purchases.
You can also create a dashboard that tracks all of your goods, sales, profits, and much more. Therefore, choose a platform that offers you great features and integrations for building your website.
Niche
You will need to select a niche. Something you are interested in, something that you would want to do more of. If you are not engrossed in the niche you chose, you would be discouraged and you would not feel like doing more which will lead to you ending your business in between.
Choose the niche which brings you more profits. More profits mean more money, who would not want money.
Margin Amount
Next, focus on the shipping charges. If the shipping charges of the product are less, you can set the margin amount high which eventually leads to you making more money.
However, if the shipping cost is high, the customer would not consider buying it and your margin would be less. So, find something that is affordable to supply so that you can also offer them to ship for free. Have a squint at what customers would buy on the spot without any second thought.
Many people search for products online that are not available in stores. So, try selling those kinds of products that can make you a profit. All of this will depend on the niche you select so, wisely choose the right niche that you want to start with.
Competition
Always look for competition. I know this sounds crazy but you should always look for competition. Most people take the wrong step by looking for products that have less competition.
But less competition can mean a lot of things like the products may have high shipping charges, supplier issues, poor quality, and much more. So, no matter what, look for competition. Consider selling products that are in demand and have people who are willing to buy them.
Suppliers
Choose your suppliers wisely. You would not want to deal with fraud or a corrupt supplier and wreck your business, would you? Take your time in selecting a supplier who is good at communicating and considering your requests promptly.
Even if it takes time, keep searching for the best, and try avoiding the wrong suppliers. This will save your business and reputation in the long run.
Advertising
Run advertisements about your business and let people know what you do, what you are selling, where you are selling, and other important details. Start campaigns on Facebook, put stories on social media, build your audience with webinars, increase engagement with polls and surveys and let the word of your business spread by word-of-mouth.
If you want customers, you have to give them what they like and attract them by any means of advertisement. Send emails about your business and provide them discounts and special offers on occasions.
Conclusion
There are many ways to start a Dropshipping business but what matters the most is how to begin one, what to start with, how to gain customers, and popularity. For people who are interested in doing so, this article hopefully gave you the push you need. Besides, who would not want to earn money without any risk?
Small Business Finance 101
Download our free guide to learn the fundamentals of finance that will help make your small business more efficient and successful.