How to Start Your Lawn Care Business
Written by Bernard on July 06, 2016
In and around May, the lengthening days begin to fill with the sounds of children playing, dogs running after bicycles, and the steady buzz and hum of a lawnmower cutting grass.
For many people, these are the sounds that signal the coming summer and it's time to get out the gloves, soil and fertilizer and start working on their garden.
Try our online invoicing software for free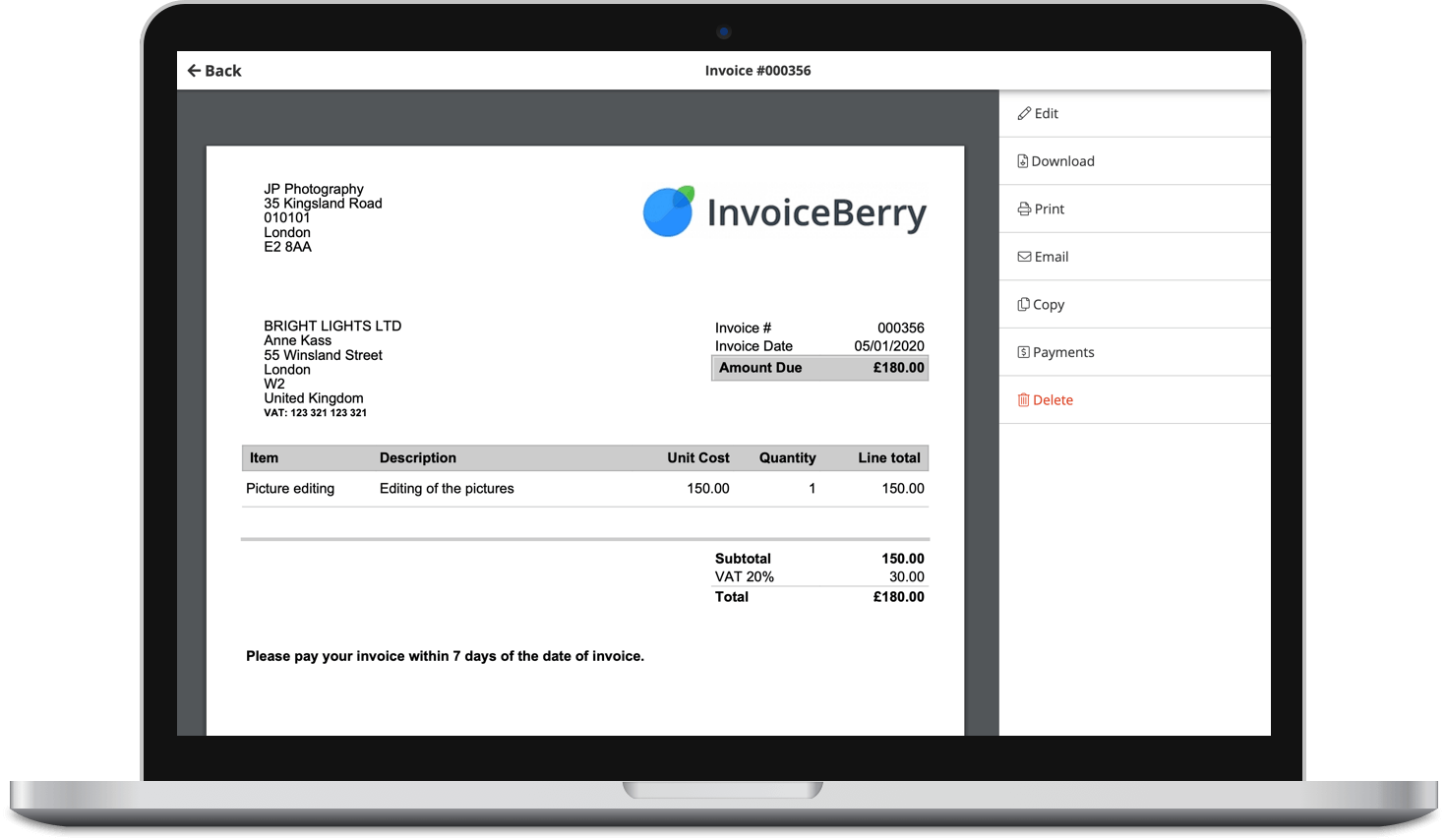 Send professional-looking invoices
Accept online payments with ease
Keep track of who's paid you
Start sending invoices
For many others, however, especially the busy father or mother, it means having to go out every Saturday or Sunday morning and cutting grass in the hot sun for an hour or more on end. This is enjoyable once in a while, especially with an ice cold lemonade or beer as a reward, but for many busy people, it's become a chore.
That's where you come in.
See, I know you. I know you like the look and smell of newly cut grass. You've even read that that wonderful smell can relieve stress.
You love running your hands over those bristles, the edgeless blades of grass pert and picturesque after each cut.
It's the act of taking something that was wild and unruly and turning it into a tamed and beautiful masterpiece. You just want to lie down and roll around and run and play on it.
You see those edges where the grass is slightly uneven and you know how to fix them. You see the weeds and can picture their roots digging deep into the ground and stealing nutrients from the beautiful, life-green grass.
You know how to make basic, checkerboard, and criss-cross stripe patterns when you cut, the right amount of fertilizer, the right seeds and how to sow them.
In a word, everything. You know everything there is to know about grass.
Except:
How do I start my own lawn care business?
It figures, you love it so much, you're so good at it, you should probably make a business out of it. People have been telling that to you for ages, and now you've finally found it's the right time—the right season—to start.
In this guide, we'll explore how to start your own lawn care business by going over the basics, and then how to get your first customers, grow your business, and decide whether you'll need to get any extra help.
But first, let's look at some of the advantages and disadvantages of starting your lawn care business in today's market.
Advantages
There are many advantages to the lawn care business.
First of all, you have the flexibility that you can only get from working for yourself. This means there's no boss, just you, and you can decide what times you want to work and where.
Even better, if you're working in or around your neighborhood, you don't even have to drive very far, and many of your clients will be locals.
You can decide to sleep in a little and begin work at 10, or you can start early and finish before 4. It's all up to you!
The business is also stable and repeatable, with many great options for upselling consumables.
Your clients will need to have their lawns mowed about once a week, and you can have these customers in perpetuity for most of the year, depending on where you're located.
---
Your lawn care customers will need to have their lawns mowed weekly, and you can also sell them consumables.
---
You can also provide extra services, such as selling consumables, a growing global market. Not only do your clients need their grass cut, they also need to have their grass taken care of—the other part of your business—and you can provide fertilizers and bug- and weed-killers for a higher price.
These are also repeatable, as they are "consumed" every 4 – 6 weeks, which is a great revenue stream.
Lastly, another big advantage is that the business is scalable and quite customizable. You can begin with simply cutting people's lawns then move on to landscaping services, cutting and trimming bushes and trees, weeding, etc.
The size of your activities may only then be limited by your energy level and creativity.
Besides that, you can also choose to get involved in different aspects of the business. You can start with working directly on the lawns yourself, and then move on to expanding your business and focusing on marketing and sales, or choose to work directly with either private residences or commercial locations.
Disadvantages
However, every coin has two sides, and the lawn care business is no different.
First of all, besides having all the responsibility for your business's (and possible employees') well-being, you'll also have to face the fact that you're just working part of the year. Around mid-October, the frost begins to come in (unless you live in more favorable climates) and doesn't leave until many months later.
This means you've lost most of your income stream and you'll have to find other things for you (and your employees) to do.
Secondly, you'll be involved in a highly-competitive business where there are many professional, large businesses with manpower and reach, as well as lower, amateurish students or part-time workers who can offer lower prices.
You'll either need to have lower prices (which can cut into your profit margin) or go further outside of your local area, which will add to your unpaid transportation time and fuel costs.
---
You'll have competition from larger corporations with more workers and casual workers with lower prices, and you'll need to adapt.
---
The expenses are also high up-front. This depends largely on what kind of lawn care business you'll be starting, but for the most part it requires you to have some equipment to care for people's lawns. You will also need to purchase more expensive equipment when you decide to expand.
Unfortunately, the industry is also sensitive to market conditions.
In situations like today's post-Brexit UK, where there are a lot of uncertainties and dumps in the stock market, the industry will shrink.
Outsourcing lawn care is seen as a luxury item, and many may decide to do it themselves in fear of what may happen economically.
You'll have to prepare for that.
How to start your lawn care business
Okay, now that you've waded through the ups and downs of the lawn care business, you still decide to go ahead. So how do you start?
Do your business plan
You'll need to have your goals set and your ideas written down in a more formal way. The best way is to create your own business plan so that you can have some reference material. It will act like a road map, for those times when you are overwhelmed, lost, or unsure of starting a new venture.
Here you'll need to figure out the logical things like your area's competition, what the ownership split will be, your cash flow and other expenses.
There are many tools available online to help you with your specific business plan, including InvoiceBerry's free business plan templates.
As I mentioned above, the lawn care business will require an initial up-front investment of anywhere from $500 to $5000. You should plan your other expenses (transportation, fuel, advertisement, website fees, etc.) and decide where you'll get your funds from.
Research the market
PLANET, now known as NALP, an international association for lawn care professionals and others, estimated in 2008 that there are 10,000 lawn care service providers and roughly 12,000 landscapers in the US.
These range from freelancers to large professional corporate chains. This is most likely underestimated, as a large portion of all lawn care and landscaping is unofficial, cash-in-hand.
The industry is quite large, generating between $67 – $77 billion annually. Many lawn care business owners report earnings of $5,000 – $50,000 in their first year, and $160,000 – $250,000 when their businesses have matured.
These are numbers for the USA, and you'll have to decide what kind of market there is in your location.
Get knowledge and qualifications
A part of the business plan overview are your two main types of competitors: larger, sprawling businesses with many employees, probable quality service and high prices; on the other hand, you have amateur, seasonal workers like students or unemployed, with low-quality equipment and service, and who charge a low price.
To compete with those big boys, and to separate yourself from the amateurs, you'll need to have good equipment and the proper education.
UK's The Gardener's Guild requires qualifications for membership and has a great link on recommended training here.
These courses include equipment training, pesticides, first aid, etc. The reason for this training is twofold:
first, you have a higher reputation when you market yourself to potential customers
two, you learn how to safely and conscientiously use the equipment and fertilizers to safeguard your health and your customer's gardens
Beyond that, you'll have more knowledge to help your customers—who will probably want to ask questions or engage you in lawn-talk—put their trust in you and help your business grow.
Find out about your customers
To succeed in any business undertaking, you'll really need to know the answer to this question:
Who are your customers?
As with other gardening industry work, the lawn care business is populated by customers from the older baby boomer generation. There are others that will need lawn care as well, such as too-busy middle-aged or younger homeowners who just don't have the time to take care of their lawns.
---
Most lawn care customers will be from the well-off baby boomer generation, but can also include busy middle-aged homeowners, residential properties, and commercial grounds.
---
But for the most part, it will be the boomer generation—77 million in the US. Many of them are wealthy or well-off and love their homes, but they may be too old or busy to take care of their lawns as they would wish.
You should focus your business plan on these customers, but you should also pay attention to other types, which include:
Rental property owners who don't have full-time maintenance
Homeowners who are often on business trips or vacations
People who have winter homes in southern climates
Golf course and botanical garden managers, or those for government, universities, cemeteries, etc.
It may even be a good idea for you to see which of these industries are without proper lawn care service.
Usually, golf courses and government locations have contracts with larger lawn care corporations, but it may be worth checking it out.
Set your rates
It's important to set your rates early on. They differ from location to location, so you should definitely go about checking the competition's rates to see where you stand.
Remember, however, to take into account your competitor's speed, experience, years in the community, quality of equipment and workforce, compare yourself to that, and adjust your rates accordingly.
You can check rates by getting a quote for your own piece of land by calling around to lawn care companies. You can then do the same by asking friends or families to call for quotes on their lawns as well, and you will begin to get a picture of the prices you should be charging.
Remember to not charge too low just so you can get more clients.
Price is highly tied to quality, so go for the average and upper ranges. On the other hand, don't charge high prices, seeing as you're just starting out and likely to turn away potential customers.
There are also a few ways to charge for lawn care. One is to charge per visit, and those prices in the US can range anywhere from $30 – $80 or more. Another way is to charge by the hour (for example, $40), or to charge a set monthly fee (around $100-$300) for a set amount of jobs and tasks.
Almost all of these rates take into account the size of the land, but also require a visual inspection. Some people have fine lawns that require an average or low amount of work, whereas others will have a jungle that you'll need to tame, even with the same plot size.
Adapt your rates accordingly.
Organize your calendar to avoid the winter lull
It's a good idea, for seasonal jobs such as lawn care, to create alternative work for the winter periods.
For the most part, many lawn care small business owners are stuck without any work for the winter. Some just relax while others prepare for the upcoming year, taking the time to update their business plans and target new customers.
However, for most small businesses and those just starting out, this can be a stressful time as you'll likely not be making any money. You'll be busy for a while and then all of a sudden there'll be a sharp drop along with the temperatures.
But you can prepare for it.
For the most part, you should try to schedule only 5 days of your week for work. That way, if it does rain, you can move your Tuesday work to Saturday.
YardDay has some great tips for both lawn carers and homeowners on how to prepare their lawns in the fall for the upcoming spring and summer. You can use those tips to figure out ways to market your services for the autumn before the winter freeze comes in.
For the winter times, many people in the northern climates switch to snow removal as the equipment is quite similar to what you have, with an only a few small parts needed.
You can also do light-hanging services around your community. This would cover your December-beginning of January month and you'll likely have good business. Most people love the look of Christmas lights on their homes but are rarely eager to do it themselves.
Another option, before the lawns are ready for you, is to do spring preparation and fall cleanup. This offers you quite a steady income from around the middle or end of February until the season opens. Fall cleanup gets you set from October possibly including November as well.
If you plan your year this way, you can hold off the winter lull.
How to grow your business
Now that you've got your plan set up for the year, including your basic business plan, rates, and your market research, time to make money, right?
Get your customers
Your first job now is to grow your customer base—or to find the first few.
If you are working in your local area, it might be easier as people can recognize you or your friends and family can recommend you.
Beyond that, you can hang up fliers or insert them into people's post boxes.
Even better (especially for the older generation) is to meet them face-to-face and let them know that you are in the lawn care business. Then if they continue listening, you can give them some useful tips (because you are knowledgeable, right?) and then a quote if they would want you to do it for them.
You may also want to invest in branding. Here, you just minimally need to get your logo and company name on a t-shirt. It will be a small fee for a huge boost in your perceived professionalism. It will make you look established and dependable.
---
You can get your first customers by direct marketing, investing in branding, loss leading, or expanding your market radius.
---
You can also move further out and get a larger radius of potential customers, remembering always that the further out you go, the more you'll have to pay for your gas and work loss, both of which eat into your profit margin.
You may also begin by what's known as loss leading, where you open with a loss (for example, one month half off, or free cuttings within the next 5 days) only to make it back later with increased business.
After you get your first few customers, incentivize them by offering discounts or free cuttings if they refer you to a new customer.
Network online and offline
For any business to succeed, it will need to partake in at least a little bit of marketing and networking. In many ways, they can be the same thing. Especially for such a business as yours, you'll need to network.
You can start by joining landscaping and lawn care organizations in your area. These are great because they may be able to connect you with future customers, larger organizations, or even provide you with indispensable training or tips.
It will also be a good idea, if you have dedicated time for it, to get online and work on your social media presence or even website. For many small businesses, it may not be that crucial nowadays to have a separate website, as many services are on Facebook.
This is the most important social media site for the average business. Most people, usually the younger generations or millennials, who want to know about your business will go online to check you out. They will mostly look out for reviews to see what others have said about your work. Facebook offers this.
Of course, make sure that your work is actually good, because even one review of 2 or 3 out of 5 stars can turn off potential customers.
Take care of your finances
You're the boss of your own business now, so you'll need to get your finances in order. This is important in the beginning, middle, or (hopefully not) end of your business.
Your expenses up-front will be a bit severe, but you can usually make that back within a month or two, depending on certain factors. However, you will also need to think of sorting out your receipts, invoices, and other financial documentation so that tax season will be easier for you.
You may attempt to do this by yourself, which is fine, but the more your business grows, the more labor-intensive it will become. You could also hire an accountant, but that could eat quite a bit into your own profits.
One wonderful alternative for the small business and freelancer is to use online invoicing software such as InvoiceBerry for their invoicing needs.
It lets you auto-fill in your regular invoices, keeps track of and manages all your expenses, and is surprisingly easy and simple to use for such powerful software.
Also, again, your purpose is to seem as professional as possible in your work, and InvoiceBerry's service allows you to customize your invoices and even include your own logo.
Get employees and pay them competitively
If you've gotten to this point, it means that either you've done quite well so far, or you see high potential in your area and believe you wouldn't be able to handle it yourself.
Either way, congrats.
So now you're considering hiring people who could help you with your lawn care business.
However, you need to remember that although you don't need any qualifications at all to ride a lawn mower (besides the basic training that you'll provide), you need other important things.
The person has to like, or love, or at least tolerate working outdoors, usually under a blazing sun. This person will need to be capable of strenuous physical work and generally being dirty at the end of every working day.
In order to attract that right person, you'll need to offer something better than the Auntie Annie's soft pretzel shop at the local mall.
Instead of paying the basic $7.50/hr to your day laborers, you should get employees for $10 – $14 per hour, and even go up to $17 for the supervisor, team leader or foreman. You can slide up or down the scale for those with experience, qualifications, and other measureable niceties.
Although it may seem a bit much, remember that lawn care and landscaping workers have a relatively high turnover rate, and they could be lured by an even 50 cent increase in wages. Check your competitor wages and see if you can do something better.
For those who can pay $13/hr, you'll have workers for a long time.
If not, remember that lawn care doesn't require qualifications, and since most of your work will be in the summer, you'll be able to nab some students or other young people.
To sum up:
The lawn care business is great for those people who love gardening work, caring for people's lawns, and generally being outdoors.
There are many benefits to the industry, including:
the flexibility and autonomy you can only get by working for yourself
stable and repeatable business, with options to sell consumables
scalable and customizable business suitable for your needs and goals
However, it's important to remember:
the amount of responsibility and stress that comes with being a business owner
the high competition from both lawn care corporations and casual workers
possibly high up-front expenses, ranging from the low $500 to the high $5000 or even more
Nonetheless, if you want to start your lawn care business you should:
create an effective business plan that goes over competition, ownership, cash flow and expenses
research the market to see what the trends and opportunities are and how much you can stand to make
get appropriate knowledge and qualifications to separate yourself from the average lawn care workers
find out who your customers are and how much you should charge
organize your calendar to avoid winter lull by taking on different jobs during the colder months
Once you've got that set up, you should now:
get and expand your customer base by investing in branding, loss leading, or expanding your market radius
partake in marketing and networking by connecting with lawn care and landscaping organizations and getting a Facebook profile for your business
take care of your business finances, optimally by using online invoicing software
hire extra help if you need it, but pay them a good, competitive wage to avoid high turnover
With these useful tips and tools of the trade, you'll be on your way to making money and racking up clients in the business that you love.
Did we miss anything? Let us know in the comments below!
The Ultimate Social Media Tool
Download our free guide to learn how to create shareable content, generate website traffic & increase conversions.