Paint Estimates: How much does a Painter Charge per Hour?
Written by Ana Mladenovc on November 28, 2022
If you are searching for how to do paint estimating for your business, you are at the right place. Setting up and running a business might seem terrifying at first. However, as time goes by, and as you tick one task off your list, we are sure you'll feel more confident in your skills and abilities.
We decided to help you out on your journey and write an in-depth guide on how to open a painting business and how to price your services, to set you up for success.
Try our online invoicing software for free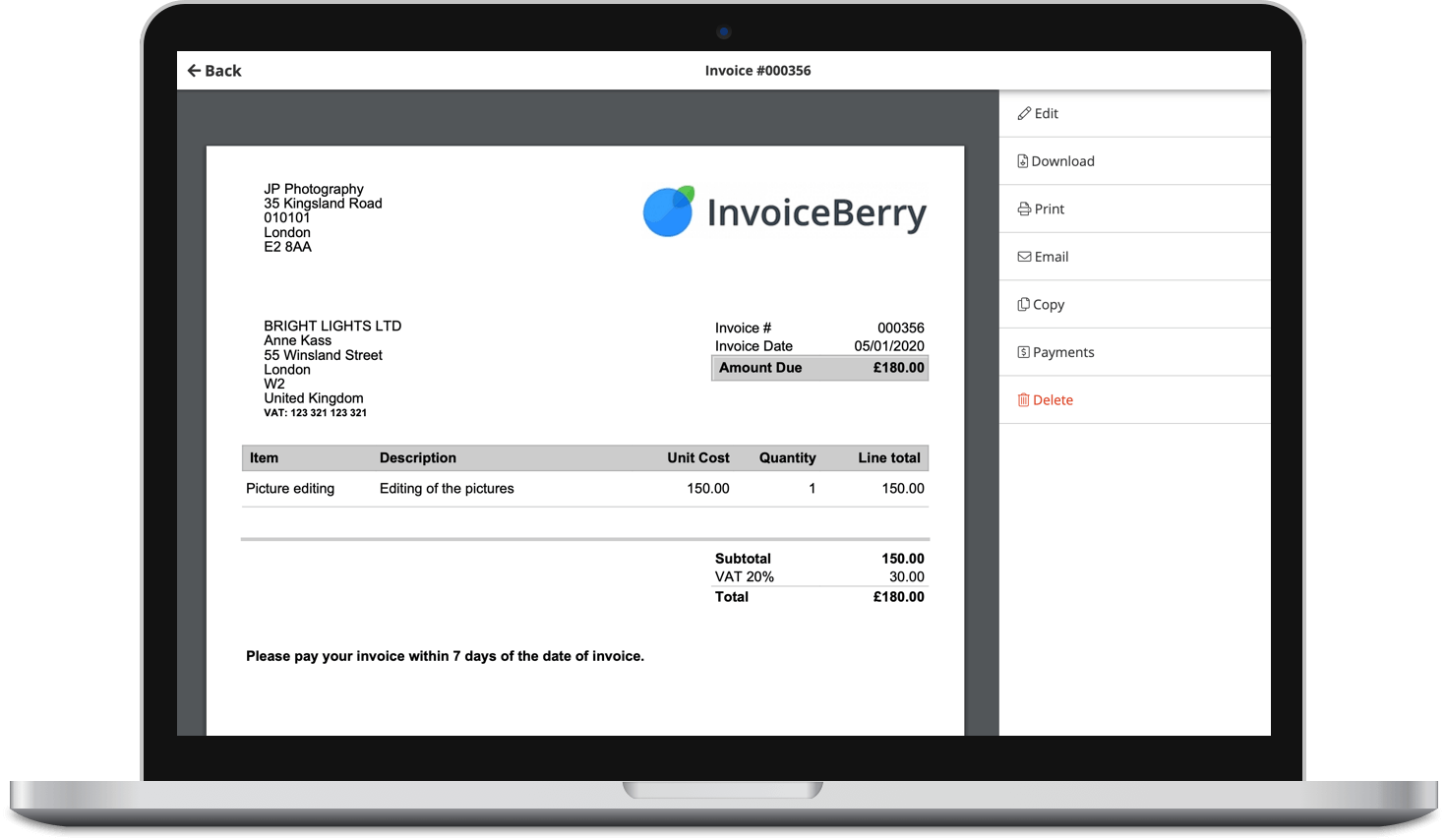 Send professional-looking invoices
Accept online payments with ease
Keep track of who's paid you
Start sending invoices
How to set up a painting business?
Setting up a business might feel overwhelming at first. However, fear and anxiety might come out of a lack of organization. What do we mean by that? If you don't have a clear list of things you need to do, you may quickly lose track of all the things you need to complete before you start providing services to customers. That said, we decided to share with you a detailed list of things you need to do to set up your painting business.
Write a business plan
A business plan is like a GPS for running a business and a roadmap for success. Having a business plan means documenting goals and tracking progress, as well as having a plan if things go South.
If you're thinking about starting your painting business, make sure to write a detailed business plan that will cover:
Market analysis: that will help you gain a full overview of how the market behaves, and how to do pricing estimates.
Competitor analysis: that will help you determine your weaknesses and pain points.
Customer segmentation: that will help you gain insights into different types of customers, so you can adjust your offers.
Marketing: that will help you gain and retain clients, get recommendations and grow your business.
Cash flow projection: that will ensure you don't go under, and see how much money is going in and out of your business.
A growth plan: that will help you plan your long-term and short-term goals.
Register your business
The second, most important thing, after writing a business plan is registering your business. You should choose the right business entity to protect yourself from liability, and be sure what type of tax you should pay.
Depending on your location, you could either set up a sole proprietorship (even though this type of business entity comes with greater risk) or found a limited liability corporation or partnership (LLC or LLP). Ultimately, we advise you to contact the lawyer before making a final decision.
Get a license and insurance
If you intend to run a painting business, you will probably need to get licensed and insured. Even if it's not required in your municipality, it's always a smart idea to do so as it will help you (and your employees) stay covered in case of an accident, lawsuit, or any legal issue, that is.
Before opting for insurance, make sure to consider all your options and pick the one that has the best value-for-money ratio. Lastly, ensure to check what kind of license you need to run your business to stay on the right side of the law and avoid penalties.
Set up a business bank account
Once you finalize the legal side of opening a business, you should open a business bank account to keep your personal and professional finances separate. This is an extremely important step since you risk losing your assets if your business goes under. Luckily, this step is extremely easy to complete as many banks allow business owners to do everything online.
Advertise your business and find your first clients
The final step of opening a painting business is advertising it to find clients. There's a wide array of marketing methods you can use to advertise your business, from paid advertising on Google and social media to following SEO's best practices.
However, before doing anything make sure to research competition and determine what they lack. Furthermore, make sure to make a marketing plan and stick to it, to avoid budget breaks and be as consistent as possible.
How to charge: By a square foot or by the hour?
Professional painters usually use two methods for charging their services: per square foot or per hour.
Both methods have their pros and cons, and it's up to you to decide which method you'll use. Most commonly, professional painters charge per project, and they rarely opt for a per-hour method.
Overall, statistics state the cost of labor per hour goes anywhere from $20 to $100, while per square foot it's between $3 and $6 per square foot.
How to make paint estimates?
Now, when we cover the basics of how to set up your painting business, let's see how to price your services and set yourself up for success. 
What impacts the price of paint estimates?
According to data, the average cost of hiring a professional to paint a room in the U.S. is anywhere between $2 and $6 per square foot. This is how total painting costs for one room can range between $955 and $2890.
But there are a lot of factors professional painters take into account when giving their quotes including the size of the room, the height of ceilings, the condition of the walls, the color clients want, and the price of the overall material.
How to make paint estimates?
Now that you know what the national average when it comes to painting jobs is, let's see how you can make a painting estimate for your clients, and what steps you should make.
1. Have an overview of the space
Before giving a quote, you will need to have a look at the space you're supposed to paint. Doing live visits is the best, as it will help you determine the job's difficulty the best. However, during the COVID-19 pandemic, many businesses offered online (virtual) assessments.
They can be convenient as you don't have to spend too much time on gas to and from the client's home or office, and due to this fact, you save time. However, live visits are still unbeatable as they provide the best overview of the situation.
2. Know which questions to ask
To give an accurate paint estimate, you'll need to know which questions you should ask your clients. For instance, the price of a painting will vary depending on whether clients want just their walls painted without ceilings, or they want them painted as well.
Furthermore, you should know if your clients want to supply their material, or if they expect you to do it, and so on. All of this information will impact the total price, and you should make a list of things you should cover before giving the final estimate.
3. Count in the cost of material
If a client wants you to bring the material, you'll need to count in the price in your estimate. Sometimes, you can make deals with paint supply shops to have a quantity discount, so it might not be a bad idea to negotiate with a supplier. Furthermore, make sure to make a good estimate on how much material you'll need, as possible miscalculations might cost you.
4. Count in the cost of labor
Calculating the cost of labor is not as easy as it seems. Simply, too many things go into the final price such as years of experience, how desperate you are for new clients, whether you'd need to hire help, and so on.
Whatever the case is, make sure to do proper market research and find out how much coworkers from your area charge and offer something that will make you competitive without putting strain on your finances.
5. Make sure to count in unexpected expenses
Let's face it: mistakes can happen, especially when you're working in a field that's not an exact science. That said, sometimes you can make wrong paint estimates as you might not be aware of all the things that might happen on the way.
For instance, if a client has bold paint on the wall, you might miss calculating how much paint you'll need to cover it completely, which would put a strain on your profit. Because of that, make sure to send a bit higher quote to the client, to protect your finances and secure your business success.
6. Finalize it, and send a quote
Now it's time to count on all the things we were talking about and you should be ready to make your first quote. As a reminder, you should calculate the size of the space you're going to paint, its complexity, its count in your wage, and the cost of the material.
You don't have to use pen and paper for your invoices anymore!
If you want to look more professional and leave a good impression on your potential clients, you can always use online invoicing software such as InvoiceBerry. Besides allowing you to turn your quotes into invoices in seconds, InvoiceBerry's software enables you to track your income effortlessly, makes it easier to store your financial data on the cloud, and can send payment reminders, helping you avoid late payments.
InvoiceBerry also provides several payment options, allowing your clients to pay for your services in a way that's most convenient for them.
What's best: you don't have to spend a dime to try it out! You just need to sign in for a free trial period and see how it looks before making a purchase.