How To Use Online Invoicing Software To Your Advantage
Written by Leiann on March 16, 2020
Level with me. How insanely busy is your life right now? Can you honestly say that you're successfully striking your desired work/ life balance? If yes, great for you! But if not, I'm guessing you're open to tips on conserving some time, money and much-needed energy.
Rather spend your Friday evenings at happy hour instead of at the office manually filling in invoice templates? You're not alone. And judging from the fact that you're researching online invoicing, I'm gonna venture ahead with some more guesswork and assume that you're looking to streamline and simplify your billing processes.
Try our online invoicing software for free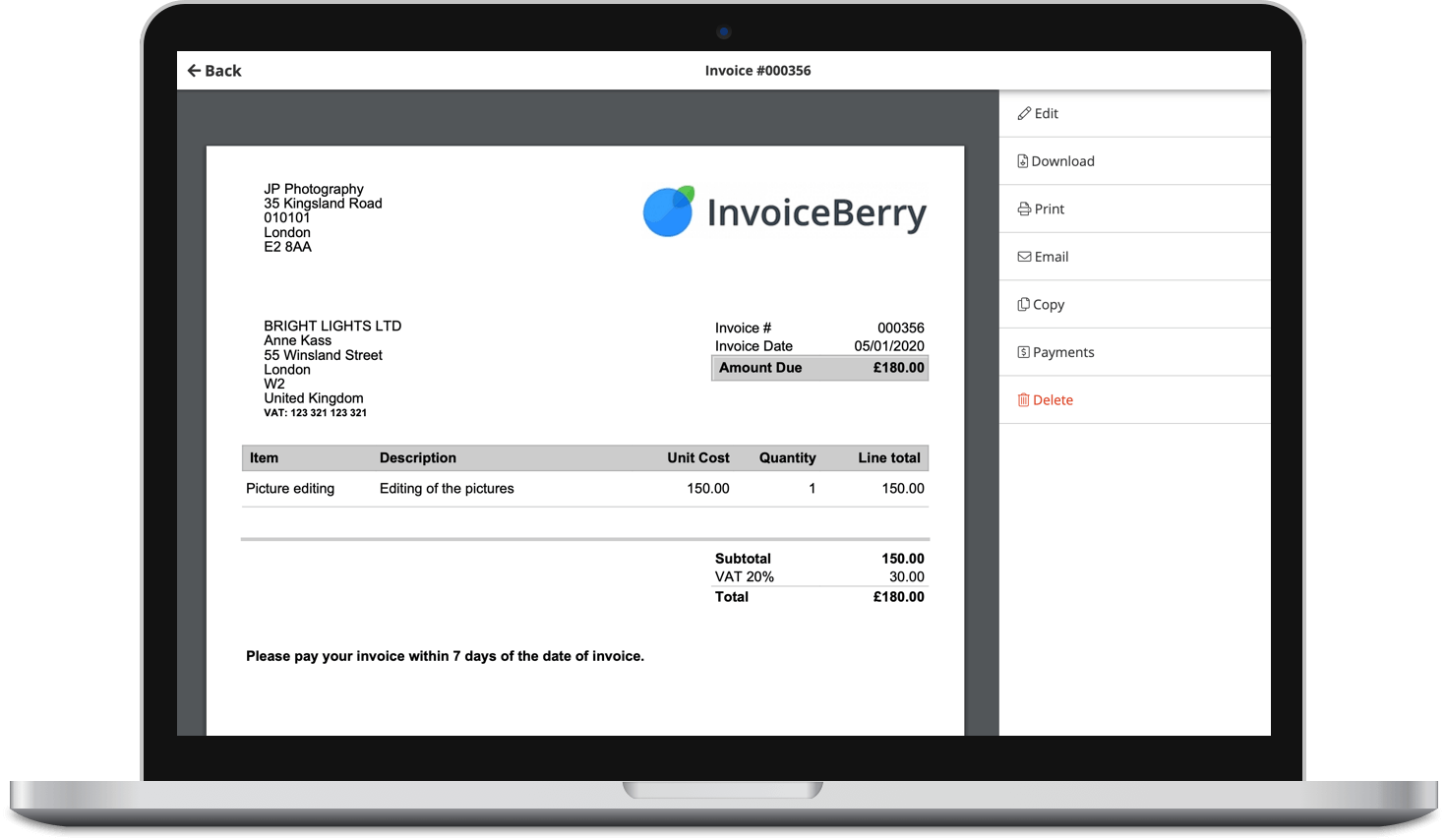 Send professional-looking invoices
Accept online payments with ease
Keep track of who's paid you
Start sending invoices
The technological breakthroughs that led to the advent of online invoicing software were a godsend. This new simple and inexpensive way to send invoices, track expenses and oversee customer payments makes all the difference.
Here are some ways you can use invoicing software to your advantage to be able to better bask in life's simple joys:  
Quicker invoice generation = more movie night bliss
This is the bottom line: manual invoicing processes are slower and more error-prone.  With online invoicing software, you only need to enter your client's information once.
Say goodbye to mistaken typos. After this initial set up is complete, all you'll ever have to worry about inputting is the valued amount for the invoice. Never again will you have to hunt down an address. Instead, clients will appear before you in user-friendly drop-down menu style.
Arming yourself with the ability to create and send an invoice off in under 60 seconds also ensures faster payment. The earlier you share your payment request, the surer your chances of promptly receiving the mula. 
Now, what are you going to do with all the saved time? Maybe you wanna head home early, plop down on the couch and select one of these New York Times recommended movies on Netflix right now.
Automation = one less thing to worry about
The ability the automate recurring invoice processes is the gift that keeps on giving. Due to the cyclical nature of many freelancing gigs, clients are often billed on a weekly, monthly or quarterly basis. 
With invoicing software, you're able to set it up so that invoices are automatically sent out at the end of each expected payment period. Talk about convenient, right?! 
You might soon find yourself wanting to turn to automation for other business functions. Check out this article for some great advice on various automation tools that can further advance your small business in the digital age. 
I guarantee if you take this calculated risk, you'll have a lot more time to enjoy the musical stylings of the robot pianist pictured above. 
Expense tracking = more time for exercise & endorphins
Tracking your expenses is a must if you want to stay ahead of the game. And no, when I say tracking I don't mean a compilation of dated crumpled receipts in a drawer waiting to be sorted. 
Online invoicing software helps you see where your money is going by providing the ability to scan receipts and keep track of expenses on the go. You can also specify supplier and expense categories for easy sorting. 
Perhaps most exciting is the added ability to generate financial reports that depict where most of your money is being spent. These reports can prove to be especially handy for both you and your accountant when tax season rolls around.  
Don't let taxes make you sweat. Instead, use the free time created by easy expense tracking to hit the gym or engage in a yoga class. Namaste!
Pre-determined payment reminders = 30 mins of baby animal video viewing
If you're anything like anxious old me, you might feel immobilized at the thought of emailing a client regarding an outstanding payment. However, this doesn't have to be the case. 
Instead of obsessing over how to correctly word your awkward email, you can use a pre-set invoice reminder function. This effective, quick and friendly message takes the pressure off and allows you more time to get lost down the YouTube rabbit hole of adorable baby animal video compilations. 
Four words: puppy in a teacup. Need I say more? 
Cloud storage = peace of mind
Online invoicing software lets you save all your information on the online cloud. This means no more stacks of paper piled up and constantly misplaced. Say goodbye to creaky filing cabinets.
In business, you really can't put a price on safety and security. The software's regular backups of data coupled with super-strong encryptions help you sleep a little sounder at night.
Automatic backups and SSL encryption help keep you on cloud nine with guaranteed access to your business' secured info whenever you want. Just log into your account and, poof, there it is!
Sign up here to get your free trial account all set up!
Personalized professional look = dazzled customer
Invoices are a great way to showcase your professionalism. You'd be surprised how much of a difference adding your logo and preferred colors can make.
Online invoicing software will additionally permit the addition of special terms and conditions, payment methods and due dates. Best of all, you can also send thank you notes for an added personal touch. 
To give a taste of how awesome customizing can be, here's an example of a fun Halloween invoice template that's available to download for free!
Easy invoice posting = mini getaway
Some clients might still prefer receiving physical invoices. No problem. A few online invoicing software companies, like InvoiceBerry, allow UK-based customers the option to post via Royal Mail.
For a small convenience fee, you can use your InvoiceBerry account to request direct mailing of invoices. Prices and more information can be found under the Settings section of your Invoiceberry account.
Long gone are the days of paper cuts, stuffing and licking envelopes! Maybe you can swap post office lines for immigration queues and send yourself on a mini-vacation!
So if you're still on the fence about whether or not online invoicing software is worth your while, take a second to consider something. In less time than it takes for you to open up Word or Excel and locate a previously used invoice template, you could've already sent off 3 payment requests with InvoiceBerry.
Small Business Finance 101
Download our free guide to learn the fundamentals of finance that will help make your small business more efficient and successful.