10 Best Free Marketing Ideas for New Businesses to Attract Customers
Written by Ana Mladenovc on August 29, 2022
Small business owners have to wear several hats to make their business run smoothly – from administrative and logistic tasks to managing their employees. Add on that financial aspect of running a business, and you understand how big their task is.
Since most small businesses don't have enough funds to run expensive marketing campaigns, we decided to share 10 free marketing ideas that can help them attract customers.
Try our online invoicing software for free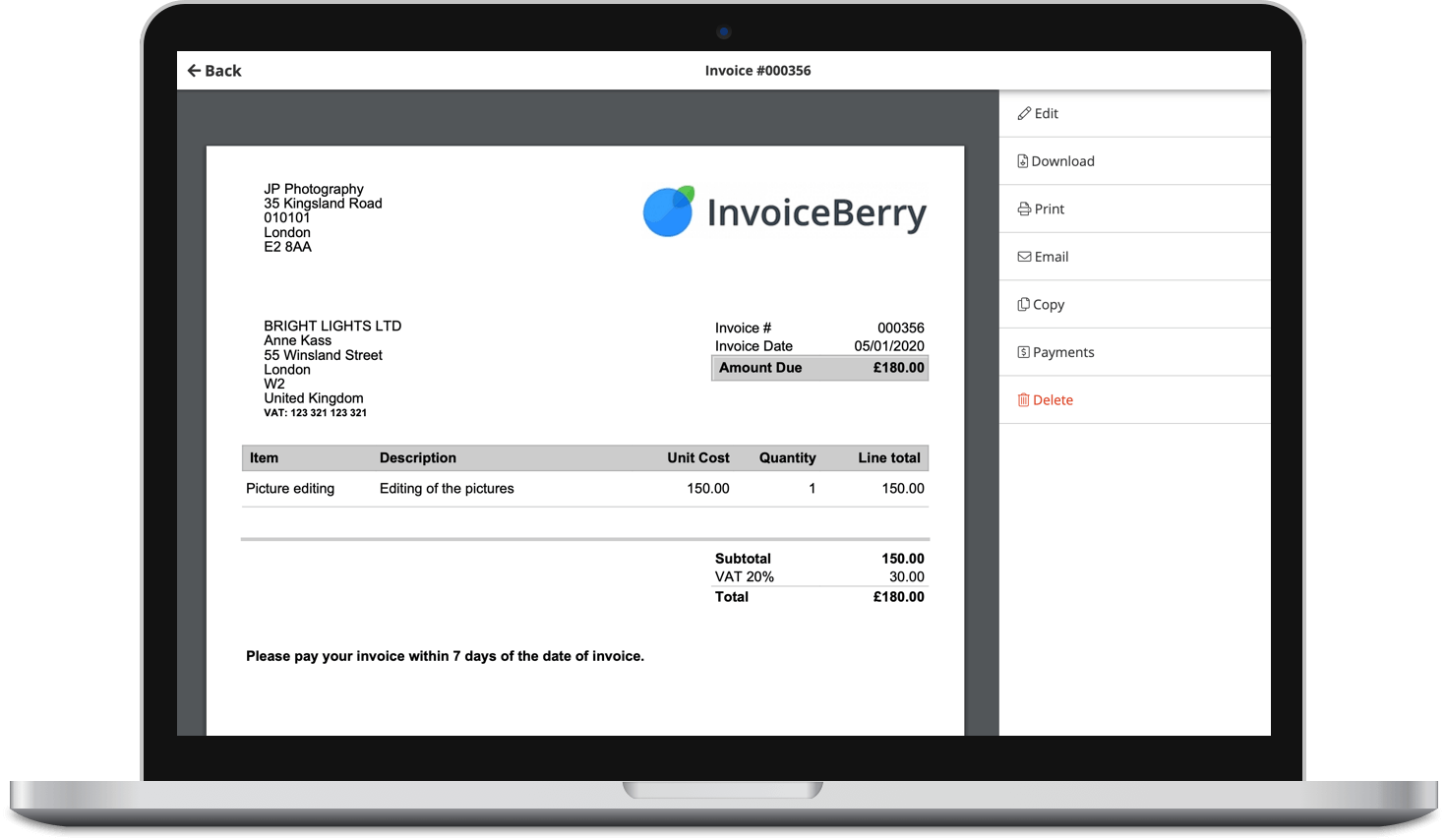 Send professional-looking invoices
Accept online payments with ease
Keep track of who's paid you
Start sending invoices
However, before executing any of these tactics they should make sure they have a clear overview of what their goal is and who their customers are.
With that being said, let's see what those ideas are.
Create Google My Business
Creating a Google My Business account is among the best ways for marketing your business for free. This is especially true for local businesses, as Google always wants to serve its users the most accurate and up-to-date information, meaning your business will come up among the first in the search for free.
Furthermore, if we know that almost 50 percent of all Google searches are looking for local information, we understand the importance of having a Google My business page.
It's important to mention that anyone with a Google account can make a Google My Business page for your business, and if that happens, you won't have much control over it. That said, you should do it yourself rather than wait for somebody else to do it for you.
Google My Business is a great tool for verifying your business' credibility, for providing accurate information quickly, as a collection point for reviews, and it's great for mobile access.
Promote your business through invoices
In case you didn't know, you'd be glad to hear you can use the invoices you send out each month as a free marketing tool. First, you can personalize your invoices by adding your logo and changing the font to match your brand voice, background, and such to make your invoices more visible and recognizable. This will set you apart from the competition and give a "more serious" look to your business.
Second, you can use your invoices to share a link to something you did that could be relevant to your customers: a guide, report, infographic, or case study. Besides being extremely helpful, this will show your customers you're an industry leader, and serious about the job you do, which will increase their trust in you.
Furthermore, you can incentivize your customers through invoices you send by offering discounts and coupons for future purchases, which will increase your chances for repeat customers.
Invoices can also be a great tool for striking up the conversation with your customers, as you can always ask them there to leave feedback or a point where they think you can improve. By showing your customers you're working on improving your services and customer satisfaction, you're guaranteed to grow your customer base effortlessly.
Lastly, you can use your invoices to upsell your services and remind your customers about other services or products you offer they haven't tried but would be interested in. You can also provide more information on upcoming services and items you'll offer and raise interest early.
What's best, you can use online invoicing software such as InvoiceBerry to automate your invoicing process and create a strong brand marketing strategy effortlessly!
With InvoiceBerry you can create customized invoices in seconds, schedule recurring invoices, and set payment reminders to ensure your cash flow remains intact. You can also add several payment methods to attend to customers' needs allowing them to pay for your services in a way that's most convenient for them.
Sounds interesting?
You don't have to pay to try it, just sign up for a free trial period!
Run an online contest
To increase customer interaction you can always run an online contest on your social media pages. The best thing is: that you don't even have to spend a lot to make it work, you can offer your products and services as a reward. Organizing an online contests business will surely build its online following and customer base, which will lead to an increase in sales.
Use social media
If you want to reach your customers and increase sales, the best thing you can do is to be where your customers are: on social media. What's best, promoting your business on social media doesn't have to be expensive, it can even be free.
All you have to do is to gather the data and know who your customers are, know their likes, interests, and preferences, and create online content based on those insights.  You can use a customer data platform (CDP) to collect and analyze customer data.
A CDP can help you to understand your customers better, personalize your marketing, and make better business decisions. Furthermore, you'll have to think about your business and what message you want to send, so you can create a strong brand image and voice that's consistent.
There are various tools available that can help you build your online reputation and engage customers quickly. Evergreen Feed is one of these tools that help businesses skyrocket their social media presence at affordable prices.
In fact, it can help businesses increase their reach by 10 times. The point behind this tool is the fact it gives detailed insights on best-performing posts customers like and helps businesses create and share similar content, guaranteed to get more attention and a higher engagement rate.
That way, businesses can rest assured their social media strategy is on the right path. The best thing is: that you don't have to spend a dime to try it out. Just subscribe to a free trial!
Create a blog
Building a strong online presence is crucial as we live in a digital era. That said, if your business isn't online, it's as if it doesn't exist. However, paid ads might be too expensive to run, especially for small businesses that are just starting.
Luckily, there are some free online strategies business owners can use to improve their online presence. One of them is investing in SEO.
The simplest way to promote your business online is to regularly post relevant articles on your website, and optimize the content for keywords the target audience uses the most.
By doing this, businesses will build authority, promote trust among customers as they're offering advice for free, and become recognizable.
If you still don't have a blog section on your website, there's a quick way you can do it. BlogHandy is a service that allows its users to add a blog to their website quickly and effortlessly, by adding an embedded, ready-to-go blog with just two lines of code. What's best: even non-coders can do it so you won't have to ask anybody for help!
Utilize the power of local SEO
A good thing about Google hides in the fact it always wants to serve the most accurate and relevant information to its users for any search query. Investing in local SEO, in that sense, could help small business owners compete with large businesses and corporations. However, while local SEO is both free and effective, it can take some time to start working.
You can start utilizing the power of local SEO by:
Adding location-based keywords to the body, headlines, and titles of the content you produce.
Get listed on online directories.
Provide content specialized in and relevant to your area.
Engage in one-to-one marketing
One-on-one marketing is one of the most effective marketing strategies that aim to reinforce the relationship between business and customers. If you want to boost your customer engagement and retain customers, you can send out handwritten postcards on customers' birthdays, send emails with personalized discounts and offers, or personalize websites for repeat visits.
Use the power of HARO
If you want free media coverage, with a little effort you can get it. Help A Reporter Out (HARO) is a platform where reporters ask questions, seeking expert answers. You can show off your expertise and answer the reporter's questions and earn a mention in case they publish your answer. Frequently reporters will even link to your website which can help with your overall SEO strategy.
Run a referral program
Studies have shown that people trust genuine reviews and recommendations more, compared to ads. That said, businesses that make their existing customers their advocates are sure to exceed their goals.
One way of incentivizing your existing customers into becoming your brand ambassadors is to offer a strong referral program. This will encourage them to recommend your business to their friends and acquaintances and enable you to make more sales in the long run.
Make your employees your biggest advocates
As we mentioned, word of mouth is one of the most effective marketing strategies to boost sales. Especially for small businesses who usually have small budgets for marketing.
That said, making your employees your advocates is a cheap way to skyrocket your sales.
You can offer employee discounts for friends and family, create events and team buildings and encourage your employees to promote your business with their personal and professional contacts.
Conclusion
Marketing your business doesn't have to be expensive. Quite the contrary. With a clear goal in mind, and with the right data about who ideal customers are, businesses can execute effective yet cheap (even free) marketing campaigns that will increase revenue effortlessly. We listed some of the best free marketing ideas for new businesses. Which ones you'll try?
Small Business Finance 101
Download our free guide to learn the fundamentals of finance that will help make your small business more efficient and successful.