GDPR Effects on Email Marketing [Expert Roundup]
Written by Mindaugas on July 30, 2018
General Data Protection Regulation or GDPR has been recently implemented within the European Union – though the impact has been felt worldwide. This aims to cultivate a more stringent approach to consumer data collection and storage. As you can imagine, GDPR effects on email marketing will be noticeable.
Email plays a pivotal digital marketing role – the median ROI of email campaigns is 122%. It's no wonder why 89% of marketers have claimed email as their their number one lead generating tool.
Try our online invoicing software for free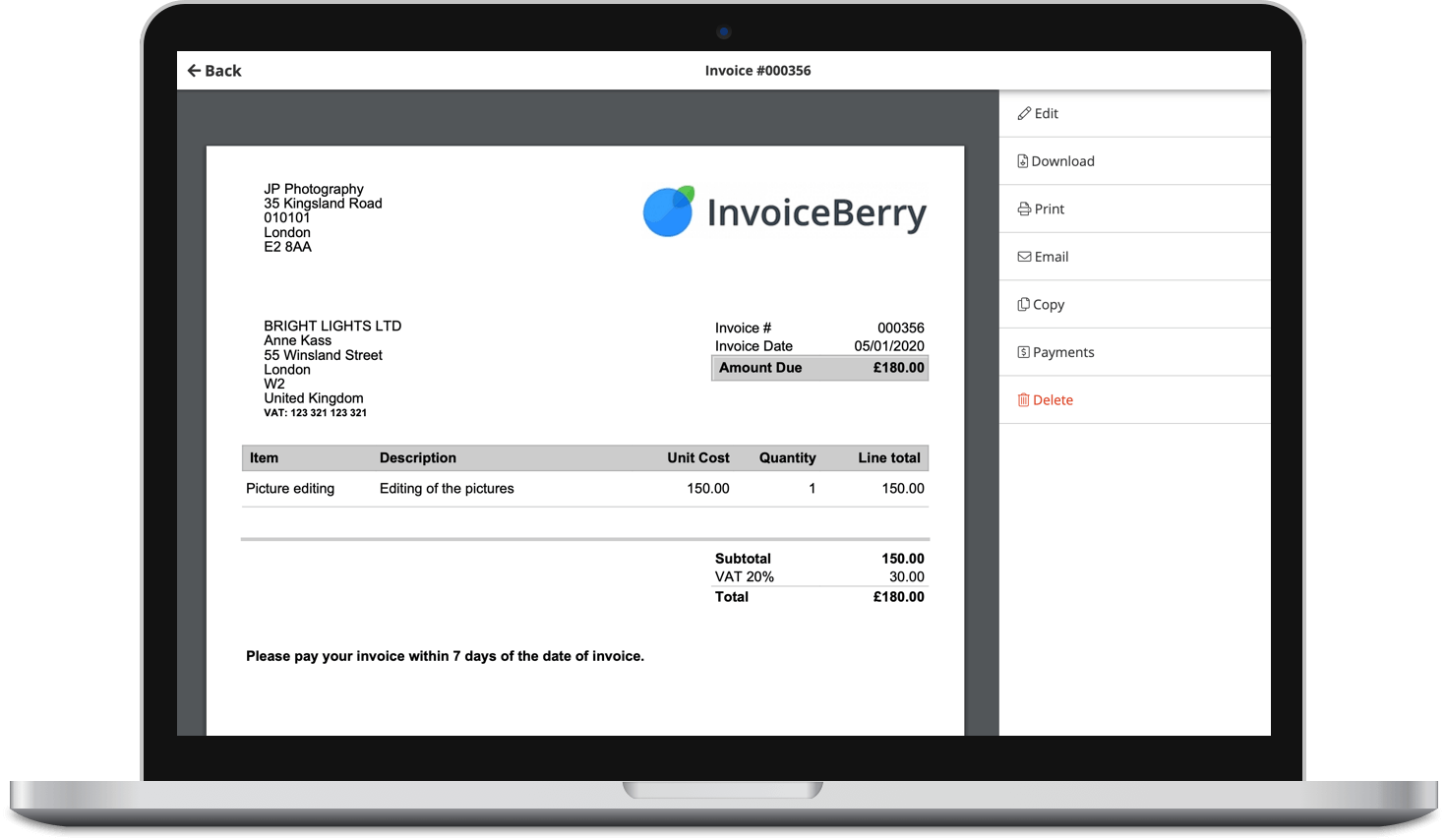 Send professional-looking invoices
Accept online payments with ease
Keep track of who's paid you
Start sending invoices
Now you may be wondering what impact GDPR will have on your email marketing – it can even affect businesses outside of the EU. We have managed to get 12 marketing experts to disclose their first encounters with GDPR and what impact it had on their email marketing campaigns.
---

Mike Khorev, Growth Lead at Nine Peaks Media
ninepeaksmedia.com | 
 MikeKhorev
---
Many marketers felt affected by GDPR, as the new regulation for email communications has put limitations on the email marketing campaign tremendously, and it's now really difficult to get the same ROI with email marketing in EU.
One of our clients was significantly affected when the GDPR took effect, as the email database we usually send email to shrunk to only 5% of what it was before. This is mainly due to the fact that not many people gave us the consent to receive emails. By the new regulation, you can't email people if they haven't provided their consent, (the majority of them are not) and they have to be excluded from the email send.
GDPR affected the effectiveness of the email marketing strategy across many levels from the size of the email database to open rate/click-through rate, etc. Marketers need to look for other options/channels like outbound and inbound marketing to reach marketing objectives.
---

Jordan Harling, Chief Digital Strategist for Wooden Blinds Direct
www.wooden-blinds-direct.co.uk/ | 
 @Interiorgoods
---
GDPR legislation has prompted us to be a lot more proactive about how we're approaching our customer's data. We've always maintained excellent security of any personal details, now we've supplementing that with new processes to ensure that we have only the minimal necessary data.
For us, email marketing has played a strong role in the development of our company. While this remains a key tenant of our approach, it has also seen a dramatic shift as we conducted our GDPR audits. Social media has now become a strong focus for us to attract new customers. By diversifying our networks and focusing on engaged customers, we're looking to turn GDPR into a win for everyone.
One of the most noticeable effects that GDPR had on us was the reduction of our email database by over 50%. Initially we had some concerns how this would affect revenue, but we've actually seen minimal change. Our proactive approach to GDPR has increased customers trust in our brand, and we've been left with a smaller but much more engaged database.
---

Cory Smith, VP of Email at Metric Digital
metricdigital.com | 
 Metric Digital
---
1. Tracking the data culture. Recent advertising scandals are forcing consumers to realize and reckon with one major issue: How much data is any given internet company collecting on me? And if your company uses digital marketing channels like paid advertising to drive growth revenue, then you must reckon with this too. 
Medium to long term, there's definitely a risk for Facebook, Google, and other advertising platforms whose regulations and consumer preferences will limit what they can track and use for advertising purposes. Facebook's disconnection with Experian and Acxiom is very much in line with this consumer shift.
2. Being social isn't what it used to be. Facebook is a profoundly powerful advertising tool for all industries, including growth stage brands. Whereas the issue with Cambridge Analytica is that of an individual researcher breaking Facebook's terms and conditions to illegally harvest personally identifiable information.
Now, to be fair, you could definitely argue that Facebook should have had better controls in place to prevent this from happening. And yet, this type of targeting is exactly why Facebook targeting is so powerful. There's nothing shady about that. Facebook's terms outline that they have the ability to use this data. In fact, most digital advertising platforms allow you to target based on this type of information (e.g. Google).
It does not allow Facebook advertisers to access personally identifiable information for individuals, i.e., what are their political views, travel schedule, or purchase history.
3. Raising the industry standards. Getting your business GDPR compliant pays off, not only to avoid fines, but really in terms of customer relationships. And this is the real story that will impact the platforms.
This would move more towards the types of regulations like the EU is implementing with GDPR. And by the way, Facebook advertising will still be super powerful under those regulations. What's more, GDPR will weed out the bad actors and raise industry standards
---

James Milliron, Founder of Inflayt Marketing
inflayt.com | 
 JamesMilliron
---
Sixty percent of our clients were directly affected by GDPR. The biggest short-term effect was lost opportunity cost due to re-configuring terms of service and app settings. All of our international clients lost about a month's worth of growth activities while they reallocated those resources to updating processes, rewriting privacy policies, implementing double opt-ins, databases configurations, etc.
After preparations were completed, GDPR hasn't had any significant negative impact on our digital marketing practices. If anything, it has improved the performance of campaigns for some clients. Our internal research shows that more transparency with the customer increases trust and leads to more sales. Which makes logical sense as well. We've seen slightly better customer engagement statistics post GDPR.
On a micro level, we've had to adjust messaging and subject lines on double opt-in emails to increase engagement. We've had to tweak the way we operate our relationship-based marketing tie-ups. We've had make two minor alterations to our inbound marketing process. Otherwise, it has been smooth sailing.
---

Steph Taylor, Founder and Director at Wildbloom
stephtaylor.co | 
 StephTaylor
---
We previously used free opt-ins to grow our email list, as people would hand over their email address in return for a download, and they would then be subscribed to our email list. With GDPR, we now have to request they opt-in for our other email marketing specifically, which means that our cost per lead has increased significantly and it's now harder to grow our email list.
We also had to ask our email list to re opt-in, which resulted in deleting over 3,000 subscribers from our email list.
---

Sean Allan, Digital Marketing Manager at Aware Corporation
aware.co.th | 
 Aware Corp
---
The core issue is the blurred lines between what is legal and illegal now. It seems we are going to get a complete picture of what we need to do as the GDPR is actually used on companies and they incur fines. Some companies took a wild stance, and wiped all their email lists, we took the opportunity for users to resubmit their details and make us GDPR compliant, however this resulted in a significant decrease in our mail file.
Coding changes were also necessary, the disclosure and acceptance of cookies. There are now more boxes to be ticked and more pages to pass through, which has a direct impact on conversion rates.
---

Kirill Rebrov, CEO of Demografy
demografy.com | 
 demografy
---
Probably one of the biggest effects of GDPR is the critical impact on data brokers industry.
Data brokers industry is also the target market of our startup. Data brokers are backbone of today's digital marketing. They provide information about consumers to fuel online ads targeting, boost outbound marketing campaigns or provide customer insights. Even Facebook uses data brokers to purchase additional data about its users for ads targeting. At least until recently.
The problem, however, is the way they work.
Basically they have consumer databases containing non opt-in third-party personal data. In order to get additional consumer data about its customers company is required to provide data broker with customers' sensitive information. They use it to match records in their databases and return additional consumer data which is then used in digital marketing efforts.
So far this approach has been dominant. However with the prohibition of non opt-in third-party personal data use data brokerage is now threatened. Moreover, even digital marketers using data brokers are threatened because they disclose personal data of their customers to data brokers.
This creates unique opportunities and high demand for GDPR-friendly technologies that don't require private data in the loop. This in turn democratizes the market and paves the way for more companies that haven't vast amounts of personal data. So we can anticipate the raise of new GDPR-compliant technologies for digital marketing in coming years. This will change how businesses work with data impacting both data brokers and B2C businesses who traditionally work with them.
For digital marketers this will lead to both using new tools, changing their data partners and adopting new data marketing strategies.
---

Marco Saric, Marketing Consultant and Founder of HowToMakeMyBlog
Howtomakemyblog.com | 
 @MarcoSaric
---
I prefer to look at the GDPR as a positive development and an opportunity to do better. GDPR has raised the awareness of privacy issues and data collection to a mainstream audience and as a marketer you can either go underground and do some shady stuff or you can embrace this chance and be upfront about it with the audience you are targeting.
GDPR can be used as an opportunity in your copy, on your sales pages and in the way you run your business and your digital marketing strategy. Tell your target audience upfront what are you doing, why are you doing. Or tell them things you don't do with their data that maybe your competitor is and use that as a competitive advantage.
---

Shelby Heath, Marketing Strategist at Campaign Creators
campaigncreators.com | 
 shelbyheath
---
Since GDPR was implemented, we haven't had any more difficulties implementing our marketing strategy on the web than before. The only major change to our strategy was we had to run a Permission Pass campaign, which allowed leads in our database to opt out of receiving information from us.
For the contacts who didn't specifically opt out, we have to be careful about sending them emails, but as long as we are continuing to provide value (as per GDPR regulation), we are in the clear. Additionally, the recipient always has the option to unsubscribe from any emails they receive.
The only other change we had to make was to enable a cookie notification on our website to inform our visitors that their information is being tracked.. If visitors deny our cookies, then we can't store any information on them.. Luckily, once someone fills out a form, they are agreeing to have their information stored regardless if they denied our cookies previously – thus allowing us to store their information.
---

Stephan Roussan, Founder of web agency ICVMGroup
icvmgroup.com | 
 @SRoussan
---
We are strongly urging our clients to forget trying to regain all their traction back at once, but instead build from from the bottom up by focusing narrowly on specific topics where they can offer value. Give more, ask less, and you'll begin to see engagement and opt-ins return. Blogs, vlogs, microsites and/or a strong social media feed (associated with a person, not a company) are all great vehicles for this.
WIth all the content fatigue and repetition that's out there, the more visual and interactive you can be the better… more words on more pages may not be enough going forward. If you are selling services and expertise, be prepared to give away more free information than you may be accustomed to.
---

Oksana Chyketa, Marketer at Albacross
albacross.com | 
 OksanaChyketa
---
It's still possible to generate leads through inbound marketing campaigns. However, marketers have to receive explicit consent from the prospects before collecting their personal data. But it's not as difficult as it sounds.
All that is required is to use simplified language to clearly outline what data is being collected and why and also provide the prospect customers with a checkbox that prompts them to give consented information. And even though the marketers can't use pre-checked boxes and automatic opt-ins; being a credible company and providing valuable content makes its easier for them to generate and convert the visitors and content consumers into leads.
---

Craig Andrews, Founder of digital marketing agency Allies4Me.
allies4me.com | 
 allies4me
---
GDPR brings more focus to our digital marketing strategies. Our focus is content marketing. The explicit consent requires we bring value through the content we provide. Mediocre content is less likely to get consent.
Yes, the GDPR is a pain, but it is also an opportunity to separate your business from the competition. Forcing marketers to bring more value to their prospects lives is good for everyone. The GDPR just brings this into focus.
Small Business Finance 101
Download our free guide to learn the fundamentals of finance that will help make your small business more efficient and successful.