The Best Laptop For Your Small Business In 2016
Written by Evelina (InvoiceBerry.com) on June 02, 2016
Laptops have become the trademark of the modern business person. In the dynamic world we live in, the importance of a reliable laptop for a small business might be higher than ever.
A laptop needs to be compact enough to carry around yet powerful to run all applications smoothly and quickly.
Try our online invoicing software for free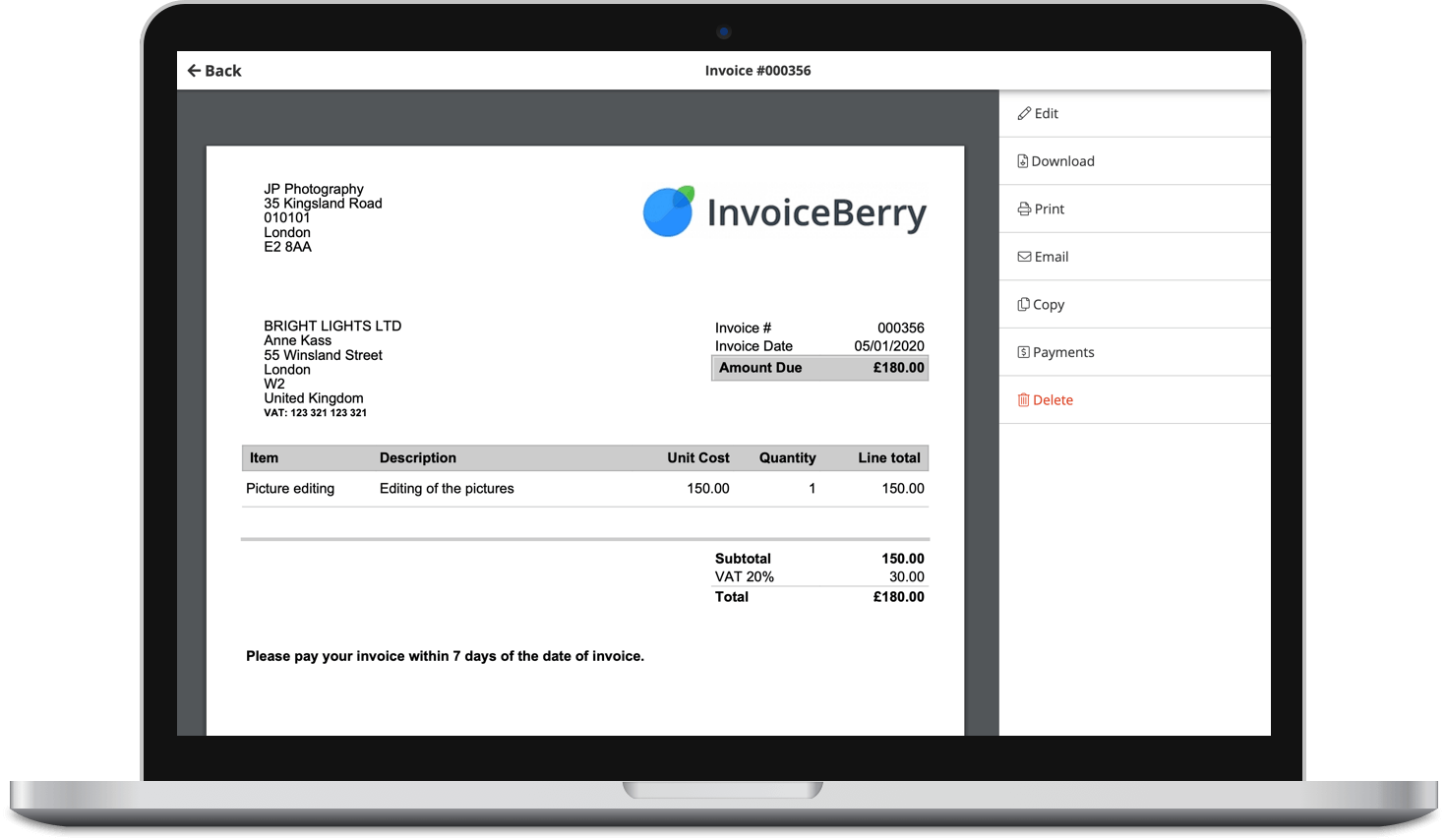 Send professional-looking invoices
Accept online payments with ease
Keep track of who's paid you
Start sending invoices
Even if design or IT isn't what you'e occupied with and you don't seem to be requiring specific operating system, features or programs, choosing the right laptop is a complicated task.
Given the vast variety of laptops with notable differences in hard and software, each brand is unique and has its own advantages over the others.
A laptop is usually not the thing people shop for. We don't tend to change our laptop until it's totally out of service. When you are about to buy a laptop, you need to keep in mind what exactly you'll be using it for.
There are a lot of things to consider when shopping for a laptop for a small business, so let's go through the most important elements to pay attention to and options to pick from.
How to pick a laptop?
1. Decide on a type of a laptop
These days laptops come in all possible sizes, from netbook to desktop replacement. It's up to you to decide which one will work best for you depending on what you'll need it for. With the rise of tablets that happened years ago and doesn't seem to decrease now, the line between a laptop and a tablet is slowly blurring.
If you're going to travel a lot, take a look at smaller and lighter laptops (think MacBook Air). If what you need is a good desktop laptop you're going to use at home, go with a 17-inch screen laptop to better serve your needs.
2. Pick a platform
Mac, Windows or Chrome OS is the matter of taste, and switching to a new one might take some time until you get used to it.
Windows is the most flexible and wide-spread operating system. Similar to Windows 10 Mac OC X El Capitan is only available on MacBooks which narrows down your choice.
Not so long ago our marketing specialist Evelina wrote a wonderful article comparing Mac and PC (that mostly run on Windows), make sure to check it out here before making your final decision.
Laptops operating on Chrome (such as Lenovo), on the other hand, are the most inexpensive compared to the other to platform.
3. Durability of a laptop
If you're sure you'll only be using a laptop at your desk, there is no need to worry too much about the battery life of your laptop.
However, if you need to be very flexible when running your own small business, you would want a laptop that would last throughout the day. Nowadays there're laptops that are capable of working for more than 10 hours without a charger.
4. Storage
Storage has been an important element in a laptop for a long time. However, with the rise of the cloud storage, it might not be the first and foremost option to base your final laptop decision upon.
5 Best Laptop's For Your Small Business
If you are looking for something really affordable (the price starts at $330) that will work for long hours and doesn't require hard work, this might be your choice.
It weighs only 1,34 kilo (2,97 pounds) which makes it easily transportable. The design is smooth but not too touchy to get all scraped up when you're travelling.
If you're mainly occupied with light work and browsing the web, this is a great choice.
Features:
Display Size: 13.3;
Operating System: Google Chrome;Intel Celeron 3215U processor;
4GB of RAM;
16GB solid-state drive;
11ac Wi-Fi;
Touchpad size: 2.75 x 4 inches.
Regardless of a huge variety of different laptops these days, when it comes to business there is more or less permanent classics when it comes to laptops.
Such as MacBook Pro which is legitimately one of the most versatile laptops you could find.
This model (released in early 2015) has a perfect balance of strong performance, battery power, and portability. Plus, its Retina display gives a way better picture quality that can be crucial for those entrepreneurs who work in the design industry or photography.
The Macbook Pro is as good as Apple gets. Its completely new Force Touch trackpad is sensitive to touch pressure, so you can set it to respond to harder presses to activate different features.
Features:
CPU: 2.7GHz dual-core Intel Core i5;
Graphics: Intel Iris Graphics 6100;
RAM:8GB;
Screen: 13.3-inch IPS, 2,560 x 1,600 pixels;
Storage: 128GB SSD;
Price: $1098.
"Any mainstream notebook can run popular apps like Microsoft Office, just as any pair of sneakers will protect your feet while you play basketball, but working on the Lenovo ThinkPad T450s feels like running down the court in Air Jordans."
Generally, business laptops of the Lenovo's ThinkPad T Series are known for their first-class mix of long battery life, great screens, design and top-notch keyboards.
Lenovo ThinkPad  T450s is said to provide the best typing and navigating experience and has one of the most impressive battery lives out there (up to 19 hours).
Features:
CPU: 2.3-GHz Intel Core i5-5300U;
Operating System: Windows 8.1 Pro;
RAM: 8GB / Upgradable to 16GB;
Hard Drive Size: 256GB
Display Size: 14.1;
Native Resolution: 1920×1080;
Graphics Card: Intel HD Graphics 5500:
Wi-Fi: 802.11 b/g/n/ac;
Touchpad Size 3.9 x 2.25 inches;
Weight 3.8 pounds (1.36 kg)
Right now Dell XPS 13 is the smallest 13-inch laptop on the market. It's a great portable option for an entrepreneur as well as a regular consumer.
It's a powerful and long-lasting laptop even by today's Ultrabook standards. It has strong processors with lighting quick storage and memory, and comes at a very affordable starting price ($799).
That's why no "best laptops" rating would be full without it.
Features:
CPU: 2.3GHz Intel Core i5-6200U;
Graphics: Intel HD Graphics 520;
RAM: 8GB;
Screen: 13.3-inch QHD+ (3,200 x 1,800);
Storage: 256GB SSD.
This is potentially the most versatile laptop of all presented in this list.
The Surface Pro 4 is the construction set of computers. The keyboard is detachable so that you have a table or canvas for easy work which also makes it ideal for travellers and commuters, and just as easily it can be reattached when some serious work needs to be done.
The new security features are a big benefit for small business owners. The stylus is a perfect tool for taking notes which is very convenient.
It's, however, pretty pricey ($1299) and the battery life of Surface Pro 4 is significantly shorter than of the rest, but for such a flexible work computer you have to make compromises.
Features:
CPU: 2.4GHz Intel Core i5-6300U;
Display size: 12.3-inch 2,736×1,824-pixel touchscreen display;
RAM: 8GB;
Operating system: Microsoft Windows 10 Pro (64-bit);
Graphics: 128MB Intel HD Graphics 520;
Storage: 256GB SSD;
Wi-Fi:  802.11ac.
Conclusion
Picking a laptop for your small business is like picking a business partner. It has to be reliable, enduring, resilient to ever-changing environment and easily adjustable to different circumstances.
So you should not be afraid to look picky and look for the best one out there to help you grow your small business into a life-changing venture.