5 Best Business Laptops in 2020
Written by Angela on August 17, 2020
If there's one thing all small businesses and freelancers have in common, it's the need to pick the right tools for the job. When it's in your best interest to keep your expenses low, it's important to make sure you buy the best within your budget.
One such tool is your computer. Even if you're not in design, development, or IT, you need to have one that gets the job done and won't conk out on you only a year later.
Try our online invoicing software for free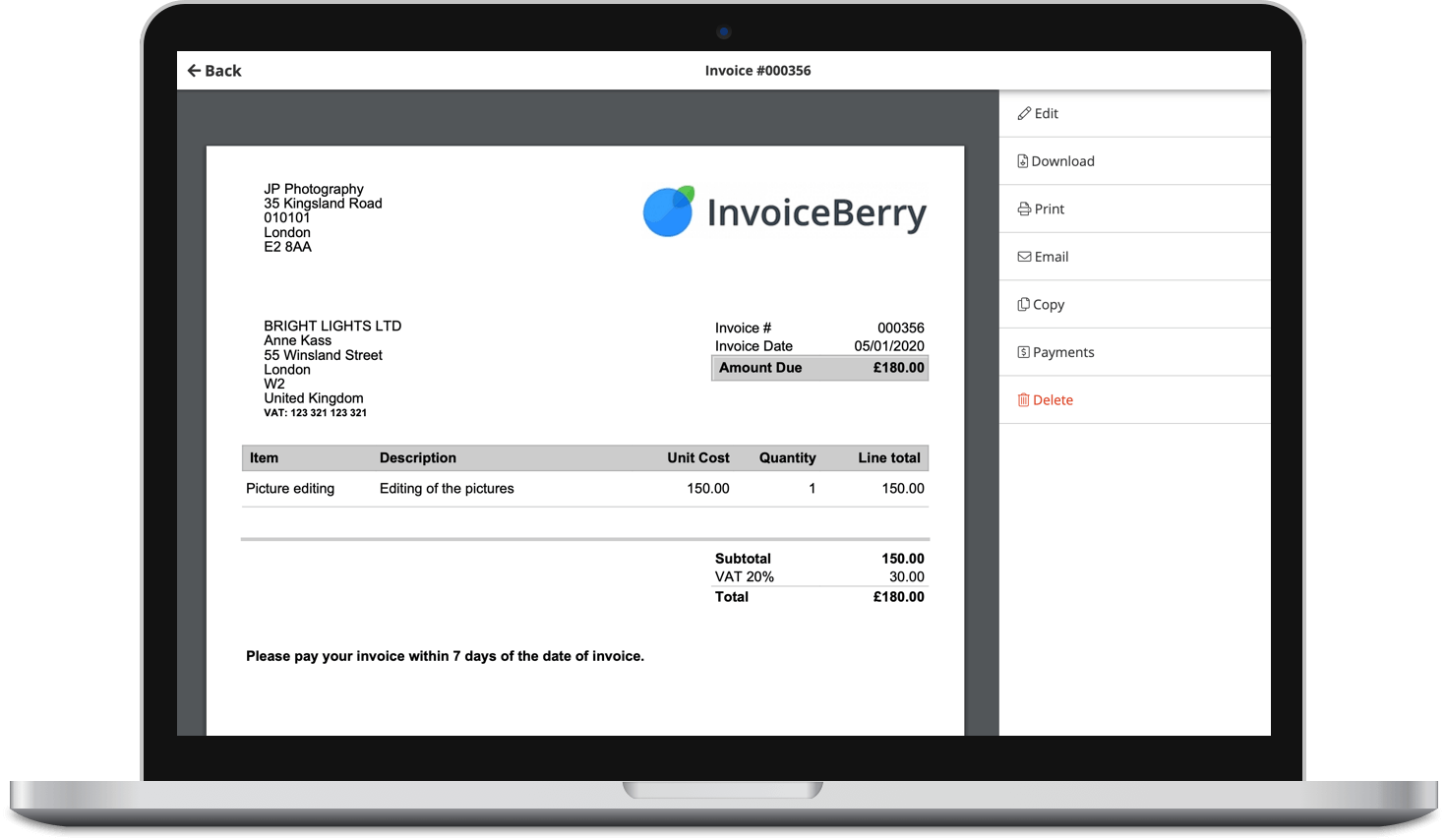 Send professional-looking invoices
Accept online payments with ease
Keep track of who's paid you
Start sending invoices
Do you go desktop, or laptop? While desktops can offer huge savings, the portability of a laptop can be very important to any business. With a laptop, you can do general admin or back-office work, while also using it for important presentations and those times when you need to work away from your usual spot.
That's not the only decision you need to make, though. What operating system should that computer have? How much disk space or memory? It can be a complicated task going through all the different details of choosing the right machine.
There are two important things to keep in mind when choosing the best business laptop:
What you need to use it for
What your budget is
Does your work only call for word processing applications, emails, and browsing? Or do you need to have some design applications installed?
Don't worry. We're here to walk through these decision points below and give you a rundown of the options for best business laptop on the market today.
How To Choose the Best Business Laptop
1. Decide on a type of laptop
Laptops can come in all kinds of sizes, from small netbooks to hefty desktop replacements. The latter can come with some pretty powerful specifications, but those aren't going to do you much good if you travel frequently and you're only using the laptop for Microsoft Word.
Oftentimes the decision can be a compromise between the two. If you're a frequent traveler or need to be mobile a lot, the lighter, smaller laptops can spell the difference between being too tired to crank out another email and getting everything done without sacrificing your shoulder/ back health.
Of course, the bigger desktop replacements can help productivity by offering you more screen real-estate with their larger screens, in addition to more power. Take a careful look at what you need to use your business laptop for and make a call.
2. Choose a platform
Choosing an operating system is usually a matter of taste, except for when you need to use applications specific to a particular operating system. Just take note that if you're switching to a different operating system, you might take a while to get used to it.
Windows is the most common and flexible operating system available–most laptops will be using Windows. Choosing Mac OS will limit your laptop choices to the MacBook machines, though you can still run Windows on MacBooks through dual-booting the laptop.
While the most common decision point in platforms is choosing between Windows or Macs, there are also other smaller platforms like Chrome OS or Linux that you might want to look into. Make sure to keep your mac secure for work as well.
3. Double-check laptop durability
If you're always on the move with your laptop, make sure that the battery life of your chosen laptop can keep up. It's not a big problem if you're always plugged in at your desk.
But if you need to be remote and don't have a reliable source of electricity, make sure it can handle a day of work, at least.
4. Assess if your storage is enough
With the rise of cloud storage, it might seem that this statistic is not as important as it once was. However, it's still important to make sure that your laptop has enough disk storage available to install and run the programs and applications you need.
Don't fall prey to having only a few GBs of free space left when you're working–your laptop can noticeably slow down if it only has a few GBs of free space to work with. Having to shuffle files constantly between cloud storage, external storage, and/or your laptop's disk storage can harm productivity too, especially if internet connections can be spotty.
Choosing between a solid-state drive (SSD) or a traditional hard disk drive (HDD) won't make or break your system, but SSDs are slightly more durable and can help your laptop run faster since they don't have any moving parts.
5 Best Business Laptops for Your Small Business
The ThinkPad lineup is usually catered towards businesses, and the 2019 Thinkpad X1 Carbon is no different. It's an ultra-portable laptop at only 2.4 lbs, but even makes the mark for leisure users with a beautiful, glossy screen.
This light and sturdy machine also delivers when it comes to battery life and screen size–giving users a 14″ display size which is on the higher end when it comes to other ultra-portables. It's a little expensive starting at $1,629, but you can be sure of getting bang for your buck.
| | |
| --- | --- |
| CPU | 10th Generation Intel® Core™ i5-10210U Processor |
| RAM / Memory | 8GB Memory |
| Storage | 256GB Solid State Drive |
| Operating system | Windows 10 Pro 64bit |
| Display size | 14″ FHD (1920 x 1080) |
| Weight | 2.4 lbs |
| Starting price | $1,629 |
On the other end of the spectrum, in more ways than one, is a desktop replacement in Apple's 16″ MacBook Pro. Apple is one of the classics when it comes to computing, and the MacBook Pro line is a trustworthy mainstay.
Many creatives swear by Apple, and with good reason: this powerful laptop can deliver whether you're designing the largest poster or mixing that perfect song. Of course, this impressive laptop that can meet all your demands also demands a hefty price tag that starts at $2,399.
Special mention: the $1,200 13″ edition of the MacBook Pro line is a worthy choice if you need to go macOS but don't need all that power.
| | |
| --- | --- |
| CPU | 2.6GHz 6‑core Intel Core i7 |
| RAM / Memory | 16GB Memory |
| Storage | 512GB Solid State Drive |
| Operating system | macOS Catalina |
| Display size | 16″ Retina (3072 x 1920) |
| Weight | 4.3 lbs |
| Starting price | $2,399 |
One of the cheapest but well-performing laptops we can recommend, the Dell XPS 13 is light, compact, and has a long battery life. Its taller screen is great for Web browsing and document work as well.
The XPS 13 has been a favorite for many people over its previous iterations and the most recent offering is no different. Best of all is its low price point, making it highly affordable at only $999.
The only downside to this is the inability to upgrade this ultrabook further down the line when/if you need it, but it's not every business that needs upgradeability in its machines.
| | |
| --- | --- |
| CPU | 10th Generation Intel® Core™ i3-1005G1 Processor |
| RAM / Memory | 8GB Memory |
| Storage | 256GB Solid State Drive |
| Operating system | Windows 10 Home |
| Display size | 13.4″ FHD (1920 x 1200) |
| Weight | 2.64 lbs |
| Starting price | $999 |
If you're looking for a laptop that can easily convert to a tablet, the HP Elite Dragonfly is one to look at. The 360-convertible hinge is sturdy and with the weight at just under 2.5lbs, this ultraportable can definitely serve.
Battery life is good, with a comfortable keyboard and solid performance all around. Its beautiful blue finish will also definitely impress when you have those important client meetings.
| | |
| --- | --- |
| CPU | 8th Generation Intel® Core™ i5 processor |
| RAM / Memory | 16GB Memory |
| Storage | 256GB Solid State Drive |
| Operating system | Windows 10 Pro 64bit |
| Display size | 13.3″ FHD (1920 x 1080) |
| Weight | 2.2 lbs |
| Starting price | $1,799 |
If you need a laptop to match your remote work lifestyle–or at least one that can withstand almost anything that nature might have in store for you both–the Dell Latitude 7220 Rugged Extreme Tablet is worth a look.
It's 11.6″ but built like a truck, and can deliver everything you need to do in most cases. Though touch-screen-enabled, you may need to press a little harder than most other laptops with the Latitude 7220. Battery life is also impressive, so you won't need to worry about electricity for a good while.
Unfortunately, compared to other laptops in its $1,899 price range, you're paying a premium for its durability–but if you need something that is going to work through almost any disaster, the Latitude 7220 might be for you.
| | |
| --- | --- |
| CPU | 8th Generation Intel® Core™ i3-8145U Processor |
| RAM / Memory | 8GB Memory |
| Storage | 128GB Solid State Drive |
| Operating system | Windows 10 Pro 64bit |
| Display size | 11.6″ FHD (1920 x 1080) |
| Weight | 2.93 lbs |
| Starting price | $1,899 |
Conclusion
We've come a long way since our 2016 list of best business laptops. The specs have all upgraded because it's as important as ever to pick the right laptop for your small business.
Much like picking a business partner, your laptop has to be reliable, enduring, and capable of adjusting to ever-changing environments. Not to mention stand the test of time.
So don't be afraid to take your time to look for the best business laptop that suits your need and budget: the important decisions take time, but are worth it in the end.
Small Business Finance 101
Download our free guide to learn the fundamentals of finance that will help make your small business more efficient and successful.