9 Ways to Build Customer Loyalty for Your Small Business
Written by InvoiceBerry Team on August 26, 2019
Your business needs repeat customers. Period.
Repeat customers account for 40 percent of a store's revenue. Plus repeat customers are more likely to spend more money, are easier to market to, serve as automatic brand ambassadors and are responsible for 80 percent of a businesses' future profits. And let's not forget that recruiting a new customer costs five times as much as retaining an existing customer.
Try our online invoicing software for free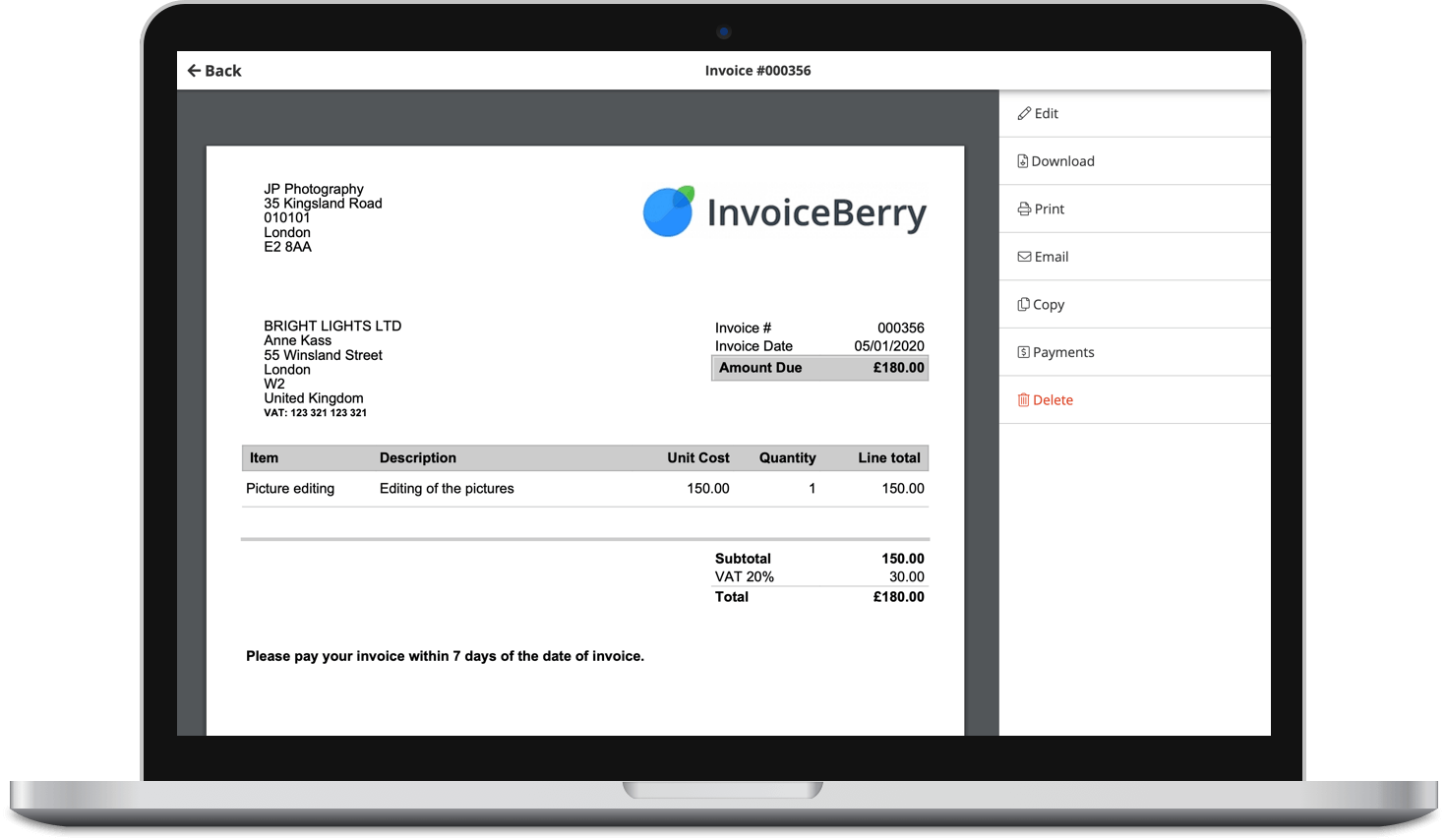 Send professional-looking invoices
Accept online payments with ease
Keep track of who's paid you
Start sending invoices
If you are interested in building and retaining a loyal customer base, here are nine strategies to do just that—and reap the benefits.
1. Share Your Story
Customers feel a stronger desire to form a long-term relationship with a brand when they understand the human story behind it. This is exactly why your business should go beyond your products and services to share your origin story.
Tell your customers the inspiration for your business. Introduce the people who work for your company. Explain what your business believes in and why this belief makes your business so different from all of your competitors. 
Be confident about revealing the heart and soul of your organization. That special drive behind the existence of your organization is exactly the kind of thing that resonates with your customer community. 
2. Maintain Lines of Communication with Your Customer Base
Reaching out to your customers repeatedly and consistently allows for an opportunity to communicate your story, keeps your business top of mind, and raises awareness of any important product or sales developments among customers.
With a well-maintained customer database containing customer communication preferences, your business can remain connected in many ways including by phone, email or live online chat. 
Social media is an excellent medium for touching base with customers on a near daily basis. If you're a personal trainer, you can post a clip of a workout. If you run a bakery, you can post a video of your staff decorating a special pastry. 
The important thing is to make sure your communications lean more toward actually being social than pushing a specific product or service. For example, you can keep your brand story going by sharing behind-the-scene photos on Facebook. 
No matter the channel your business uses with each customer, you can provide a nice, friendly mix of messaging to keep customers interested and intrigued. Sharing helpful tips and information, sending birthday greetings and extending cheerful holiday wishes all are excellent messaging options.
3. Reward Your Most Loyal Customers
In addition to receiving upbeat messages, customers love special treatment. A great, cost-effective way to keep your customers coming back is to gift your most reliable customers with perks and incentives.
Special treats can be as simple as access to the front of the line or as fancy as an annual customer loyalty event.
By treating your most loyal customers to special rewards, they'll want to stick around and spend more. And any customer who is not a part of the loyalty program will have an incentive to belong.
4. Offer a Head Start
For the kind of customer loyalty program a restaurant might offer—whereby a customer purchases a certain number of food or drink items to earn a free item—consider giving customers a leg up.
On a punch card, this can mean giving one or two free punches, or one to two stamps on a stamp card. This little head start can give customers the incentive to stick around and fill up the card with actual purchases.
5. Provide a Variety of Payment Plans
Some seasonal businesses—like vacation-rental stores— experience cash flow issues during off-peak months. After all, customers aren't renting jet skis and UV-blocking beach umbrellas in the middle of winter.
A business can overcome this challenge by offering customers a payment plan.
Customers have the option to plan their warm-weather activities ahead of time by shopping in the winter and paying in smaller increments leading up to their actual vacation as opposed to paying all at once.
Customers love payment plans because they are allowed to pay manageable monthly installments. Your company will love this strategy because it brings in cash during slower times of the year.
6. Deliver Customer Service Excellence
The power of great customer service should never be underestimated.
Around the world, 96 percent of consumers say that customer service is a significant factor in their choice of loyalty to a brand.
Customers do not forget when they are treated well—or when they are treated poorly. Customers will continue to engage with businesses only when they've had a positive experience on their initial visits. In case of a positive or negative experience, a customer will tell family and friends about their experience with your business. And that can mean winning more business or losing it.
If a customer is unhappy with your product or service, be sure to give them an incentive to keep engaging with your company. This could mean extending a store credit or providing a discount. 
7. Embrace Actual Human Interaction
An important part of great customer service is engaging in real human interactions with your customers. 
No one likes feeling stuck on an endless loop of automated prompts or messages while trying desperately to talk to an actual human being. While chatbots and automated phone systems can save money and satisfy some customers by providing quick responses to common questions, other customers will need to make human contact if their issue has extenuating circumstances.
With this in mind, do not rely too heavily on technology. Remember that a highly-trained customer service representative can deliver the kind of personalized service that builds brand loyalty.
8. Always Remember to Smile
This customer service tip seems obvious but it can't be stressed enough just how important friendliness is when engaging with a customer.
A smile in person—or the nonvisual sense of a smile for a telephone interaction—can be the most significant aspect of a business transaction. It can enhance the conversation around a product, forms a customer's initial impression, and extends the promise of great customer service.
No, a smile alone does not make a sale happen, but it does help to establish a rapport and initiate trust which is the cornerstone of every business relationship.
9. Give Customers a Reason to Be Loyal
Lots of people believe that Apple has the most loyal fans. It's easy to see why. Apple customers never hesitate to show how much they are into the company—from sporting bumper stickers and tattoos to waiting online for hours to get the latest Apple tech.
When neuroscientists studied the brains of Apple fans, they learned that the same region of the brain is activated at the thought of Apple products as religious people when they think of their deity. 
This kind of reaction indicates that offering the best possible service or product around can create an unmatched devotion and passion for your product. So one of the best things you can do to build loyalty is to provide an outstanding product.
Customer loyalty is especially important to any and every business because it provides a huge source of revenue as well as the kind of word-of-mouth marketing that can boost your brand like no other form of advertising can. By adopting the strategies listed above, your business can go a long way to attract and retain customers and keep your business going strong.

JT Ripton is a business consultant and writer who enjoys editorializing about many things, business and technology among them. Ripton's advice has appeared in numerous places like BusinessInsider, Entrepreneur.com, Hubspot, and TechRadar. You can check out his most recent work on Twitter @JTRipton.