41 Essential Apps for Working from Home
Written by Evelina (InvoiceBerry.com) on April 18, 2016
In today's digital world, there really is an app for everything! When working from home, apps that help you manage your time, business and productivity can be essential to a stress free working experience.
Read on to discover 41 essential apps for working from home and how they could boost your professional life.
Try our online invoicing software for free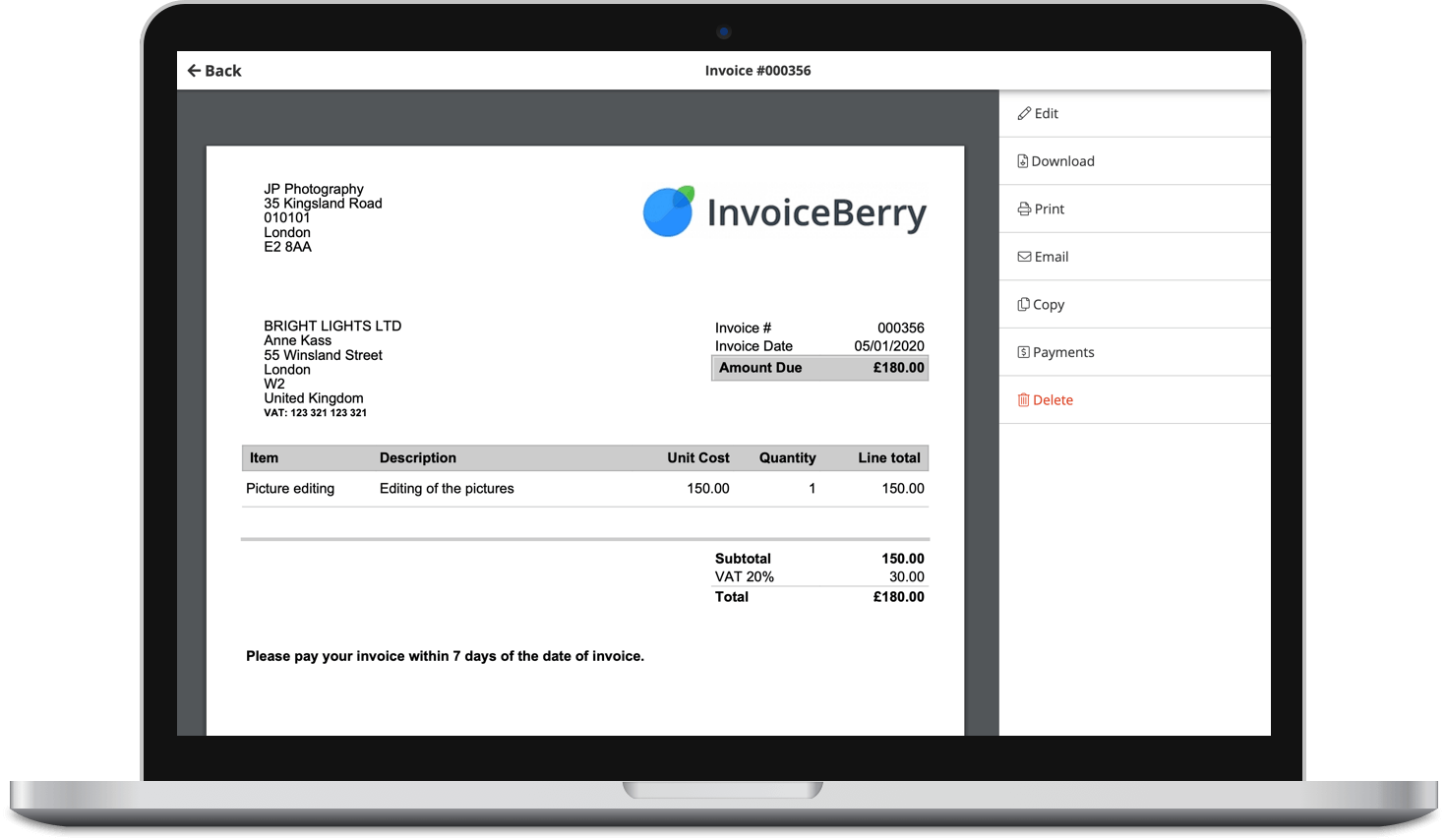 Send professional-looking invoices
Accept online payments with ease
Keep track of who's paid you
Start sending invoices
Back-up
1. Mozy takes care of backing up your device's data so your work files are safe if the device is lost or damaged.
2. With CX, you get 10GB of space with the free basic plan.
Documents
3. If you work with handwritten notes that you may need later on, Genius Scan can scan them straight to your computer in PDF format right from your phone.
4. Have you ever needed to scan an important document, only to realise you don't have a scanner at hand? With Turboscan, your phone becomes a scanner, allowing you to save documents, receipts and more as JPEG images or PDFs.
Email
5. Asana keeps track of your email threads to ensure you never miss out on an important update again!
6. Helium is essential for cleaning your inbox and delegating tasks via email.
7. MailChimp can help you make the most of email marketing, sending reliable, efficient updates to your subscribers.
8. With TextExpander, you can save custom abbreviations for writing typical emails.
Finance
9. When charging by the hour, you'll need to know how many hours you've actually worked. Let HoursTracker take care of that for you.
10. InvoiceBerry is a must-have tool for invoicing, tracking expenses and ensuring your customer payments are up to date.
11. Toggl is another time tracker, helping you determine how long it takes to do each of your tasks.
Management
12. Regularly meet clients for lunch or coffee? Plan and manage your meetings using Fantastical.
13. If you outsource work to others who work from home, DeskTime lets you keep track of everyone in your payroll and who's doing what.
14. Jira is a software tracking tool that will help you stay on top of any issues relating to your work. That way, you'll have them stored up to reflect on later, giving you the perfect reminder to find a solution.
15. Sunrise is a calendar app that lets you organize every hour of your day with ease.
Passwords
16. Dashlane is another password manager, but what makes it unique is the fact it does not store your master password for extra security.
17. Forever forgetting passwords? Last Pass can keep them all in one secure place.
Productivity
18. BetterBuzzer will call you when it's time to take notice of a task – and won't stop ringing until you acknowledge it!
19. Focus Booster times your work, promoting 25 minutes of work followed by 5 minutes of rest.
20. IFTTT stands for 'if this, then that' and will set up direct actions based on your requirements. For example, if you get a new follower on social media, IFTTT can add them straight to a list. Or, set up helpful reminders at designated time each day. It's essentially your personal assistant!
21. RescueTime evaluates how much time you spend on various sites. It can be a wake-up call if you discover you're spending 10 hours a week on Twitter.
22. If you communicate a lot, Swift Key can save you time using personalized predictive text based on your messaging habits.
23. Workflow allows you to automate actions to save time on frequent processes in apps and browsers.
24. Write or Die forces you to work within a timer – with loud consequences if you fail to meet your goal!
Social media
25. Buffer allows you to schedule social media posts in advance, so you won't have to spend as much time on the sites!
26. If you use social media to promote your business, Hootsuite can help you manage all your accounts from one helpful app.
27. Glassboard is essentially a social network for business teams. Members are able to share their notes, files, photos and even locations to keep your project running smoothly wherever your're located.
28. If you are required to put together presentations for your work, give SlideShare a try. You can make it on your own computer and upload it for the world to see.
29. SocialOomph is a Twitter tool that promotes networking with other professionals through tweets and DMs.
To do lists
30. Any.do is a free to do list and reminder app that also lets you upload and save notes or files.
31. Dayboard is a to-do list extension for Google Chrome, which shows reminders of your tasks each time you open a tab.
32. TeuxDeux is a simple, clean to do list. You can view and arrange your tasks each day and also create additional lists, such as future goals.
33. Wunderlist isn't strictly a 'to do' list. You can compile lists of absolutely anything you want, such as helpful resources, motivational quotes or things you simply just want to remember.
Remote working
34. Call Recorder does the same – but with Skype, making it perfect for Skype interviews.
35. Quip is similar to Trello with its collaborated boards, however it also includes messaging for even easier communication.
36. Trello allows you to invite your colleagues or client to dedicated boards so you can work through tasks together.
37. TapeACall lets you record calls for future reference.
Writing
38. MindMeister is a great tool for mind-mapping and keeping all your ideas in one place!
39. OpenOffice is similar to the standard Office or iWork suites, but free! A great choice for freelancers or business owners on a budget.
40. The Dictionary app can come in handy when you're in search of a specific word, without having to get up and flip through a paper copy.
41. ZenWriter is a word processing app that uses calming aesthetics to keep you focused.
Whether you use all these apps or cherry pick a few that could help you out as you work, you're bound to notice a difference in the way you work from home and manage your time.
So, which ones will you be using?
Small Business Finance 101
Download our free guide to learn the fundamentals of finance that will help make your small business more efficient and successful.