8 Winning Reasons Why You Should Use Explainer Videos For Your Small Business
Written by InvoiceBerry Team on August 30, 2021
Small businesses are prone to get stuck at the beginning of the enterprise journey. The problem with most new small companies is that they lack exposure that derails them from getting sales. Exposure is extremely important for them to get public recognition as they will have a chance to grab market share.
However, another issue also arises from the limited budget. After all, you need to pay the cost of introducing your business to your audience, right?
Try our online invoicing software for free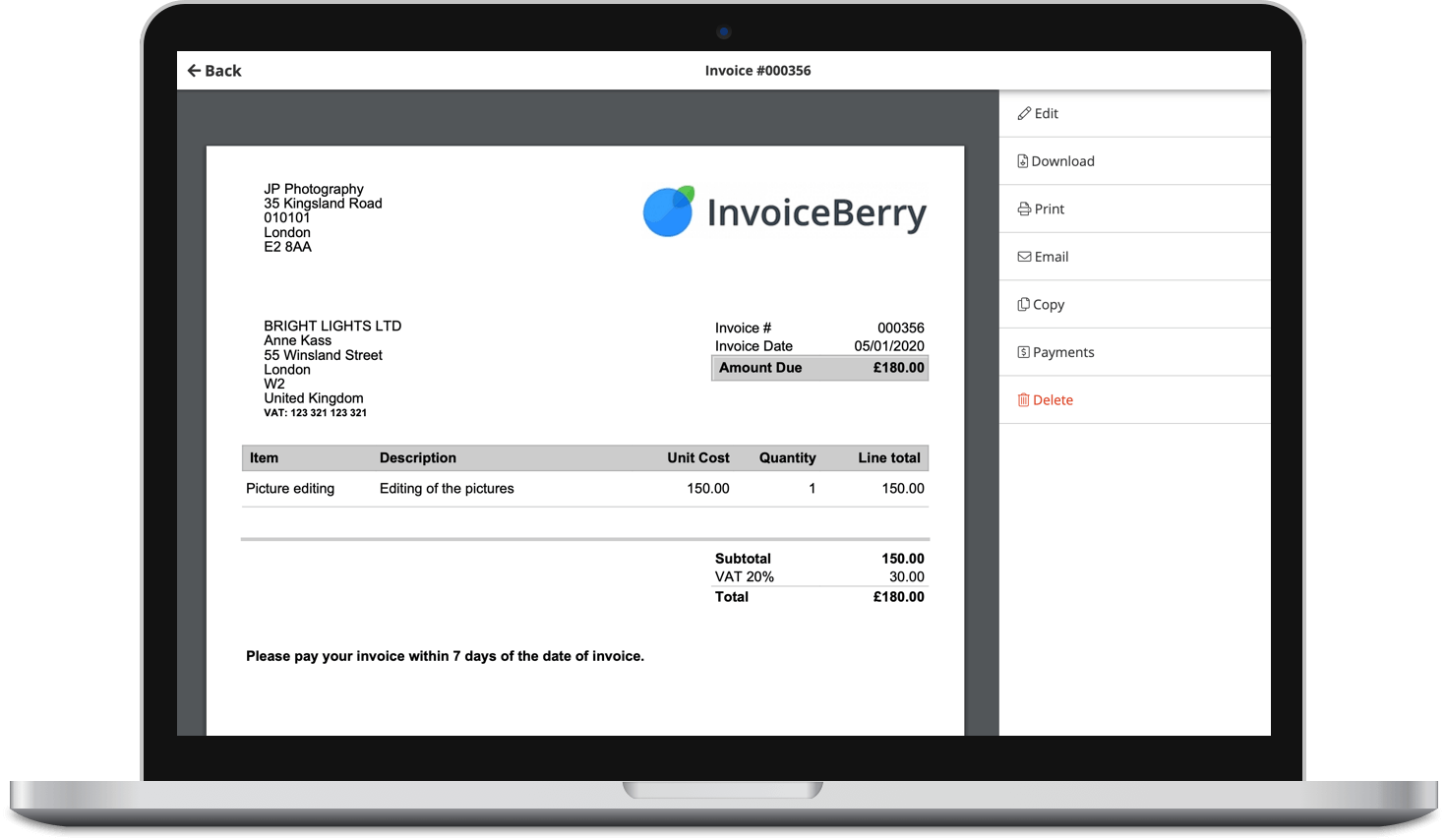 Send professional-looking invoices
Accept online payments with ease
Keep track of who's paid you
Start sending invoices
The lack of exposure and tight budgets get new small businesses left behind their competitors.
If you are a small business owner yourself, don't fret just yet.
There is one budget-friendly type of medium you can get advantage from; boosting your brand awareness, generating more qualified leads, increasing conversion rates — you name it.
They are explainer videos.
What is an explainer video?
An explainer video is a part of a video marketing strategy where video content is utilized to engage with the audience. It's one of the most cost-efficient marketing strategies that many businesses have implemented over the past few years.
While some marketing videos are used for a specific purpose in a marketing funnel, explainer videos are the most versatile of all. They can illustrate even complex messages in a way that plain text-based articles or static images can't.
You can incorporate product explainer videos at the top of the marketing funnel by allowing everyone to know about your business. You may as well infuse some product descriptions and testimonials to nudge your leads down to your marketing funnel.
The types of explainer videos
Generally, there are two types of explainer videos you can make. The first one is animated explainer videos, where animation is included in the process. This type is then stretched into different styles as follows.
Whiteboard
Cut-out animation
Kinetic typography
Motion graphic
2D and 3D animation
The second one is a live-action explainer video. This type uses actors to deliver information more concisely.
While you can choose to shoot indoor or outdoor on a live-action type, you can't do the same with the animated video. You'll require a studio and the latest software to design and make an illustration for your corporate videos.
Live-action version is excellent for humanizing the brand as you use talents to represent your business. On the other hand, the animation is best for breaking down complex information into chunky, digestible pieces that everyone can quickly understand.
The cost of both versions is quite comparable. In most cases, the animation may require a big budget due to the tools used to make it. However, it can be a lot cheaper than live-action video if you don't use CGI and similar on your content. You can easily leave it to your desired explainer video company to handle this marketing project.
Eight reasons why small businesses need to use explainer videos
Now that you understand some of the most-used types of explainer videos, it is time to get more in-depth about why you should incorporate them into your overall marketing strategy.
1. Capture attention faster
Let's be honest here.
When you're presented with videos and blog posts, which content attracts you the most?
According to Cisco, videos are incredibly attractive for many people, that this content has taken over the internet. In this year, videos have made up more than 82% of the internet traffic, a number that's fantastically high for online content.
Compared to articles, videos can spread the information way faster. Within two minutes, video content has the same content that a seven-minute read article does.
That's why most people tend to watch videos rather than having indulged in a long block of web blogs.
2. Deliver messages seamlessly
Videos can reach out to a more diverse audience. Whether it's students or professionals, videos make it easier to understand a message.
In contrast, reading blog posts can sometimes require someone to understand the narrative that isn't common for the public. That's why in every article writing, readability is an important element when sharing new knowledge.
Compared to articles, videos don't need anything to help viewers grasp the message it conveys. The visual presentation and clear audio can support whoever wants to learn messages from the video itself. You will be less worried about whether your message is delivered correctly.
3. Boost SEO
Explainer videos are best for increasing your SEO score. With the video, you have a higher chance of getting discovered by many people. This is vital for you in building an online representation, especially if you're new to the industry.
Do you know that video search results have a different section on the SERP? If you've noticed it already, videos are placed differently than typical blog posts. You will find the video results on top of the search engine page.
Using explainer videos will help you improve your SEO significantly. Pages with video content have more visitors than ones that don't have.
The reason is quite apparent; people love watching videos. When they find a page with videos, they tend to visit it over a page full of written posts.
4. Pull social engagement
Videos are great content for social media. In fact, they are designed to impress social media savvy users who rely on visually appealing content the most.
It's crucial to make engaging content that drives the audience. When more people are interested in your business, you'll have a higher chance to grow your sales. That's why incorporating video content is a perfect move to attract people online.
In every social media platform, interacting with the post is pretty easy. Images and videos are one finger away to share with family and friends. Therefore, social content can be easily found everywhere on the internet.
If a lot of people interact and in any way have an activity with your content, that means more engagement rates are driving your way. Since engagement is one of the critical measures for marketing campaigns, you need to consider what type of content you should make to achieve that rate. Using explainer videos is one of the practical methods for that purpose.
5. Establish public trust
Not everyone is capable of making a high-performing explainer video. The reason is a bit simple, a professional-looking explainer video production takes time and patience.
If you have no design skills in the first place, the whole process can be daunting. You have to deal with content brainstorming, finding the best formula, scripting, and more.
Not to mention that you have to spend time to finalize your video content and make sure it performs well.
That said, explainer videos are such an effective way to generate more trust.
Explainer videos, in this part, are often regarded as the greatest presentation of your business. When you've spent resources to create the video project, more people can distinguish which company is serious about its future business.
More importantly, when you host the video on your social account, the audience will perceive your business differently. They will trust a company that looks professional and presentable online. So, if you want to gain public trust, why don't you try making explainer videos to add them to your blogs?
6. Incredibly shareable
When compared to traditional textual content, videos are way more shareable across social networks. With a shorter time spent, you can easily share videos right after finishing the content. You're able to spread the video content all over the internet at only your fingertips.
As explainer videos are built to convey messages in a meaningful way, many viewers are intrigued to share the content with their closest ones. If people resonate with what your explainer videos convey, they can voluntarily send out your content even without your supervision.
What's more, explainer videos are short. Two minutes long is the optimum time to deliver important messages.
This also aligns with most rules on social media platforms. Twitter, for example, allows users to post a two-minute and twenty seconds video. So, your explainer videos fit the requirements the social networks have.
7. Videos are memorable
Explainer videos utilize images, sounds, and narration to help you address the information concisely. This unmatched combination is great for capturing attention from the get-go.
With visual and audio representation, people can remember the message better. The human brain will then associate a certain song and image to the narration it once heard before.
That's why when people see a picture containing specific text or listen to audio, it reminds them of the video they have previously watched.
When you create a signature animation character of your business, you've set a clear corporate branding that everyone can remember for a long time. Or, if you use actors to represent your brand in the video, people will then associate them with your business quickly.
8. Increase conversion rates
Last but not least, explainer videos are great for bringing in more customers. Like a typical marketing video out there, every explainer video is equipped with a call to action that acts as a gate to your marketing funnel.
A call to action itself is a phrase or copy that prompts viewers to take the desired action right after watching the video. The phrase can be verbally spoken and written inside your explainer video. People who watch and listen carefully to the video can immediately notice the prompt then move forward to follow the guide.
With the call to action, you have a higher chance to generate more leads and turn them into customers. Hence, using explainer videos can help you convert more sales than you've imagined before.
Conclusion
Small businesses are often too scared to run marketing campaigns as they require a big budget, which is something companies lack. However, there's a cost-friendly marketing strategy that won't get you to worry about its effectiveness.
Explainer videos offer an affordable way to get your business off the ground. With this type of marketing video, you can reach out to a broader audience and allow you to generate more leads in no time. So, what are you waiting for? Make your explainer videos today.
Author
Andre Oentoro is the founder of Breadnbeyond, an award-winning explainer video company. He helps businesses increase conversion rates, close more sales, and get positive ROI from explainer videos (in that order). 
Twitter: @breadnbeyond
Email: andre@breadnbeyond.com
LinkedIn: https://www.linkedin.com/in/andreoentoro/